BEAR A WEE GRUDGE, the fifth book in the shamelessly adorable Teddy Bear Mystery series by Meg Macy, is as darling as cozy mysteries come! I can't help but become captivated with the delightful setting of the Silver Bear Shop and Factory and the Silverman family who own it. The protagonist, Sasha Silverman, manages the teddy bear shop, working alongside her aunt and uncle. With a Scottish-themed Highland Fling festival coming to town, the entire family is pitching in to prepare their teddy bear booth: from her mother, the mayor of the village; to her dad, who's a champion ax-thrower (and is also competing in the ax throwing contest); to her graphic artist sister; and lastly, her boyfriend, Jay, also a competitor at the Scottish games. I love how close-knit the family is (even when there's a squabble or two). They know they have the support of each other no matter what happens. And, of course, the setting of a Scottish festival brings a unique twist to the mystery. Ms. Macy does an admirable job of bringing the festivities' costumes, food, and competitions to life with a strong descriptive voice. Haggis anyone?!
When the Silverman family's nemesis is found murdered with a competition ax in his back, Sasha's dad is the number one suspect. It doesn't help that the investigating detective seems to have it in for Sasha's family. With a strong curiosity and a desire to see justice prevail, Sasha takes matters into her own hands and starts investigating. With the victim being an obnoxious man and several shady business dealings from his past, there were a slew of suspect possibilities. The author even brings in suspects from the previous book, but rest assured, this can still be easily read as a standalone. The quick pace of the story kept me turning pages and I was intrigued how the clues fit together as they lead toward the suspenseful reveal. With a heartwarming and life changing conclusion, I can't wait to find out what's coming next for Sasha and her family!
While BEAR A WEE GRUDGE doesn't contain recipes, (and I promise I won't introduce any haggis recipes here), Meg and I decided a cute teddy bear cookie craft fit the theme of the book. You can use any rollout cookie dough (including store bought) and I provided my favorite sugar cookie recipe along with links to other rollout cookie recipes on my blog. For these teddy bear cookies, I used this recipe: Christmas Mézeskalács   This makes for a fun cookie craft with young children and feel free to use your imagination to decorate the teddy bears any way you choose!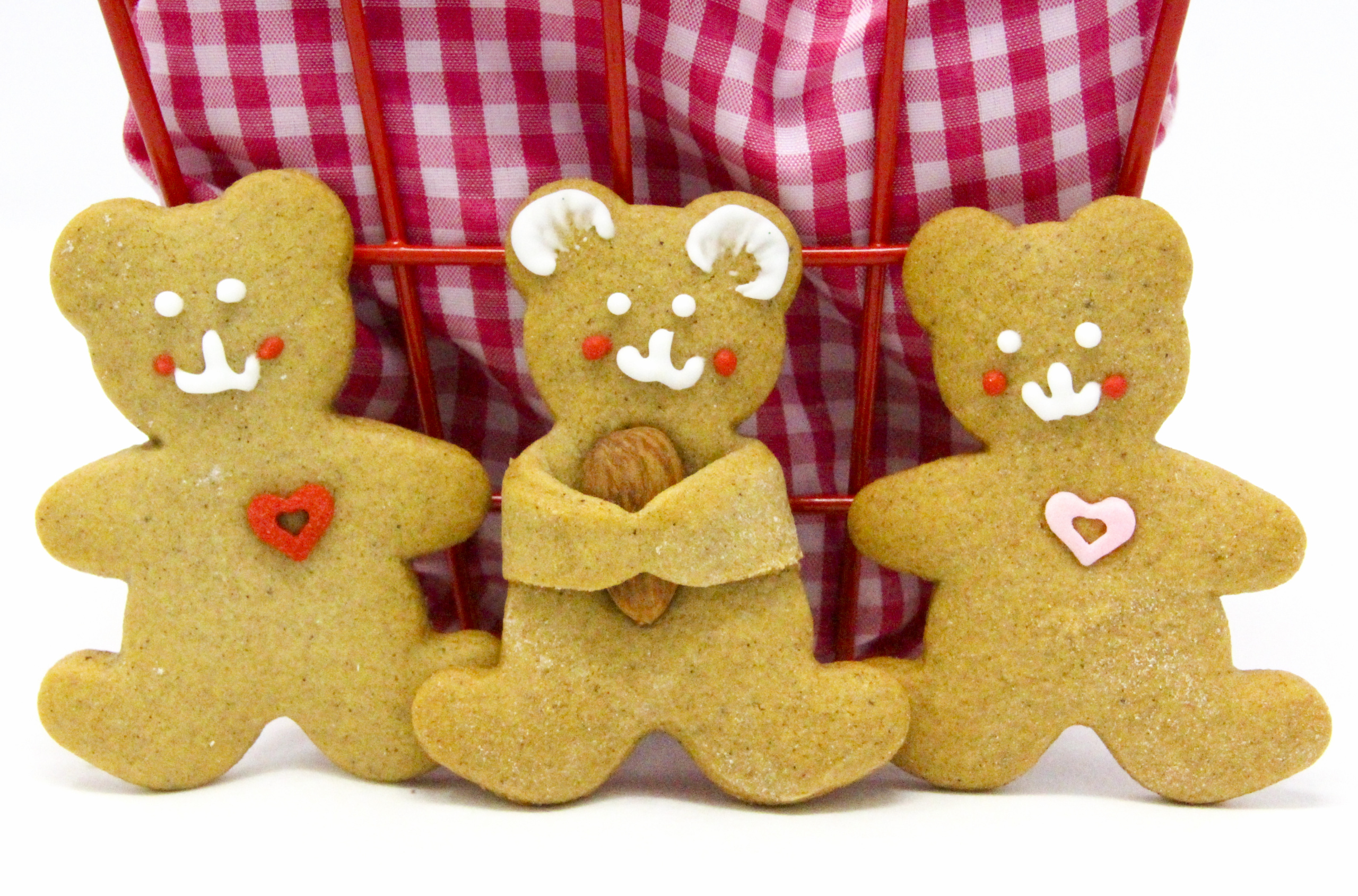 Amazon Synopsis
It's springtime in Silver Hollow, Michigan, and Sasha is looking forward to the village's inaugural Highland Fling weekend. Plans are underway for a Kilted 5K, athletic competitions, dancing, live music, and even a Hurl-the-Haggis contest. Meanwhile, Sasha's staff is busy crafting custom teddy bears in kilts for the Silver Bear Shop's vendor booth. But trouble's brewing behind the scenes, as the obnoxious Teddy Hartman, former owner of a rival teddy bear company, sows seeds of discord about town, targeting Sasha's family and their business.
Things go from plaid to worse when—just a week before the festival kicks-off—the disgruntled gossip is found murdered with an ax buried in his back. Sasha's dad is arrested, since he's a champion ax-thrower. But she doesn't give a dram what it looks like—Sasha knows that despite the old business rivalry with Hartman, her father is innocent.  So with a spot of help from her friends, Sasha must bag the real killer before her first Fling also becomes her last.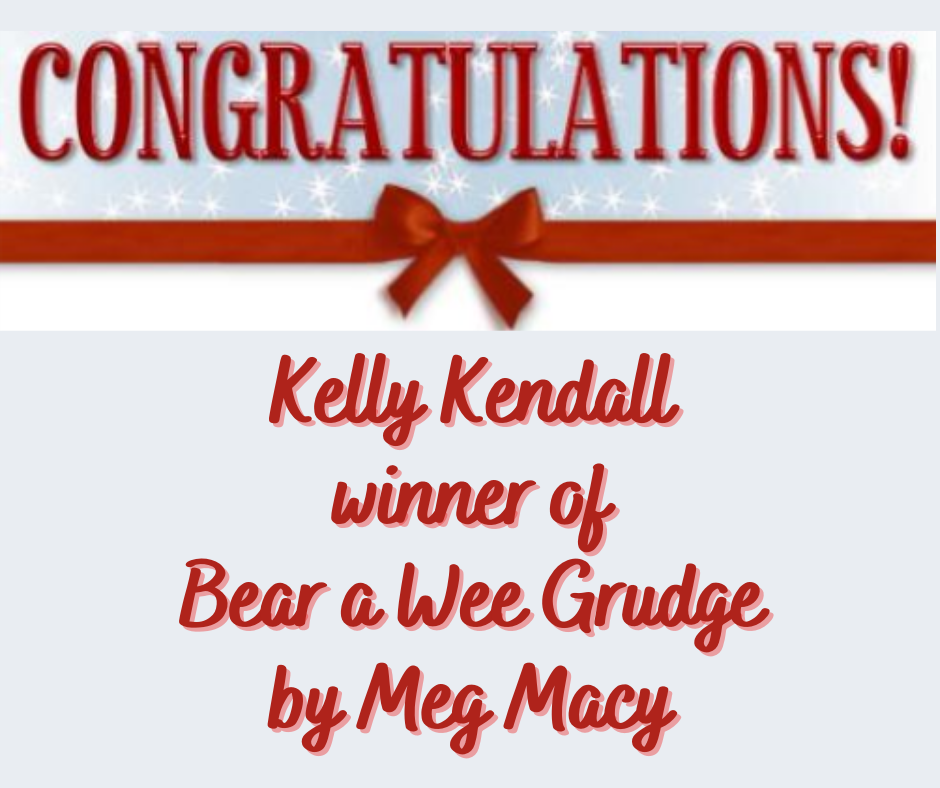 A special thanks to Meg Macy for providing a winner with a print copy of BEAR A WEE GRUDGE plus some teddy bear swag.  Contest ends Sunday, December 12, 2021 at 11:59 pm PST and is limited to U.S. residents. Please use the Rafflecopter box located below to enter. The winner will be announced on this page and on Cinnamon & Sugar's Facebook page, as well as notified by email (so check your spam folder!)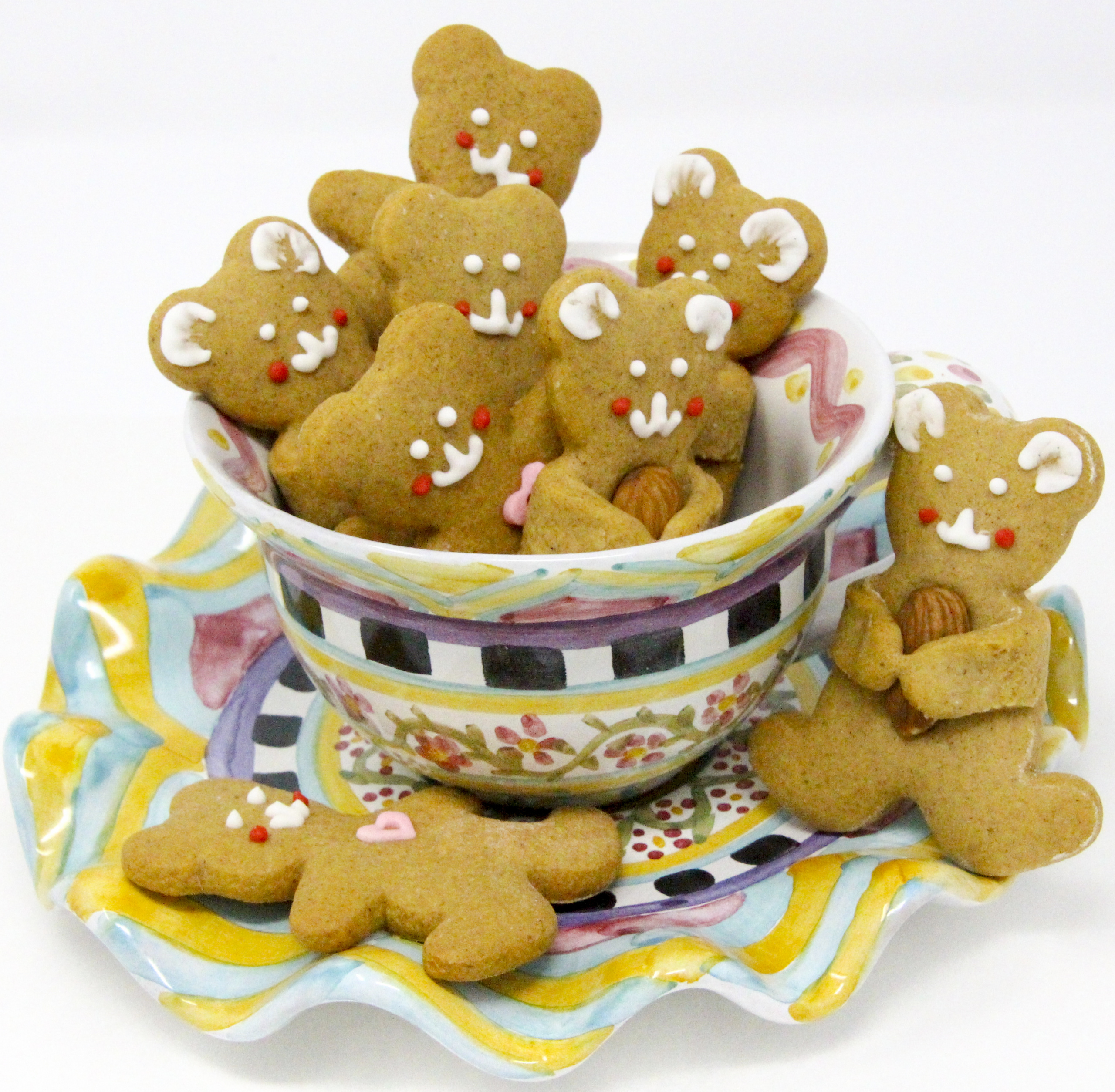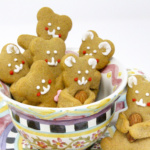 Teddy Bear Cookies
Ingredients
Your favorite rollout cookie dough (or purchased sugar cookie dough)

All-purpose flour for rolling out dough
Optional
Whole almonds

Small candy hearts

Royal icing
Instructions
Preheat the oven to 350 degrees (F) and line baking sheets with parchment paper.

Lightly flour a work surface then roll the dough out to about 1/4-inch thick. Using your favorite teddy cookie cutters, cut the dough out and place the shapes onto the prepared pans.

If desired, place an almond in the center of the teddy bear and press the arms around the almond. OR press a small candy heart onto the chest.

Optional: Instead of using royal icing for decorating the face, use a toothpick to create small dots for eyes and nose before baking.

Refrigerate the cutouts for ten minutes.

Bake the cookies for 9 - 11 minutes, until the edges turn light golden.

Cool on the baking sheet for 5 minutes then transfer to a wire rack and cool completely.

Once cooled, pipe eyes, mouth, and ears with royal icing if desired.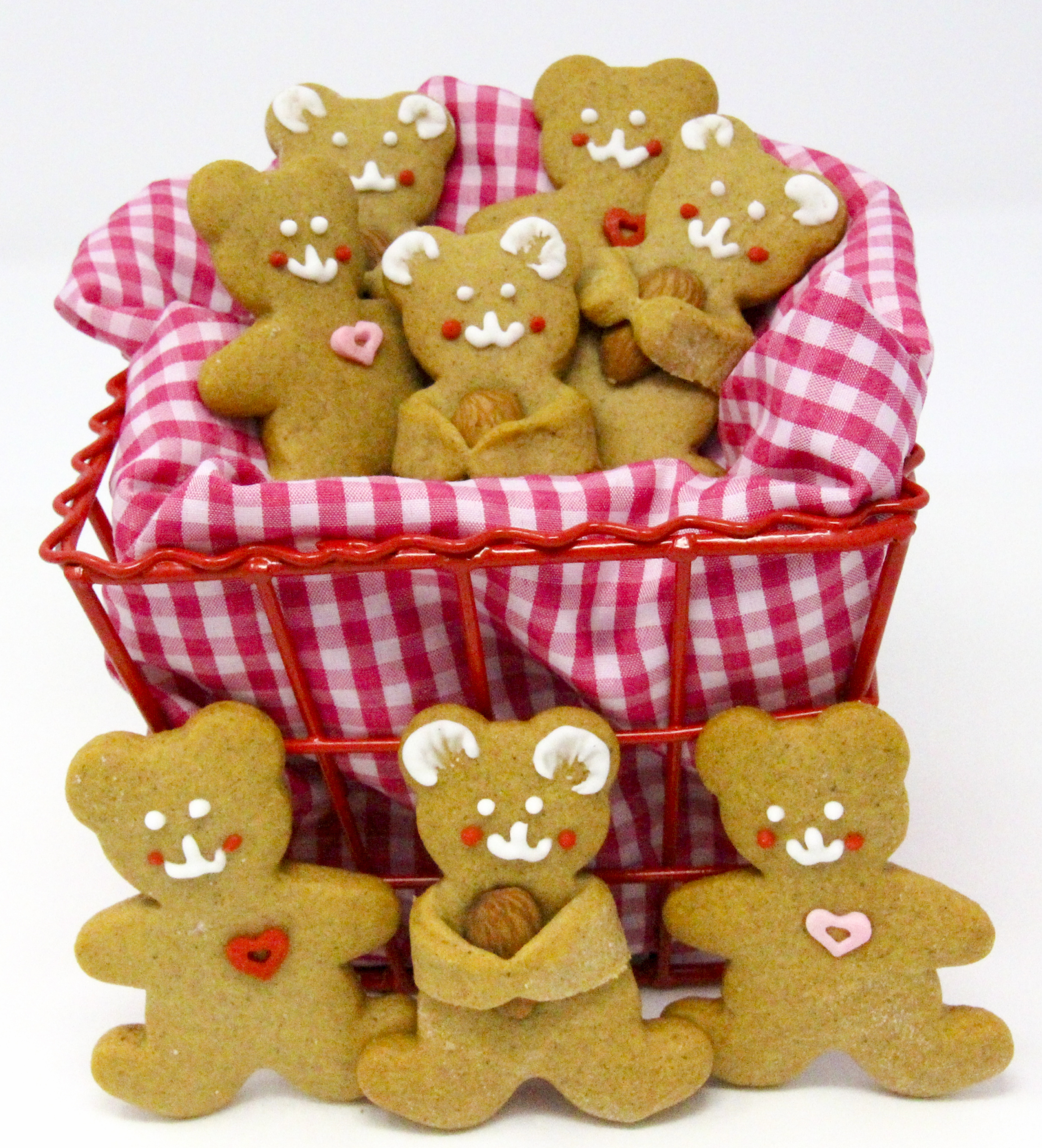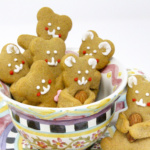 My Favorite Rollout Sugar Cookies
Ingredients
1

cup

unsalted butter, room temperature

1

cup

granulated sugar

1

egg

1

teaspoon

vanilla extract (or other flavor such as almond or Fiori di Sicilia, my favorite)

3/4

teaspoon

salt

1-1/2

teaspoons

baking powder

3

cups

all-purpose flour
Instructions
In the bowl of a standing mixer, beat the butter until light and creamy on medium-high speed. Add in the sugar and beat until well combined.

Beat in the egg and the vanilla (or desired flavoring).

Mix in the salt and baking powder. Lower the speed to low and slowly add the flour. Mix just until combined.

Divide the dough into 2 portions and wrap each in plastic wrap. Refrigerate at least 2 hours or overnight.

Preheat oven to 350 degrees (F) and line baking sheet(s) with parchment paper.

Lightly flour work surface and rolling pin, and roll dough out to 1/4" thick. Cut out with desired cookie cutters and place the shapes on prepared baking sheet(s). Refrigerate for 10 minutes.

Bake for 8 - 11 minutes, until edges become lightly golden.

Remove from oven and cool on baking sheet for 5 minutes. Remove to wire rack and cool completely before decorating as desired.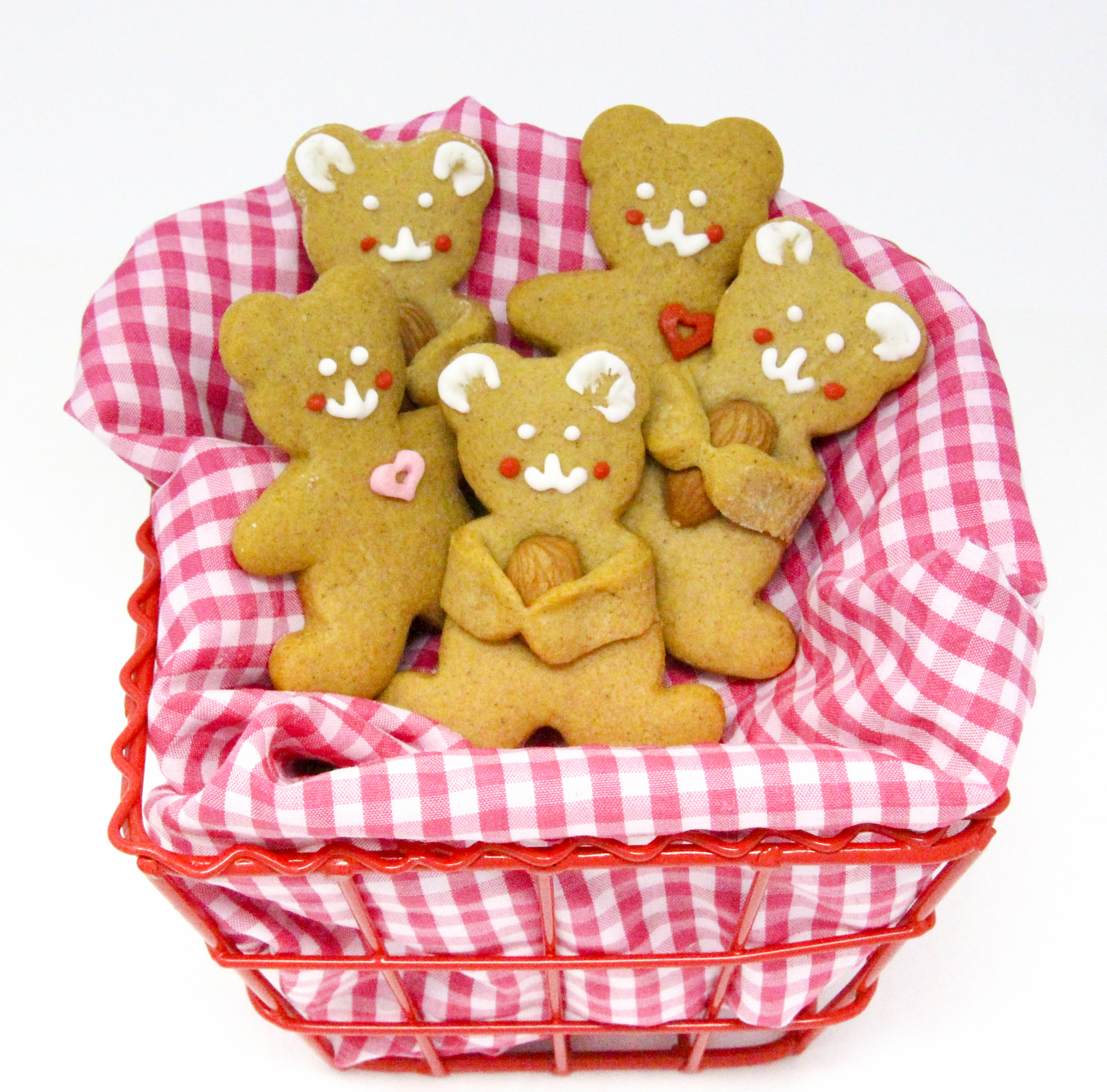 Pin to Pinterest: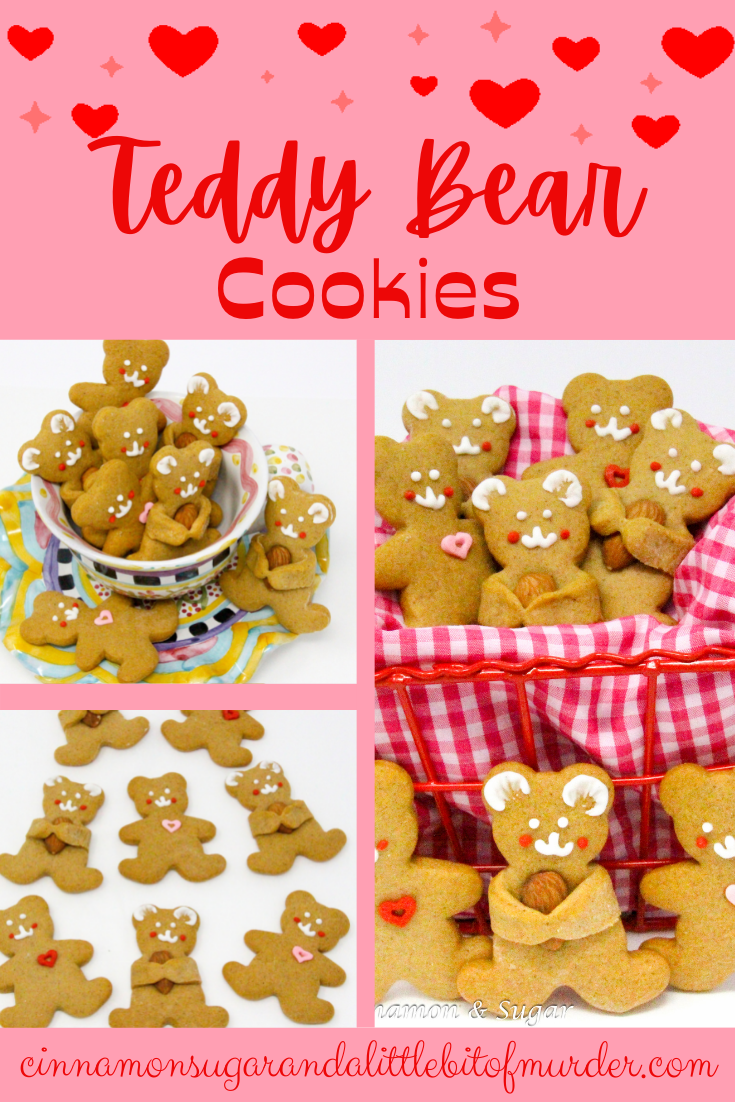 I was provided with an advance copy. All thoughts and opinions are my own.