While the Christmas season is behind us, I had the pleasure of recently reading holiday-themed AS RED AS ANY BLOOD, the sixth book in the Wisteria Tearoom Mystery series by Patrice Greenwood. I had meant to read it shortly after its release during November but somehow festivities and obligations got me far, far behind on my TBR pile. However, this past week I was delighted to revisit Christmas through the book without the stress of my own holiday to-do list. I've read the majority of the books in the Wisteria Tearoom Mystery series and am always enthralled with both the characters and the plot. Ellen Rosings is the owner of the Wisteria Tearoom in Santa Fe, New Mexico. I love how she channels Miss Manners in a variety of situations and brings back my own memories of reading that particular column years ago. Both the city and the tearoom are fascinating settings with plenty of lore and traditions which I enjoyed learning about in the book. I love the ancient mystery surrounding Ellen's tearoom and the ghost from the 1800's that just might be inhabiting the location. The old mystery is a thread that runs throughout the series but each book can be read as a standalone. Ms. Greenwood provides enough bits and pieces of the backstory to give you a sense of what has happened in the past but not too much so that the current story moves at a nice pace.
The current day murders provide plenty of opportunities for Ellen's character to shine in solving the mysteries. She's intelligent, thoughtful, and pays close attention to details. Her on again, off again boyfriend, Detective Tony Aragón has a very difficult time with her involvement. Can they work it out without Ellen giving up who she is? There are plenty of viable suspects offered to keep the reader guessing and the conclusion provided a satisfying ending with the plot and subplots woven together into a cohesive story.
The Wisteria Tearoom serves up many scrumptious delights! One of the items they became "famous" for during the Christmas season is New Mexico's State Cookie: Biscochitos. Ellen's chef and kitchen staff crank these cookies out by the hundreds daily and still can't keep up with the demand. Fortunately, Ms. Greenwood has included the recipe at the back of the book so you can try these treats at home. These flaky, anise-flavored cookies are easy to mix up and unlike sugar cookies, don't require special handling or chilling. You can add the traditional brandy or whisky to the dough but I used orange juice since I knew children would be consuming them. Dipped in a mixture of cinnamon and sugar, these are delicious cookies any time of the year! The recipe printed below makes a very generous amount of cookies. I halved the recipe and provided those measurements in the video at the bottom of the page.
Amazon Review
Yuletide in Santa Fe: biscochitos, farolitos, Las Posadas, music…and murder. Ellen Rosings does not have time for murder investigations. It's December, and the Wisteria Tearoom is awash in shoppers, cookies, and groups of strange women brought to tea by the eccentric Bird Woman. Alas, Ellen must cope with murder anyway. One of her high school classmates is stabbed to death, and she and her best friend Gina can't resist the puzzle. Handsome Tony Aragón is on the case, and Ellen is only too happy to assist, but when a second classmate of Ellen's turns up dead, Tony's protective instinct kicks in. Much as Ellen agrees, she can't stay in a cocoon—she's got a business to run. Is the fact that the victim has recently been to the tearoom merely a coincidence? Could Tony's gratifying concern for Ellen's safety inspire him to become her personal bodyguard? And what on earth should she get him for Christmas?
A special thanks to Patrice Greenwood for providing one winner with their choice of either a print or e-book copy of AS RED AS ANY BLOOD! Contest ends Sunday, February 11, 2018 at 11:59 pm PST and print is limited to U.S. residents only. Please use the Rafflecopter box located below the recipe to enter. The winner will be announced on this page and on Cinnamon & Sugar's Facebook page, as well as notified by email (so check your spam folder!)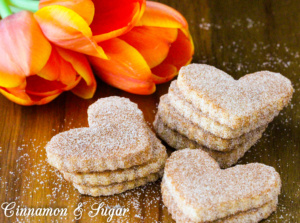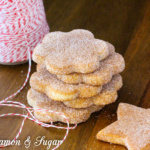 Biscochitos Cookies
This traditional treat, the official state cookie of New Mexico, is a holiday favorite!
Ingredients
6

cups

flour

3

teaspoons

baking powder

1

teaspoons

salt

1

pound

lard*

1-1/2

cups

sugar

2

teaspoons

whole anise seed

2

eggs, beaten

1/2

cup

brandy (or whisky, or juice)
Coating:
1

cup

sugar

4

tablespoons

cinnamon
Instructions
*Lard is traditional, but coconut oil or shortening may be substituted. Butter contains water and will produce a less flaky texture.

Preheat oven to 350 degrees (F).

In a medium bowl, mix flour, baking powder, and salt. Set aside.

In a large mixing bowl, cream lard, sugar, and anise.

Alternate adding dry ingredients and brandy. If dough is crumbly, add more liquid a little at a time until it pulls together. Dough will be stiff.

Knead a little, then roll out to 1/4-inch thick and cut. (Fleur-de-lis is reportedly the traditional shape, but I never saw one. A friend suspects Bishop Lamy of starting the rumor. Rounds, crescents, and round flowers are more common, but any shape will do.)

Bake on an ungreased or parchment-lined cookie sheet for 10 - 12 minutes or until lightly browned.

While cookies are baking, mix sugar and cinnamon in small bowl. Cool cookies slightly, then gently coat in cinnamon sugar. I like to lay a cookie on the mixture, cover it over with sugar and press gently, then lift out with a fork, letting excess coating fall back into bowl.

Set on a plate or rack to cool completely. Makes about five dozen depending on size of cutters.
Notes
Copyright 2017 by Patrice Greenwood. All rights reserved. Recipe shared with permission granted by the author.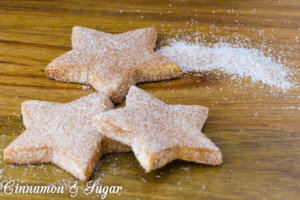 Pin to Pinterest: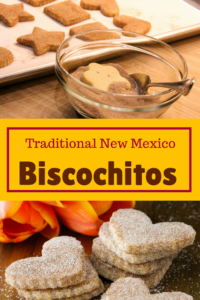 If you receive my blog post via email you will need to visit my website to view the video.