In addition to being an avid reader I love to write mysteries and create recipes for my books!
Available on Amazon
Set against the holiday cheer of twinkling lights, costumed carolers, and a festive line of extravagantly decorated boats participating in the annual Christmas boat parade in Newport Beach, California, cupcake caterer Emory Martinez finds that the grinch has crashed the party. Together with her sister Carrie, Emory is catering a delectable feast of holiday cupcakes and cookies aboard a luxury yacht for the new Mrs. Blair Villman and her guests.
Sparks fly when Carrie comes face-to-face with the hostess, who just happens to be Carrie's high school frenemy, and old grievances are dredged up. Adding fuel to the fire, Blair's stepson brings his mother, the former Mrs. Villman, to the party. Instead of celebrating holiday cheer, someone seems intent on channeling the Burgermeister Meisterburger and shutting down Blair's party permanently. When Emory finds a body aboard the yacht, she needs to discover who iced the victim before the Scrooge ruins not only her livelihood but her freedom as well.
Includes delicious holiday recipes.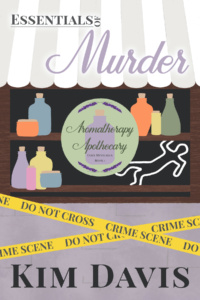 ABOUT THE BOOK
Following a scandal that chased her from San Francisco, Carissa Carmichael struggles to find acceptance in her small Southern California hometown as she opens her aromatherapy and reflexology shop.
When she finds a man murdered in her distilling room, Carissa becomes the main suspect, especially when her fingerprints are found on the murder weapon. Despite her father's position as Oak Creek Valley's chief of police, most townspeople assume she's guilty—including the new leading detective.
Refusing to run again, Carissa knows she must prove her innocence to save her shop and her family's reputation. With suspects acting as slippery as the essential oils she distills, it's up to Carissa to apply pressure and sniff out the truth before it's too late.
If you like your cozies with quirky hometown characters, small-town California charm, recipes, and essential oil and reflexology tips, Book 1 in the Aromatherapy Apothecary cozy mystery series is for you.   
BOOK LINKS
Publisher website – https://kindredinkpress.com/titles/essentials-of-murder/
Amazon US – https://www.amazon.com/dp/ASIN/B09BBLP2C2
Amazon UK – https://www.amazon.co.uk/dp/ASIN/B09BBLP2C2
Amazon CA – https://www.amazon.ca/dp/ASIN/B09BBLP2C2
Amazon AU – https://www.amazon.com.au/dp/ASIN/B09BBLP2C2
Barnes & Noble – https://www.barnesandnoble.com/w/essentials-of-murder-kim-davis/1139912711
Apple Books – https://books.apple.com/us/book/id1578537176
Kobo – https://www.kobo.com/us/en/ebook/essentials-of-murder
Goodreads – https://www.goodreads.com/book/show/58756107-essentials-of-murder
Available on Amazon
Framed and Frosted, the third book in the Cupcake Catering Mystery series, finds cupcake caterer, Emory Martinez, working at a Laguna Beach society Fourth of July soiree, with her sister and their new employee, Sal. With a host that seems intent on accosting both catering employees and guests alike, things go from bad to worse when he accuses Sal of murdering his long-dead son.
As the crescendo of exploding fireworks overhead becomes the backdrop for cupcakes and champagne, a deadly murder occurs. Can Sal and Emory explain why the cupcake the host ate, after shoving a trayful of buttercream frosted cupcakes onto Sal, resulted in his death? Or will the guests and detective alike believe that Sal is a murderer? Emory and her octogenarian employer, Tillie, whip into action to find out who framed Sal after being frosted by the victim.
Includes recipes!
Available on Amazon
Cupcake caterer Emory Martinez is hosting a Halloween bash alongside her octogenarian employer, Tillie. With guests dressed in elaborate costumes, the band is rocking, the cocktails are flowing, and tempers are flaring when the hired Bavarian Barmaid tries to hook a rich, hapless husband. Except one of her targets happens to be Emory's brother-in-law, which bodes ill for his pregnant wife. When Emory tracks down the distraught barmaid, instead of finding the young woman in tears, she finds her dead. Can she explain to the new detective on the scene why the Bavarian Barmaid was murdered in Emory's bathtub with Emory's Poison Apple Cake Pops stuffed into her mouth?
With an angry pregnant sister to contend with, she promises to clear her brother-in-law's name. As Emory starts asking questions and tracking down the identity of the costumed guests, she finds reasons to suspect her brother-in-law has been hiding a guilty secret. Her search leads her to a web of blackmail and betrayal amongst the posh setting of the local country club crowd. Can Emory sift through the lies she's being told and find the killer? She'll need to step up her investigation before another victim is sent to the great pumpkin patch in the sky.
Includes spooky Halloween recipes!
Available on Amazon
One glass of cheap California chardonnay cost Emory Gosser Martinez her husband, her job, and her best friend. Unfortunately, that was only the beginning of her troubles.
Distraught after discovering the betrayal by her husband and best friend, Tori, cupcake caterer Emory Martinez allows her temper to flare. Several people witness her very public altercation with her ex-friend. To make matters worse, Tori exacts her revenge by posting a fake photo of Emory in a compromising situation, which goes viral on social media. When Tori is found murdered, all signs point to Emory being the prime suspect.
With the police investigation focused on gathering evidence to convict her, Emory must prove her innocence while whipping up batches of cupcakes and buttercream. Delving into the past of her murdered ex-friend, she finds other people had reasons to want Tori dead, including Emory's own husband. Can she find the killer, or will the clues sprinkled around the investigation point the police back to her?
Includes recipes!
Available on Amazon
What's cozier than a cup of tea, a warm fire, and drooling over the mouth-watering food featured in your favorite mystery novels?
Some of today's most exciting mystery writers invite you to take a behind the scenes peek into their characters' kitchens where, among the stashed poisons, the sharpened knives, and the recipes for murder, the secret ingredients for their killer recipes are all spelled out.
Recipes from Andrea J. Johnson, G.P. Gardner, Rose Kerr, Lori Robbins, Jen Collins Moore, Judy L. Murray, Genevieve Essig, Grace Topping, Linda Norlander, Allison Brook, Judith Gonda, Lena Gregory, Kim Davis, Jackie Layton, Heather Weidner, and Colleen J. Shogan. Compiled and edited by Dawn Dowdle.
Available on Amazon
A father's disappearance never solved, a mother's secret taken to the grave, a daughter deceived…
Kathryn Landry thinks her life is just about perfect. She is the owner of a successful interior designer business in Newport Beach, California, and she has an attentive, supportive husband. But her world comes crashing down when her husband, Neil Landry, vanishes without a trace… in a situation almost identical to the disappearance of her father twenty years before.
With her father's disappearance still a mystery, Kathryn is skeptical that the detective assigned to her case will be able to find her husband. Determined to uncover the truth, Kathryn is plunged into a world of politics, high-priced call girls and wealth. As she begins to search for her husband, a decades-old secret her mother took to the grave threatens to destroy all she holds dear. Caught up in a web of betrayals and deceit, and not knowing who to trust, Kathryn must find a way to survive as she discovers the past has a way of repeating itself.
Includes recipes!
Editorial Reviews
"…there is enough action, including a few surprises—plus baking—to maintain a steady momentum. The breezy book concludes with a collection of unique recipes. An engaging cozy best enjoyed with a plate of cookies." – Kirkus Reviews on Sprinkles of Suspicion
"You are going to love this delicious new cozy mystery! Kim Davis pens characters who come to life and a story you won't want to put down, not to mention recipes that will make your mouth water. Don't miss this scrumptious treat! – Paige Shelton, New York Times Bestselling author of the Farmers' Market, Country Cooking School, Dangerous Type, Scottish Bookshop mysteries, and Alaska Wild suspense series.
"Sparkling prose, a deliciously twisty plot, and a colorful cast of characters make this debut cozy a surefire winner!" – Linda Reilly, author of the Cat Lady Mysteries and Deep Fried Mysteries
"Sprinkles of Suspicion contains all of the necessary ingredients for a fun culinary read – a charming heroine, an intriguing mystery and recipes to die for."– Catherine Bruns, USA Today Best Selling Author of the Cookies & Chance Mysteries and Italian Chef Mysteries
"A delightful cozy with a cool California setting and an imminently likable heroine." – Ellen Byron, Best Humorous Lefty Awards winner and author of the Agatha Award-winning and USA Today Bestselling Cajun Country Mysteries and The Catering Hall Mysteries
"This very well-written first-in-a-series from Kim Davis is a great read, hard to put down, and filled with intense "comeuppances" and realistic family dynamics." – Kathleen Costa, Kings River Life Magazine
"This story moves along at a great pace and doesn't lag anywhere. There is always something happening, drama, twists, and yes, cupcakes. So well-plotted, I was totally taken in by the entire story and flabbergasted when the real killer was revealed." – Escape With Dollycas Into A Good Book
"This fun and frothy cozy mystery will keep readers guessing—and make them hungry for cupcakes." – Virge B., Red Adept Editing, Proofreader
"…Davis deftly keeps readers as up in the air as Kathryn throughout this well-crafted tale. An impressive thriller by an author worth following." – Kirkus Reviews on A Game of Deceit
"In A Game of Deceit, K. A. Davis has crafted an emotional suspense with a taut, satisfying ending that should delight any fan of Mary Higgins Clark."  – Daryl Wood Gerber, Agatha Award-winning author of three cozy mystery series and the stand-alone suspense novels, GIRL ON THE RUN and DAY OF SECRETS
"Sly, sexy and spellbinding, A Game of Deceit grabs you in the first chapter and doesn't let you go until its breathtaking finish. Debut author K. A. Davis creates a riveting tale of betrayal, family, suspense and murder." – Jenny Kales, author of The Callie's Kitchen Mystery series
"A Game of Deceit is a marvelous read packed with action, suspense and intrigue. I couldn't put it down!" – Catherine Bruns, USA Today Best Selling Author of the Cookies & Chance mysteries
"The pace is fast, heart pounding and at times I found myself unable to catch my breath. I loved this book, it was an emotional ride for Kathryn Landry and for me the reader as well. This story is a must read for suspense lovers." ~Escape With Dollycas Into A Good Book
"With so many fascinating twists and turns in the plot, the reader becomes entangled in the threads of intrigue and is glued to the pages until the exciting finale. This is a well-written suspense novel that is sure to satisfy those who love a good mystery infused with intrigue and the elements of risk and danger." – Susan Sewell for Readers' Favorite