SURVIVAL OF THE FRITTERS, the first book in the brand new Deputy Donut Mystery series by Ginger Bolton is a great addition to the culinary cozy world! There's a certain satisfaction from starting a brand new series: new characters to become friends with, new locations to become acquainted with, and new foods to be introduced to. Ms. Bolton has created a very likable and sympathetic protagonist in Emily Westhill. She is caring, ready to help out those in need, but is also quite plucky. A young widow, she works alongside and co-owns the Deputy Donut shop with her father-in-law. I love their easy, loving relationship with each other despite their grief over their tragic loss. The donut shop is adorable and the perfect place for the town's police force to hang out, including Emily's best friend, Officer Misty. It's also the perfect meeting spot for the Knitpickers, a group of elderly knitting women. When one of the ladies in the group, Georgia, doesn't show up, it doesn't take long for Emily to get involved and assist the group in finding out what happened to their friend.
The mystery of the murder of kindly Georgia, who operated a doll hospital, is quite worrisome to the town, especially after another elderly woman in the Knitpicker group is attacked. The author provides a creative plot that ties in a cold-case murder involving Georgia's son and the death of Emily's husband. While getting involved means dredging up painful memories for Emily, she is determined to help solve the case and bring closure… not only for herself but for her elderly friends. There are plenty of viable suspects and the author provides an exciting, suspenseful finale where Emily shows her resourcefulness in bringing the murderer to justice.
There are plenty of mentions of mouth-watering donuts and fritters in the story. It was almost enough to make me head down to a local donut shop and stock up! Fortunately Ms. Bolton includes several yummy recipes at the back of the book. As I was reading through the recipes, long-forgotten memories from childhood of my mother and aunts getting together to make homemade donuts popped up! I had completely forgotten about that, and those memories brought back the tastes of smells of those yummy treats. I haven't ever made donuts or fritters myself and was drawn to Ms. Bolton's recipe for Cranberry-Orange-Walnut Fritters. The batter was super quick to mix up and the scent of frying dough made my mouth water. It just doesn't get any better than hot fritters rolled in sugar and then popped into a waiting mouth!
Amazon Synopsis
Emily Westhill runs the best donut shop in Fallingbrook, Wisconsin, alongside her retired police chief father-in-law and her tabby Deputy Donut. But after murder claims a favorite customer, Emily can't rely on a sidekick to solve the crime—or stay alive.
If Emily has learned anything from her past as a 911 operator, it's to stay calm during stressful situations. But that's a tall order when one of her regulars, Georgia Treetor, goes missing. Georgia never skips morning cappuccinos with her knitting circle. Her pals fear the worst—especially Lois, a close friend who recently moved to town. As evening creeps in, Emily and the ladies search for Georgia at home. And they find her—murdered among a scattering of stale donuts . . .
Disturbingly, Georgia's demise coincides with the five-year anniversary of her son's murder, a case Emily's late detective husband failed to solve before his own sudden death. With Lois hiding secrets and an innocent man's life at stake, Emily's forced to revisit painful memories on her quest for answers. Though someone's alibi is full of holes, only a sprinkling of clues have been left behind. And if Emily can't trace them back to a killer in time, her donut shop will end up permanently closed for business . . .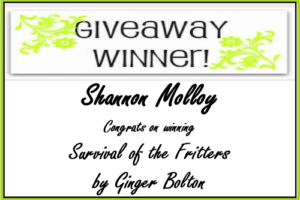 A special thanks to Ginger Bolton for providing one winner with a print copy of SURVIVAL OF THE FRITTERS! Contest ends Monday, February 19, 2018 at 11:59 pm PST and is limited to U.S. residents only. Please use the Rafflecopter box located below the recipe to enter. The winner will be announced on this page and on Cinnamon & Sugar's Facebook page, as well as notified by email (so check your spam folder!)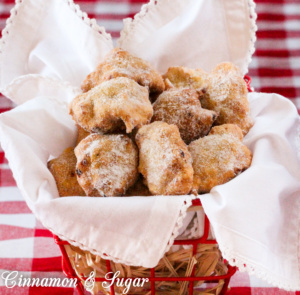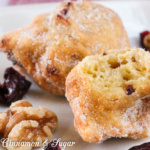 Cranberry-Orange-Walnut Fritters
Ingredients
1

cup

all-purpose flour

2

tablespoons

sugar

2

eggs

3

tablespoons

milk

2

tablespoons

fresh cranberries, chopped*

1

tablespoon

walnuts, chopped

2

teaspoons

orange zest

1/4

teaspoon

orange extract

Granulated sugar

Vegetable oil with a smoke point of 400 degrees or higher, or follow your deep fryer manufacturer's instructions
Instructions
Stir flour and sugar together with a fork.

Stir in eggs, milk, cranberries, walnuts, orange zest, and orange extract until blended.

When oil reached 370 degrees (F), drop batter by large spoonfuls into the oil without crowding them. Fry until both sides are golden, approximately 1 minute per side, turning once. Lift basket to drain, then drain fritters on paper towels.

While still warm, roll in granulated sugar and serve.

*If fresh cranberries are out of season, substitute frozen or dried cranberries.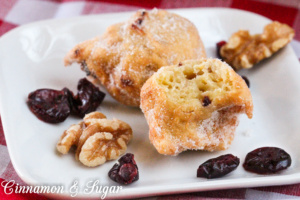 Pin to Pinterest: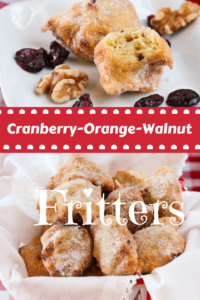 If you receive my blog post via email you will need to visit my website to view the video.
I was provided an advance copy with the hopes I would review. All thoughts and opinions are my own.