BOSTON SCREAM MURDER, the fourth book in the Deputy Donut Mysteries by Ginger Bolton, is another terrific addition to a truly delicious series. With a fun title and a Halloween-worthy cover to draw the reader in, Ms. Bolton delivers entertainment along with humorous puns throughout the entire book. Protagonist, young widow Emily Westhill, is one of those delightful characters that I enjoy spending time with. She's smart, hardworking, and has a caring side that extends not only to her family and friends, but is shown to anyone who walks through her Deputy Donut shop. I love how she works alongside with her father-in-law, who just happens to be the retired chief of police. Not only does she manage to have a congenial work relationship, but she's remained very close to her in-laws even after the death of her husband. The author has developed numerous memorable characters throughout this series and I especially enjoy the fun names assigned to the groups of people who hang out at the donut shop. "Retired Men" and "Knitpickers" are favorites of mine and it's been delightful to see these two distinct senior groups interact and become part of the story.
Despite Halloween being the theme of the book, it was a fun change to find that the murder mystery happens to center around a birthday party being thrown by the 70-year-old birthday boy himself. But don't worry, there's plenty of Halloween ambience woven into the tale throughout. The author does an admirable job of entwining a possible cold case, a long-lost love, and a jealous, jilted boyfriend. With lots of suspects, Emily must separate the tricksters from the treaters while dishing out donuts. The protagonist takes a few chances with her own safety that had me cringing but once she finds evidence or a possible clue, she's quick to turn it over to the police right away. The clues were expertly plotted throughout and I'll admit, I didn't figure it out because I fell for every misdirection. All in all, this newest addition is a bewitching read and I can't wait for the next book to release.
Now if you're like me, I always start by reading the acknowledgements at the beginning of the book. Imagine my surprise and delight to find my name and blog mentioned for a tip I provided (many months ago and promptly forgot I had done so) for one of the recipes. And of course I've prepared and shared three other donut recipes from previous books… all utterly delicious! Ms. Bolton continues that tradition with another two donut recipes at the back of the book. I've included links for those recipes at the bottom.
I couldn't help but be drawn to her recipe for Scare-It Cake Donuts — a riff on Carrot Cake! Filled with warm, autumn spices and a generous portion of grated carrots to keep them extra moist, these donuts are a treat for all ghouls and goblins! My granddaughter made them for this blog post (she's at that age where she needs almost no input from me in the kitchen now!) including the frosting and decorating. I was grateful that these donuts are baked and not deep-fried since I would have been worried about her safety. It also gave us a chance to pull out her mini donut maker that she convinced me to purchase for her over ten years ago… and that we've used only once, lol! It still works and created fun-sized donuts to pop into our mouths along with regular-sized donuts we baked in the oven. Either way, Scare-It Cake Donuts are a tasty treat!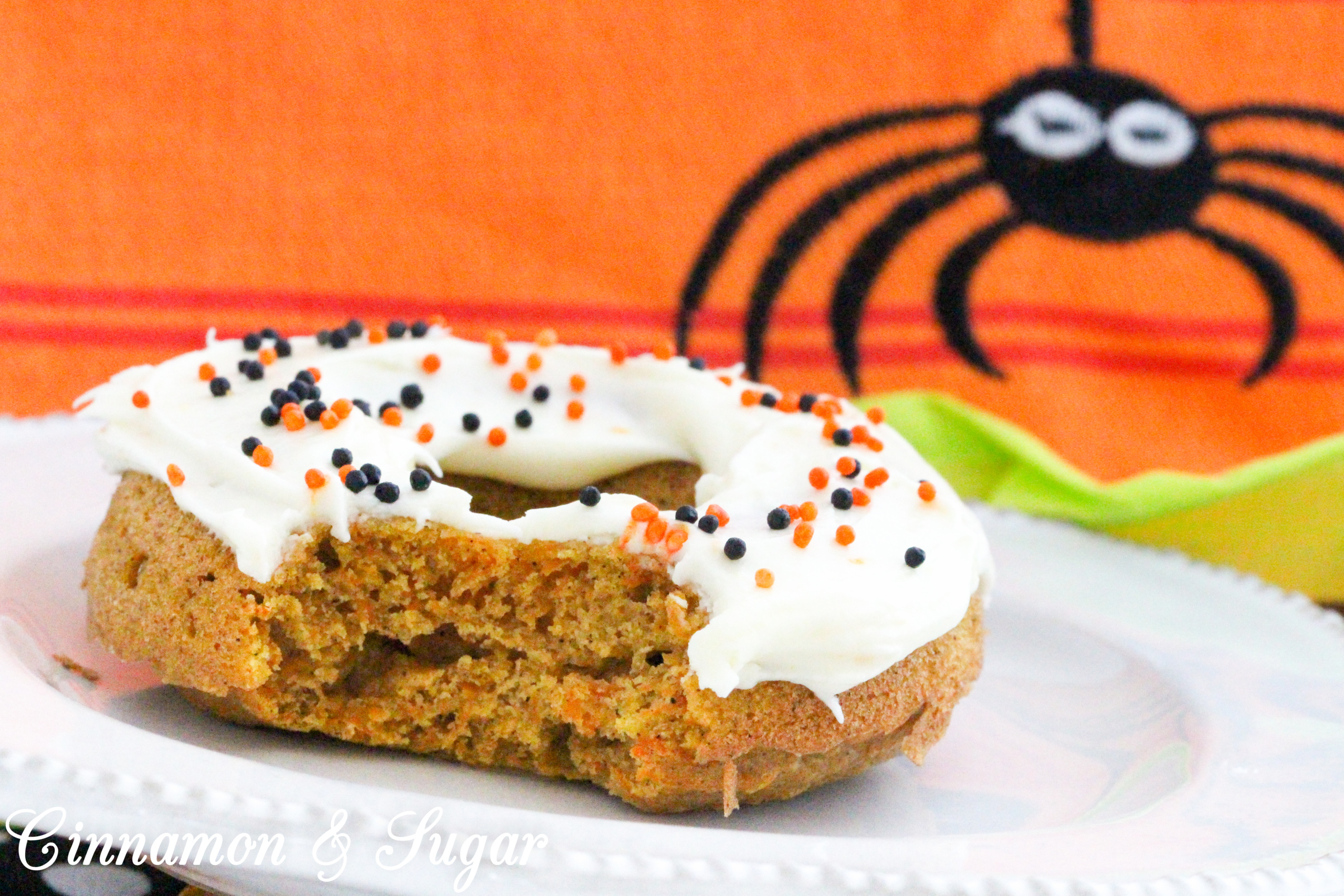 Amazon Synopsis
Halloween in the small town of Fallowbrook, Wisconsin, is the perfect season for Deputy Donut Café owner Emily Westhill to unmask a killer.
 
October 31st is just around the corner and Emily Westhill's Boston cream donuts, carved with a scream, have made an indelible impression on local eccentric Rich Royalson. So much so that he's ordered three dozen, with twice the fudge icing, for his 70th birthday—a special event in more ways than one. It's to be held on fog-shrouded Lake Fleekom where, twenty years ago, his wife mysteriously drowned.
But the next day, when Emily arrives with her scrumptious screamers, she stumbles upon Rich's corpse. The poor guy wanted a unique birthday bash—just not one to the side of his skull. With a guest list of possible perpetrators, and his last will and testament suspiciously left at the scene, Emily soon discovers that the Royalson closet is rattling with skeletons. As the fog thickens, motives mount, and the tricks outnumber the treats, Emily fears that Rich may not be the last one in Fallowbrook to go out screaming.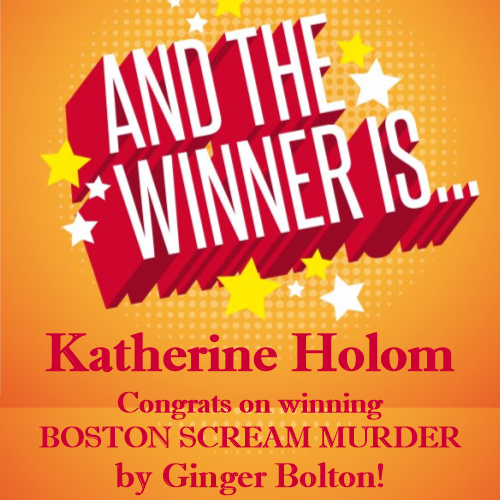 A special thanks to Ginger Bolton for providing one lucky winner with a print copy of BOSTON SCREAM MURDER! Giveaway is limited to U.S. and Canadian residents. Contest ends August 30, 2020 at 11:59 pm PST. Please use the Rafflecopter box located below to enter. The winner will be announced on this page and on Cinnamon & Sugar's Facebook page, as well as notified by email (so check your spam folder!)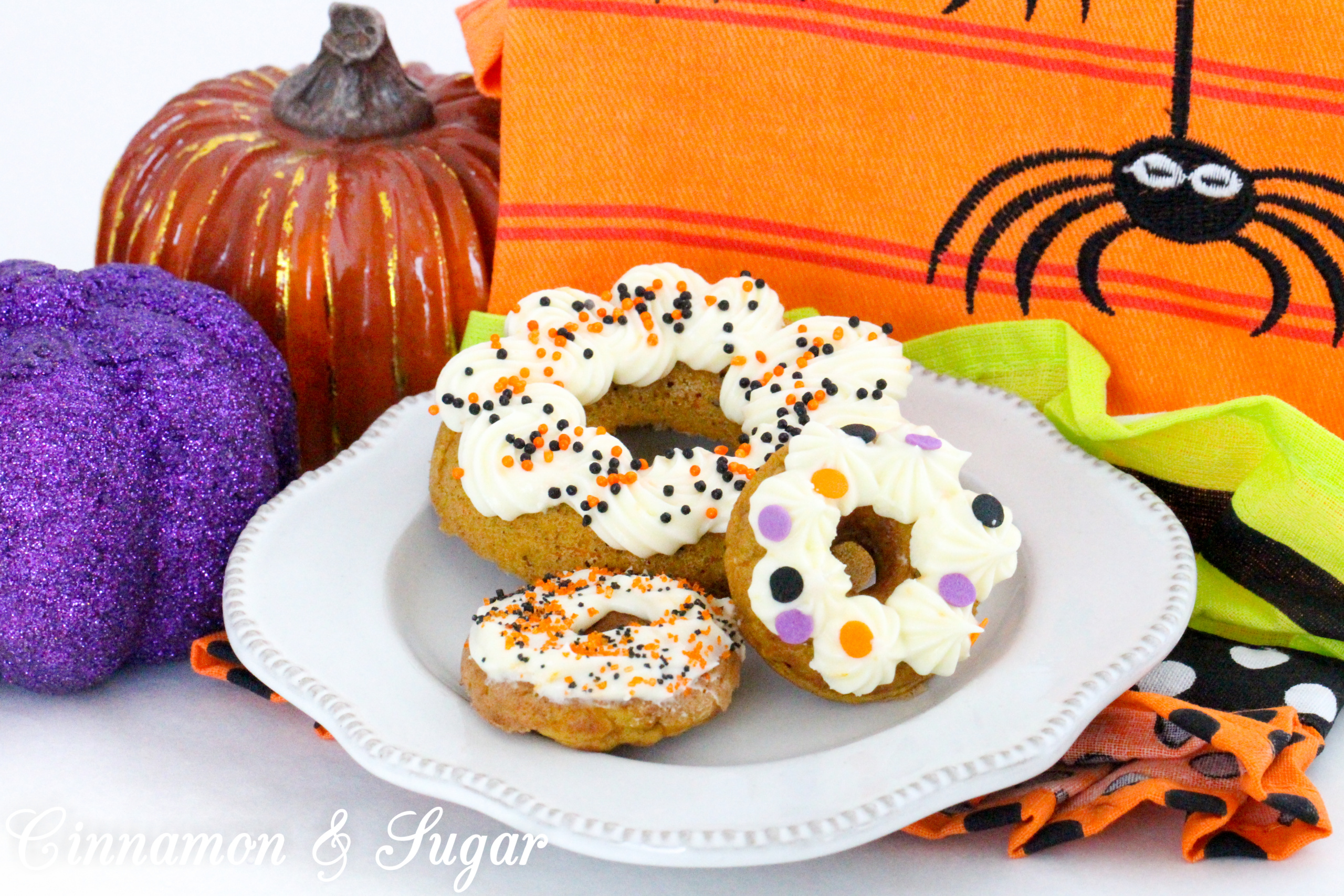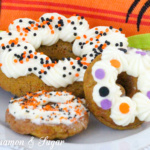 Scare-It Cake Donuts
These are baked, using a donut pan.
Ingredients
For the donuts:
1

egg

1/4

cup

orange or pineapple juice

1/4

cup

unsalted butter, melted

1

tablespoon

orange zest

1/4

cup

brown sugar

1

cup

all-purpose flour

1/2

teaspoon

baking powder

1/4

teaspoon

baking soda

1/2

teaspoon

cinnamon

1/4

teaspoon

allspice

1/4

teaspoon

nutmeg

1/4

teaspoon

ginger

1-1/4

cup

finely grated carrots
For the orange cream cheese frosting:
1/4

cup

butter, room temperature

4

ounces

cream cheese, room temperature

1

tablespoon

orange juice

1

tablespoon

orange zest

2

cups

sifted confectioners' sugar

Orange food coloring (optional)

Sprinkles (optional)

Up to 1 more tablespoon orange zest (optional)
Instructions
For the donuts:
Preheat oven to 350 degrees (F).

Beat the egg in a large bowl. Beat in the juice, butter, orange zest, and sugar.

Add the flour, baking powder, baking soda, and spices. Mix until blended.

Stir in the grated carrots.

Spoon the mixture into donut pan, filling each ring.

Bake for 9 - 11 minutes. Place on a wire rack and cool completely.
For the orange cream cheese frosting:
Cream the butter and cream cheese together until fluffy.

Stir in the orange zest and orange juice.

Beat in 1 cup sugar. Beat in more sugar, a tablespoon at a time, until the frosting holds it's shape.

Stir in the orange food coloring, if using, until desired shade is reached.

Spread the frosting on the cooled donuts.

Decorate with sprinkles or orange zest if desired.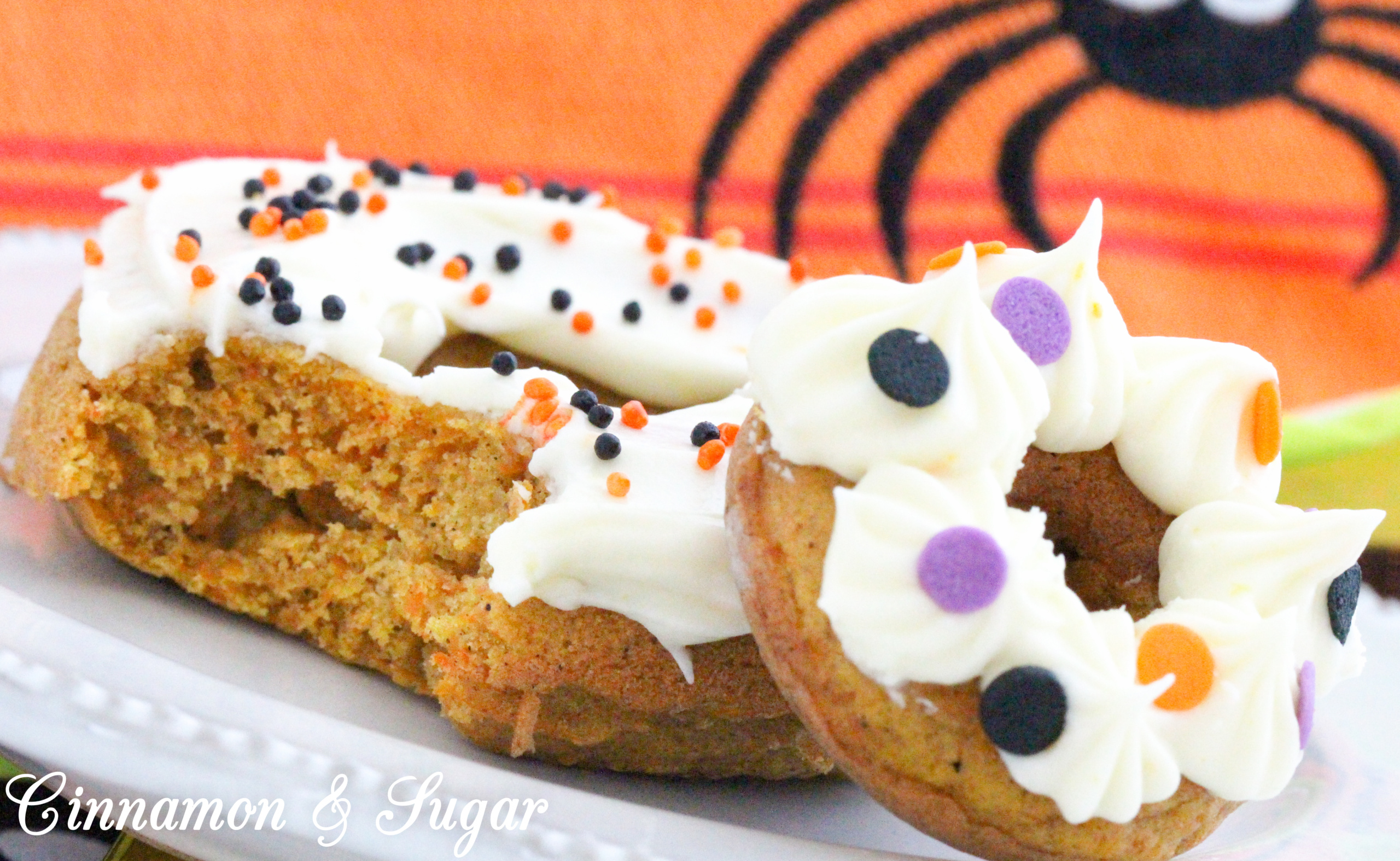 Pin to Pinterest: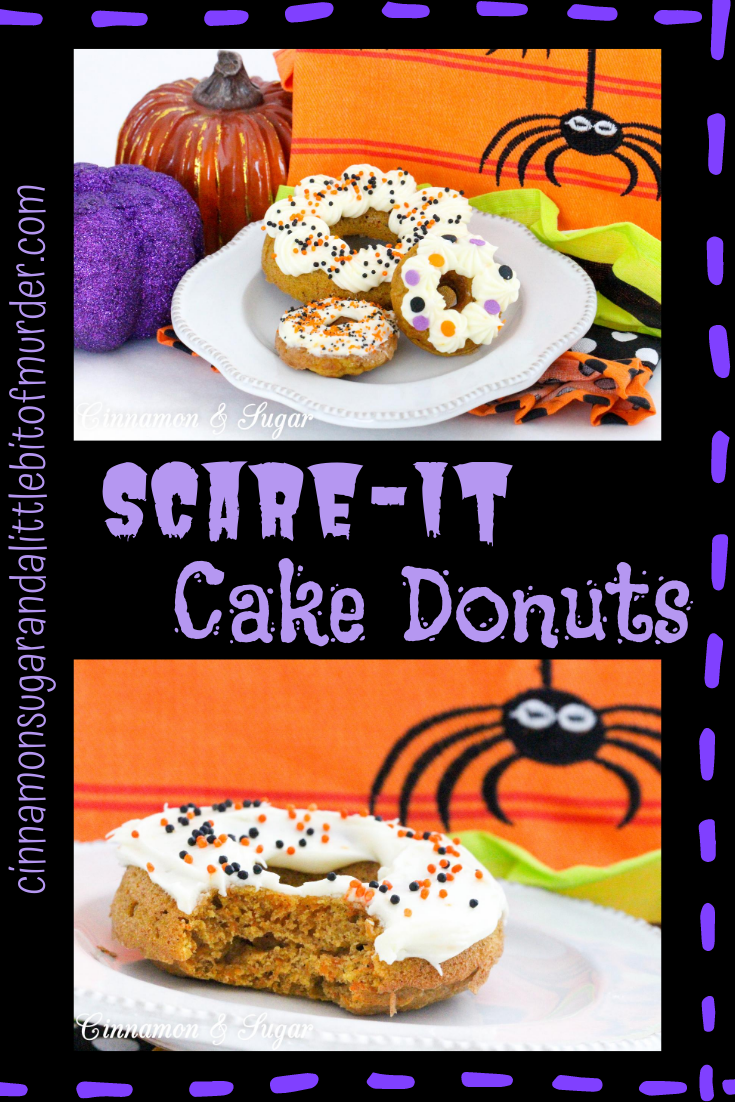 I was provided with an advance copy. All thoughts and opinions are my own.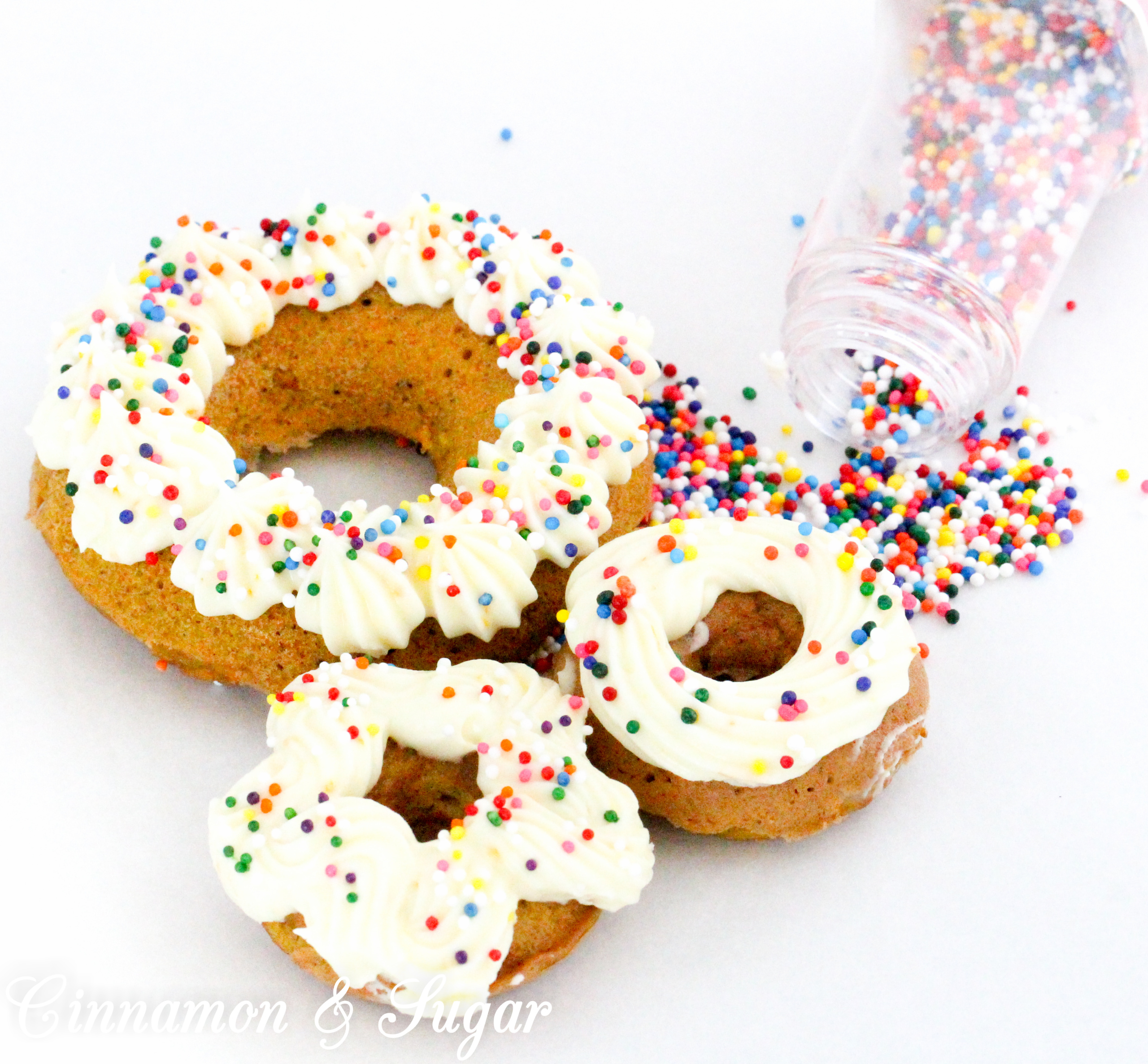 Donut recipes featured in the Deputy Donut Mysteries
Jelly-Filled Donuts: https://cinnamonsugarandalittlebitofmurder.com/jelly-filled-donuts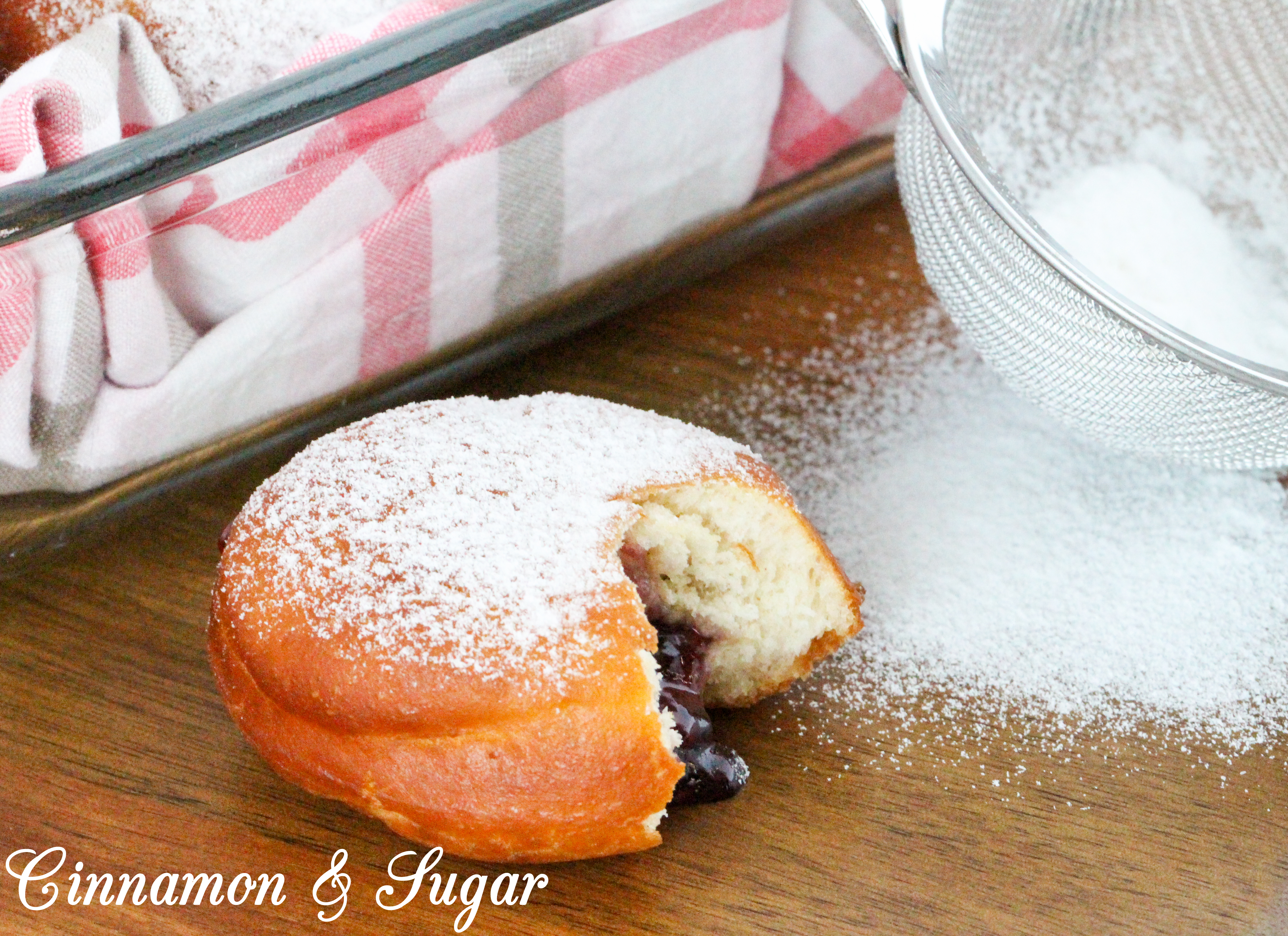 Black-and-Whites Baked Donuts: https://cinnamonsugarandalittlebitofmurder.com/baked-donuts/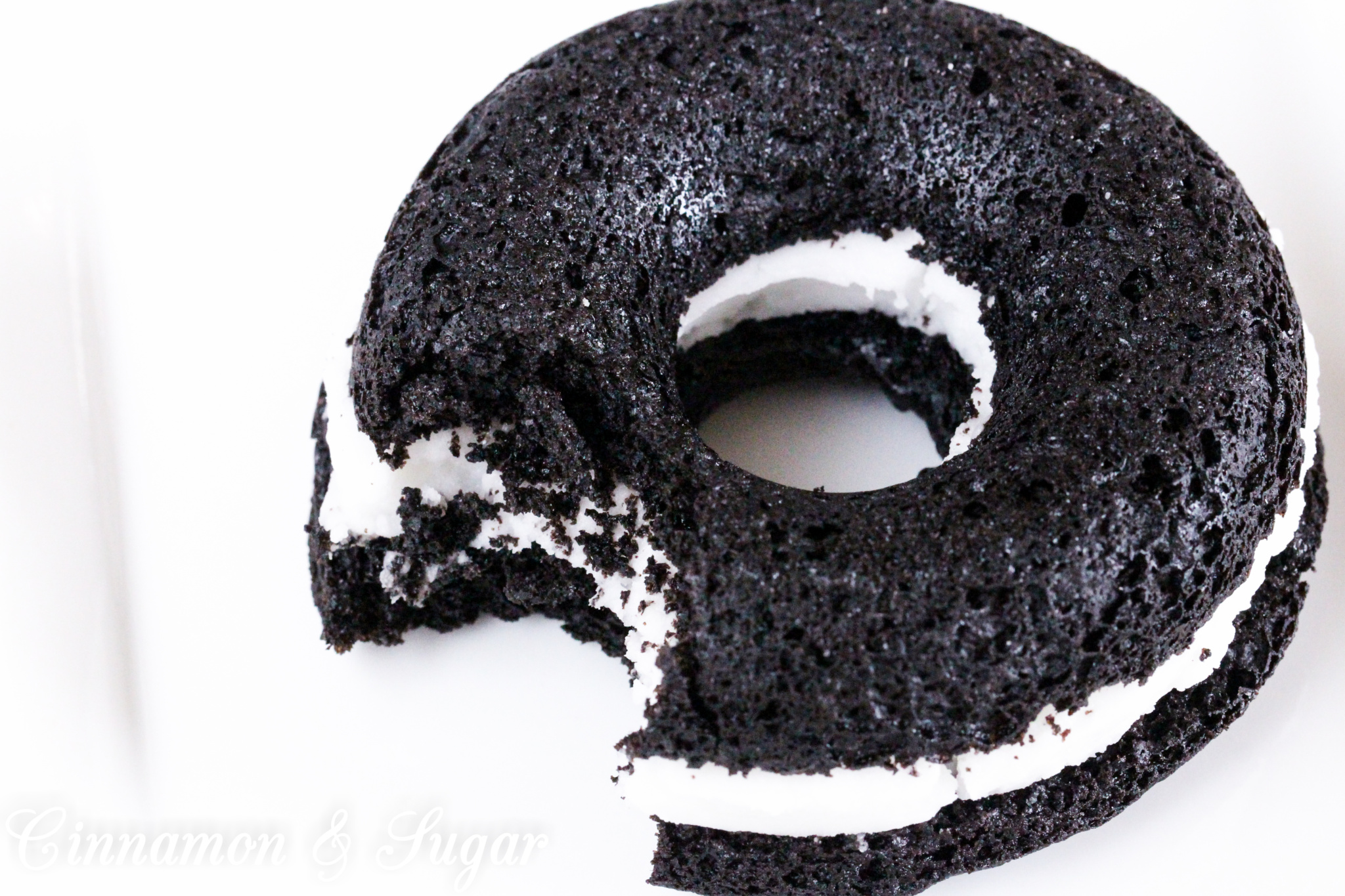 Cranberry-Orange-Walnut Fritters: https://cinnamonsugarandalittlebitofmurder.com/cranberry-orange-walnut-fritters/