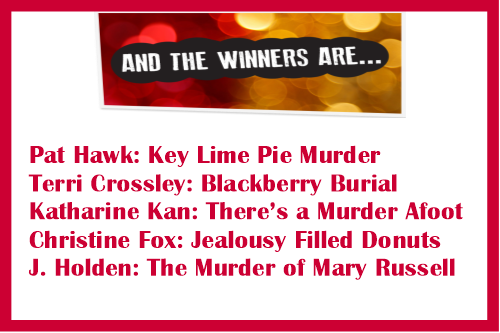 Five books = Five Winners! To celebrate Buy A Friend A Book Day I'm giving away five books as shown in the photo below. Please use the Rafflecopter below and be sure to comment about which book you'd like to receive. Unfortunately, due to shipping costs, contest is limited to U.S. residents. Contest ends Saturday, September 5, 2020.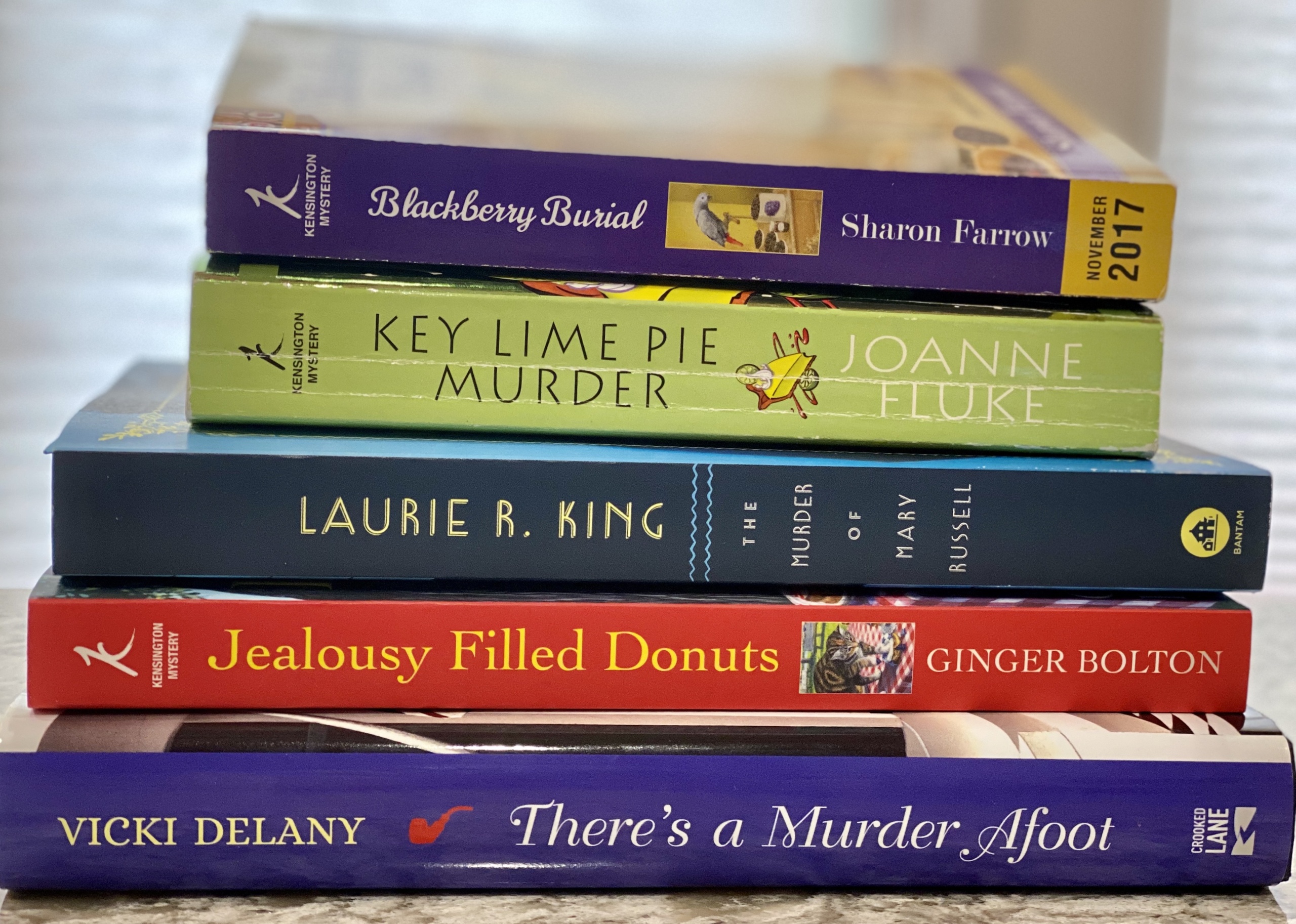 THERE'S A MURDER AFOOT by Vicki Delany
Gemma Doyle and her friends travel to London for a Sherlock Holmes convention–but will Gemma's father take the fall for a felonious forger's fatality?
The 6th of January is Sherlock Holmes's birthday, and lucky for Gemma Doyle, January is also the slowest time of the year at both the Sherlock Holmes Bookshop and Emporium, and Mrs. Hudson's Tea Room. It's a good time for Gemma and her friends to travel to England for a Holmes Convention. For Gemma, the trip provides an opportunity to visit her parents, Jayne Wilson is excited about seeing all the sites London has to offer, and Ryan Ashburton just wants to spend some time with Gemma. But the trip is immediately derailed when Gemma's father Henry recognizes his brother-in-law Randolph Denhaugh, who disappeared more than thirty years ago on the night he stole a valuable painting from his own parents.
Henry, a retired detective with Scotland Yard, has been keeping tabs on the man's career as a forger of Old Masters and he warns Randy to stay away from his family. It's up to Gemma, with the help of her friends, to plunge into the "lowest and vilest alleys" of London to save her father from prison.
JEALOUSY FILLED DONUTS by Ginger Bolton
It is a truth universally acknowledged—cops and donuts go together. Exhibit A: Deputy Donut Café, owned and operated by detective's widow Emily Westhill and her father-in-law, the retired police chief of Fallingbrook, Wisconsin. Named after Emily's adored and adorable tabby, the donut shop is a favorite among cops, firemen, and EMTs, as well as tourists and townspeople. So when Fallingbrook needs donuts for their Fourth of July picnic, Emily's shop gets deputized.
But a twisted killer has found another use for Emily's treats. At the picnic, a firecracker is hidden in a stack of raspberry-filled donuts and aimed at the unwitting queen of the festivities. When it explodes, she is killed. Having her jelly donuts involved puts Emily in a sticky situation, and when a shady shutterbug tries to frame her with incriminating photos, she finds herself in quite a jam. To preserve her freedom and her shop's reputation, Emily needs to solve this case—before the fuse-lighting felon goes off again …
THE MURDER OF MARY RUSSELL by Laurie R. King
Mary Russell is used to dark secrets—her own, and those of her famous partner and husband, Sherlock Holmes. Trust is a thing slowly given, but over the course of a decade together, the two have forged an indissoluble bond.
And what of the other person to whom Mary Russell has opened her heart: the couple's longtime housekeeper, Mrs. Hudson? Russell's faith and affection are suddenly shattered when a man arrives on the doorstep claiming to be Mrs. Hudson's son.
What Samuel Hudson tells Russell cannot possibly be true, yet she believes him—as surely as she believes the threat of the gun in his hand. In a devastating instant, everything changes. And when the scene is discovered—a pool of blood on the floor, the smell of gunpowder in the air—the most shocking revelation of all is that the grim clues point directly to Clara Hudson. Or rather to Clarissa, the woman she was before Baker Street.
The key to Russell's sacrifice lies in Mrs. Hudson's past. To uncover the truth, a frantic Sherlock Holmes must put aside his anguish and push deep into his housekeeper's secrets—to a time before her disguise was assumed, before her crimes were buried away. There is death here, and murder, and trust betrayed. And nothing will ever be the same.
KEY LIME PIE MURDER by Joanne Fluke
It promises to be a busy week for Hannah Swensen. Not only is she whipping up treats for the chamber of commerce booth at the Tri-County fair, she's also judging the baking contest; acting as a magician's assistant for her business partner's husband; trying to coax Moishe, her previously rapacious feline, to end his hunger strike, and performing her own private carnival act by juggling the demands of her mother and sisters.
With so much on her plate, it's no wonder Hannah finds herself on the midway only moments before the fair closes for the night. After hearing a suspicious thump, she goes snooping–only to discover Willa Sunquist, a student teacher and fellow bake contest judge, dead alongside an upended key lime pie. But who would want to kill Willa and why?
Now Hannah needs to crank up the heat, hoping that Willa's killer will get rattled and make a mistake. If that happens she intends to be there, even if it means getting on a carnival ride that could very well be her last. . .
BLACKBERRY BURIAL by Sharon Farrow
Between a booming art scene and elaborate Independence Day festivities, July in lakeshore Oriole Point, Michigan, is always a blast. Especially when an explosive murder case crashes the fun . . .
As owner of The Berry Basket, Marlee Jacob has learned a thing or two about surviving the summer tourist season in Oriole Point. So she gladly agrees to help run the annual road rally in honor of the local Blackberry Art School's centenary celebration. While alumni arrive from around the country, Marlee hopes the expansive Sanderling farm will make an appropriate starting point for the race—despite rumors that the land is cursed . . .
But when Marlee surveys the property, she stumbles upon a long-dead body hidden in the bramble. It's a horrifying mystery to everyone except her baker, who's convinced the skeletal remains belong to a former student who had gone missing twenty years earlier. As the Fourth of July activities heat up, Marlee must rush to catch an elusive murderer—before the next 'blackberry victim' is ripe for the picking!