I have so much news to share today that I'm going to skip the recipe… but I promise I'll be sharing a few Halloween recipes soon from Cake Popped Off!
SPRINKLES OF SUSPICION has been awarded the Gold Medal
in the Readers' Favorite Book Award contest!
With a 5-star review, Trudi LoPreto, Reviewer for Readers' Favorite says: "Author Kim Davis created characters that are real and likable, at least most of them. Emory makes a great heroine and it was impossible not to hope for her innocence to be proven. If you love cozy mysteries, murder stories, and a great plot, then Sprinkles of Suspicion is a must-read."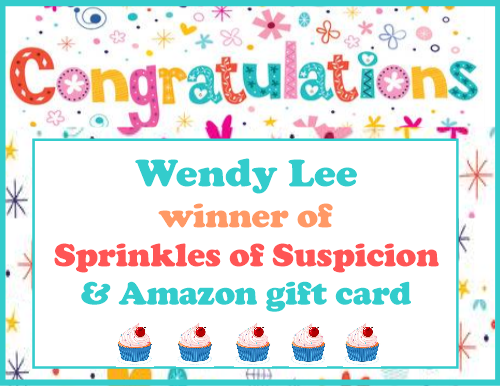 To celebrate, I'm giving away winner's choice of either print or an e-book copy of SPRINKLES OF SUSPICION plus a $10 Amazon gift card. Please use the Rafflecopter below. Unfortunately, due to shipping costs, print is limited to U.S. residents. Contest ends Saturday, September 12, 2020.
I'm also celebrating by offering everyone the opportunity to preorder CAKE POPPED OFF at a special discounted price of only $0.99. If you've already preordered (and thank you!), you will automatically be given the sale price.
Some of the early reviews for CAKE POPPED OFF!
"This book has all the qualities of a top notch cozy mystery. The characters were entertaining and the whodunit was well written and certainly kept me guessing." – Karen Kenyon, Reviewer
"Another great book in the series and I highly recommend Cake Popped Off!" – Kim Heniadis, Reviewer
"The mystery is top-notch and had me popping from one suspect to another only to have my suspicions lead to dead ends. Surprise after surprise had me enjoying the plot moves and startling revelations!" – Linda Langford, Chatting About Cozies
"CAKE POPPED OFF is an exciting, page turning whodunit that I recommend to anyone that loves cozy mysteries or just an excellent entertaining book." – Kay Garrett, Reviewer
"As cozy mysteries go, this is one of the best I have read. The characters are engaging and the plot line interesting. Totally loved it." – Sandra B., Netgalley Reviewer
"Cake Popped Off might be even better than its predecessor in the series. Full of characterization, scandal, and mouth-watering recipes, this book is perfect for lovers of cozy mysteries." – Virge B., Proofreader, Red Adept Editing
"This book is a fun romp…even better than the first! Ms. Davis pens an intriguing cast of characters and infuses the plot with plenty of humor along with intrigue." – Amary C., Netgalley Reviewer
Thanks to everyone for being a part of my journey as both an author and a blogger!