MURDER IN THE BAYOU BONEYARD, the sixth book in the Cajun Country Mystery series by Ellen Byron, is a fun Halloween-themed romp through the bayou! From the darling cover to the opening sentence to the very last paragraph, Ms. Bryon is a captivating storyteller. Her strong descriptive voice brings the narrative to life and immerses the reader into the spirit of the holiday. However, protagonist Maggie Crozat isn't a fan of all that Halloween entails which leads to humor and mayhem. Nevertheless, she conjures up a "Pelican's Spooky Past" package for both her family-owned and locally-owned plantation B & Bs to attract guests, since the state of Louisiana proudly bills itself as the most haunted in America. Her family's theme for guests is "Food and Crafts" which is my kind of Halloween event… nothing spooky for me!
In addition to the Spooky Past package, the Crozat Plantation B & B is opening up their new spa. The lovely descriptions capture the relaxing theme of the setting and lulls the reader into a sense of wellbeing… until a rougarou starts harassing guests. A cross between a werewolf and vampire, the rougarou is seen by multiple guests at multiple B & Bs which sends guests packing and cancelling reservations. It's devastating for the already hard-hit family-owned businesses. I love how the author interjects a spooky Bayou legend into the mystery, intertwining it with a murder, which adds to the theme of Halloween. On top of worrying about the monster and a murder, Maggie has a wedding to plan while being blindsided with greedy distant relatives who have descended upon the Crozat plantation. Poor Maggie can't catch a break because things go from bad to worse with every chapter. Ms. Byron builds the tension in the story with each passing page until I could not put the book down until I finished the very last word!
Maggie's mom, Ninette, is the chef for the Crozat B & B, and serves plenty of mouthwatering dishes to their guests. Ms. Bryon includes several recipes at the back of the book and the recipe for Sugar High Pie caught my eye. As the author puts it, it's like a candy bar inside a pie! With a base similar to pecan pie, the addition of chocolate, raisins, and coconut raises the scrumptious level to the stratosphere! It's definitely rich and plenty sweet and a little goes a long way, but your taste buds will be highly gratified with the sugar high they receive from this Sugar High Pie!
Amazon Synopsis
Maggie Crozat, proprietor of a historic Cajun Country B&B, prefers to let the good times roll. But hard times rock her hostelry when a new cell phone app makes it easy for locals to rent their spare rooms to tourists. With October–and Halloween–approaching, she conjures up a witch-crafty marketing scheme to draw visitors to Pelican, Louisiana.
Five local plantation B&Bs host "Pelican's Spooky Past" packages, featuring regional crafts, unique menus, and a pet costume parade. Topping it off, the derelict Dupois cemetery is the suitably sepulchral setting for the spine-chilling play Resurrection of a Spirit. But all the witchcraft has inevitably conjured something: her B&B guests are being terrified out of town by sightings of the legendary rougarou, a cross between a werewolf and vampire.
When, in the Dupois cemetery, someone costumed as a rougarou stumbles onstage during the play–and promptly gives up the ghost, the rougarou mask having been poisoned with strychnine, Maggie is on the case. But as more murders stack up, Maggie fears that Pelican's spooky past has nothing on its bloodcurdling present.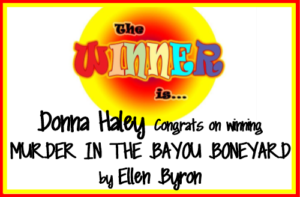 A special thanks to Ellen Byron for providing one lucky winner with a print copy of MURDER IN THE BAYOU BONEYARD! Giveaway is limited to U.S. residents. Contest ends Wednesday, September 16, 2020 at 11:59 pm PST. Please use the Rafflecopter box located below to enter. The winner will be announced on this page and on Cinnamon & Sugar's Facebook page, as well as notified by email (so check your spam folder!)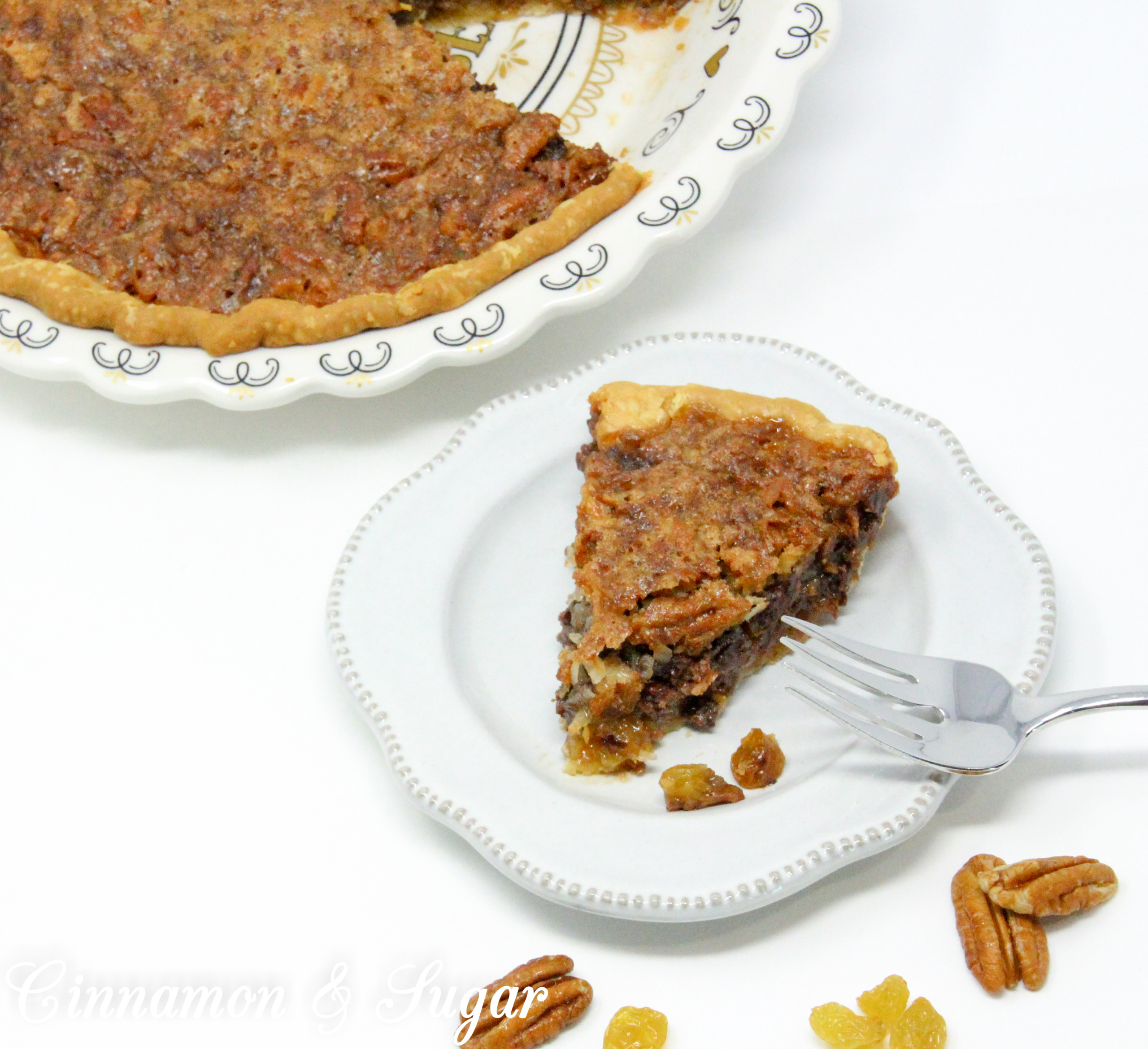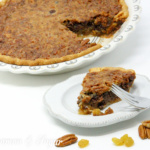 Sugar High Pie
Ellen Byron: Sometimes one recipe begets another. I was making the Pecan Coconut Pie Bars from the recipe in A CAJUN CHRISTMAS KILLING, my fourth Cajun Country Mystery, when inspiration struck. What if I took a frozen pie crust, made the pecan base, and threw in a bunch of stuff with the pecans? Thus Sugar High Pie was born.
The name comes from the fact that in addition to that basic pecan base, the ingredients in this dessert include dark chocolate, milk chocolate, coconut, and raisins. When you think about it, it's like a candy bar inside a pie.
While you're welcome to follow the recipe below and enjoy the ensuing deliciousness, feel free to experiment. Add a half cup of chopped dates or dried cherries. Or both. Just make sure you share the recipe with all of us!
Ingredients
1

unbaked 8- or 9-inch pie crust, frozen or your favorite recipe

1

cup

brown sugar

6

tablespoons

butter

1

whole egg

3

egg whites

2

tablespoons

bourbon

1/2

teaspoon

salt

1/2

cup

light corn syrup

1/2

cup

pecan pieces

1/2

cup

milk chocolate bits

1/2

cup

dark chocolate bits

1/2

cup

golden raisins

1/2

cup

shredded coconut
Instructions
Preheat oven to 375 degrees (F).

Cream brown sugar and butter until well blended.

Beat in egg and egg whites, one at a time.

Stir in bourbon, salt, and corn syrup.

Add pecans, chocolate, raisins, and coconut, one ingredient at a time. Stir to blend well.

Pour mixture into pie crust. Bake for 35 to 45 minutes until middle sets or a knife inserted in the pie comes out clean.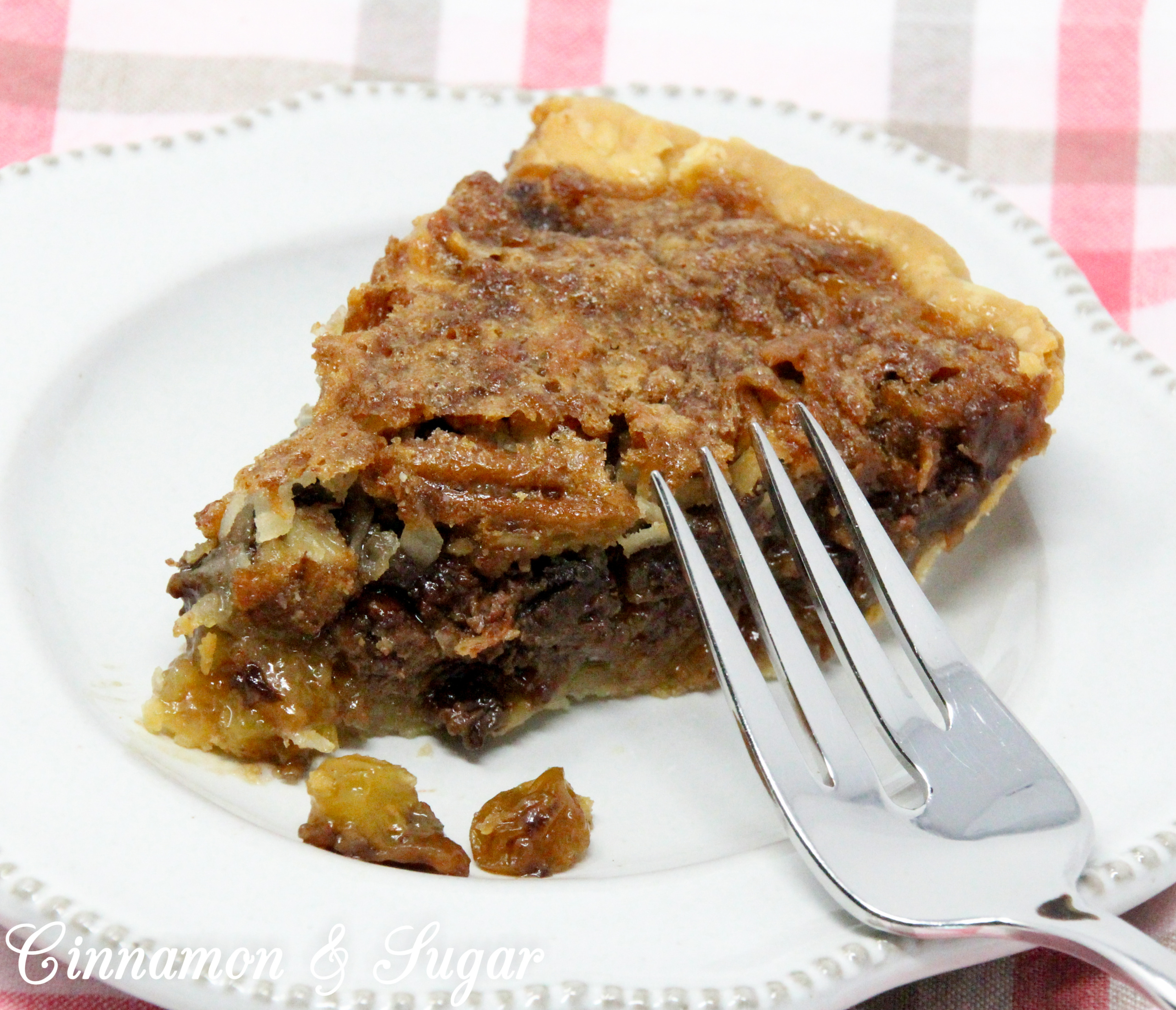 Pin to Pinterest: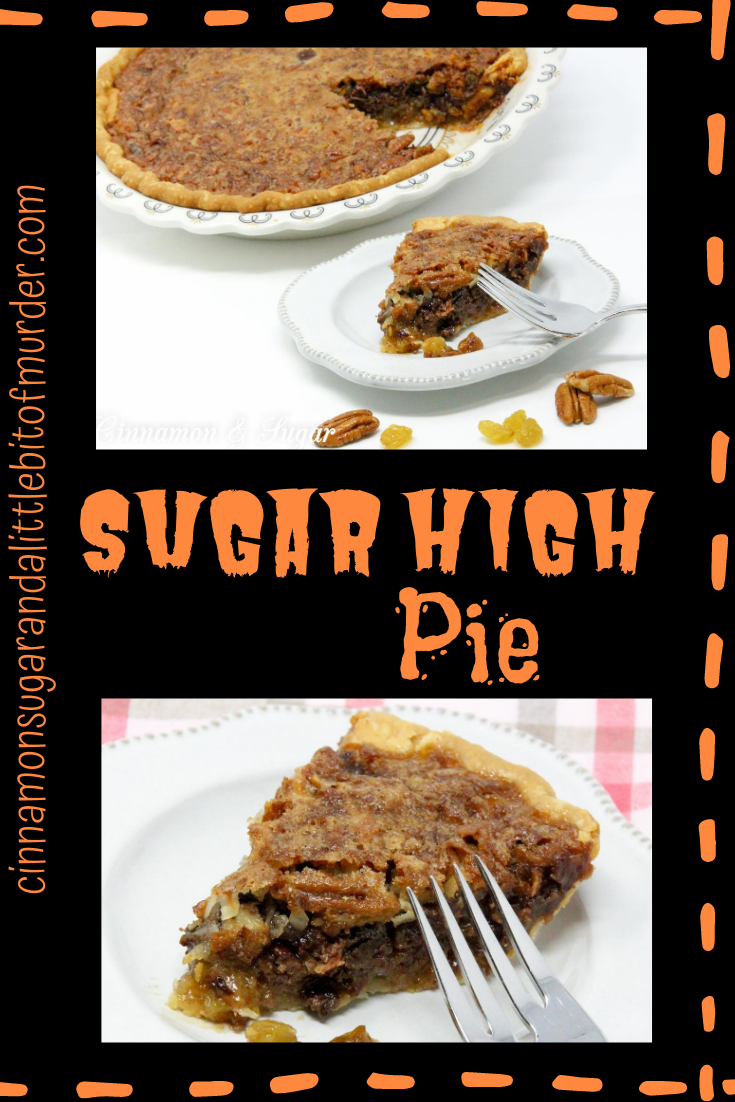 I was provided an advance copy. All thoughts and opinions are my own.