The countdown to the release of CAKE POPPED OFF is happening now and I'm celebrating with a fun Halloween cookie recipe and giveaways!
Cupcake caterer Emory Martinez is hosting a Halloween bash alongside her octogenarian employer, Tillie. With guests dressed in elaborate costumes, the band is rocking, the cocktails are flowing, and tempers are flaring when the hired Bavarian Barmaid tries to hook a rich, hapless husband. Except one of her targets happens to be Emory's brother-in-law, which bodes ill for his pregnant wife. When Emory tracks down the distraught barmaid, instead of finding the young woman in tears, she finds her dead. Can she explain to the new detective on the scene why the Bavarian Barmaid was murdered in Emory's bathtub with Emory's Poison Apple Cake Pops stuffed into her mouth?
With an angry pregnant sister to contend with, she promises to clear her brother-in-law's name. As Emory starts asking questions and tracking down the identity of the costumed guests, she finds reasons to suspect her brother-in-law has been hiding a guilty secret. Her search leads her to a web of blackmail and betrayal amongst the posh setting of the local country club crowd. Can Emory sift through the lies she's being told and find the killer? She'll need to step up her investigation before another victim is sent to the great pumpkin patch in the sky.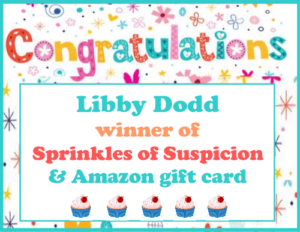 To celebrate the upcoming release, I'm giving away winner's choice of either print or an e-book copy of SPRINKLES OF SUSPICION (the first in the series) plus a $10 Amazon gift card. Please use the Rafflecopter below. Unfortunately, due to shipping costs, print is limited to U.S. residents. Contest ends Saturday, September 19, 2020.
From the time my granddaughter was 18 months old, I've enjoyed introducing her to fun cookie crafts that we can do together, especially holiday-themed cookies.  I developed this recipe and design because the cookies are super easy (only 3 ingredients!) and since they whip up and bake so quickly, your ghost and ghouls can get to the fun part and start decorating… and eating these yummy Halloween Black Cat Cookies. And if you don't want to decorate, these soft and chewy cookies are delicious on their own!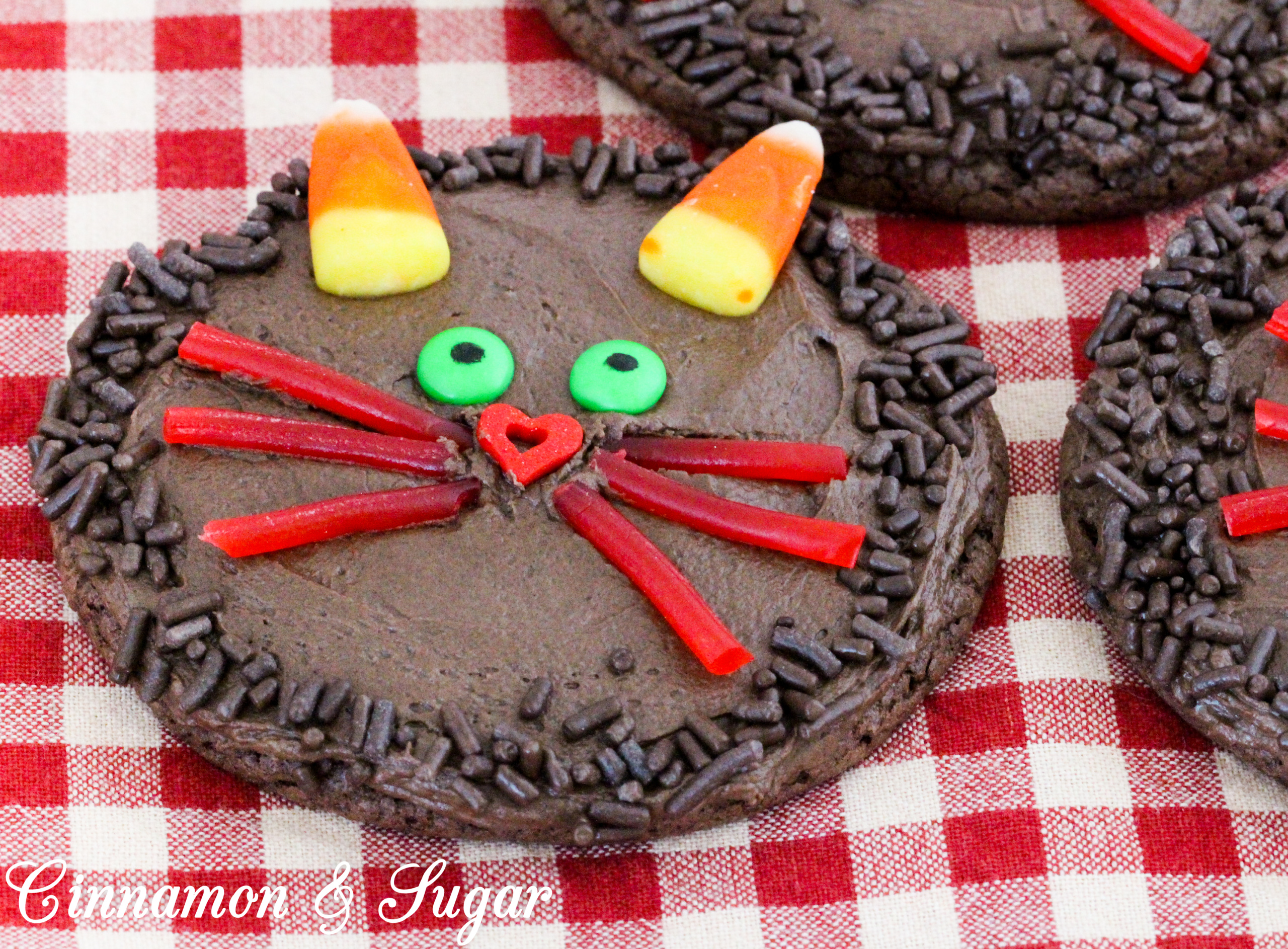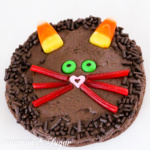 Halloween Black Cat Chocolate Cookies
A yummy and fun Halloween decorating project for kids!
Ingredients
For the cookies:
1

(15.25 ounce) package Devil's Food cake mix

1/2

cup

vegetable oil

2

eggs
For the frosting: (or purchase your favorite pre-made chocolate frosting)
1/4

cup

unsalted butter, room temperature

1/4

cup

cocoa powder (either natural or dutch will work)

2-1/2

cups

confectioners' sugar

3 - 4

tablespoons

milk or half-and-half
Decorating Garnishes
Chocolate jimmies for fur

Mini M & M candies for eyes

Candy Corns for ears

Licorice shoestring laces, cut into 1-1/2" pieces for whiskers

Candy heart sprinkles, conversation hearts, mini red M & M's, or mini jelly beans for nose
Instructions
For the cookies:
Preheat oven to 350 degrees (F).

Add the cake mix, vegetable oil, and eggs to a large bowl and stir until well combined.

Roll the dough into 2-inch balls and place on a parchment-lined baking sheet at least 3 inches apart.

Allow cookies to cool on the baking sheet for 5 minutes then transfer to a wire rack and allow to completely cool before frosting and decorating.
For the frosting:
Using an electric mixer, whip the butter until smooth (1 - 2 minutes).

Add the cocoa powder and beat for an additional 2 minutes.

On low speed, alternating, add 1/3 the confectioners' sugar to the butter mixture and beat until smooth. Add in 1 tablespoons milk (or half-and-half) then continue alternating with the remaining confectioners' sugar and milk.

If frosting is too thick, add additional milk, 1 teaspoon at a time until a spreadable consistency is acquired. You don't want it too thin but frosting shouldn't be so thick it won't spread on cookie. Once desired consistency is reached, beat the frosting for 1 minute.
Putting it together:
Working with 1 cookie at a time, spread chocolate frosting over the top of a cookie. Immediately sprinkle an outline of chocolate jimmies along the outside edge of the cookie to represent fur.

Position 2 upside down candy corns near the top of the cookie for the ears. Position 2 mini M & M candies for the eyes and place a dab of chocolate frosting in the center of the M & M's for the pupils, or draw using an edible marker.

Place either a red candy heart or a red M & M in the lower center of the cookie for the nose and add 3 short licorice shoestring laces to each side of the nose to represent whiskers.

Allow the frosting to set. Position cookies in a single layer on a serving platter.

Store in an airtight container for up to 3 days. If necessary to stack cookies for storing, place a sheet of waxed paper between each layer.
Makes 14 - 18 cookies, depending on size
Pin to Pinterest: