I'm extending the sale price of only $0.99 for a few more days and celebrating with a giveaway and a cupcake recipe from the book!
Available on Kindle Unlimited and print.
Cupcake caterer Emory Martinez is hosting a Halloween bash alongside her octogenarian employer, Tillie. With guests dressed in elaborate costumes, the band is rocking, the cocktails are flowing, and tempers are flaring when the hired Bavarian Barmaid tries to hook a rich, hapless husband. Except one of her targets happens to be Emory's brother-in-law, which bodes ill for his pregnant wife. When Emory tracks down the distraught barmaid, instead of finding the young woman in tears, she finds her dead. Can she explain to the new detective on the scene why the Bavarian Barmaid was murdered in Emory's bathtub with Emory's Poison Apple Cake Pops stuffed into her mouth?
With an angry pregnant sister to contend with, she promises to clear her brother-in-law's name. As Emory starts asking questions and tracking down the identity of the costumed guests, she finds reasons to suspect her brother-in-law has been hiding a guilty secret. Her search leads her to a web of blackmail and betrayal amongst the posh setting of the local country club crowd. Can Emory sift through the lies she's being told and find the killer? She'll need to step up her investigation before another victim is sent to the great pumpkin patch in the sky.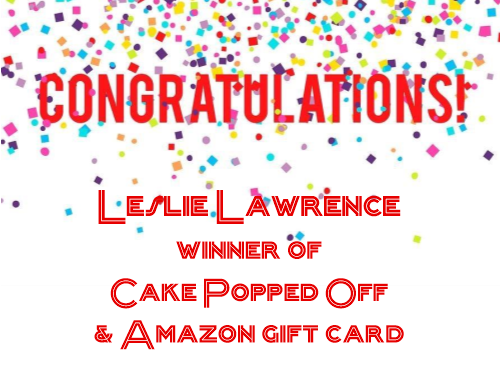 To celebrate the release, I'm giving away winner's choice of either print or an e-book copy of CAKE POPPED OFF plus a $10 Amazon gift card. Please use the Rafflecopter below. Unfortunately, due to shipping costs, print is limited to U.S. residents. Contest ends Sunday, September 27, 2020.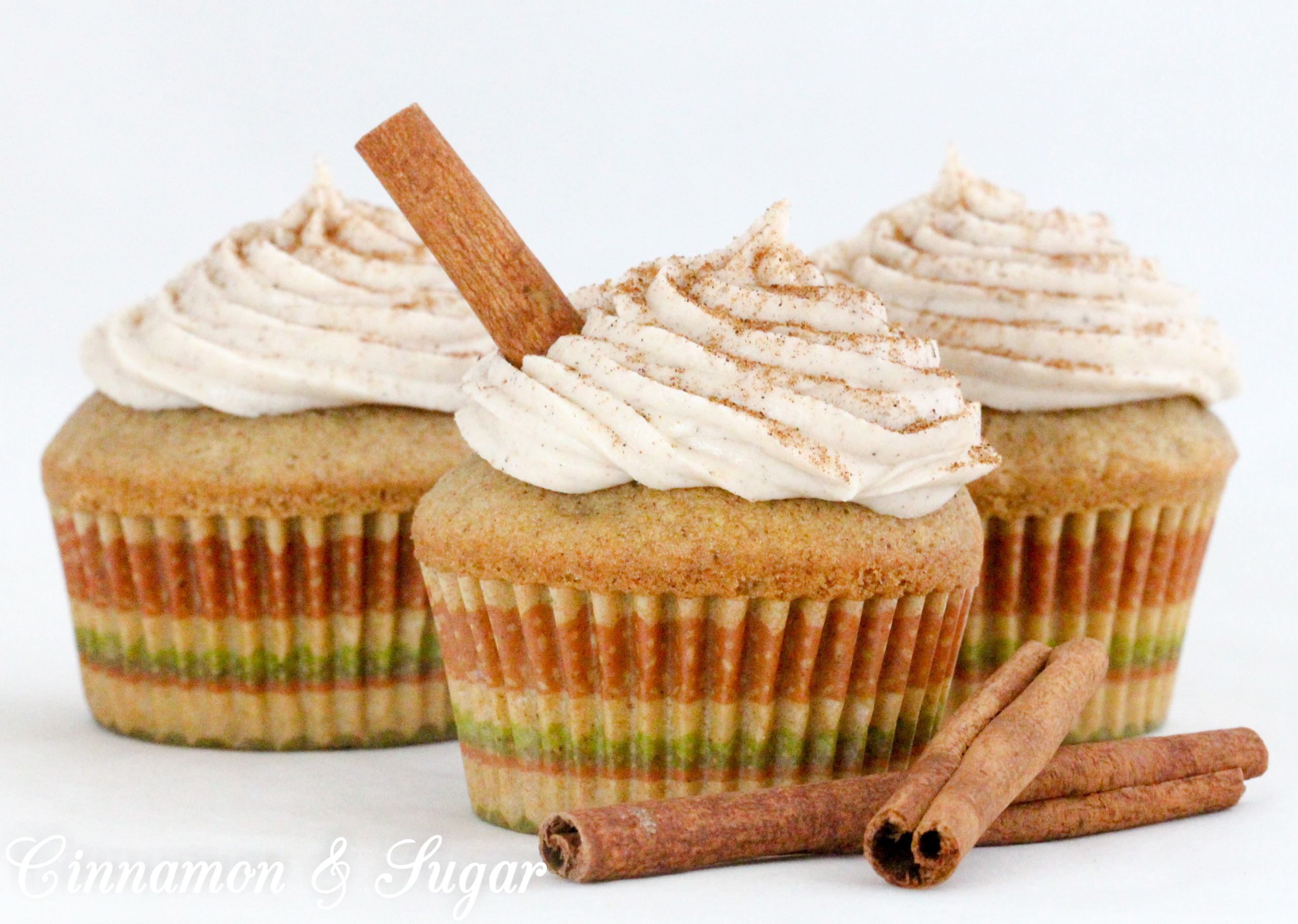 After being served an iced chai by her employer's cook, Emory can't wait to incorporate the delightful flavors into a cupcake form for her friends, family, and clients. While the cook can't (or won't) share her chai spice blend recipe, Emory comes up with something similar for her cupcakes. Moist and tender, these cupcakes are truly flavorful thanks to a generous portion of her homemade chai blend (although premade purchased chai works too) and the tangy blend of cream cheese and chai spice in the frosting. The warming spices make Chai Cupcakes perfect for dessert or a special treat on chilly autumn days!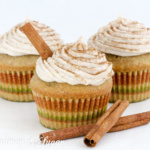 Chai Cupcakes
Ingredients
Cupcakes
2

cups

(10 ounces by weight) cake flour

1

teaspoon

baking powder

1/4

teaspoon

baking soda

1/2

teaspoon

salt

1

heaping tablespoon chai mix, premade or use the recipe below

1/2

cup

unsalted butter, room temperature

1

cup

(7 ounces) granulated sugar

1/4

cup

(1.8 ounces) brown sugar

2

eggs

2

teaspoons

vanilla extract

3/4

cup

buttermilk
Frosting
5

cups

(22.3 ounces) confectioners' sugar

1/2

cup

(4 ounces) unsalted butter, room temperature

1/2

cup

(4 ounces) cream cheese, room temperature

1

tablespoon

chai spice mix, premade or use the recipe below

2 - 3

tablespoons

milk or cream

2

teaspoons

vanilla extract
Chai Spice Mix
1

tablespoon

ground ginger

1

tablespoon

ground cinnamon

1

teaspoon

ground cardamom

1

teaspoon

ground allspice

1

teaspoon

ground nutmeg

1

teaspoon

ground cloves

1/4

teaspoon

freshly ground white pepper
Garnish
Sprinkle tops of frosting with chai spice mix

Halved cinnamon sticks
Instructions
Chai Spice Mix
Mix all of the spices together and set aside.
Cupcakes
Preheat oven to 350 degrees (F). Line cupcake tins with paper liners.

In a medium-sized bowl, whisk flour, baking powder, baking soda, salt, and 1 heaping tablespoon of the chai mix together.

In the bowl of a standing mixer, cream the butter and sugars together for 3 minutes on medium speed.

Add in the eggs, 1 at a time, beating well after each addition. Mix in the vanilla extract.

Alternating 3 times, add the flour mixture and buttermilk to the sugar mixture. Beat on low speed to incorporate. After the last addition, beat an additional 30 seconds until smooth.

Fill cupcake liners 2/3 full and bake 17–19 minutes. A wooden skewer inserted into the center should come out mostly clean. A few moist crumbs clinging is fine.

Remove from oven and allow to cool in the cupcake tin for 5 minutes.

Move the cupcakes to a wire rack and cool completely before frosting.
Frosting
Place butter and cream cheese into the bowl of a standing mixer and whip until creamy, approximately 2–3 minutes on medium-high speed.

With the mixer running on low speed, add half the confectioners' sugar a little at a time, mixing until sugar is coated with the butter.

Beat in 1 tablespoon chai spice mix, then add 2 tablespoons milk and the vanilla extract. Beat until incorporated.

Add the remaining confectioners' sugar. If the frosting is too thick, add additional milk, a teaspoon at a time, until desired consistency is reached.

Increase the speed to medium-high and whip for approximately 5 minutes until the frosting is light and fluffy.

Frost the completely cooled cupcakes.

For garnishing, place the remaining chai spice mix into a fine mesh sieve and dust the tops of the frosting and insert a halved cinnamon stick.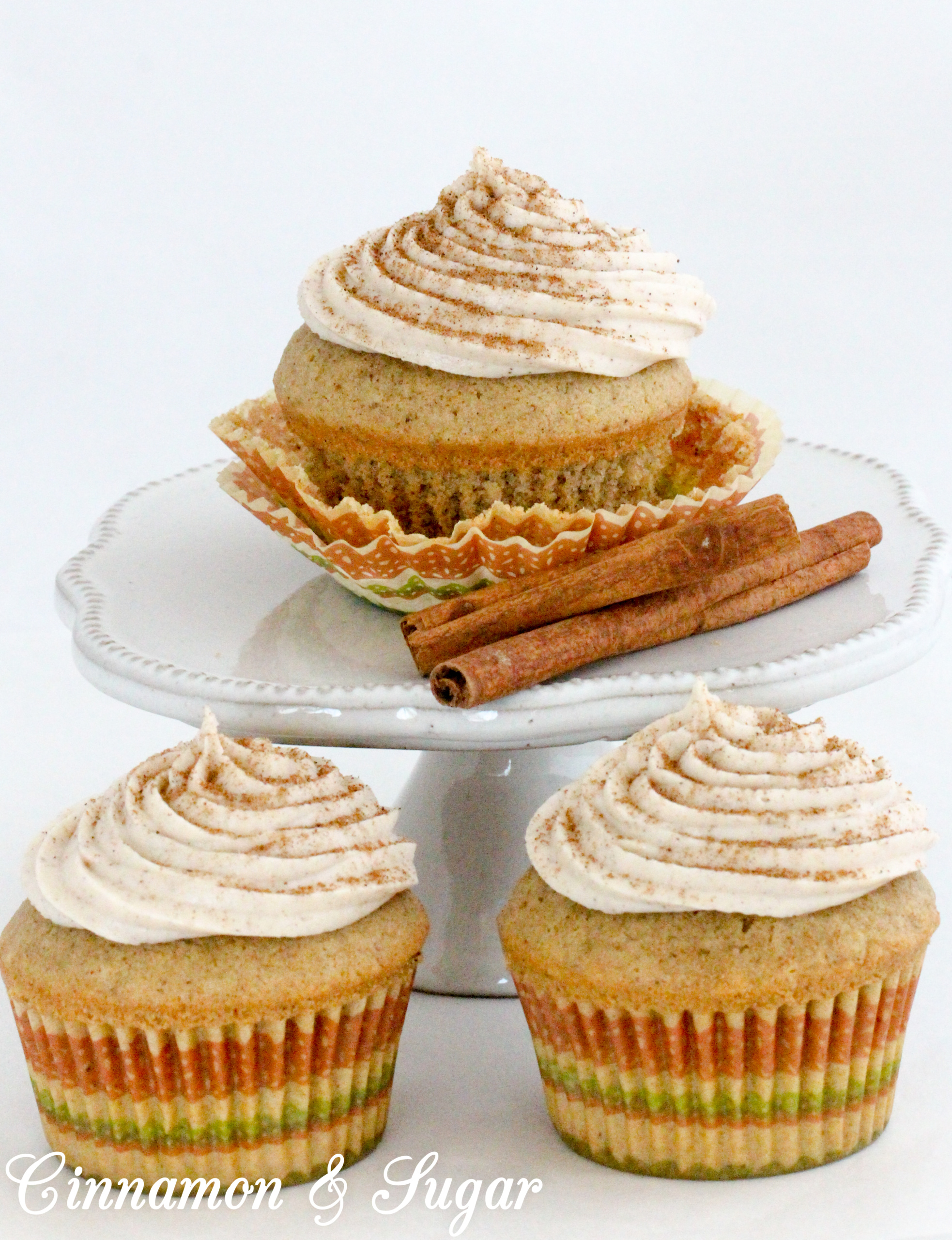 Pin to Pinterest: