GOODBYE CRULLER WORLD, the second book in the Deputy Donut Mystery series by Ginger Bolton is a sweet read and will have you craving donuts throughout the entire book! I was captivated by the pun-y title and the inviting cover design pulled me into the story. An ex- 911 dispatcher, protagonist Emily Westhill owns the Deputy Donut Café with her father-in-law. This duo has a touching, heart-felt relationship that adds an emotional undercurrent to the story, especially since they lost a son and a husband to a tragic death. The charming donut shop setting provides the perfect gathering place for law enforcement and emergency response personnel and allows Emily access to information when she gets involved in murder investigations. The author's strong descriptive voice makes you feel like you're right there with Emily and I could almost smell and taste the donuts in the shop!
Deputy Donut is hired to cater donuts for the wedding of Jenn, owner of Dressed to Kill which is one of the neighboring shops to Emily's. It doesn't take long for conflict to erupt between the bride and her half-sister over the upcoming nuptials and once Emily meets the groom, she understands why. When the groom is poisoned and dies after eating some of the donuts she provides at the reception, Emily knows she must get involved and clear both her business' reputation and prove the bride's innocence. It doesn't help that the bride invited an ex-boyfriend to the wedding and seemed to have had second thoughts about getting married. Since my own cousin is a wedding planner, I loved the details the author provides about the reception from the food, to the over-the-top décor, to the special touches the bride requests. Ms. Bolton provides plenty of suspects to keep the reader guessing and enough twists and turns until the threads of the plots are woven together into a satisfying conclusion.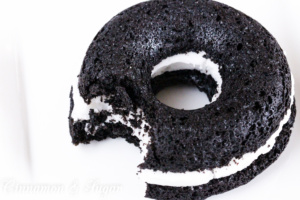 Since you'll be drooling over the yummy treats Deputy Donut serves to its customers, Ms. Bolton generously provides a couple recipes at the back of the book. She has allowed me to share her recipe for Black-and-Whites Donuts with a Crème filling. I loved that these donuts are baked, not fried, and are reminiscent of everyone's favorite chocolate sandwich cookie. While there might be a lot of steps to the recipe, it's not difficult and Ms. Bolton writes clear, concise directions. The resulting treat is decadently rich and while my husband isn't a huge fan of chocolate, he gobbled these up in record time! I made a few in a mini-donut baker (that my granddaughter had talked me into purchasing years ago and I think I've used once, lol) and I thought they were even delicious with some confectioners' sugar dusted on top instead of filling them. Either way, these Black-and-Whites Baked Donuts are sure to please everyone!
Amazon Synopsis
Named after her beloved tabby, Deputy Donut, Emily Westhill's donut shop in small-town Fallingbrook, Wisconsin, is doing so well, she's expanding into catering weddings. But a killer is about to crash the reception . . .

Normally, Emily's eyes tend to glaze over when prospective brides go on about their wedding plans. But when the owner of the clothing shop, Dressed to Kill, asks Emily to design a donut wall for her reception, she's immediately sweet on the idea. With the help of her father-in-law and business partner—the former police chief of Fallingbrook—she hangs the treats from dowels on the wall so guests can help themselves.

But that night, when the groom ends up on the floor with signs of poisoning, Emily suspects someone has tampered with her treats. When the groom dies, there's no way to sugarcoat it: she's got a murder on her hands. Despite a list of suspects as long as the guest list, Emily vows to find out who created the killer confection to save her shop's reputation and keep the bride out of handcuffs. She'll have to move fast . . . before the poisoner takes a powder.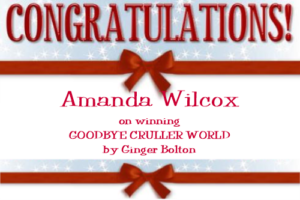 A special thanks to Ginger Bolton for providing a winner with a print copy of GOODBYE CRULLER WORLD. Contest ends Sunday, September 9, 2018 at 11:59 pm PST and is limited to U.S. residents only. Please use the Rafflecopter box located below to enter. The winner will be announced on this page and on Cinnamon & Sugar's Facebook page, as well as notified by email (so check your spam folder!)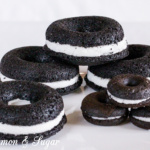 Black-and-Whites Baked Donuts
These little gems are baked, not fried, and they're very rich and sweet.
Ingredients
Donuts
Melted butter or unflavored coconut oil

1/3

cup

black Dutch process (alkalized) cocoa powder, pressed through a sieve to break up clumps

7/8

cup

all-purpose flour, sifted

5/8

cup

light or dark brown sugar

1/2

teaspoon

baking powder

1/2

teaspoon

baking soda

1

large egg

3/8

cup

milk

1

teaspoon

vanilla extract

1

teaspoon

white vinegar

1/4

cup

(4 tablespoons) melted butter or vegetable oil
Vanilla Filling
1-1/4

cups

powdered sugar

1/2

teaspoon

granulated sugar

1/4

teaspoon

vanilla extract

5

tablespoons

refined (non-virgin) coconut oil, softened*

2

teaspoons

hot water (Try mixing the hot water with the coconut oil to soften it.)
Instructions
Donuts
Preheat the oven to 350 degrees (F). Lightly brush melted butter or unflavored coconut oil in the cups of a regular-sized donut pan.

In a large mixing bowl, whisk together the cocoa, flour, sugar, baking powder, and baking soda.

In a small mixing bowl, whisk together the egg, milk, vanilla, vinegar, and melted butter or vegetable oil. Don't worry if the vinegar curdles the milk and melted butter.

Add the wet ingredients to the dry ingredients and stir until blended.

Spoon the batter into the prepared pans, filling them about 3/4 full.

Bake the donuts for 10 to 12 minutes, or until a toothpick inserted into the center of one comes out clean. Do not overbake.

Remove the donuts from the oven, allow to cool a few minutes, invert cooling rack over pan, and turn pan and cooling rack together right side up. If the donuts do not fall out of the pan, loosen the edges carefully with a narrow silicone spatula and try again.

Let donuts cool. Using a serrated knife, carefully slice donuts in half horizontally so that you have two circles from each donut.
Vanilla Filling
Place ingredients in a bowl and beat until combined. Filling will be stiff, but it rolls out well at room temperature.

Recipe can be doubled. Excess can be stored in refrigerator.
Assembling the donuts
Form vanilla filling into a ball.

Using a rolling pin, roll filling between two sheets of parchment paper to about 1/4 inch.

Using a donut cutter, cut out rings of filling.

Slide a thin spatula underneath rings and gently place them on the flat side of the donut half that was on top in the oven.

Make a "sandwich" by gently pressing the other slice on top. Serve rounded side up.

This makes six regular-sized donuts. These are so rich that you might prefer to make them as mini-donuts. If using a mini-donut pan, bake for about 7 minutes or until a toothpick comes out clean. Do not overbake.
Notes:
*The coconut oil should be warmed until workable, about 80 - 100 degrees (F). If you substitute virgin coconut oil, your filling will have a coconut flavor. Do not substitute liquid coconut oil.
Pin to Pinterest:
If you receive my blog post via email you will need to visit my website to view the video.
I was provided an advance copy with the hopes I would review. All thoughts and opinions are my own.