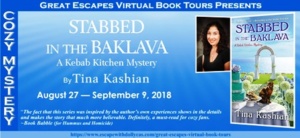 I'm excited to be participating in the Great Escapes Blog Tour showcasing STABBED IN THE BAKLAVA by Tina Kashian! This second book in the Kebab Kitchen Mystery series finds protagonist Lucy Berberian trying to expand her family's restaurant business by taking on a huge catering job for a celebrity wedding. Helping her is Kebab Kitchen's chef and her ex-boyfriend, Azad. Ms. Kashian has developed intriguing characters and situations for those characters to interact, grow, and discover themselves. And nothing causes them to develop more quickly than being confronted by a murder while catering the wedding. Azad was publicly seen arguing with the murdered man and the deceased was found in their catering van. Making matters worse, the detective on the case has it in for Lucy and her family and is all too happy to arrest the family's chef.
Despite her emotions concerning her ex, Lucy knows she must step up and prove his innocence, even though her mother begs her not to get involved. Helping Lucy is her very fun, very entertaining sidekick, Katie. Katie is married to a police officer and uses that position to find out information to assist their own investigation. Katie is also gung-ho which counters Lucy's tentativeness at times. Together they find themselves in some dicey situations which adds a bit of humor to the story. The author provides plenty of suspects to keep the reader guessing and the big reveal wraps up the threads of the story into a satisfying conclusion.
I greatly enjoyed the bits and pieces of Mediterranean food, music, and dances that the author weaves into the story. It adds an authentic touch to the theme and will leave the reader hungry for a taste of the delectable food served at the Kebab Kitchen! I'm thankful that the author includes several recipes at the back of the book and has graciously allowed me to share her recipe for Lucy's Baklava. I've had Baklava several times in my lifetime (it's not always readily available or else I don't know where to purchase it from) so I was ecstatic to find a recipe that sounded doable. How did it turn out? Let's just say that my family was still talking and drooling over this recipe WEEKS after it was long gone! Without a doubt, this is one of their very top favorite desserts I've made for them! The recipe is not difficult although buttering the individual layers of phyllo dough can be time consuming. The resulting dish is rich but oh so yummy and satisfying and well worth the effort. I'll be making Lucy's Baklava time and again for any special occasion!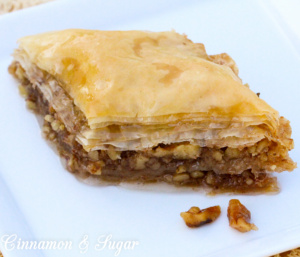 Amazon Synopsis
Lucy Berberian has taken over her family's Mediterranean restaurant on the Jersey Shore after an unsatisfying stint at a Philadelphia law firm. It's great to be back in her old beach town, even if she's turning into a seasoned sleuth . . .

Catering a high-society wedding should bring in some big income for Kebab Kitchen—and raise its profile too. But it's not exactly good publicity when the best man winds up skewered like a shish kebab. Worse yet, Lucy's ex, Azad—who's the restaurant's new head chef—is the prime suspect. But she doesn't give a fig what the cops think. He may have killer looks, but he's no murderer. She just needs to prove his innocence, before he has to go on the lamb . . .

A special thanks to Tina Kashian for providing two copies of STABBED IN THE BAKLAVA, winners' choice of print or digital! Contest ends September 9, 2018 at 11:59 pm PST and is limited to U.S. residents only. Please use the Rafflecopter box located below the recipe to enter. The contest is administered by Great Escapes Virtual Book Tours and the winner will be announced on this page as well as notified by email (so check your spam folder!)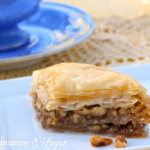 Lucy's Baklava
Ingredients
1-1/2

cups

sugar

1

cup

water

1

teaspoon

lemon juice

3

cups

finely chopped walnuts

1

tablespoon

ground cinnamon

1-1/2

cups

clarified butter

1

pound

phyllo dough (9-x-14-inch sheets)
Instructions
Preheat oven to 325 degrees (F).

Combine walnuts, cinnamon, and 1/4 cup sugar in a small bowl and set aside. This is the walnut filling.

Melt butter and coat a 14-x-10-inch baking pan. Layer 7 sheets of phyllo dough in the pan, buttering each sheet with a pastry brush.

Spread half of the walnut filling evenly over the top.

Layer another 7 sheets of phyllo dough in the pan, buttering each sheet.

Spread the remaining walnut filling evenly over the top.

Cover with remaining sheets of dough, buttering each sheet.

Bake for 40 minutes, then remove from oven and add the simple syrup over the top.

Allow baklava to cool completely before cutting it.*

Simple Sugar Syrup
While the baklava bakes, boil together the 1-1/4 cups sugar and 1 cup water for 10 minutes. Stir often until sugar dissolves in water. Add 1 teaspoon lemon juice.

Turn off flame and set syrup aside to cool. Pour cooled syrup on your baklava just as soon as it comes out of the oven.
Tips
If you don't have a 14-x-10-inch baking pan substitute a 9-x-13-inch casserole dish and trim an inch from the end of the phyllo sheet roll before using.

Store baklava at room temperature, covered with a tea towel, up to 5 days.

*I found it easier to cut the baklava into traditional diamond shapes before baking. Just don't cut all the way through to the bottom of the pan. After applying the simple syrup and allowing to completely cool, re-cut along the original lines to make sure the baklava easily removes from pan.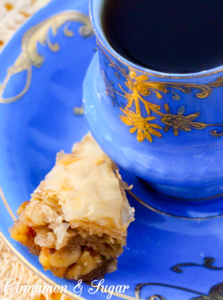 Pin to Pinterest: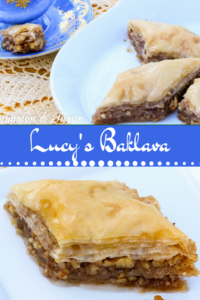 If you receive my blog post via email you will need to visit my website to view the video.
TOUR PARTICIPANTS
August 27 – Laura's Interests – REVIEW
August 27 – The Pulp and Mystery Shelf – SPOTLIGHT
August 28 – Varietats – REVIEW
August 28 – Cinnamon, Sugar and a Little Bit of Murder – REVIEW
August 29 – Reading Is My SuperPower – REVIEW
August 29 – Babs Book Bistro – SPOTLIGHT
August 29 – Socrates' Book Reviews – SPOTLIGHT
August 30 – The Avid Reader – REVIEW
August 30 – Ruff Drafts – GUEST POST
August 30 – FUONLYKNEW – SPOTLIGHT
August 31 – StoreyBook Reviews – REVIEW
August 31 – A Blue Million Books – CHARACTER GUEST POST
September 1 – Devilishly Delicious Book Reviews – REVIEW
September 1 – Lisa Ks Book Reviews – REVIEW
September 2 – Cozy Up With Kathy – REVIEW
September 3 – The Montana Bookaholic – REVIEW
September 3 – A Holland Reads – SPOTLIGHT
September 3 – T's Stuff – AUTHOR INTERVIEW
September 4 – Escape With Dollycas Into A Good Book – REVIEW
September 4 – Teresa Trent Author Blog – AUTHOR INTERVIEW
September 5 – Bibliophile Reviews – REVIEW
September 5 – Celticlady's Reviews – SPOTLIGHT
September 6 – MJB Reviewers – REVIEW
September 6 – Island Confidential – SPOTLIGHT
September 6 – Mysteries with Character – GUEST POST
September 7 – Books a Plenty Book Reviews – REVIEW
September 7 – Mystery Thrillers and Romantic Suspense Reviews – SPOTLIGHT
September 7 – My Reading Journeys – CHARACTER GUEST POST
September 8 – Readeropolis – CHARACTER INTERVIEW
September 9 – Handcrafted Reviews – SPOTLIGHT
September 9 – A Wytch's Book Review Blog – REVIEW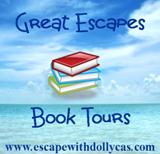 I was provided an advance copy with the hopes I would review. All thoughts and opinions are my own.