JEALOUSY FILLED DONUTS is the third book in the Deputy Donut Mysteries by Ginger Bolton and is another great addition to a charming series! What could be better than a fun, loveable protagonist, an adorable cat, and a donut shop owned by Emily, a former 9-1-1 dispatcher and her father-in-law, formerly the Chief of Police? Needless to say, it's the favorite hangout for police officers and emergency responders, along with the senior citizens' group, the Knitpickers. Ms. Bolton crams her book full of memorable characters while weaving a tight tale of death by donuts and firecrackers during a 4th of July extravaganza. There were twists and turns that kept me turning pages and a subplot that kept me guessing how it was related to the central murder of the festival queen. I liked that Emily wasn't an in-your-face type of amateur sleuth. Instead, she hunted down answers by sweetening up her intended targets with donuts and smiles.
Ms. Bolton's strong descriptive voice paints a vivid picture of the settings, from the donut shop, to the cool vintage car Emily drives (love the donut on top!) to the wilderness area that hosts an exciting, edge-of-your-seat reveal. She expertly weaves each scene into the other, creating a seamless story. While JEALOUSY FILLED DONUTS can be read as a standalone, I've enjoyed watching the characters develop and grow, especially Emily. The widow of the town's detective, Emily has struggled to get over her grief, even after several years. It's been heartwarming to see her blossom with her close friendship with her deceased husband's friend (who's also a detective) and hope that a romance might develop for her. It gives the book an emotional level without detracting from the mystery.
There are several mentions of yummy donuts and treats in the book that it was hard to not drool. The author provides two donut recipes at the back of the book and the Jelly-Filled Donuts sounded fantastic. Plus I loved the tie-in with the title of the book. My first attempt flopped and when I examined the recipe and did a little research, realized a couple steps had been overlooked in the advance copy I had used for the recipe. I remade the donuts with what I thought was missing and they turned out great. (I used my updated recipe below.) These are a little denser than typical bakery donuts (most likely from the larger amount of sugar) but every bit as delicious. They still tasted good even leftover after a couple of days so I didn't mind the large batch it produced, and my husband and granddaughters loved having them for breakfast and snacks for more than one day.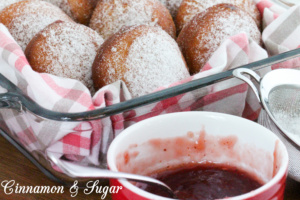 Amazon Synopsis
When a firecracker becomes a murder weapon, Emily Westhill pursues a killer with a short fuse …

It is a truth universally acknowledged—cops and donuts go together. Exhibit A: Deputy Donut Café, owned and operated by detective's widow Emily Westhill and her father-in-law, the retired police chief of Fallingbrook, Wisconsin. Named after Emily's adored and adorable tabby, the donut shop is a favorite among cops, firemen, and EMTs, as well as tourists and townspeople. So when Fallingbrook needs donuts for their Fourth of July picnic, Emily's shop gets deputized.

But a twisted killer has found another use for Emily's treats. At the picnic, a firecracker is hidden in a stack of raspberry-filled donuts and aimed at the unwitting queen of the festivities. When it explodes, she is killed. Having her jelly donuts involved puts Emily in a sticky situation, and when a shady shutterbug tries to frame her with incriminating photos, she finds herself in quite a jam. To preserve her freedom and her shop's reputation, Emily needs to solve this case—before the fuse-lighting felon goes off again …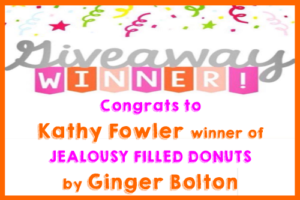 A special thanks to Ginger Bolton for providing one winner with a print copy of JEALOUSY FILLED DONUTS. Contest ends Wednesday, August 28, 2019 at 11:59 pm PST and is limited to U.S. residents. Please use the Rafflecopter box located below to enter. The winner will be announced on this page and on Cinnamon & Sugar's Facebook page, as well as notified by email (so check your spam folder!)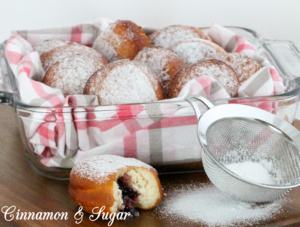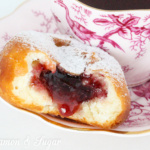 Jelly-Filled Donuts
Ingredients
1

cup

plus 2 tablespoons warm water, 102 - 105 degrees, divided

1/4

cup

unsalted butter, softened

2

tablespoons

active dry yeast (yes, this is a lot!)

1

cup

sugar + 1 teaspoon

3-1/2 to 4

cups

all-purpose flour

1/2

teaspoon

salt

1

egg (or 2 egg whites) room temperature

Vegetable oil with a smoke point of 400 degrees or higher (or follow your deep fryer's instruction manual)

Jelly in flavors of your choice

Confectioners' sugar (optional)
Instructions
In your mixer bowl fitted with a dough hook, combine 2 tablespoons warm water, yeast, and 1 teaspoon sugar. Let stand for 10 minutes.

Add the butter, salt, and the egg to the yeast mixture. Stir with the dough hook. Add 2 cups of the flour and stir until incorporated with the dough hook. Add the remaining flour, 1/2 cup at a time, and knead with the dough hook. If the dough is too sticky, add 1/4 cup additional flour and knead until thoroughly incorporated. If the dough is still too sticky, carefully add more flour 1 tablespoon at a time. Continue kneading with the dough hook until the dough cleans the sides of the bowl, is satiny, doesn't stick to your fingers, and doesn't keep its shape when pinched. It should still feel slightly sticky. Too much flour will make the donuts tough.

Cover the dough with a clean dishtowel or plastic wrap and place in a warm area. Allow dough to double in size, about 1-1/2 to 2 hours.

Punch down dough and divide in half. For each half, roll the dough to about 1/2 inch thick between two sheets of parchment paper. Remove the top sheet of parchment paper and cut rounds from the dough with a round cookie cutter, cutting pieces as close together as possible, and place on a parchment-lined baking sheet. (Don't reuse the dough scraps.)

Allow to rest for 30 - 60 minutes until donuts are puffy.

Heat the vegetable oil to 350 degrees (F). Fry the donuts turning when dark golden, about 1 - 2 minutes per side. Lift from oil and allow to drain.

When cool, use a paring knife or skewer to make a small hole in one side of each donut and create a small cavity inside. Then use a piping bag fitted with a small tip, a turkey baster, or a pastry syringe to fill the cavity with the jelly of your choice. Note: Jams or thick spreads will clog the nozzle.

If desired, sift confectioners' sugar over the tops.
Party Fun - Fill Your Own Donuts
Feeling brave? Let party guests fill their own donuts! Fry the donuts ahead of time and remove the hot oil from the vicinity. (This is crucial for children's parties.) Set out a variety of jellies. Let each guest inject whichever flavor (or combination) they like into their donut or donuts.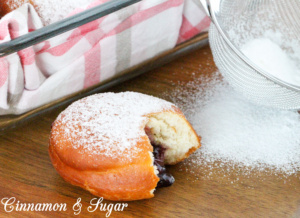 Pin to Pinterest: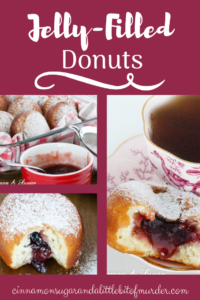 If you receive my blog post via email you will need to visit my website to view the video.
I was provided an advance copy. All thoughts and opinions are my own.