I'm excited to be hosting Daryl Wood Gerber as she celebrates the release of her newest suspense novel! Read on for my review, the synopsis, and a chance to win a copy of your own.
DESOLATE SHORES, the first book in the Aspen Adams Novel of Suspense, by Daryl Wood Gerber is a captivating, edge-of-your-seat read. In addition to a suspenseful story, the author has created a multi-faceted protagonist in Aspen Adams. Each turn of the page reveals deeper insight into her character and as the reader connects, the anticipation of what will happen next ramps up the emotional involvement. Aspen Adams, psychology therapist turned process server, works for her aunt in Lake Tahoe. When she discovers the murdered body of her best friend, she begs for the opportunity to turn private investigator to find the killer. In addition to a terrific story, Ms. Gerber provides memorable, well-developed characters to surround the protagonist. I especially loved Aspen's interaction with her young teenaged niece and how she gets involved despite her self-doubts.
The expertly plotted mystery provides plenty of clues while the suspense is metered out judiciously. Digging into the past of her dead friend and using her former skills as a psychologist, Aspen unravels the secrets that surrounded the victim's life. As she closes in on finding the truth, the suspense escalates until the heart-stopping reveal. I found I couldn't put the book down for even a second until I read the very last page. I also appreciated that the author took the time to wrap up the threads of the subplots at the end, into one satisfying conclusion and I'll be counting down the days until the next Aspen Adams novel is released!
Amazon Synopsis
A chilling murder, an elusive killer, and a family mystery that hits too close to home . . .
After finding the body of her best friend on the icy shores of Lake Tahoe, Aspen Adams refuses to stand by and watch as the local sheriff's department begins their search for the killer. Launching her own investigation, she's soon confronted with a growing array of secrets—both about the friend she thought she knew and about many of the people in her own life. As fragmentary clues and escalating dangers threaten to derail her, she must also cope with the disturbing behavior of her deadbeat sister and troubled teenage niece.
Determined to overcome her personal demons over past failures, Aspen is driven to unravel the conflicting evidence and a shifting range of suspects to bring the killer to justice, even as a family trauma unfolds that threatens to upend her life. And as her investigation inexorably leads her to a shocking discovery and taunts her with a solution that is just out of reach, Aspen realizes that the killer wants nothing more than to see her and her niece dead . . .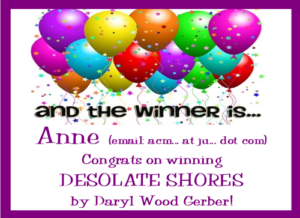 A special thanks to Daryl Wood Gerber for providing one winner with a print copy of DESOLATE SHORES. Contest ends Sunday, August 25, 2019 at 11:59 pm PST and is limited to U.S. residents. Please use the Rafflecopter box located below to enter. The winner will be announced on this page and on Cinnamon & Sugar's Facebook page, as well as notified by email (so check your spam folder!)
About the Author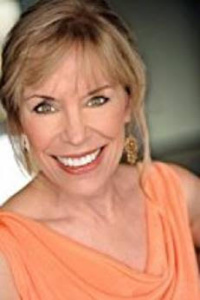 DARYL WOOD GERBER writes the nationally bestselling Cookbook Nook Mystery series featuring a cookbook store owner who is an avid reader and admitted foodie, set on the coast of California. As AVERY AAMES, she pens the Agatha Award-winning, nationally bestselling Cheese Shop Mystery series featuring a cheese shop owner amateur sleuth, set in the fictional town of Providence, Ohio. Daryl's short stories have been nominated for the Agatha, Anthony, and other awards. Fun tidbit: as an actress, Daryl has appeared in "Murder, She Wrote" and more.
Author Links
Visit Daryl or Avery at http://www.darylwoodgerber.com
Daryl's Blog – http://www.darylwoodgerber.com
Avery's Blog – http://www.averyaames.com
Mystery Lover's Kitchen – http://www.mysteryloverskitchen.com
Killer Characters – http://killercharacters.com
Daryl http://www.facebook.com/darylwoodgerber
Twitter: @AveryAames @DarylWoodGerber
Goodreads:
Daryl Wood Gerber https://www.goodreads.com/author/show/4750535.Daryl_Wood_Gerber
Avery Aames https://www.goodreads.com/author/show/3153786.Avery_Aames
I was provided an advance copy via Netgalley. All thoughts and opinions are my own.