THE GARDEN CLUB MURDER by Amy Patricia Meade, is the second book in the Tish Tarragon mystery series. The senior citizens preparing for their annual garden club competition and luncheon are a varied lot and not exactly who I would expect to toil in the sun and soil to create beautiful works of nature. There's the cosmetic queen, the wealthy yet abusive businessman, the grief-stricken mother and wife, the confirmed bachelor, and the live life to the fullest woman. There is plenty of strife between the contestants, each vying to capture the coveted award from businessman Sloan Shackleford. It wasn't much of a surprise when Sloan is found murdered in his prize-winning garden. Ms. Reade does an admirable job portraying and developing the characters, especially the protagonist, caterer Tish Tarragon, who is also owner of Cookin' the Books Café. While she doesn't want to investigate, the senior citizens like to gossip with her and as a result, gets involved. I like that Tish is quick to turn the information imparted to her, over to Sherriff Reade.
Assisting Tish with both the "non-investigation" and catering, is her adorable sidekick Jules (Julian) Jefferson Davis, the Channel 10 weatherman. They have a close friendship and a snappy repartee. This adds to a gentle humor that lightens the murder mystery. While I thought the pace started out slow, once the murder took place, the author's writing tightened and the story captured my attention. There were subplot mysteries that added to the overall appeal and ramped up the emotional level. The twist at the reveal left me speechless, since I didn't see it coming yet it added another layer of satisfaction to an entertaining read.
While this culinary mystery doesn't contain recipes, Tish Tarragon cooks up some amazing dishes for her restaurant, her friends, and for her catering gig, that left my mouth watering. One of the treats she makes is Lemon Lavender Cake…an utterly delicious and elegant combination of flavors! While this is baked in a loaf pan, it could easily be baked in mini bundt pans for a pretty presentation. So delicious, this "cake" is a yummy treat for breakfast, tea time, or dessert.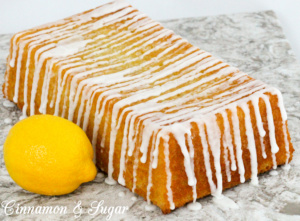 Amazon Synopsis
Literary caterer Letitia 'Tish' Tarragon is preparing her English Secret Garden-themed luncheon for Coleton Creek's annual garden club awards, but when she is taken on a tour of some of the top contenders with the garden club's president, Jim Ainsley, Tish is surprised at how seriously the residents take the awards – and how desperate they are to win. Wealthy, retired businessman Sloane Shackleford has won the coveted best garden category five years in a row, but he and his Bichon Frise, Biscuit, are universally despised. When Sloane's bludgeoned body is discovered in his pristine garden, Tish soon learns that he was disliked for reasons that go beyond his green fingers. Have the hotly contested awards brought out a competitive and murderous streak in one of the residents?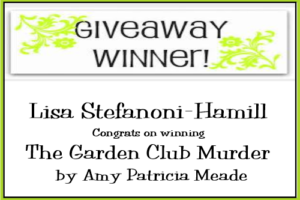 A special thanks to Amy Patricia Meade for providing one winner with a print copy of THE GARDEN CLUB MURDER. Contest ends Wednesday, August 21, 2019 at 11:59 pm PST. Please use the Rafflecopter box located below to enter. The winner will be announced on this page and on Cinnamon & Sugar's Facebook page, as well as notified by email (so check your spam folder!)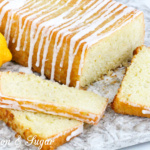 Lemon Lavender Cake
Ingredients
1/2

cup

unsalted butter

1-3/4

cup

(220g) cake flour

1-1/2

teaspoons

baking powder

1/4

teaspoon

baking soda/bicarbonate of soda

1

cup

(200g) sugar (I use golden caster sugar here in the UK, but white works fine)

2

lemons, zested

1/2

cup

(100 ml) plain yogurt

3

tablespoons

lemon juice (the approx. amount from the zested lemons)

3

large eggs

3/4

teaspoons

dried lavender
For the glaze:
1/2

cup

(50g) powdered/icing sugar

3

teaspoons

lemon juice
Instructions
Preheat oven to 350F/180C. Grease a standard 9"x5" loaf pan.

Melt the butter in a pot over low heat (or in the microwave) and set aside. It needs to reach room temperature before use.

In a bowl, combine flour, baking powder, and baking soda and set aside.

In another bowl, grate the zest of the lemons and combine it with the sugar. Stir well in order to rub the essential oils of the zest into the sugar. The sugar should be slightly damp. Set aside.

Crush the dried lavender using a rolling pin or a mortar and pestle, if you have one, and add it to the sugar mix. Stir until the damp sugar is fragrant.

Add the yogurt into the sugar mixture and mix it on medium-slow speed.

With the mixer still on, add the lemon juice and the eggs, one at a time.

Stop the mixer and add the flour mixture. Mix until just combined.

Whisk in the melted butter until you have a smooth batter.

Pour batter into prepared loaf pan and bake for approx. 35-45 minutes or until a toothpick inserted in the center comes out clean. Cool in pan 10 minutes then invert onto serving platter.

For the glaze:

Stir icing sugar and lemon juice until well blended and pour onto the warm cake.

Garnish with sprigs of lavender, candied violets, or edible flowers.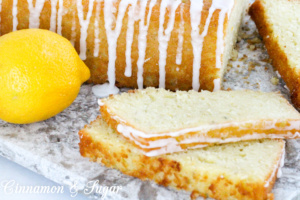 Pin to Pinterest: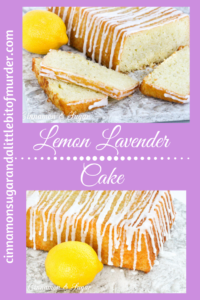 If you receive my blog post via email you will need to visit my website to view the video.
I was provided an advance copy. All thoughts and opinions are my own.