CRYPT SUZETTE, the sixth book in the Five-Ingredient Mystery series, by Maya Corrigan is a treat for readers with plenty of tricks to keep them guessing. Halloween season has come to Bayport in the Chesapeake Bay area. Protagonist, Val Deniston, along with her roommate/granddad, Don Myer, are gearing up for the town's spooky festivities. I adore Val and Don's close relationship and the way they work together. There's plenty of sass and humor between the two as they interact. I especially admire Granddad…he's a hoot. I greatly enjoy the way he keeps himself active and motivated by becoming the Codger Cook, writing a newspaper column; a private eye; and in this book, a ghost hunter, in which he solves ghostly cases.
Ms. Corrigan does an admirable job interlocking Granddad's cases with the murder Val finds herself involved in. In CRYPT SUZETTE, Granddad's young college boarder, Suzette, is killed in a hit-and-run accident. The police aren't sure if the accident was intentional, but Val is certain the very secretive college girl was living in fear. As her quest for finding the truth progresses, Val finds many people have secrets they're trying to keep hidden. I enjoyed how the author weaves the plot into the Halloween festivities and even the town's haunted house inspires clues that help Val solve the case. While I'd say I'm not a huge fan of Halloween, this book provides just enough chills and thrills for a delightfully spooky read without needing to sleep with the lights on.
The Codger Cook has become quite skilled at creating Five-Ingredient recipes without his granddaughter's help. I love the recipes the author includes at the back of the book that would make Val and Granddad proud. I was excited to try the recipe for Crêpes Suzette, which is actually two recipes: 1 for the crêpes and 1 for the orange sauce. Our family loves crêpes and I knew the addition of the "Suzette" would be a huge hit. A few staple ingredients whisked together ahead of time, paired with a few simple ingredients simmered together, and voilà, a scrumptious treat for breakfast or dessert will be on the table in no time at all!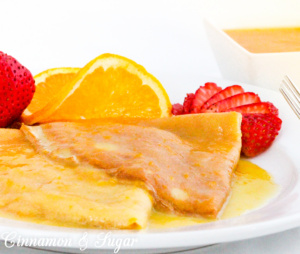 Amazon Synopsis
Val Deniston is catering the debut of Bayport's newest bookstore—but the death of a customer is about to draw her into a real-life murder mystery …

Suzette Cripps has been occupying a spare bedroom at Val's granddad's house while she takes classes in this Maryland Eastern Shore town—but she's always seemed a little secretive and fearful, and any talk about her past is a closed book.
After winning the costume contest at the Halloween-themed bookstore party, Suzette is mowed down by a hit-and-run driver—and Val and her grandfather start to wonder whether it was really an accident or if someone was after Suzette. Granddad is a little distracted by his new enterprise as a ghost-buster, but as Val talks to Suzette's coworkers and fellow creative writing students, she grows more convinced that the dead woman's demons weren't imaginary—and that she needs to rip the mask off a killer …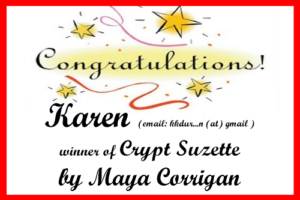 A special thanks to Maya Corrigan for providing one winner with a print copy of CRYPT SUZETTE. Contest ends Sunday, September 1, 2019 at 11:59 pm PST and is limited to U.S. residents. Please use the Rafflecopter box located below to enter. The winner will be announced on this page and on Cinnamon & Sugar's Facebook page, as well as notified by email (so check your spam folder!)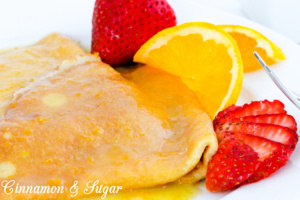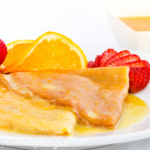 Crêpes Suzette
You can't make Crêpes Suzette with just five ingredients, but you can use two recipes with five ingredients each. The first step is to make the crêpes. You can serve them as is with sweet or savory fillings or toppings, or you can proceed to the next recipe to make the orange sauce for Crêpes Suzette.


Ingredients
Crêpes
2

eggs

1

cup

flour

1-1/2

cups

milk

1/4

teaspoon

salt

1

teaspoon

oil for the pan plus additional oil as needed
Orange Butter Sauce for Crêpes Suzette
10 - 12

Crêpes

4

tablespoons unsalted butter

1/4

cup

sugar

1

orange for 1 tablespoon grated orange zest and 1/3 cup orange juice

1/4

cup

Grand Marnier, Cointreau, or other orange liqueur (optional)
Instructions
Crêpes
Whisk the eggs, milk, and salt until well mixed.

Slowly whisk in the flour.

Note: You can cook the crêpes immediately, but refrigerating the batter for 20 minutes will smooth out any lumps or bubbles. Letting the batter rest makes it less likely the crêpes will tear in the pan. The batter can keep for a day or two, refrigerated. Whisk before cooking.

Heat a 10-inch skillet or crêpe pan at medium setting. To keep crêpes from sticking, do not put the oil or batter in until a few drops of water sizzle in the pan and disappear in 2 seconds.

Add enough oil to cover the bottom of the heated pan. Pour a scant 1/4 cup of batter into the pan and tilt it so the batter spreads into a thin circle coating the bottom. Cook at medium heat until the edges turn light brown and the center of the crêpe has hardened past a liquid stage. Gently loosen the crêpe with a spatula and flip it. Cook for another minute and transfer it to a large plate or platter, where the crêpe can lie flat.

Repeat the preceding step, stacking the cooked crêpes on the plate, until the batter is gone. Add a small amount of additional oil after every other crêpe to keep the batter from sticking.
Orange Butter Sauce
Melt the butter in a large skillet over medium heat until it foams. Stir in the sugar, orange juice, orange zest, and liqueur. Simmer on low heat until the sauce thickens a little and looks syrupy. Remove the skillet from the heat.

With tongs, add a crêpe to the pan, coat both sides in the syrup, and fold it into quarters or roll it into a flattened cylinder. Put it on a warm plate.

Repeat the previous step for each crêpe.

Serve crêpes as is or with ice cream with dessert.
Notes
Yield: 10 -12 eight-inch crêpes.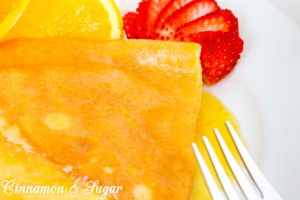 Pin to Pinterest:
If you receive my blog post via email you will need to visit my website to view the video.
I was provided an advance copy. All thoughts and opinions are my own.