SILENT NIGHT, DEADLY NIGHT, the fourth book in the Year-Round Christmas Mysteries by Vicki Delany, is a delightful addition to a fun holiday read. While the town of Rudolph, New York celebrates Christmas year-round, this newest book is set at Thanksgiving time. I enjoyed how the author melded the two holiday celebrations together in the shop of Mrs. Claus's Treasures, owned by protagonist Merry Wilkinson. Ms. Delany has a strong descriptive voice and has developed terrific characters. I greatly enjoyed the descriptions and names of the town's shops and locations, all capturing the holiday spirit the town wants to convey to the many tourists who visit. I also appreciated the close relationship Merry has with her parents: her father, Noel, who is the town's resident Santa, and her mother, Aline, a retired opera diva. They are supportive and caring of each other, which brings a sweet, emotional element to the story. On the other hand, when Aline's college friends come for a reunion visit, continuous strife seems to haunt the group which disrupts the Wilkinson's household. I'll have to admit, all of the women were nasty, maybe too nasty. It wasn't a surprise when one of them is murdered while eating a potluck dinner with the group.
The investigator insists the women stay in town until they can be cleared…stuck at Aline's house. This prompts Merry to get involved to find the killer and get the remaining horrid women out of her mother's home and life. There's also a subplot woven into the murder mystery of why Noel Wilkinson might be ousted from his role as the town's Santa. I had to admire Noel's calmness and the way he exhibited the true meaning of Christmas in the face of strife. As the story progresses, the author sprinkles clues for a sharp reader to catch, then provides a twist to pull it all together for a satisfying conclusion. In my opinion, it's never too early to get in the holiday spirit and SILENT NIGHT, DEADLY NIGHT is a delightful way to indulge.
Basic Bread Pudding starts with an egg-rich bread soaked in a mixture of eggs, sugar, milk, cream and warm spices. With a sprinkling of plump, sweet raisins and a drizzle of caramel sauce served over the warm dish to up the flavor, this easy to make comforting bread pudding will please friends and family whether you're serving it for breakfast or dessert.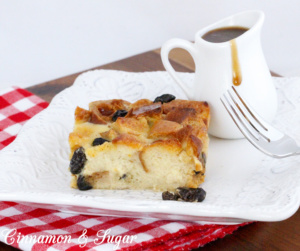 Amazon Synopsis
Residents of Rudolph keep the spirit of Christmas alive year-round—but their joy is threatened when a group of grinches visits the town, in the charming fourth installment of the Year-Round Christmas series.
It's the week before Thanksgiving, and Merry Wilkinson, owner of Mrs. Claus's Treasures, is preparing for a weekend reunion of her mother's college friends. But when the group of women comes into Merry's shop, Merry is met with frosty attitudes and cold hearts.
The women argue amongst themselves constantly, and the bickering only intensifies after one of the friends is poisoned. With her father's role as Santa in danger due to his proximity to the crime, Merry will need to use all of her investigative gifts to wrap this mystery up and save Santa and her favorite holiday.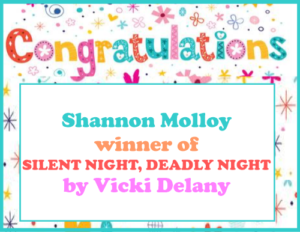 A special thanks to Vicki Delany for providing one winner with a print copy of SILENT NIGHT, DEADLY NIGHT. Contest ends Wednesday, September 4, 2019 at 11:59 pm PST and is limited to U.S. and Canadian residents. Please use the Rafflecopter box located below to enter. The winner will be announced on this page and on Cinnamon & Sugar's Facebook page, as well as notified by email (so check your spam folder!)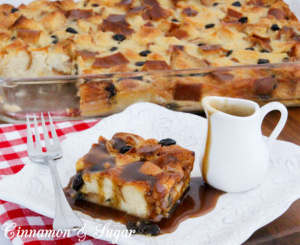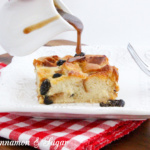 Basic Bread Pudding as served in Victoria's Bake Shoppe
Silent Night Deadly Night by Vicki Delany is set the week before Thanksgiving, when food, glorious food, is uppermost on everyone's mind and pies, tarts, biscuits, and cakes are flying off the shelves at Victoria's Bake Shoppe in Rudolph, New York, America's Year Round Christmas destination.
"I glanced at the blackboard on the wall. Thanksgiving stuffing bread pudding with caramel sauce.
Just looking at the words, I felt three pounds settle on my hips."

Vicki won't give us her secret for what makes her bread pudding "thanksgiving stuffing" worthy, but she always starts with this basic version.
Ingredients
Bread Pudding
12

ounces

brioche or challah, cut into 1-inch cubes

2

cups

milk

3

cups

heavy cream

4

large eggs, plus 1 large egg yolk

1

cup

sugar

1/2

teaspoon

salt

1

tablespoon

pure vanilla extract

1/2

teaspoon

ground cinnamon

1/4

teaspoon

ground nutmeg

1/2

cup

raisins (optional)
Caramel Sauce
1

cup

packed brown sugar

1/2

cup

butter

1/4

cup

milk

1

teaspoon

vanilla extract
Instructions
Bread Pudding
Preheat oven to 350 degrees

Butter a 9-by-13-inch baking dish; set aside.

Put bread in a large bowl; set aside.

Heat milk and cream in a medium saucepan over medium-high heat until just about to simmer; remove from heat.

Whisk eggs, yolk, sugar, salt, vanilla, cinnamon, and nutmeg in a medium bowl. Whisking constantly, pour cream mixture in a slow, steady stream into egg mixture.

Pour over bread; fold to combine. Let stand 30 minutes, tossing and pressing occasionally to submerge bread.

Meanwhile, soak raisins in 1 cup boiling water for 30 minutes.

Drain raisins and stir raisins into bread mixture. Transfer bread to buttered dish; pour liquid in bowl over top.

Set dish in a roasting pan; transfer to oven. Pour boiling water into pan to reach about halfway up sides of dish.

Bake until golden brown, about 50 minutes. Let dish cool on a rack 10 to 20 minutes.

Serve with warm caramel sauce if desired.
Caramel Sauce
Bring brown sugar, butter, and milk to a gentle boil and cook until thickened, 1 to 2 minutes. Remove from heat; add vanilla extract.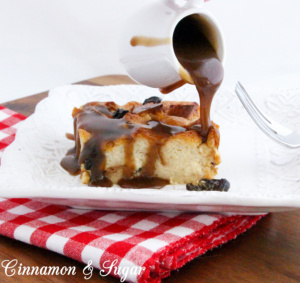 Pin to Pinterest: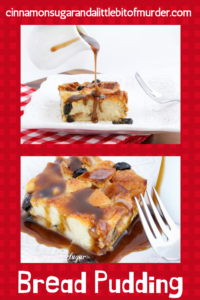 If you receive my blog post via email you will need to visit my website to view the video.
I was provided an advance copy. All thoughts and opinions are my own.