I have so enjoyed reading each book as they released in the Sherlock Holmes Bookshop Mystery series by Vicki Delaney and have been waiting in anticipation for THE CAT OF THE BASKERVILLES! This third book in the series doesn't disappoint and kept me glued to the pages as I caught up with protagonist Gemma Doyle. Gemma is such a refreshing, unique heroine. She lives in her own carefully organized world and doesn't quite understand people who aren't attuned to details like she is. Especially people like the police whose job it is to see details and solve crimes. This brings plenty of conflict with the investigating detectives when she finds herself in the midst of the murder of a famous actor in town to play the lead role in The Hound of the Baskervilles. With the town gearing up for the West London Theater Festival, the pressure is on to solve the case. And when all clues point to Gemma's best friend's mother, Leslie, Gemma ignores the detectives' warnings to not get involved.
Jayne, Gemma's best friend, runs Mrs. Hudson's Tea Room which is adjacent to Gemma's shop, the Sherlock Holmes Bookshop and Emporium. Jayne is darling and just a bit ditzy but a steadfast sidekick to Gemma's intellectual investigations. They work well together and their interaction provides humorous fun to the book. Ms. Delaney writes witty banter and her descriptive use of language makes the reader feel and see everything that happens on the page. I loved Gemma's use of British expressions (she's a transplant from England) and the comparisons between U.S. English and British English words. It's quite humorous! The mystery is well thought out with a nice pace while the conclusion was quite surprising. I never even considered the suspect!
While the book does not contain recipes, Vicki has allowed me to share a recipe for Coconut Cupcakes that she created. In the book, Jayne made over 100 cupcakes for a festival fundraising event and even got non-culinary Gemma to frost them for her. Supremely moist and full of flavor, I loved that the shredded coconut is pulverized in a food processor before adding to the batter. I thought this gave it great flavor without making the texture stringy or tough. A quick swirl of your favorite buttercream and a sprinkle of coconut on top will make this a hit with your friends and family.
Amazon Synopsis
When Jayne Wilson's mother is accused of murder, Jayne and Gemma have to eliminate the impossible to reveal the true killer.
Legendary stage and movie star Sir Nigel Bellingham arrives on Cape Cod to star in a stage production of The Hound of the Baskervilles put on by the West London Theater Festival. When Sir Nigel, some of the cast, and the director visit the Sherlock Holmes Bookshop at 222 Baker Street, Gemma Doyle realizes that Sir Nigel is not at all suited to the role. He is long past his prime and an old drunk to boot.
The cast, in particular the much younger actor who previously had the role, are not happy, but the show must go on.
Before the play opens, Leslie Wilson, mother of Gemma's best friend Jayne, arranges a fundraising afternoon tea to be catered by Mrs. Hudson's Tea Room. The tea is a huge success, but when it's time to leave, Sir Nigel has gone missing―only to be found at the bottom of the rocky cliff, dead. Along with the dead body, Gemma finds evidence incriminating Leslie Wilson. When the police, in the presence of handsome detective Ryan Ashburton and suspicious detective Louise Estrada, focus their attention on Leslie despite the numerous other suspects, the game is once again afoot and it's again up to the highly perceptive Gemma and the ever-confused but loyal Jayne to clear Jayne's mother's name.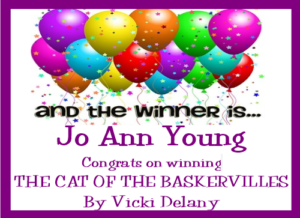 A special thanks to Vicki Delany for providing one winner with a hardcover copy of THE CAT OF THE BASKERVILLES! Contest ends Monday, February 26, 2018 at 11:59 pm PST and is limited to U.S. and Canada residents only. Please use the Rafflecopter box located below the recipe to enter. The winner will be announced on this page and on Cinnamon & Sugar's Facebook page, as well as notified by email (so check your spam folder!)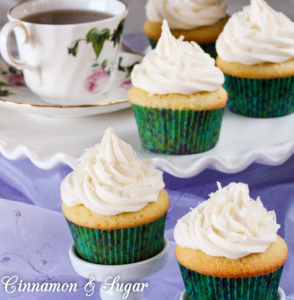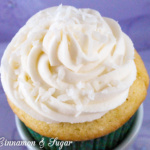 Vicki Delany's Coconut Cupcakes, as served in Mrs. Hudson's Tea Room
Ingredients
1-3/4

cups

all-purpose flour

2

teaspoons

baking powder

1/2

teaspoon

salt

1/2

cup

packed sweetened shredded coconut

6

ounces

(1-1/2 sticks) unsalted butter, softened

1-1/3

cups

sugar

2

large eggs, plus 2 large egg whites

3/4

cup

unsweetened full-fat canned coconut milk

1-1/2

teaspoons

pure vanilla extract

1-1/3

cups

large-flake unsweetened coconut
Instructions
Preheat oven to 350°F. Line standard muffin tins with paper liners.




Whisk together flour, baking powder, and salt. Pulse shredded coconut in a food processor until finely ground, and whisk into flour mixture.




With an electric mixer on medium-high speed, cream butter and sugar until pale and fluffy. Gradually beat in whole eggs, whites and vanilla, scraping down sides of bowl as needed. Reduce speed to low. Add flour mixture in three batches, alternating with two additions of coconut milk, and beating until combined after each.




Divide batter evenly among lined cups, filling eat three-quarters full. Bake, rotating tins halfway through, until a cake tester inserted in centers come out clean, about 20 minutes. Remove from oven; turn out cupcakes onto wire racks and let cool completely. Cupcakes can be stored overnight at room temperature, or freeze up to 2 months, in airtight containers.




To finish, use a small offset spatula to spread a generous dome of icing onto each cupcake, and, if desired, garnish with flaked coconut. Store at room temperature until ready to serve.




Icing: Use your favourite buttercream vanilla icing. I like to use a splash of coconut milk rather than plain milk. If you don't normally add milk to your icing, you can cut down slightly on the butter and replace with coconut milk.

Notes
An easy buttercream recipe: Whip 1/2 cup softened butter until creamy then mix in 2 cups confectioners' sugar. Add 1 tablespoon milk or coconut milk and 1 teaspoon vanilla extract. Mix and then add an additional 2 cups confectioners' sugar and whip. Add an additional tablespoon of milk or coconut milk. Whip another minute and add additional milk as necessary to achieve your desired consistency. I like my frosting on the stiff side for piping swirls.
Here is a blurb from the book pertaining to Gemma's attempt at frosting the cupcakes for the event. To clarify, Gemma is not an expert in the kitchen and typically leaves it all up to Jayne. I've personally found that a large star tip decorating tool is the quickest way to frost cupcakes.
"Gemma, you'll have to finish the cupcakes."
"Me?"
"Yes, you. They need frosting." One hundred and twenty-five tiny, perfect coconut cupcakes were cooling on a high shelf. The kitchen, as I have said, is small. We were running out of room to put all the food. "The frosting's made. All you have to do is use an ice cream scoop as a measure. One scoop on each cupcake. Don't worry about covering the tops to the edges. When that's done, give the frosting a little swirl with a knife to make it look pretty and sprinkle coconut on top." While she talked, Jayne mixed the dough for the next batch of scones. I set about icing coconut cupcakes in the same assembly-line fashion I had with the sandwiches.
"A swirl, Gemma. Just a swirl," Jayne said. "If you're trying to make a work of art out of each one, you'll be here all day."
I studied the cupcake at hand. I hadn't been trying to re-create the London office tower nicknamed the Gherkin in coconut icing, but it did bear a slight resemblance.
Pin to Pinterest: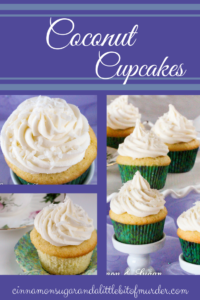 If you receive my blog post via email you will need to visit my website to view the video.
I was provided an advance copy with the hopes I would review. All thoughts and opinions are my own.