It's been 1-1/2 years since the last release of a Cookbook Nook Mystery book by Daryl Wood Gerber and I am beyond happy that there is a new addition! PRESSING THE ISSUE, the sixth book in this delightful series, finds Jenna Hart and the town of Crystal Cove, California, getting ready for a Renaissance Fair. While I have never attended a "Ren Fair", the author's descriptive voice brings the sights, sounds, and yummy tastes to life and the reader will feel like they are right there. Ms. Gerber effectively uses "fair-speak" between the characters which adds to the festive atmosphere, providing fun entertainment. Jenna owns the Cookbook Nook, a shop I would dearly love to spend lots of time in. Not only does Jenna have plenty of Renaissance-themed decorations and period music for her shop but she has also located and stocked numerous medieval-themed cookbooks. I love the clever names assigned to these cook books and who knew there were so many out there?
Jenna is helping her good friend, Bailey Bird, plan her wedding, which is scheduled to be held at the Boldini Vineyards. When they find the winery's owner murdered, Jenna's curiosity and sense of justice drags her into getting involved. Plus she needs to find a resolution for the bride-to-be's wedding venue. There are plenty of suspects to keep the reader guessing and plenty of twists that kept me turning pages late into the night. Ms. Gerber includes a unique condition called "Face Blindness" in the book and I found the use intriguing! The chilling climax ties all the subplots together and provides a satisfying conclusion. I so enjoyed catching up with Jenna and the characters surrounding her. They have been allowed to grow and develop in their personal lives and relationships and it's been a pleasure sharing their adventure!
The Renaissance Fair provides so many opportunities to indulge in yummy food and you will be drooling while reading the decadent descriptions. Fortunately for the reader, Ms. Gerber provides numerous recipes at the back of the book to indulge in! I was immediately drawn to Sin-in-a-Cup Frozen Cheesecake Bites for several reasons. First off, chocolate and cheesecake… yum! Plus since these are small individual portions that can be kept in the freezer I can indulge my cravings whenever they pop up instead of needing to finish off an entire batch right away. The addition of fresh raspberries and Grand Marnier put these little bites of heaven over the top and is one of the very few desserts I decided to not share with anyone else. It's that good!
Amazon Synopsis
As the annual Renaissance Fair comes to Crystal Cove, Jenna Hart's Cookbook Nook is packed with tasty treats and all things medieval, while her pal Bailey is ready to swoon over her upcoming nuptials at a local vineyard. But when the two friends discover the body of the vineyard's owner bludgeoned by a winepress, all their merriment fades, along with their hopes for a vintage year.
Which churlish varlet did the deed? Was it the victim's errant brother, who stood to inherit the vineyards? Or the owner's crestfallen ex-girlfriend? Mayhap it was the newly arrived comely wench, or her jealous husband. Fie on them all! Verily, Jenna can't rest until justice is served, and she vows to track down the killer. But can she sniff out the truth before the villainous culprit strikes again?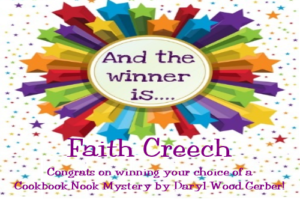 A special thanks to Daryl Wood Gerber for providing one winner with their choice of print books from the first 5 books in the Cookbook Nook Mystery series or an e-book copy of PRESSING THE ISSUE! Contest ends Wednesday, February 28, 2018 at 11:59 pm PST and print is limited to U.S. residents only. Please use the Rafflecopter box located below the recipe to enter. The winner will be announced on this page and on Cinnamon & Sugar's Facebook page, as well as notified by email (so check your spam folder!)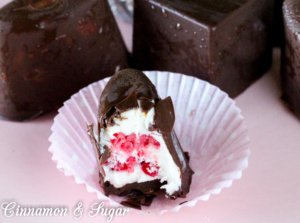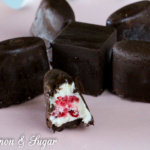 Sin-in-a-Cup Frozen Cheesecake Bites
These are easy but messier than all get-out to prepare. You'll want to lick your fingers a lot. Try not to or you will OD on chocolate. LOL. Also, don't be disappointed if the first few times you try to make them they don't turn out "pretty". Working with chocolate and ice cube trays isn't easy. But the result is divine. Remember, you'll want a square-shaped ice cube tray, not the rectangular kind. If you do use the rectangular kind, then forgo serving these little tasty treats in mini muffin cups.
Ingredients
8 - 12

ounces

semi-sweet chips (8 ounces is probably ample)

1

tablespoon

coconut oil

8

ounces

cream cheese, softened

2

tablespoons

sour cream

1/3

cup

powdered sugar

1

tablespoon

liqueur (I like an orange-based liqueur like Grand Marnier)

pinch of kosher salt

12

raspberries
You will need a 12-cube ice cube mold and, if desired, mini cupcake holders.
Instructions
In a medium bowl, microwave the chocolate chips and coconut oil for 30 seconds. Stir. Microwave longer, if necessary, until just melted, about 15 - 30 seconds more. It's okay on this round of microwaving if the mixture is not completely smooth. Don't overcook.

Pour a teaspoon of the melted chocolate into each ice cube mold. Using clean fingers, press the chocolate around the sides of the mold completely. Freeze the mold until the chocolate is solid, about 10 minutes. If you feel you didn't get enough chocolate around the mold, remove from freezer and add more chocolate and repeat the pressing and freezing action. You'd like a nice "crust" to form.

Meanwhile, in another medium bowl, combine cream cheese and sour cream. Beat with a hand mixer until smooth. Add powdered sugar, liqueur, and salt, and mix until light and fluffy.

Remove the ice cube mold from the freezer and fill 12 cubes about half full with the cream cheese mixture. Press a raspberry into the center of each cube. Fill the rest of the cube with the cream cheese mixture and top with melted chocolate. (You might need to remelt the chocolate. Again, don't overcook. Zap in 15-second intervals. Do not overcook. You do not want the chocolate to seize.)

Freeze the mold until the mixture is solid, about 90 minutes.

Invert the mold to release the cubes. If you need to, twist the mold to make the treats pop out, or loosen each treat with a knife.

Serve in mini cupcake holders, if desired. Keep frozen whatever you don't eat.
Tip
Hard plastic ice cube trays work better than soft silicone style molds.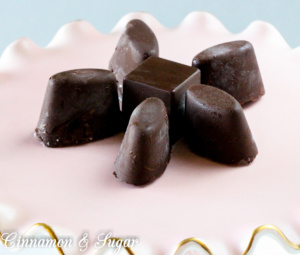 Pin to Pinterest: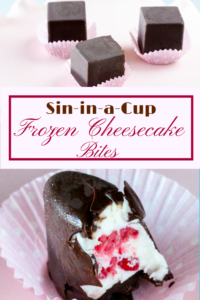 If you receive my blog post via email you will need to visit my website to view the video.
I was provided an advance copy with the hopes I would review. All thoughts and opinions are my own.