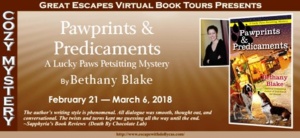 I am so happy to be participating in the Great Escapes Virtual Book Tour and sharing PAWPRINTS & PREDICAMENTS with you!
While I love to read and read quite voraciously, certain stressful situations make it difficult for me to concentrate so I typically don't even try to pick up a book… such as flights and having the flu with a fever. One year ago when Bethany Blake released her first book in the Lucky Paws Petsitting Mystery series, I just happened to start reading it shortly before I boarded a flight. Imagine my amazement when I continued reading throughout the entire five hour flight and barely noticed my discomfort! I experienced a similar situation earlier this month with Ms. Blake's newest release, PAWPRINTS & PREDICAMENTS, the third book in the series. I came down with that dreadful flu making the rounds and took two trips to urgent care. Armed with an advance copy of this new release on my iPad, I immersed myself in Sylvan Creek's festivities and barely took notice of my surroundings or my achy, feverish body! I find the protagonist, Daphne Templeton, highly entertaining and Ms. Blake writes with a terrific sense of humor that had me chuckling out loud on several occasions. People might mistakenly think that Daphne is a ditzy blonde, but beneath her bohemian exterior is a highly intelligent young lady with a generous heart. The predicaments Daphne alludes to throughout the book about her trips that have gone awry during her previous nomadic life have me hoping the author expounds on them in future books… just her small mentions had me laughing at the scenes I envisioned. Not only are the human characters well-developed and entertaining, but the pet characters are equally so. I adore Daphne's dog, Socrates and her trying cat, Tinkleston. They truly have their own personalities that greatly add to the story.
A strong, smart, funny protagonist is great but the key to a terrific book is a strong plot and Ms. Blake delivers that as well. She ties an old local legend surrounding a Saint Bernard ghost, a recluse living deep in the woods, and a Polar Bear Plunge that ends in murder together into one cohesive story that had me turning pages and ignoring my illness. There are suspects galore but clues to point the vigilant reader in the right direction. I'll admit I decided to just go along for the entertaining ride and didn't try to figure it out, but I wasn't in the least bit disappointed. In fact, I was glued to the book until the very last page was read and then started wondering how soon the next book will be available!
In addition to pet sitting, Daphne is opening a pet bakery called Flour Power. She creates many delicious, healthy treats for her pets and the author has included several recipes at the back of the book. Ms. Blake has graciously allowed me to share her recipe for Cinnamon Roll-Overs. She says that "…most dogs will roll over for one of these treats! Not Socrates. But most dogs." I can attest that my grand-puppy, Piper, was more than happy to roll over for one of these treats! And my granddaughter thought they looked so yummy she had to take a nibble too… which is okay because they're full of whole-grain goodness with just a little honey and cinnamon for sweetness.
Amazon Synopsis
The Tail Waggin' Winterfest is the highlight of the season in the famously pet-friendly Pocono Mountains town of Sylvan Creek. But despite attractions like an ice sculpture display, a dogsled race, and gourmet hot chocolate, Daphne Templeton finds herself annoyed by TV producer Lauren Savidge, who's filming the festivities. She's critical, controlling, and as chilly as the January air. Daphne would like to tell her to go jump in a lake—and as a matter of fact, that's exactly what they're both going to do . . .

It's the first-ever polar bear plunge in Lake Wallapawakee, and Daphne and Lauren are among the eighty or so people who charge into the frigid water to raise funds for animals in need. Daphne makes it back to shore—with the help of a mysterious St. Bernard—but Lauren is dragged out stone cold dead. Now, with her trusty basset hound Socrates at her side, Daphne intends to assist Detective Jonathan Black in his investigation—whether he wants her to or not.

A special thanks to Bethany Blake for providing one winner with the entire set of the Lucky Paws Petsitting Mysteries and some swag! Contest ends Tuesday, March 6, 2018 at 11:59 pm PST and is limited to U.S. residents only. Please use the Rafflecopter box located below the recipe to enter. The contest is administered by the Great Escapes Virtual Book Tour and the winner will be announced on this page as well as notified by email (so check your spam folder!)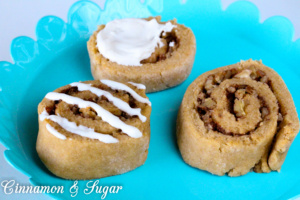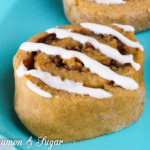 Cinnamon Roll-Overs Dog Treats
Ingredients
2

cups

whole wheat flour

1

teaspoon

baking powder

1/4

teaspoon

salt

1/2

cup

milk (or water if your pup is lactose intolerant)

1

large egg

1/4

cup

canola oil

2

tablespoons

honey

1

teaspoon

cinnamon

1/2

cup

finely chopped walnuts or pecans
Instructions
Preheat your oven to 350 degrees (F). Line a cookie sheet with parchment paper.

In a large bowl, combine the flour, baking powder, and salt.

Get a small bowl and stir together the milk (or water), egg, and oil. Add this to the dry ingredients and mix gently, just until it forms a soft dough.

On a lightly floured surface, pat the dough into a rectangle measuring about 9- by 12-inches.

Drizzle the dough with honey and sprinkle on the cinnamon and nuts, then roll up the dough, starting at the long edge, and pinch the edge to seal it.

Using a sharp knife, cut the log into half-inch-thick slices and place them, cut side down, on the cookie sheet. If the knife gets sticky, dip it in water.

Bake the Roll-Overs for fifteen minutes. (I check at twelve to make sure they're not burning.)
Notes
You can make an easy cream cheese "frosting" for these by mixing about four ounces of cream cheese and milk or water. Add just enough liquid to thin out the cheese. You can also make a bunch of these at one time and freeze them. Socrates thinks they taste just as good thawed!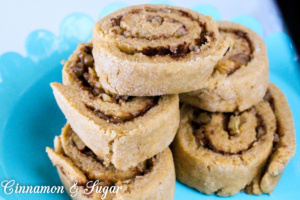 Pin to Pinterest:
If you receive my blog post via email you will need to visit my website to view the video.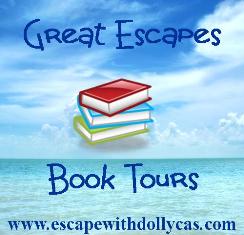 Tour Participants
February 21 – My Reading Journeys – REVIEW, INTERVIEW
February 21 – Sneaky the Library Cat's Blog – CHARACTER INTERVIEW
February 21 – Babs Book Bistro – SPOTLIGHT
February 21 – The Pulp and Mystery Shelf – SPOTLIGHT
February 22 – Reading Is My SuperPower – REVIEW, GUEST POST, GIVEAWAY
February 22 – Valerie's Musings – REVIEW, INTERVIEW
February 23 – Teresa Trent Author Blog – CHARACTER GUEST POST
February 23 – Back Porchervations – REVIEW
February 24 – The Montana Bookaholic – CHARACTER GUEST POST
February 24 – Readeropolis – INTERVIEW, GIVEAWAY
February 25 – Books a Plenty Book Reviews – REVIEW
February 25 – Laura's Interests – REVIEW
February 26 – Varietats – REVIEW
February 26 – Mystery Thrillers and Romantic Suspense Reviews – CHARACTER GUEST POST
February 26 – View from the Birdhouse – SPOTLIGHT
February 27 – The Power of Words – REVIEW, GIVEAWAY
February 27 – Cinnamon, Sugar and a Little Bit of Murder – REVIEW
February 28 – Mysteries with Character – INTERVIEW, GIVEAWAY
February 28 – Escape With Dollycas Into A Good Book – REVIEW
February 28 – Christa Reads and Writes – REVIEW
March 1 – A Blue Million Books – CHARACTER INTERVIEW
March 1 – La libreria di Beppe – SPOTLIGHT
March 1 – MJB Reviewers – REVIEW
March 2 – Sapphyria's Books – REVIEW
March 2 – A Cozy Experience – GUEST POST
March 3 – Book Babble – REVIEW
March 3 – A Holland Reads – SPOTLIGHT, GIVEAWAY
March 4 – Melina's Book Blog – REVIEW
March 4 – Island Confidential – INTERVIEW
March 5 – Mochas, Mysteries and Meows – REVIEW, CHARACTER INTERVIEW, GIVEAWAY
March 5 – Brooke Blogs – SPOTLIGHT
March 6 – Cozy Up With Kathy – GUEST POST
March 6 – Bibliophile Reviews – REVIEW, GIVEAWAY
March 6 – Reading Authors – REVIEW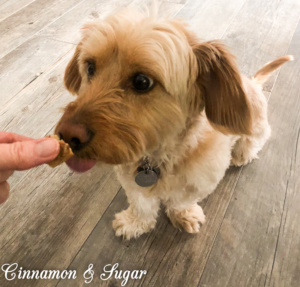 I was provided an advance copy with the hopes I would review. All thoughts and opinions are my own.