Just in time for the upcoming holiday season, A CAJUN CHRISTMAS KILLING, the third book in the Cajun Country Mystery series by Ellen Byron is celebrating its release! It's Christmas time in Pelican, Louisiana and the protagonist, Maggie Crozat, is preparing to celebrate with her family and their Crozat Plantation Bed and Breakfast guests. I loved the descriptions provided about the local holiday traditions enjoyed by the residents, especially the elaborate bonfires built to light the way for Papa Noel. Maggie is a smart, likeable artist who cares deeply for her family and friends. She pitches in to help no matter what the problems are. There are many memorable characters to support the plot and Maggie's nemesis, Rufus, is back on the scene. One of my favorite lines in the book comes from Rufus, "Chère, it's Louisiana. We only follow the rules we like." This premise leads to some interesting developments!
The murder victim, investor Steve Harmon, is one of their former bed and breakfast guests and was tossed out by Maggie's mother. His interest in staying at their property was only to figure out a way to take over the business and force the family to leave their ancestral plantation. In addition, Steve wanted to exploit Maggie's boyfriend's young autistic son. Bo threatens Steve and demands he leave his child alone. With both of her loved ones suspects, Maggie takes it upon herself to clear their names and find the real killer. The plot is multi-faceted with threads of subplots woven throughout the story. There are many suspects each of them viable and once the bonfires are lit a suspenseful conclusion pulls the story together for an exciting ending!
Maggie's mother, Ninette, is the cook for the family's bed and breakfast. She serves amazing Cajun meals to her family and guests. I appreciate that the author provides recipes at the back of the book and has allowed me to share her recipe for Spicy Cajun Christmas Cookies. These sugar cookies are flavored with cinnamon and cayenne powder. Before you think that you don't like spicy, the cayenne did not make the cookies overly hot. Instead it enhanced the flavor of cinnamon and both of my granddaughters loved them! With Halloween right around the corner, I decorated cookies to fit in with that theme plus threw in a nod to Christmas. No matter what holiday you're celebrating, these Spicy Cajun Cookies are a nice change from plain vanilla sugar cookies.
Amazon Synopsis
Maggie Crozat is back home in bayou country during the most magical time of the year. In Pelican, Louisiana, Christmastime is a season of giant bonfires on the levee, zydeco carols, and pots of gumbo. Except, this year, the Grinch has come to stay at the family-run Crozat Plantation B&B. When he floods travel websites with vicious reviews, Maggie thinks she's identified him as rival businessman Donald Baxter. That is, until he's found stabbed to death at Maggie's workplace. And Maggie and her loved ones become top suspects.
The Crozats quickly establish alibis, but Maggie's boyfriend, Detective Bo Durand, remains under suspicion. With Bo sidelined during the investigation, Maggie finds herself forced to work with an unlikely ally: longtime family enemy Rufus Durand. Her sleuthing uncovers more suspects than drummers drumming, and lands her in the crosshairs of the murderer.
The sleigh bells are jingling, and the clock is ticking for Maggie and Rufus, who must catch the killer or it will be the opposite of a Joyeux Noël…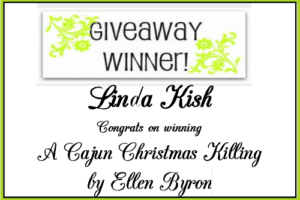 A special thanks to Ellen Byron for providing a hardcover copy of A CAJUN CHRISTMAS KILLING for one lucky winner! Contest ends Friday, October 20, 2017 at 11:59 pm PST and is restricted to U.S. residents only. Please use the Rafflecopter box located below the recipe to enter. The winner will be announced on this page and on Cinnamon & Sugar's Facebook page, as well as notified by email (so check your spam folder!)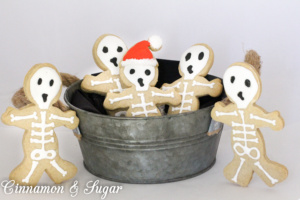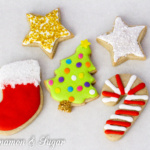 Spicy Cajun Christmas Sugar Cookies
Ingredients
Cookies
1

cup

butter, softened

1

cup

sugar

2

large eggs

1

tablespoon

vanilla extract

3

cups

all-purpose flour*

1

teaspoon

cinnamon

1/2

teaspoon

cayenne pepper

1/2

teaspoon

baking soda

1/2

teaspoon

salt
Royal Icing**
4

cups

confectioners' sugar

3

tablespoons

meringue powder (available to most craft stores)

5

tablespoons

warm water
Instructions
Cookies
Cream the butter, then add the sugar and beat until it's fluffy.

Beat in the eggs and vanilla.

In a separate bowl, combine all the dry ingredients.

Stir the dry ingredients into the butter and sugar mixture. Mix together until well combined.

Divide the dough in half and wrap tightly in plastic wrap. Refrigerate the dough for a minimum of two hours or overnight.

Preheat your oven to 350 degrees (F).

Roll out the cookie dough to 1/4-inch thickness on a well-floured board.

Cut the dough with cookie cutters of your choice and place the unbaked cookies on an ungreased cookie tray (or line a baking sheet with parchment paper). If the dough gets sticky, add more flour to the board and/or rolling pin.

Chill the cutouts on the baking sheet for 10 minutes before baking. This will help keep them from spreading out and losing their shape.

Bake 6 - 10 minutes, basically until they're golden brown around the edges. They will brown quicker if the shapes are thinner.

Transfer the baked cookies to a wire rack and cool completely.

Once the cookies have cooled, frost with royal icing, either as prepared below or prepared on the icing box.
Royal Icing
Beat all ingredients until icing forms peaks (7 minutes at medium-low speed with a heavy-duty mixer, 10 minutes at high speed with a hand-held mixer). If icing seems too thick, add more water 1/2 teaspoon at a time and beat in until desired consistency is reached.

Tips for Cookies
*When measuring the flour firmly scoop and level the flour. If you have a scale, use 15 ounces of flour.

I often mix up cookie dough one day, refrigerate overnight, then bake the cutouts the following day. The cookies will keep in an airtight container for a few days, so I often decorate a day or two after baking them to spread out the work on decorated sugar cookies.
Tips for Royal Icing
**Instead of making your own royal icing, you can purchase a boxed mix at your local craft store.

It is imperative that your bowls, spoons, spatulas, beaters and any thing else that comes in contact royal icing is grease free. I use Dawn Liquid Dish soap on these items because I know it will remove any trace of residual grease.

Cover the icing bowl with a damp paper towel or plastic wrap in between working with royal icing. It dries out quickly.

For longer storage, royal icing can be stored in a ziplock bag in the refrigerator for 3 days, or in the freezer for 3 months.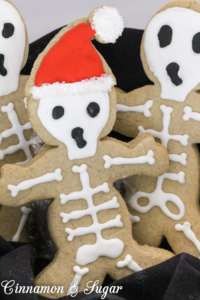 Pin to Pinterest: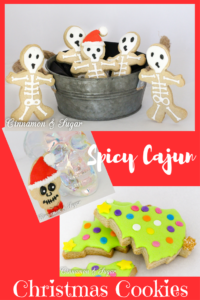 If you receive my blog post via email you will need to visit my website to view the video.
I was provided a copy of this book with the hopes I would review. All thoughts and opinions are my own.