SECRETS AND PIES, the long anticipated third release in author Jenny Kales' Callie's Kitchen Cozy Mystery series, lived up to and even exceeded my expectation! The adorable cover is filled with mouth-watering pies and invites you in and then the story grabs your attention, giving the reader a twisty, turvey ride. The protagonist, Callie Costas, is finding her stride and her life seems to be finally falling into place. Her relationship with Detective Sands is moving forward, her daughter is a delight, and her father has finally acknowledged her need to run her own restaurant. She's even coming to terms with her ex-husband and his new wife living close by. But life is never static and Callie finds herself stressed by the amount of special events her kitchen needs to cater along with unforeseen personnel issues. When she finds a lifeless body in the garden of a lakeside Gilded Age home that her ex-husband is supposed to renovate, her mettle is put to the test.
The author effectively weaves the theme of F. Scott Fitzgerald and the Gilded Age throughout the book. I loved her description of the majestic mansions doting the lake around Crystal Bay, and the provided bits and pieces of history of that era. I also enjoy the photos that the author occasionally posts on Facebook of the real Lake Geneva in Wisconsin, of which she uses as inspiration for her fictional town. I'll admit I thought I knew where the plot was going early on in the story but was totally thrown for a loop by the twist the story took. It kept me turning pages, wanting to find out how the mystery was going to be resolved. The conclusion provided a suspense scene that helped tie the threads together into a satisfying cozy mystery.
Callie bakes up so many amazing treats in her kitchen that you'll drool while reading. Jenny provides several mouthwatering recipes that you will definitely want to try out! I was instantly drawn to the recipe for Callie's Sour Cherry Pie. Fruit pies are my favorite type of pie and my most favorite dessert (next to cookies, of course)! My mother-in-law was a whiz at making pie dough from scratch but that's one thing I always struggled with. Jenny's crust can be mixed up using a food processor which I found to be super easy to do and without the frustration of over-working the dough. The results were an easy to make, easy to roll, and super flaky pie crust! She also uses tart "sour" canned cherries instead of the sickening sweet "fake" cherry filling. I thought the tart cherries provided more fruit flavor and I liked the texture much better, without the hassle of pitting fresh cherries. Served with a dollop of vanilla ice cream, Callie's Sour Cherry Pie is sure to please your family and friends!
Amazon Synopsis
Summertime in Crystal Bay means tourist season for Calliope "Callie" Costas, owner of Callie's Kitchen, a Greek-meets-Midwest from-scratch eatery. Business is booming but so is the stress. Callie can barely keep up with the demand for her famous summer fruit pies and savory Greek delicacies, plus she's agreed to bake dozens of "pitas" for the annual Greek Fest.
When Callie is asked to deliver cast party treats for a Murder Mystery Night at the historic Harris House, it seems like a welcome break from her hot stove. That is, until she finds herself an unwilling player in yet another suspicious death. Worse yet, the victim is a family friend and graduate student working on a project involving Crystal Bay's colorful past.
Before long, a motley crew of suspects makes things as juicy as the succulent berries strewn around Callie's Kitchen. And that's not all Callie's got on her plate. Add family obligations, a deepening romance with a local detective and unexpected personnel problems to the mix.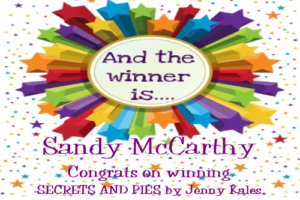 A special thanks to Jenny Kales for providing one winner the choice of either print or an e-book copy of SECRETS AND PIES for one lucky winner! Contest ends Monday, October 23, 2017 at 11:59 pm PST and print copy is restricted to U.S. residents only. Please use the Rafflecopter box located below the recipe to enter. The winner will be announced on this page and on Cinnamon & Sugar's Facebook page, as well as notified by email (so check your spam folder!)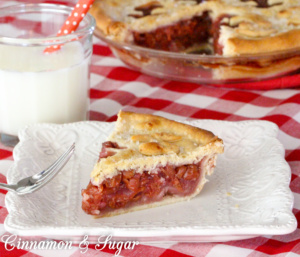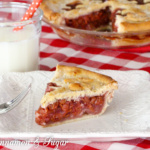 Callie's Sour Cherry Pie
Ingredients
Callie's Perfect Pie Crust
2-1/4

cups

all-purpose flour

1

teaspoon

salt

1/4

teaspoon

sugar

1/2

cup

shortening (such as Crisco), very well-chilled

4

tablespoons

unsalted butter, very well-chilled

6 - 8

tablespoons

iced water *
Callie's Cherry Pie
3/4

cup

sugar

3

tablespoons

cornstarch

2

cans

tart or "sour" red cherries (NOT cherry pie filling)

1

teaspoon

vanilla extract

1

tablespoon

butter or margarine
Instructions
Callie's Perfect Pie Crust
Mix flour, sugar and salt in a large mixing bowl. With a pastry blender, or using a food processor, cut in the shortening and butter until it resembles coarse crumbs.

Mix in the iced water, one tablespoon at a time, until dough forms a ball. If dough doesn't come together or looks crumbly, gradually add more ice water, 1 teaspoon at a time, until it does. Take the dough out of the food processor (if using) and knead gently with your hands a few times. It should feel pliable and smooth. If not, add a little more water and knead in. Do not over process the dough.

Divide dough into two balls and flatten slightly into discs. Wrap well in plastic wrap and chill in the refrigerator for at least 30 minutes before rolling.

Using a well-floured surface and a rolling pin, roll each pastry disc from the center to the edges.

Roll each pastry into a circle that is several inches larger than a 9-inch pie plate.

Place gently in pie plate and trim overhang. Fill pie and add top crust as recipe directs.
Callie's Cherry Pie
Preheat oven to 400 degrees (F).

Drain the cherries and reserve the juice from only one can.

In a saucepan, stir the cherry juice into the combined mixture of the cornstarch and sugar. Cook over medium heat, stirring constantly until thickened, but not gluey.

Remove from heat. Stir in vanilla extract, then gently stir in cherries.

Pour filling into pastry lined pie pan. Dot with butter or margarine.

Place second crust on top and gently seal by making a decorative edge with your fingers or the tines of a fork. Vent the pie by slashing the top crust several times. Or do as Max and Callie do, and use a shaped pie crust cutter to make decorative vents in the crust (such as a cherry shape). Place cut-outs on the crust and gently seal for additional decoration.

Bake 30 - 40 minutes or until crust browns and filling begins to bubble though the vents. Make sure it's bubbling or the filling will be too thin or "runny" once it cools.

If the edges of the pie are browning too quickly, cover with aluminum foil or "pie crust protectors" (found at kitchen stores) for the last 15 minutes of baking.

Cool pie several hours to allow filling to thicken before slicing.
Tip
* You can substitute well-chilled vodka for the water. This creates a super flaky crust and cuts down on the worry of over-handling the dough.

You can make the dough a couple of days in advance and store in the refrigerator until ready to use.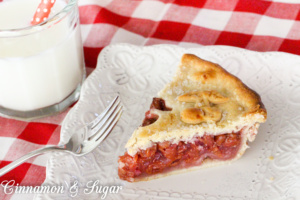 Pin to Pinterest: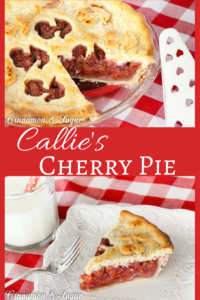 If you receive my blog post via email you will need to visit my website to view the video.
I was provided a copy of this book with the hopes I would review. All thoughts and opinions are my own.