BONES TO PICK, the debut cozy mystery in the Brie Hooker Mystery series by Linda Lovely starts out with humor in her acknowledgement and the chuckles continue throughout this delightful read! The quirky characters add to the charm of the story and captured my attention from the very first page. I found the protagonist, vegan chef Brie Hooker, to be an entertaining character from her ironic name to the situation she finds herself in helping her aunt run a goat farm, to her dilemma of the handsome vet and the moonshine man showering her with attention. The author provides many clever names and sayings that are quite entertaining. "Limburger and Liverwurst" is one of many creative cheese and meat swear words that Brie uses and just might find their way into my own vocabulary.
There's nonstop action in the plot, especially after Tammy the pig digs up bones belonging to Brie's long-gone uncle by marriage. The local sheriff seems to have it in for Brie's family with her Aunt Eva in his crosshairs. Brie shows her devotion to her family and jumps in to prove her aunt's innocence even to the peril of her own life. There are plenty of people who are viable suspects in the decades old murder mystery and when one of Brie's suspects is murdered, the stakes are even higher. I was intrigued with how the cold case was woven into the new murder along with fraud and forgery that kept me guessing at how the threads were going to come together. But come together they did in a very exciting, suspenseful conclusion!
While I could easily become a vegetarian, I would personally struggle with being a vegan as I adore cheese too much! I have friends who are vegan and I admire their commitment to their lifestyle and frequently enjoy the foods that they prepare… especially the desserts. Linda has graciously provided a recipe for Vegan Pumpkin Brownie Pie with Pecan Streusel for me to share. Vegans and non-vegans alike will swoon over this decadently rich-tasting treat! You will never miss the lack of eggs or dairy and if you don't spill the secret, no one will even know. The three layers are each deliciously flavorful on their own, but when put together, the resulting dessert is absolutely amazing!
Amazon Synopsis
Living on a farm with four hundred goats and a cantankerous carnivore isn't among vegan chef Brie Hooker's list of lifetime ambitions. But she can't walk away from her Aunt Eva, who needs help operating her dairy.
Once she calls her aunt's goat farm home, grisly discoveries offer ample inducements for Brie to employ her entire vocabulary of cheese-and-meat curses. The troubles begin when the farm's pot-bellied pig unearths the skull of Eva's husband, who disappeared years back. The sheriff, kin to the deceased, sets out to pin the murder on Eva. He doesn't reckon on Brie's resolve to prove her aunt's innocence. Death threats, ruinous pedicures, psychic shenanigans, and biker bar fisticuffs won't stop Brie from unmasking the killer, even when romantic befuddlement throws her a curve.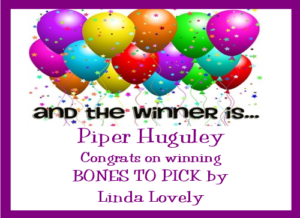 A special thanks to Linda Lovely for providing an e-book copy of BONES TO PICK for one lucky winner! Contest ends Friday, October 27, 2017 at 11:59 pm PST. Please use the Rafflecopter box located below the recipe to enter. The winner will be announced on this page and on Cinnamon & Sugar's Facebook page, as well as notified by email (so check your spam folder!)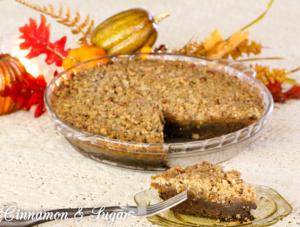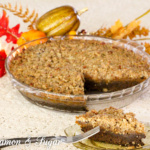 Vegan Pumpkin Brownie Pie with Pecan Streusel
According to the original recipe this serves 8-10. In our house figure on the side of 8 servings.
Ingredients
Pumpkin Brownie Layer
1

cup

canned pumpkin

3/4

cup

organic cane sugar

1/4

cup

coconut oil softened

1-1/2

teaspoon

vanilla extract

3/4

cup

all-purpose flour

1

tablespoon

cornstarch or arrowroot

1/4

cup

Dutch processed cocoa powder

(regular unsweetened cocoa will work)

1/2

teaspoon

Kosher salt

1/2

teaspoon

baking soda
Pumpkin Pie Layer
1

cup

canned pumpkin

1

teaspoon

vanilla extract

3

tblsp non-dairy milk (such as cashew, almond, coconut)

2

tablespoons

cornstarch or arrowroot

1/3

cup

organic cane sugar

1

teaspoon

cinnamon (or more if you want it spicy)

1/2

teaspoon

ground ginger

1/4

teaspoon

nutmeg

3

tablespoons

chocolate chips (vegan if necessary, otherwise regular are fine)
Pecan Streusel Topping
1/4

cup

Earth Balance margarine

1/2

cup

Sucanat or brown sugar

3/4

cup

pecans, chopped

1/3

cup

all-purpose flour
Instructions
Preheat oven to 350 degrees (F).

Grease a 9-inch pie plate.
Pumpkin Brownie Layer
Use a hand or stand mixer to mix pumpkin, sugar, coconut oil and vanilla together.

Sift the flour, cornstarch, Dutch cocoa, salt and baking soda together and add to the pumpkin mixture. Spread into the pie plate.
Pumpkin Pie Layer
Mix together the pumpkin, vanilla, and non-dairy milk.

Whisk together the cornstarch, sugar, and spices. Slowly whisk dry ingredients into the pumpkin mixture, then spread over the brownies.

Sprinkle pumpkin pie layer with the chocolate chips.
Pecan Streusel Topping
Mix all the topping ingredients together and sprinkle over the chocolate chip layer.

Bake 35 - 40 minutes. Remove from oven and allow to cool at room temperature for 30 minutes, then refrigerate until thoroughly chilled, at least 1-1/2 hours.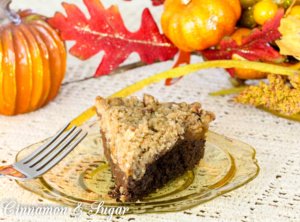 Pin to Pinterest: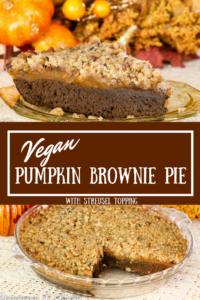 If you receive my blog post via email you will need to visit my website to view the video.
I was provided a copy of this book with the hopes I would review. All thoughts and opinions are my own.