One of the things I love about Kathi Daley's Zoe Donovan Cozy Mystery series is the holiday themes she often weaves into her stories. Such is the case with TRICK OR TREASON, the 26th book in this series which finds Zak and Zoe preparing for Halloween and Ashland Falls' annual Haunted Hamlet. I love the setting of Ashland Falls and the close-knit community. Zoe and Zak are surrounded by loving, caring friends who lend support to each other and to the town. In addition to well-written cozy mysteries, Kathi Daley's strength is creating wonderful characters that make you want to get to know them and continue to want to find out what happens to them. The central characters are kind and compassionate people and just the sort of individuals I would be happy to call my friends if they existed in real life.
Zoe, who is pregnant with their first child and experiencing the baby blues, definitely has her hands full in this newest installment! In addition to the Haunted Hamlet, she has the Zimmerman Academy Halloween dance, a soccer tournament for their foster son, a remodel finishing up at her wild and domestic rescue center, and an overbearing mother-in-law breathing down her neck. The last thing Zoe needs is a dead body showing up, but a murder happens and she is once again pulled into trying to find the killer since the victim is the town's events' chairperson.
However this time, Zoe tries to take a back seat to the investigation to protect her unborn child. She promises both her husband and Sheriff Salinger to do research only and not go off on her own investigating. I appreciate that Zoe has a good relationship with the Sheriff, who respects her opinions and insight and in fact, seeks her help in the murder cases. It's refreshing to not have an egotistical, drama-filled authority figure try to take center stage. The author deftly weaves a variety of viable suspects that kept me guessing with some twists to the plot that I didn't see coming. The suspenseful conclusion ties the threads together into another delightful treat of a read!
I also enjoy that Kathi includes seasonal recipes with each book. The recipe theme for TRICK OR TREASON is hearty, warming comfort dishes. Thanks to Kathi and Pam Curran for the chance to share the recipe for Cheesy Potato Chowder! This hearty soup is the perfect dish to serve prior to a chilly evening out trick or treating with family. It makes quite a large pot so there will be plenty to share and leftovers easily reheat in the microwave for warming up after the festivities end.
As a bonus, the first chapter in Kathi's new series, FINDING JUSTICE, is included at the back of the book!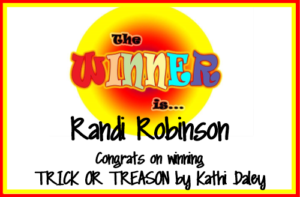 A special thanks to Kathi Daley for providing one lucky winner the choice of an e-book or print copy of TRICK OR TREASON! Contest ends Monday, October 30, 2017 at 11:59 pm PST and print is limited to U.S. residents only. Please use the Rafflecopter box located below the recipe to enter. The winner will be announced on this page and on Cinnamon & Sugar's Facebook page, as well as notified by email (so check your spam folder!)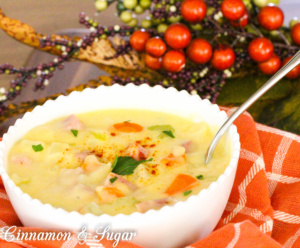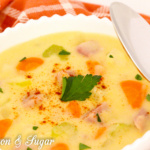 Cheesy Potato Chowder
Ingredients
4

medium

potatoes, slices or diced (about 2-1/2 pounds)

1

cup

celery, sliced

1

cup

carrots, sliced

1/2

cup

onion, diced

2

teaspoons

salt

1/4

teaspoon

pepper

4

cups

water

1/2

cup

butter or margarine

1/2

cup

flour

1

quart

milk

1

pound

cheddar cheese, grated

2

cups

cubed ham
Instructions
Boil potatoes, celery, carrots, onion, salt and pepper in water for 10 minutes (or until vegetables are tender), covered.

Melt butter in pan and slowly whisk in the flour. Slowly add the milk, whisking constantly.

Cook until thick, whisking frequently, then add the cheese. Stir until melted.

Add the cheese mixture to the vegetables then add the ham.

Serve hot and garnish with a little paprika and parsley, if desired.
Tip
If you have leftovers you may need to thin the soup with a bit more milk when reheating. The soup thickens considerably as it cools.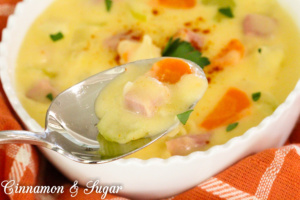 Pin to Pinterest:
If you receive my blog post via email you will need to visit my website to view the video.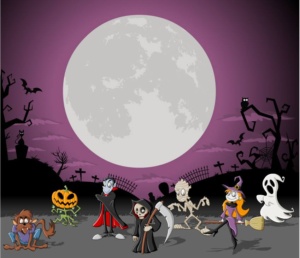 You are invited to attend Kathi Daley's Spooktacular event going on now! Lots of fun, games and prizes, plus a chance to meet up with so many terrific authors! I'll be hosting 5 amazing authors on Saturday, October 28th from 1:00 pm – 4:00 pm Eastern time so drop by at: https://www.facebook.com/events/350493128712833