Over the course of the last year or so, I've seen the Henny Penny Farmette Mystery series by Meera Lester and have been intrigued but just haven't had the time to pick up a copy. When I finally had the opportunity, I grabbed the chance to sit and read the newest release, A HIVE OF HOMICIDES. With this third book in the series, I found I've been missing out on a delight series and now need to go back and read the first two books! A HIVE OF HOMICIDES can be read as a stand-alone and I easily felt like I got to know the characters quickly. The protagonist, Abigail "Abby" MacKenzie runs a farmette and raises bees and even though she's an expert, she still gets stung once in a while. I love how each chapter includes either fascinating facts about honeybees (I wouldn't want to be a male bee!), farming tips, or recipes… all which sound incredibly delicious. These "extras" add charm to the book! Years ago while I was on vacation with my husband, we chanced upon a honey store. I was mesmerized by their clever take on including a working bee hive in their store. They had replaced part of a wall with glass then used pipes to let the bees in from the outside. You could easily see the busy bees working on building their hive and making honey, although I was quite relieved that they were on the other side of the glass and couldn't reach me!
When Abby's good friend's husband is murdered and her friend seriously injured right after their marriage renewal vows, Abby knows she needs to investigate. But this time PTSD almost gets the best of Abby dragging her down with anxiety, sleeplessness, and loss of appetite. On top of that, her former colleagues at the police department seem to think that she is capable of the murder and the betrayal is deeply felt. The author effectively captures the mood of the dark abyss Abby finds herself in and I found myself cheering her on, hoping that she finds a way to overcome. And of course she does but I admire the author's sensitivity to the matter and the way she brings it about. Despite the personal issues Abby must face, she still feels a great sense of duty towards bringing the killer to justice. The plot holds several twists and turns with enough action to keep the reader turning pages.
With the variety of recipes to whet the reader's appetite, I had a difficult time deciding which I wanted to try first. In the end I chose to try the Rustic Pear Galette since pears are in season. I decided to use Pillsbury refrigerated ready-made crust (the top rated pre-made crust by America's Test Kitchen!) which made this a quick and easy dessert to put together. Fresh pears with candied ginger adding a pop of flavor and apricot jam adding a pop of color, I think we have a new fall favorite in our household!
Amazon Synopsis
When Abigail Mackenzie left the police force to become a farmer and beekeeper in beautiful Las Flores, California, she thought her days of criminal investigation were behind her . . .

Her present life is mostly filled with hard work and happy occasions, including the upcoming event with her friend Paola, a truffle maker, who's renewing her vows with her husband Jake, owner of the Country Schoolhouse Winery. Abby is delighted to provide her trademark lavender honey for the occasion.

But after the ceremony, the guests of honor are nowhere to be found. When Abby goes looking for them, she hears a gunshot and discovers Jake dead in his car and Paola injured beside him.

Who was the intended target? Jake had a reputation as a busy bee with the ladies. Is it possible that one of his flings, stung by rejection, took revenge? Or could it be sour grapes with one of his colleagues at the winery? If Paola was meant to be the victim, Abby needs to protect her as she searches for the shooter.

When a second murder occurs, it's up to Abby to crush the clues—before the killer gets her over a barrel.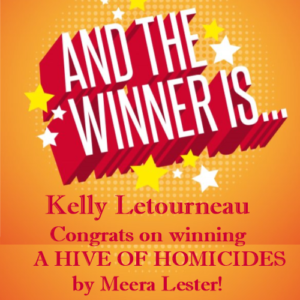 A special thanks to Meera Lester for providing one lucky winner a signed hardcover copy of A HIVE OF HOMICIDES! Contest ends Saturday, November 4, 2017 at 11:59 pm PST and is limited to U.S. residents only. Please use the Rafflecopter box located below the recipe to enter. The winner will be announced on this page and on Cinnamon & Sugar's Facebook page, as well as notified by email (so check your spam folder!)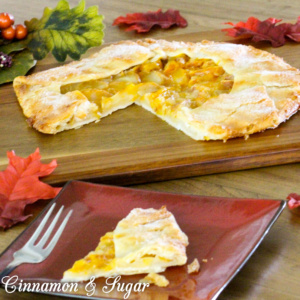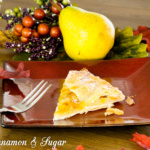 Rustic Ginger-Pear Galette
Ingredients
Parchment paper, for lining a baking sheet or tart pan

All-purpose flour, for flouring a cutting board

Pastry dough, enough for 1 large pie crust (made from scratch or store-bought)

1/4

cup

granulated sugar, plus 1/8 cup for sprinkling on pie crust

1

tablespoon

cornstarch

1

pinch

kosher salt

3 - 4

large

ripe pears (I only needed 3... my pears were huge!)

1/4

cup

finely chopped candied ginger

2

tablespoons

unsalted butter*

1

large

egg

2 - 4

tablespoons

apricot jam (I found 2 tablespoons plenty)
Instructions
Preheat the oven to 400 degrees (F).

Line a baking sheet or tart pan with parchment paper.

Sprinkle flour over a cutting board and then roll the pastry dough into a 14-inch round. Place the round on the lined baking sheet or tart pan and refrigerate for at least 30 minutes.

Combine 1/4 cup sugar, cornstarch, and salt in a medium bowl.

Cut the pears in half. Use a melon baller (or a 1/2 teaspoon measuring spoon) to remove the pithy centers and then slice each half into 1/4-to-1/2 inch thick slices to lay them out in a fan shape.

Coat the pears with the cornstarch mixture and place them on a large plate.

Remove the pie crust from the refrigerator. Position the pear slices on pie crust, starting from the center of the dough and working outward, leaving a minimum of four inches of dough to fold back over the fruit.

Sprinkle the candied ginger over the pears. Place dots of butter all around the galette. Press the dough around the edges over the fruit to hold it into place.

Beat the egg with a whisk in a small bowl. Use a pastry brush to apply the egg wash to the edges of the dough. Sprinkle the egg-covered dough with the remaining 1/8 cup sugar.

Bake 30 - 60 minutes, or until the crust is a golden brown. Remove the galette from the oven to a wire rack. (My crust was very thin so it browned quickly. My pears were plenty soft too.)

Spoon the apricot jam into a small saucepan and heat thoroughly. Alternately, you can microwave in a microwave-safe bowl for 15 to 25 seconds. Brush the warm jam over the pears and serve the galette.
Tip
*I totally forgot to add the butter and my tart turned out fine. My pears were very juicy and tender as is.
Pin to Pinterest: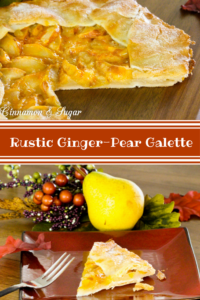 If you receive my blog post via email you will need to visit my website to view the video.
I was provided an advance copy with the hopes I would review. All thoughts and opinions are my own.