BLACKBERRY BURIAL is the newest release in the Berry Basket Mystery series by Sharon Farrow. This second book is a delightful addition to an entertaining series and I lost myself in Oriole Point, Michigan as the town prepares itself for the 4th of July festivities. The protagonist, Marlee Jacob, (and I love that she is named after the character in A Christmas Carol!) owns The Berry Basket, which sells a huge variety of berry related foods and accessories. Her adorable shop is one I would dearly love to visit! With mid-summer in full swing, blackberries are in season. The town's Blackberry Art School is celebrating its centenary in conjunction with the town's numerous events, including a road rally. Marlee is pulled into the planning by the mayor's overbearing wife, Piper. Piper's undisciplined dog ends up unearthing an old skeleton on a reputedly haunted farm while Marlee is trying to capture the runaway pup, pulling her into an old missing person's case.
As Marlee starts asking questions around town, trying to discover who the body belongs to and why they were abandoned in the woods, she discovers a link to her baker. Her baker is very talented but is timid and socially impaired and when he begs her to find the killer, she can't tell him "no". I enjoyed how Marlee assigns fictional character personalities (from books, tv or movies) to the people she meets and talks to. It helps the reader "see" the characters of BLACKBERRY BURIAL. There are plenty of viable suspects that are woven from the cold case into the present day. The plot flowed and effortless wove the subplots into the story without being detracting. There were plenty of twists and turns to keep the reader engaged and turning pages and after a hair-raising reveal, the finale finishes with a scene that will warm your heart!
With all the delicious blackberry morsels Marlee's baker creates, the reader will be drooling while turning pages. Sharon has included some delectable recipes at the back of the book and I was anxious to try her Blackberry Lemon Pound Cake. Each late summer I visit my sister in Oregon to pick wild blackberries… lots and lots of blackberries! The majority are turned into wild blackberry jam to enjoy throughout the year but we're always on the lookout for new recipes to try with the bountiful fruit. I liked that the recipe calls for either fresh or frozen blackberries so this treat can be made year round. Sharon's Lemon Blackberry Pound Cake did not disappoint… the cake is full of delicious summer flavor with a tender, rich crumb while the lemony icing adds another layer of yumminess! One bite will transport you to warm summer days no matter what time of year it is.
Amazon Synopsis
Between a booming art scene and elaborate Independence Day festivities, July in lakeshore Oriole Point, Michigan, is always a blast. Especially when an explosive murder case crashes the fun . . .

As owner of The Berry Basket, Marlee Jacob has learned a thing or two about surviving the summer tourist season in Oriole Point. So she gladly agrees to help run the annual road rally in honor of the local Blackberry Art School's centenary celebration. While alumni arrive from around the country, Marlee hopes the expansive Sanderling farm will make an appropriate starting point for the race—despite rumors that the land is cursed . . .

But when Marlee surveys the property, she stumbles upon a long-dead body hidden in the bramble. It's a horrifying mystery to everyone except her baker, who's convinced the skeletal remains belong to a former student who had gone missing twenty years earlier. As the Fourth of July activities heat up, Marlee must rush to catch an elusive murderer—before the next 'blackberry victim' is ripe for the picking!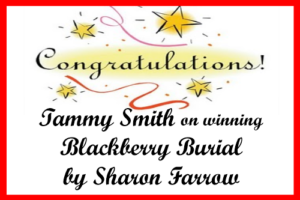 A special thanks to Sharon Farrow for providing one lucky winner a print copy of BLACKBERRY BURIAL! Contest ends Tuesday, November 7, 2017 at 11:59 pm PST and is limited to U.S. residents only. Please use the Rafflecopter box located below the recipe to enter. The winner will be announced on this page and on Cinnamon & Sugar's Facebook page, as well as notified by email (so check your spam folder!)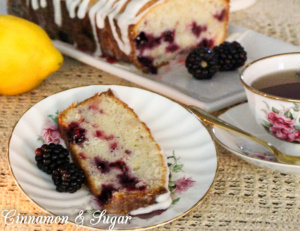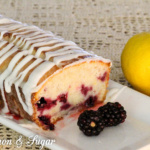 Blackberry Lemon Pound Cake
When Janelle shows up at The Berry Basket with disturbing news, Marlee is about to reach for a slice of Theo's blackberry lemon pound cake. Rest assured that once Janelle completed her unpleasant visit, Marlee did indeed find a little comfort in eating a slice of this delicious cake.
Ingredients
1/2

cup

butter, melted

1

cup

sugar

2

large eggs

Grated zest and juice of 1 lemon

1-1/2

cups

all-purpose flour

1/4

teaspoon

salt

1

teaspoon

baking powder

1/2

cup

milk

1

cup

fresh or frozen (do not thaw) blackberries*
Glaze
1/4

cup

lemon juice

1-1/4

cup

confectioners' sugar
Instructions
Preheat oven to 350 degrees (F).

Combine butter and sugar in a large bowl and stir.

Add eggs, lemon zest, and juice. Mix until well blended.

Stir together flour, baking powder, and salt in a small bowl.

Add half to the butter/sugar mixture and stir until blended.

Add milk, then remaining dry ingredients. Stir until combined but don't over mix.

Gently fold in blackberries.

Pour batter into greased 8 x 4-inch loaf pan. Bake 50 - 60 minutes until golden and springy to the touch.

Cool in pan on wire rack.
Glaze
Mix lemon juice and confectioners' sugar together and pour 3/4 over cake while warm. Allow to completely cool before removing to a serving platter.

If desired, thicken the remaining glaze with 2 tablespoons (or more as needed) to make an icing and drizzle over the cake.
Tip
*Chop the blackberries into small pieces, especially if your berries are large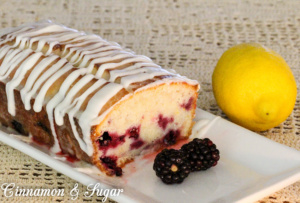 Pin to Pinterest: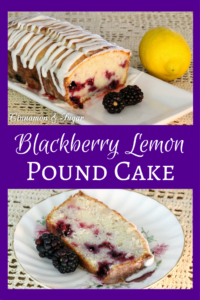 If you receive my blog post via email you will need to visit my website to view the video.
I was provided an advance copy with the hopes I would review. All thoughts and opinions are my own.