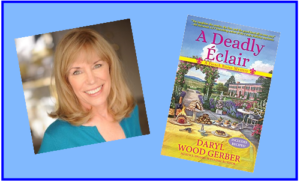 I am delighted to have Daryl Wood Gerber guest blogging today. Congratulations and happy release day on your new book, A DEADLY ÉCLAIR! Thanks for stopping by today, Daryl, and telling us a bit about your book, sharing your recipe for Orange Cardamom Madeleines, and offering THREE giveaways for readers! (One giveaway is on this page via Rafflecopter and the other giveaways are for Daryl's newsletter subscribers and Facebook followers… see details below.)
Feast with Your Eyes
When you read a cozy that features food, how does it make you feel? Do you feast with your eyes? Do you lick your lips? Does your stomach growl?
When I watch a TV cooking show, all of those things happen to me. When I read my friends' cozy culinary mysteries, it happens, too.
What do I do then? I raid the refrigerator, of course, although if I'm watching my figure, I pour a long glass of water. (Boring.)
When you get to the end of the book, and you see the recipes, are you craving to make one…or all of them? Or do you simply browse them, think mm-mm, sounds good, and move along? Are you upset when you read the name of a delicious dish in a book and the recipe isn't included? Have you ever written the author because of that?
I had a fan write me after The Long Quiche Goodbye, the first Cheese Shop Mystery, came out. She was very upset that I hadn't included the five-cheese mac 'n cheese recipe served at The Tavern. Now, just between us, I had a three-cheese mac 'n cheese recipe that was a go-to staple for my family. I'd "made up" the other one for my story. Well, thankfully, I'm a cook, and quick as a wink, I created the five-cheese version and sent it to the fan. She loved it so much, she tweeted it, and the recipe went viral.
Since that time, I've been worried that fans will contact me for all the fictional recipes I cite. Gee, I hope not. I can't make them all. If I did, I'd never have time to write. Maybe I'd even have to become a full-time chef, and I'm too old to change careers…again.
In A Deadly Éclair, the first in the French Bistro Mysteries, I mention tons of different dishes, but I include recipes for crème brûlee, chocolate éclair, eggs Benedict, French raspberry cream pie, onion soup gratinee, orange cardamom madeleines, steak au poivre, and Mimi's rotisserie chicken spice. That should tide a reader over, right? Gosh, I hope so.
So, in conclusion, sometimes an author simply references recipe because she wants you to "feast with your eyes" as you read. She wants you to lick your lips and savor the mystery. Can you do that?
What do you eat when you read? Or do you drink a long, boring glass of water to tide you over until dinnertime?
BY THE WAY, don't miss out on the French Bistro-themed BOXES I'm giving away on my Facebook Author page or the set of books I'm giving away to someone who receives my newsletter! Sign up now.
NEWSLETTER: http://darylwoodgerber.com/contact.php#mailing-list
FACEBOOK: https://www.facebook.com/darylwoodgerber/
SOCIAL MEDIA LINKS
http://www.darylwoodgerber.com
http://youtube.com/woodgerb1
http://www.mysteryloverskitchen.com
https://twitter.com/darylwoodgerber
http://instagram.com/darylwoodgerber
http://pinterest.com/darylwoodgerber
AMAZON SYNOPSIS
It's always been Mimi Rousseau's dream to open her own bistro, but it seems beyond her grasp since she's been chased back home to Nouvelle Vie in Napa Valley by her late husband's tremendous debt. Until her best friend Jorianne James introduces her to entrepreneur Bryan Baker who invests in promising prospects. Now, working the bistro and inn until she's able to pay it off and call it her own, Mimi is throwing the inn's first wedding ever.
The wedding will be the talk of the town, as famous talk show host Angelica Edmonton, daughter of Bryan's half-brother, Edison, has chosen the inn as her perfect venue. Anxious, Mimi is sure things are going to turn south, especially when Edison gets drunk and rowdy at the out-of-towners' dinner, but by the evening, things begin to look up again. That is until six AM rolls around, and Bryan is found dead at the bistro with an éclair stuffed in his mouth. And the fingers point at Mimi, whose entire loan is forgiven in Bryan's will.
Now it's up to Mimi to clear her name and get to the bottom of things before the killer turns up the heat again in A Deadly Éclair, the scrumptious series debut by Agatha Award-winning author Daryl Wood Gerber.
AUTHOR BIO
Agatha Award-winning Daryl Wood Gerber writes the brand new French Bistro Mysteries as well as the nationally bestselling Cookbook Nook Mysteries. As Avery Aames, she pens the popular Cheese Shop Mysteries. A DEADLY ÊCLAIR, the first French Bistro Mystery, comes out November 2017. Daryl also writes stand-alone suspense: DAY OF SECRETS and GIRL ON THE RUN. Fun tidbit: as an actress, Daryl appeared in "Murder, She Wrote." She loves to cook, and she has a frisky Goldendoodle named Sparky who keeps her in line!
To see Daryl's recipe for FIVE MAC 'N CHEESE RECIPE, click on this link to visit Mystery Lovers' Kitchen: http://www.mysteryloverskitchen.com/2010/08/fan-request.html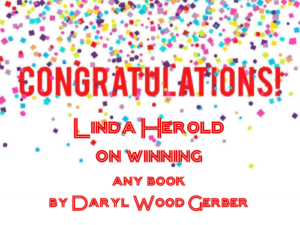 A very special thanks to Daryl Wood Gerber for providing a lucky winner one print copy of their choice of any of her published books, including A DEADLY ÉCLAIR! Contest ends Saturday, November 11, 2017 at 11:59 pm PST and is limited to U.S. residents only. Please use the Rafflecopter box located below the recipe to enter. The winner will be announced on this page and on Cinnamon & Sugar's Facebook page, as well as notified by email (so check your spam folder!)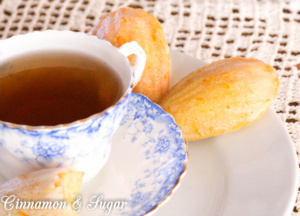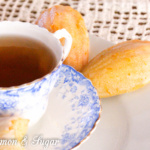 Orange Cardamom Madeleines
Ingredients
1/4

cup

unsalted butter

1

tablespoon

honey

1

teaspoon

pure vanilla extract

3/4

cup

flour

1

teaspoon

baking powder

3/4

teaspoon

ground cardamom (you may substitute nutmeg)

1/4

teaspoon

salt

1/4

cup

granulated sugar

2

large eggs
For the Glaze
3/4

cup

confectioners' sugar

1

teaspoon

finely grated orange zest

2

tablespoons

orange juice, no pulp
Instructions
Brush the molds of a madeleine pan with butter and set aside.

In a small saucepan, melt the butter over low heat. Remove the pan from heat and stir in the honey and vanilla. Let cool about 10 minutes.

In a small bowl, whisk the flour, baking powder, cardamom, and salt; set aside.

In a medium bowl, stir together the sugar and eggs. Add in the flour mixture and stir until combined. Add the butter mixture and stir gently until butter is completely incorporated. Cover the bowl with plastic wrap and refrigerate at least 30 minutes.

Preheat oven to 325 degrees (F), setting the rack in the middle, while the batter is chilling.

Spoon the batter into the madeleine pan, filling each mold halfway. If necessary, use moistened fingers to press the batter into the mold.

Bake the cookies 7 - 8 minutes. They will have puffed up and the edges will become golden.

Remove the pan from the oven and let the cookies cool slightly. Unmold the cookies onto a wire rack and let them cool completely. This is very important.
For the Glaze
In a small bowl, stir together the sugar, orange zest, and juice until the glaze is smooth and thick. Using a pastry brush, coat the ridged side of each cookie with the glaze. Let set 15 minutes.
Tips
To make these gluten-free, substitute sweet rice flour (or your favorite gluten-free flour blend) for the all-purpose flour; substitute vanillin for the pure vanilla; add 1/4 teaspoon xanthan gum to the dry ingredients.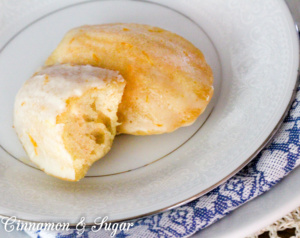 Pin to Pinterest: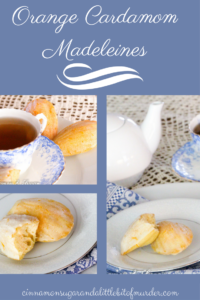 If you receive my blog post via email you will need to visit my website to view the video.
MY REVIEW
I have been a longtime fan of the various books that Daryl Wood Gerber writes, be it her cozy mystery series or her suspense novels. When I found out that she was debuting the first book in her French Bistro mystery series, I counted down the days until I could read it. The evening A DEADLY ÉCLAIR hit my Kindle, I poured myself a glass of wine and settled in to immerse myself in Napa Valley and get to know Mimi Rousseau.
The author has created a lovely location for Mimi to own and run Bistro Rousseau and Maison Rousseau, the inn on her property in the northern part of the famous wine country. While the town is fictional, the area is real and I enjoyed the bits and pieces of history about the region woven into the story. Mimi is a likeable character who is struggling to overcome doubts about her ability to run her business along with being a self-taught chef instead of a classically trained chef. However, she is surrounded by supportive, talented people who she can rely on, especially her benefactor and mentor, Bryan Baker. If it wasn't for Bryan backing her business, she never would have been able to open or stay in business. Not only did he financially back her new venture, he is emotionally supportive of Mimi, something she needs. Bryan is known for his motivational sayings and I enjoyed some that he shares with Mimi: "Big risks reap big rewards;" "Life's too short to wait for anything." It gives a screenshot into the man's mind and how he lives his life.
Unfortunately, Bryan's life is cut short in the early morning hours, right before his niece's wedding, which was being held at Maison Rousseau… with one of Mimi's eclairs stuffed into his mouth. Mimi is devastated at the loss of her mentor but even more so when she becomes the number one suspect in the murder investigation. As the story unfolds and as Mimi starts looking into who could have wanted her mentor dead, numerous suspects come to light. There were plenty of twists and turns to the plot and all the while Bistro Rousseau kept guests well fed with delicious food that had my mouth watering. This charming new series will have me waiting on pins and needles until the next release!
With all the mentions of delectable dishes and desserts throughout the book, I was quite happy to see that Daryl has included numerous recipes at the back of the book. They all sounded fabulous and I had a hard time narrowing down which to try out first! But in the end my granddaughter helped me choose by deciding she really wanted to make the Orange Cardamom Madeleines. Part cookie, part mini cake, these delicious treats are perfect for tea time snacks or serving with after dinner coffee.
I was provided a copy of this book with the hopes I would review. All thoughts and opinions are my own.