I am very happy to be helping Catherine Bruns celebrate her new release, DEATH OF THE KONA MAN, while I'm visiting the Big Island of Hawaii and the Kona area this week!
Set in a tropical paradise, DEATH OF THE KONA MAN is the exciting tenth addition to the Aloha Lagoon Mystery series (written by various authors) and the second contribution by Catherine Bruns. The author captures the spirit of Hawaii accurately… the sun, the sand, the food… her descriptions will make you feel like you're visiting the warm, tropical island while reading! Protagonist, Carrie Jorgenson, is a likeable and somewhat sympathetic character. A recent transplant from Vermont, Carrie has had a very difficult childhood and as a result, she is often filled with self-doubts and low self-esteem. To balance that, the author has connected Carrie romantically with her boss, Keanu Church, whose parents own the Loco Moco Café where they work. Keanu is an optimist and he is everything a girl could want in a boyfriend: caring, pretty hot, supportive, and generous with his time, compliments, and money. He allows Carrie to discover who she is and what she wants out of life, creating a caring environment for her to grow as a person.
The murder mystery surrounding who would want to kill Randolph Cremshaw, renowned food critic, is well plotted. Carrie is a suspect because she served him coffee and food from the café. Is someone setting her up or was she just in the wrong place at the wrong time? Randolph was known as the Kona Man because he drank up to 10 cups of Kona coffee a day… and no other coffee would do. In fact, he was quite obnoxious about his coffee and heaven help anyone who served him something sub-par. However, from personal experience while visiting some of the coffee plantations in Kona, I have to agree that Kona coffee is pretty special! (You can see a few photos that I took while learning how to roast coffee beans this week, at the bottom of the page.) The conclusion and wrap up of the story holds some unforeseen surprises which will have the reader turning pages faster and faster while hoping that Catherine's next release in this series comes sooner than later!
I had the pleasure of creating the recipe for Aloha Mix-Up Cookies for DEATH OF THE KONA MAN. Aloha Mix-up Cookies starts with a sweet brown sugar cookie dough base and adds an assortment of Hawaiian treats, such as macadamia nuts, dried pineapple, crunchy coconut, and creamy white chocolate to tantalize your taste buds! The best part is that you can mix and match the add-ins to suit your family and friends' tastes and share the aloha spirit!
Amazon Synopsis
Carrie Jorgenson is living the dream in Hawaii. She has a steady job as a waitress at the Loco Moco Café, a hot new love interest in her manager, and the curtain's about to rise on her role in a local theater production. But when she's asked to deliver food to a guest at the Aloha Lagoon resort—who then drops dead!—her dreams quickly become the stuff of nightmares.
World renowned food critic Randolph Cremshaw has no shortage of enemies. He's rude, patronizing, and famous for his one-star reviews. After the coffee Carrie delivers is discovered to have been poisoned, she and the café quickly rise to the top of the suspects list. A jealous co-worker, thefts at the restaurant, and a performance that threatens to blow up in Carrie's face only make things worse. With an already full plate, Carrie is also forced into making a decision that may change everything for her. But this all pales in comparison when she comes face to face with Randolph's killer and what might be the final curtain call…of her life.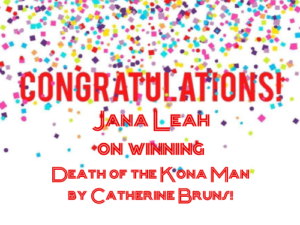 A special thanks to Catherine Bruns for providing one winner the choice of either print or an e-book copy of DEATH OF THE KONA MAN for one lucky winner! Contest ends Tuesday, October 17, 2017 at 11:59 pm PST and print copy is restricted to U.S. residents only. Please use the Rafflecopter box located below the recipe to enter. The winner will be announced on this page and on Cinnamon & Sugar's Facebook page, as well as notified by email (so check your spam folder!)
SALE
For a very short time, DEATH OF THE KONA MAN will be on sale for $2.99! Don't miss out on this special introductory price. (You can click on the book cover above to visit Amazon.)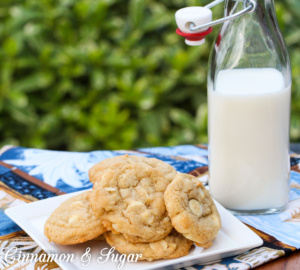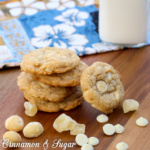 Aloha Mix-Up Cookies
Ingredients
1

cup

unsalted butter, room temperature

1

cup

granulated sugar

1

cup

light brown sugar, packed

2

eggs, room temperature

2

teaspoons

vanilla extract

3

cups

14.4 ounces all-purpose flour

1/2

teaspoon

baking soda

1

teaspoon

sea salt
Mix-ins (use as much or as little as you wish)
3/4

cup

white chocolate chips

1/2

cup

macadamia nuts, coarsely chopped

1/2

cup

dried pineapple, chopped

1/2

cup

sweetened flaked coconut
Instructions
Don't preheat the oven yet as the dough needs to chill for a minimum of 30 minutes.

In a medium bowl, whisk together all-purpose flour, salt, and baking soda. Set aside.

Using a large bowl with an electric mixer or a stand mixer, cream together the butter with the granulated sugar and brown sugar on medium speed until fluffy, about 2 minutes.

Add the eggs, one at a time, beating well after each addition.

Stir in the vanilla extract.

Add the flour all at once and pulse the mixer to keep flour from flying. Once mostly combined, increase speed and mix until flour is completely incorporated. Resist the urge to over-mix. (If using a hand-held electric mixer, you will need to add the flour in increments.)
Mix-ins
You can either stir the white chocolate chips, macadamia nuts, dried pineapple, and coconut into the dough or mix-and-match. You can create several combinations of cookies by dividing the dough between four separate bowls and mix some of the white chocolate chips with macadamia nuts into one, pineapple and coconut into another, pineapple and macadamia nuts in the third, and using all four mix-in ingredients in the last portion. Or create your own combinations.
Baking
Place the bowls of dough in the refrigerator and allow to chill for at least 30 minutes and up to 2 days.

When ready to bake, preheat oven to 350 degrees (F).

Line a baking sheet with parchment paper and scoop tablespoon-sized rounds of dough onto the sheet.

Bake 10 - 12 minutes or until the bottom of the cookie starts turning lightly golden. Rotate baking sheet half way through baking.

Allow cookies to rest on baking sheet for 3 minutes before transferring to a cooling rack.

Cool completely before storing in an airtight container.

Makes 6 dozen cookies, depending on size.
Tip
If you refrigerate the dough longer than 30 minutes, allow the dough to sit at room temperature for 10 minutes to make scooping easier.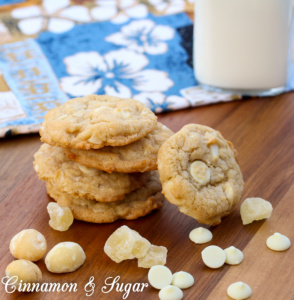 Pin to Pinterest: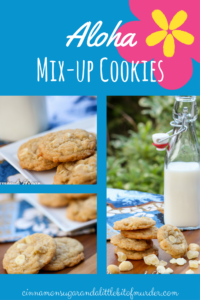 If you receive my blog post via email you will need to visit my website to view the video.
I was provided a copy of this book with the hopes I would review. All thoughts and opinions are my own.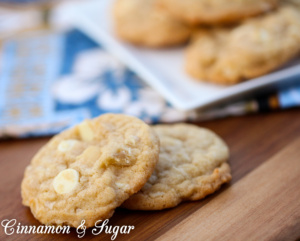 I had the pleasure of taking a coffee plantation tour and learning how they roast their Kona coffee beans! It was fascinating and the smell was absolutely incredible!