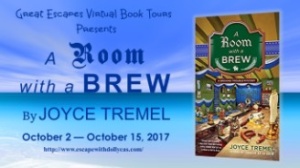 I'm happy to be celebrating the new release, A ROOM WITH A BREW, by Joyce Tremel with Great Escapes Virtual Book Tours! This third book in the Brewing Trouble series finds Max O'Hara, owner of the Allegheny Brew House in Pittsburgh, getting ready to host her first Oktoberfest celebration. The author manages to combine an exciting blend of cold war intrigue, oompah bands, tasty brews, a discovered priceless masterpiece, and murder.
Max's friend, Candy, a seventy-something old cupcake bakery owner, has had minor roles in the previous two books but in A ROOM WITH A BREW, she takes center stage. I've always been curious about Candy, but she's always held her secrets close. This time, though Candy's story is finally told and while I won't provide any spoilers, she certainly has quite the tale to tell and kept me entertained! There are plenty of memorable supporting characters surrounding Max and as with Candy, I'm now curious about their own stories.
I enjoyed the Pittsburghese expressions that are included, which adds to the authenticity of the location. For example, N'at is short for "and all that". Fortunately for us Pittsburgh novices, the author provides translations. Aside from the memorable characters and the fun location, A ROOM WITH A BREW provides a well-plotted mystery with plenty of intrigue and suspects to keep the reader turning pages. Several subplots are woven into the story, adding to the enjoyment of this well-crafted tale!
While reading this new book, it was hard to not get thirsty for a brew or hungry for a delectable dish. Ms. Tremel provides several recipes in the back of the book to keep your hunger at bay but unfortunately, you're on your own for imbibing. Back in my late teens and early twenties I had a recipe similar to the Pittsburgh Pretzel Salad ­­­­­­­recipe included in the book. Somewhere in my many moves in my younger days, I lost the recipe so was delighted to try it again. It didn't disappoint and brought back many nostalgic memories from so many years ago. The crunchy saltiness of pretzels complements the creamy sweet tanginess of cream cheese. Juicy strawberries liven up strawberry jello for an appealing red layer, while additional whipped topping garnishes this cool, refreshing treat. I'm very happy to be able to share this fun dish with my own granddaughters.
Amazon Synopsis
It's Oktoberfest in Pittsburgh, and brewpub owner Maxine "Max" O'Hara is prepping for a busy month at the Allegheny Brew House. To create the perfect atmosphere for the boozy celebration, Max hires an oompah band. But when one of the members from the band turns up dead, it's up to Max to solve the murder before the festivities are ruined.
Adding to the brewing trouble, Candy, Max's friend, is acting suspicious… Secrets from her past are fermenting under the surface, and Max must uncover the truth to prove her friend's innocence. To make matters worse, Jake's snooty ex-fiancée shows up in town for an art gallery opening, and she'll be nothing but a barrel of trouble for Max.

A special thank you to Joyce Tremel for providing 3 paperback copies for the giveaway! This giveaway is administered by Great Escapes Virtual Book Tours and you can use the Rafflecopter box located below the recipe to enter. Contest ends October 15, 2017 and is limited to U.S. residents only. Winner will be announced on this page and on Great Escapes Virtual Book Tours site, as well as notified by email (so check your spam folder!)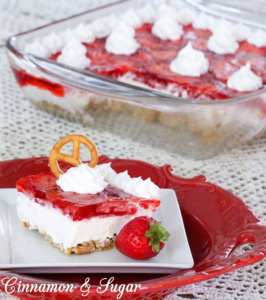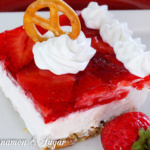 Pittsburgh Pretzel Salad
Ingredients
Bottom Layer
2

cups

crushed pretzels

3/4

cup

melted butter

3

tablespoons

sugar
Filling (Middle Layer)
8

ounces

cream cheese, softened

1

cup

sugar

1

8-ounce

container whipped topping
Top Layer
2

3-ounce

boxes strawberry Jell-O

2

cups

boiling water

2

cups

sliced strawberries
Instructions
Bottom Layer
Preheat oven to 400 degrees (F).

Mix all the ingredients and press into a 9 x 13-inch pan. Bake for 8 minutes. Completely cool.
Filling (Middle Layer)
Beat cream cheese and sugar until creamy.

Fold in whipped topping then spread over cooled pretzel mixture.

Chill for 30 minutes or until Jell-O for the top layer is thickened.
Top Layer
Combine Jell-O with boiling water. Stir until dissolved, about 2 minutes.

Chill until partially thickened, then spread over top of cream cheese mixture.

Refrigerate overnight or until firm.

If desired, top with additional whipped topping and sprinkle with crushed or broken pretzel pieces.
Tip
You can make half the recipe and use an 8x8-inch square casserole dish. The half recipe ingredients are listed in the video.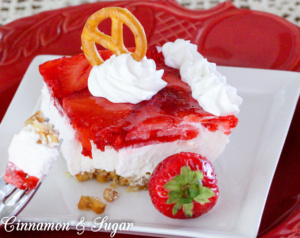 Pin to Pinterest:
If you receive my blog post via email you will need to visit my website to view the video.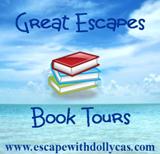 TOUR PARTICIPANTS
October 2 – Bibliophile Reviews – REVIEW
October 2 – Books,Dreams,Life – SPOTLIGHT
October 3 – A Holland Reads – REVIEW
October 3 – Blogger Nicole Reviews – SPOTLIGHT
October 4 – The Power of Words – REVIEW
October 4 – Dee-Scoveries – SPOTLIGHT
October 5 – My Reading Journeys – REVIEW
October 6 – Cinnamon, Sugar, and a Little Bit of Murder – REVIEW
October 7 – Bookworm Cafe – REVIEW
October 7 – Reading Is My SuperPower – GUEST POST
October 8 – A Cozy Experience – REVIEW
October 9 – Laura's interests – REVIEW
October 9 – Valerie's Musings – INTERVIEW
October 10 – The Montana Bookaholic – SPOTLIGHT
October 10 – StoreyBook Reviews – GUEST POST
October 11 – Back Porchervations – REVIEW
October 11 – T's Stuff – INTERVIEW
October 12 – Socrates' Book Reviews – REVIEW
October 13 – Celticlady's Reviews – SPOTLIGHT
October 13 – – Melina's Book Blog – REVIEW
October 14 – Books a Plenty Book Reviews – REVIEW
October 14 – Island Confidential – SPOTLIGHT
October 15 – Brooke Blogs – REVIEW
I was provided a copy of this book with the hopes I would review. All thoughts and opinions are my own.