I am so excited to be helping Ellie Alexander celebrate the release of DEATH ON TAP, the first book in her brand new Sloan Krause Mystery series! All I can say is, oh my, what an opening line… I loved it!! Sloan has a unique voice, a bit edgy at times and is often humorous. Being raised in the foster system has given her the feeling of being an outsider and maybe not quite fitting in. With the collapse of Sloan's marriage, even though her mother-in-law and father-in-law are the only parents she's ever had, she still feels like she doesn't belong in the family any longer. At times her doubt about her self-worth to the family made me feel emotional and once or twice I got a bit teary. Sloan is the type of protagonist the reader wants to cheer for. I also liked that she is also a mom to a teenaged son. This gives added dimension to her character along with unique challenges to working full-time and trying to solve a crime.
The town of Leavenworth is a quaint Bavarian-themed setting, perfect for the backdrop of murder by drowning in a brew tank. When suspicion falls on both Sloan's cheating husband and her new boss, she realizes she needs to find some answers that will clear them both. Okay, she may have considered letting her husband take the blame, but for the sake of their son, decided he needed to be proven innocent. The murder mystery is woven around the theme of beer and I enjoyed the bits and pieces provided about the brewing process. I loved some of the very clever names the author provides for the various brews and wish I could sample some of Sloan's concoctions! DEATH ON TAP is strong on character development and letting the reader get to know the town and area. I think it's a good set up for future books in the series. There is also a mystery thread pertaining to Sloan's life before the foster system that I believe will run through the subsequent books and I look forward to reading future books in this series!
While the book doesn't contain recipes there are many dishes mentioned that use a variety of beers. Fortunately for us, Ellie loves to create in the kitchen and she came up with a recipe for Hoppy Cupcakes! With the unexpected addition of citrus IPA, these moist orange and lime flavored cupcakes are topped with decadent cream cheese frosting… which is one of the best frostings I've ever had! The cupcakes are delicious and my husband's golf buddies devoured them, but across the board it was the frosting that stole the show. The next time I make Hoppy Cupcakes I might just add some additional powdered sugar to the frosting along with a tablespoon of the citrus IPA to add a bit more hoppy flavor. Either way, these were a hit!
Amazon Synopsis
When Sloan Krause walks in on her husband, Mac, screwing the barmaid, she gives him the boot. Sloan has spent her life in Leavenworth, Washington becoming an expert in brewing craft beer, and she doesn't have time to be held back by her soon-to-be ex-husband. She decides to strike out on her own, breaking away from the Krause family brewery, and goes to work for Nitro, the hip new nano-brewery in the Bavarian-themed town. Nitro's owner, brewmaster Garrett Strong, has the brew-world abuzz with his newest recipe, "Pucker-Up IPA." This place is the new cool place in town, and Mac can't help but be green with envy at their success.
But just as Sloan is settling in to her new gig, she finds one of Nitro's competitors dead in the fermenting tub, clutching the secret recipe for the IPA. When Mac, is arrested, Sloan knows that her ex might be a cheater, but a murderer? No way. Danger is brewing in Beervaria and suddenly Sloan is on the case.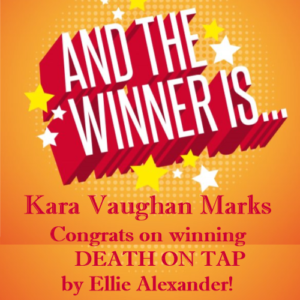 Thanks to the publisher, Minotaur Books, I have a hardcover copy of DEATH ON TAP for one lucky winner! Contest ends Saturday, October 14, 2017 at 11:59 pm PST and is open to U.S. residents only. Please use the Rafflecopter box located below the recipe to enter. The winner will be announced on this page and on Cinnamon & Sugar's Facebook page, as well as notified by email (so check your spam folder!)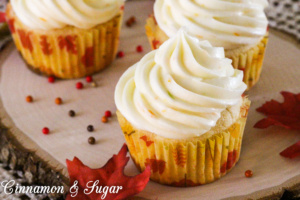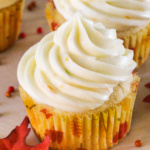 Hoppy Cupcakes
Recipe yields 24 cupcakes.
Ingredients
Hoppy Cupcakes:
3/4

cup

unsalted butter, at room temperature

1

cup

sugar

2-1/2

cups

flour

2

teaspoons

baking powder

1

teaspoon

salt

3

eggs, room temperature

2

teaspoons

Mexican vanilla

One orange—grate peel into batter and squeeze in a tablespoon of juice. Reserve remaining juice for frosting

1/2

cup

citrus IPA

1/4

cup

sour cream
Citrus cream cheese frosting:
12

ounces

cream cheese

6

tablespoons

butter, room temperature

1

tablespoon

each freshly squeezed orange and lime juice

1

teaspoon

each orange and lime zest

4

cups

powdered sugar
Instructions
Hoppy Cupcakes:
Preheat oven to 375 degrees and line 24 muffin tins with cupcake liners.

In a medium-sized bowl, whisk together flour, baking powder, and salt.

In the bowl of an electric mixer, beat together the butter and sugar until light and fluffy, about 2-3 minutes.

Add eggs, beating after each addition then add the vanilla and zest.

Combine sour cream and beer and alternatively add this mixture and the flour mixture to the butter/sugar mixture with the mixer on low speed, starting and ending with the flour.

Fill the cupcake liners 2/3 full and bake for 18 minutes, or until cake tester comes out clean.

When cupcakes are done, poke holes in the tops of the cupcakes with toothpicks or a fork and brush some beer on each while still warm.
Citrus cream cheese frosting:
Cream together the cream cheese and butter in an electric mixer until smooth and creamy, about 2-3 minutes.

Add the citrus juice and zest and gradually add the powdered sugar until well-combined.

Beat until smooth for about 2 minutes.

Load frosting in a piping bag fit with a large star tip and pipe cupcake tops once cooled.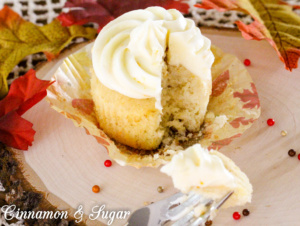 Pin to Pinterest: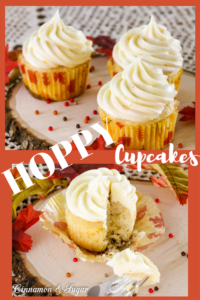 If you receive my blog post via email you will need to visit my website to view the video.
I was provided a copy of this book with the hopes I would review. All thoughts and opinions are my own.