Petsitter extraordinaire Daphne Templeton returns in DIAL MEOW FOR MURDER, the second book in the Lucky Paws Petsitting Mystery series by Bethany Blake. A few months ago I read the first book in this series and was smitten so I had great expectations when I picked this book up… and was as equally charmed with it as I was the first! The setting is Halloween time and the Fur-ever Friends Pet Rescue gala fund-raiser is being held at the reputedly haunted Flynt Mansion in Sylvan Creek, Pennsylvania. I enjoyed the seasonal theme along with the special events taking place in the town. Ms. Blake has an especially strong descriptive voice that made me feel like I was right there, seeing what the characters see along with experiencing a unique insight into the people the protagonist interacts with.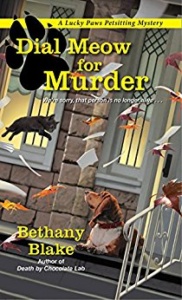 The author weaves a mesmerizing tale of a missing heiress, an embezzlement, an angry pedigreed attack cat, and murder. While the plot is well structured with twists and turns it is the humor and quirky characters (both human and pets) that captured my attention and held it until the very last page. Ms. Blake's ability to provide entertaining personalities to the pets make it impossible for the reader to forget such endearing characters like Socrates, Artie, and Tinkleston. Their antics brought many laugh out loud moments to break up the seriousness of murder without detracting from the story. The ending provides a satisfactory conclusion with a bit of a teaser for some changes that may be occurring in Daphne's life, along with the first chapter of the next book… and I can hardly wait until next year to read the full book!
Daphne likes to bake wholesome pet treats for her own pets along with the pets in town. Ms. Blake provides several recipes at the back of the book for both dogs and cats alike. I was immediately drawn to her recipe for "Liverin' It Up Treats". Last year I took my granddaughter shopping at the local pet store to buy her dog, Piper, some treats to keep at my house. She picked up a bag of freeze-dried liver and my thought was "ick". But Piper went absolutely gaga over them and in fact when she comes to visit my house, makes a bee-line for the cupboard where I keep her dog treats and foods. She will whine and scratch at the cupboard until I give her some of the liver! Given how expensive those particular treats are, I liked the idea of making some beefy treats at home and keeping them in the freezer for her infrequent visits. Personally I couldn't find the liver baby food called for so substituted beef and gravy baby food. It came as no surprise when Piper went gaga over these treats and she heartily agrees that the substitution works just fine. I made a second batch of these dog treats and added some chopped up freeze-dried liver to the batter. These treats were a big hit too! I'll be baking up a few batches to give to her neighborhood doggie friends for Christmas!
Amazon Synopsis
Even an experienced pet sitter like Daphne Templeton can be fooled by animal behavior: how can an adorably tiny fuzz ball named Tinkleston be capable of sudden flying leaps with cat claws bared? But human behavior remains even more mysterious, especially when Tinkleston's owner is murdered on the night of a gala fundraiser for Fur-ever Friends Pet Rescue.
Accompanied by her unflappable basset hound, Socrates, Daphne plans to take charge of Tinks the Terror and leave the crime-solving to handsome detective Jonathan Black. But while luring the prickly Persian out of hiding, she uncovers clues that might take suspicion off her own mother. Maeve Templeton already has a reputation as a killer—in real estate. How far would she go to bag Sylvan Creek's most coveted property, the Flynt Mansion?
To expose the truth, Daphne finds herself donning a deranged clown costume on an autumnal adventure that might just be crazy enough to work—if it doesn't get her killed.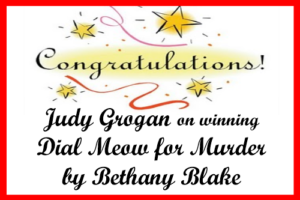 A special thanks to Bethany Blake for offering a copy of DIAL MEOW FOR MURDER along with some fun swag for one lucky winner! Contest ends Monday, October 2, 2017 at 11:59 pm PST and is open to U.S. residents only. Please use the Rafflecopter box located below the recipe to enter. The winner will be announced on this page and on Cinnamon & Sugar's Facebook page, as well as notified by email (so check your spam folder!)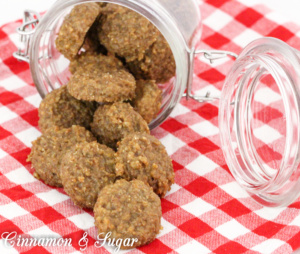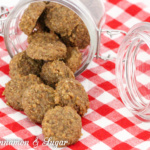 Liverin' It Up Treats
I would never tell Socrates, but the secret to his very favorite snack is...baby food! He would be so appalled. I actually hide the jar when I make these little crackers.
Ingredients
3/4

cup

wheat germ

3/4

cup

nonfat dry milk powder

1

egg

1

tablespoon

brewer's yeast

1

(3.5 ounce)

jar pureed liver or beef baby food

1/4

cup

water, or more if needed
Instructions
Preheat your oven to 350 degrees (F).

Mix all the ingredients together in a bowl. Add a little more water if the dough isn't coming together.

Drop the dough by teaspoonfuls onto a greased cookie sheet - or better yet, use parchment paper. Less mess, less chance for things sticking.

Bake the snacks for about 20 minutes, then remove them from the oven and cool them before Socrates... er, your dog... gets hold of them.

Store leftovers - there won't be any - in the fridge. For longer term storage, freeze in a freezer-safe ziplock bag.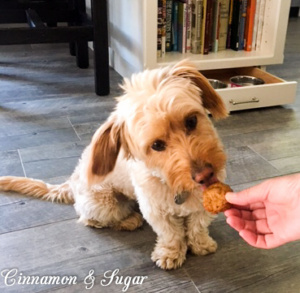 Pin to Pinterest:
If you receive my blog post via email you will need to visit my website to view the video.
I was provided a copy of this book with the hopes I would review. All thoughts and opinions are my own.