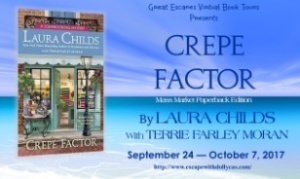 I am very excited to be a part of the Great Escapes Virtual Blog Tour for the paperback release of CREPE FACTOR by Laura Childs with Terrie Farley Moran! I had the pleasure of reading the original hardcover release last year and I'm happy that I can share my review and the recipe for Mini Cranberry Crab Cakes again for the paperback release.
CREPE FACTOR is truly a fun, fun read! Even though I was unfamiliar with the characters starting out, they quickly became people I wanted to read more about and enjoyed getting to know them and their quirky personalities. There is a lot of humor sprinkled throughout the book, making it a lighthearted, entertaining read that kept me turning pages wanting to see what new mischief Carmela and Ava would get themselves in to. There were plenty of suspects and red herrings to keep the mystery appealing and me guessing. The authors captured the setting of New Orleans perfectly and I could see, smell, and taste that amazing city on the pages. I also loved that there are facts about New Orleans woven into the story along with "local" words that had me opening a dictionary to find out what they meant. I so enjoy learning while being entertained!
One of my (many) hobbies is scrapbooking. I used to scrapbook a lot when my granddaughters were very young, but other hobbies and interests have intruded. I still have a cupboard full of beautiful papers and embellishments and whenever I see them, wish I could find time to take it up again (and do something with the hundreds of photos I have of the girls). CREPE FACTOR is not only a fun, madcap romp through New Orleans and the bayou with memorable characters, the book provides inspiration and tips for scrapbooking along with several delicious recipes. Terrie Farely Moran has graciously allowed me to share her recipe for Mini Cranberry Crab Cakes, a very tasty yet easy appetizer to put together for upcoming holiday gatherings! The gorgeous jewel tones of the cranberry sauce brings elegance to an appetizer platter while the creamy crab filling provides a satisfying bite.
Amazon Synopsis
The holidays are a busy time for scrapbook shop owner Carmela Bertrand—but not so hectic that she doesn't have time to enjoy browsing the booths at the Winter Market with her best friend, Ava. The last thing the ladies expect to see is a lurching man stabbed by a serving fork, dying in front of them.
The victim is loathed restaurant critic Martin Lash, who posted his scathing reviews on the Glutton for Punishment website. And the prime suspect is New Orleans restaurateur Quigg Brevard—who was seen giving the critic a tongue-lashing minutes before someone stuck a fork in him. An old flame of Carmela's, Quigg asks for her help, which does not please her current beau, Detective Edgar Babcock, to say the least.
Before her relationship is the next victim, Carmela needs to find a murderer who had no reservations about punishing the culinary curmudgeon…

A special thank you to Terrie Farely Moran and Laura Childs for providing 2 paperback copies for the giveaway! This giveaway is administered by Great Escapes Virtual Book Tours and you can use the Rafflecopter box located below the recipe to enter. Contest ends October 7, 2017 and is limited to U.S. residents only. Winner will be announced on this page and on Great Escapes Virtual Book Tours site, as well as notified by email (so check your spam folder!)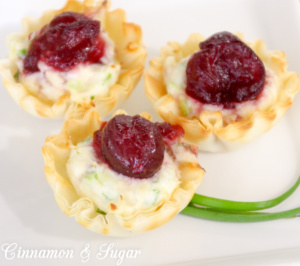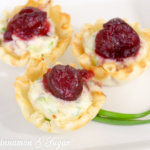 Mini Cranberry Crabcakes
Ingredients
1/3

cup

cream cheese, softened

1/4

cup

crabmeat, drained, flaked, cartilage removed

1/2

teaspoon

sugar

2

tablespoons

scallions, finely chopped

1

1.9-ounce package frozen miniature phyllo tart shells

1/3

cup

whole-berry cranberry sauce
Instructions
Preheat oven to 375 degrees (F).

In a small bowl, combine cream cheese, crab, sugar, and scallions until thoroughly blended.

Place tart shells on an ungreased baking sheet.

Fill each shell with 1 tablespoon crab mixture.

Top each crab mound with 1 teaspoon cranberry sauce.

Bake for 12 to 14 minutes or until heated through.

Makes 15 mini crab cakes.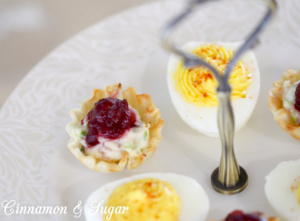 Pin to Pinterest: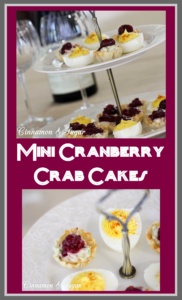 If you receive my blog post via email you will need to visit my website to view the video.
TOUR PARTICIPANTS
September 24 – Cinnamon, Sugar and Little Bit of Murder – REVIEW REPOST, RECIPE
September 24 – Lisa Ks Book Reviews – REVIEW REPOST, GUEST POST
September 25 – Socrates' Book Reviews– SPOTLIGHT
September 25 – A Chick Who Reads – REVIEW
September 26 – Community Bookstop – REVIEW REPOST
September 26 – Laura's Interests – SPOTLIGHT
September 27 – Bookworm Cafe – REVIEW
September 28 – Writing Pearls – REVIEW
September 28 – Valerie's Musings – SPOTLIGHT
September 29 – Mystery Thrillers and Romantic Suspense Reviews – SPOTLIGHT
September 29 – Texas Book-aholic – REVIEW
September 30 – The Power of Words – SPOTLIGHT
October 1 – My Funny View of Life – REVIEW
October 2 – 3 Partners in Shopping, Nana, Mommy, & Sissy, Too! – REVIEW
October 2 – Island Confidential – CHARACTER INTERVIEW
October 3 – Varietats – REVIEW, GUEST POST
October 3 – Cozy Up With Kathy – REVIEW, CHARACTER INTERVIEW
October 4 – My Reading Journeys – REVIEW
October 5 – Paranormal and Romantic Suspense Reviews – SPOTLIGHT
October 6 – Back Porchervations – REVIEW
October 6 – Teresa Trent Author Site – CHARACTER GUEST POST
October 7 – StoreyBook Reviews – GUEST POST
October 7 – Brooke Blogs – CHARACTER GUEST POST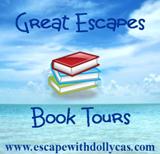 I was provided a copy of this book with the hopes I would review. All thoughts and opinions are my own.