THE SPOOK IN THE STACKS by Eva Gates (aka Vicki Delany) is the fourth book in the series but the first to be published by Crooked Lane Books. I am so happy that this series was revived by a new publisher because I loved this story which features an old lighthouse turned into a library! Protagonist Lucy Richardson is the assistant librarian at the Brodie Island Lighthouse Library. She is lucky enough to live in a small apartment in the lighthouse, situated above the library. It sounds positively charming. The library and town are getting ready to celebrate Halloween, which Lucy would rather skip. She doesn't consider being scared fun at all. I'll have to admit, I totally agree with Lucy. I would be more than happy to skip any of the horror-themed stuff Halloween offers but I do enjoy the adorable little kids in their cute costumes of fairies, ladybugs, and princesses.
Ms. Gates weaves an enticing tale of an academic fight over a private historic collection, a reclusive multi-millionaire found murdered in the library, and a mysterious ghost horse that arrives in the creepy fog. In amongst the murder mystery, which Lucy gets pulled into helping solve at the bequest of the murdered man's granddaughter, there is the theme of families torn apart and then reunited and unrequited love. These subplots add to the appeal of the story and pulled me in until I couldn't help myself and turned pages late into the night. The exciting reveal provided a twist that I didn't see coming and left me hoping the next installment is soon to follow.
While the book doesn't contain recipes, Lucy's cousin owns a bakery and provides plenty of delicious treats for the Halloween celebrants. One of those treats is Coconut Sugar Cookies so Ms. Gates developed a recipe. Let me tell you, my oldest granddaughter (who is special needs) adored these! I frequently make lemon sugar cookies and she thinks they're okay. But, she gobbled up my girlie ghosts and pumpkins and asked for more! I love this unique take on sugar cookies and even though there is an extra step to pulse the coconut, I think it is more than worthwhile. Since I made these cookies in the spring (and not during the Halloween setting the book portrays) I made a few Halloween cookies and with the remaining dough, cut some simple shapes that I sprinkled with white sparkling sugar to garnish. Either way, this is a recipe that I will be making year-round!
Amazon Synopsis
Halloween in North Carolina's Outer Banks becomes seriously tricky when librarian Lucy Richardson stumbles across something extra unusual in the rare books section: a dead body.
Wealthy businessman Jay Ruddle is considering donating his extensive collection of North Carolina historical documents to the Bodie Island Lighthouse Library, but the competition for the collection is fierce. Unfortunately, while the library is hosting a lecture on ghostly legends, Jay becomes one of the dearly departed in the rare books section. Now, it's up to Lucy Richardson and her fellow librarians to bone up on their detective skills and discover who is responsible for this wicked Halloween homicide.
Meanwhile, very strange things are happening at the library―haunted horses are materializing in the marsh, the lights seem to have an eerie life of their own, and the tiny crew of a model ship appears to move around when no one is watching. Is Lucy at her wit's end? Or can it be that the Bodie Island Lighthouse really is haunted?
With The Legend of Sleepy Hollow on everyone's minds and ghoulish gossip on everyone's lips, Lucy will need to separate the clues from the boos if she wants to crack this case without losing her head in The Spook in the Stacks, the delightful fourth in national bestseller Eva Gates' Lighthouse Library mysteries.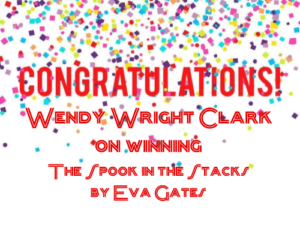 A special thanks to Eva Gates/Vicki Delany for providing a winner with a hardcover copy of THE SPOOK IN THE STACKS! Contest is limited to U.S. and Canada residents only and ends Monday, June 18, 2018 at 11:59 pm PST. Please use the Rafflecopter box located below to enter. The winner will be announced on this page and on Cinnamon & Sugar's Facebook page, as well as notified by email (so check your spam folder!)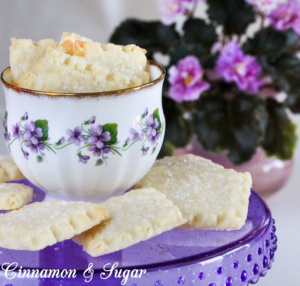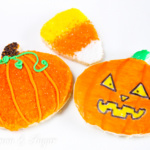 Coconut Sugar Cookies
As made by Josie O'Malley for a Halloween party at the Bodie Island Lighthouse Library in The Spook in the Stacks by Eva Gates
Ingredients
7

ounces

sweetened flaked coconut

3-3/4

cups

cups all-purpose flour

1-1/2

teaspoons

baking powder

1/2

teaspoon

salt

1

cup

(2 sticks) unsalted butter, softened

1-1/2

cups

granulated sugar

2

large

eggs

1-1/2

teaspoons

pure vanilla extract

1/8

teaspoon

pure coconut extract, optional

Sanding or colored sugar or sprinkles for decorating (optional)
Instructions
Process coconut in a food processor until finely ground. Whisk together flour, coconut, baking powder, and salt in a small bowl; set aside.

Put butter and granulated sugar into the bowl of an electric mixer mix on medium speed until pale and fluffy, about 3 minutes. Reduce speed to low. Mix in eggs, vanilla, and coconut extract, if desired. Add flour mixture; mix until just combined.

Divide dough into thirds; wrap each in plastic. Refrigerate until firm but malleable, about 1 1/2 hours.

Roll out dough between 2 sheets of lightly floured parchment to 1/4 inch thick. Repeat, and stack between parchment on a baking sheet. Freeze or refrigerate dough until firm, 30 minutes.

Preheat oven to 350 degrees.

Cut out shapes with a floured cutter. Space 1 1/2 inches apart on baking sheets lined with parchment. To decorate with sugar, lightly brush with water and sprinkle with sugar. Or once cooled, decorate with icing and sprinkles as desired.

Bake until edges are golden, 11 to 13 minutes. Let cool on sheets 3 minutes. Transfer to wire racks; let cool completely.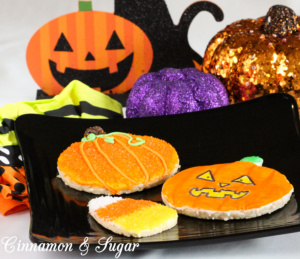 Pin to Pinterest: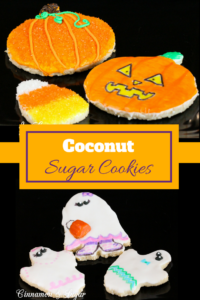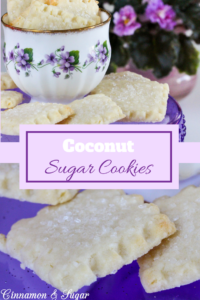 If you receive my blog post via email you will need to visit my website to view the video.
I was provided an advance copy with the hopes I would review. All thoughts and opinions are my own.