AS THE CHRISTMAS COOKIE CRUMBLES by Leslie Budewitz is the fifth book in the Food Lovers series. The Christmas holidays are gearing up with lots of festivities planned in Jewel Bay, Montana, which prides itself on promoting local food and crafts. Erin Murphy, manager of her family's Murphy Mercantile, is a delightful protagonist. I adore the closeness she shares with her family which spills over into the close-knit community. Erin is kind-hearted and befriends Merrily, who has been shunned from her family for a long-ago transgression which she had paid dearly for. Given the ongoing holiday festivities, Merrily's family situation becomes all that more heartbreaking. I found Ms. Budewitz writes rich, emotional connections between the characters and brings the spirit of the season to life on the pages. And even though it's only June, I'm happy to read about Christmas any time of the year!
When Merrily is found murdered, Erin grieves for a friend she barely knew and is pulled into finding justice for the woman. Even though Erin is busy finalizing her wedding plans to Adam and participating in the town's events, she still finds time to ask questions and find the truth. There were enough suspects to keep me guessing without too many overwhelming the plot. Subplots were woven into the story to bring an added depth of richness to the tale and Ms. Budewitz brings all the threads together in one satisfying conclusion. I also appreciated how the author includes a list of characters at the very beginning of the book. While I didn't need to reference it since characters were judiciously introduced, it was nice to have "just in case". And truth be told, it was terrific to have when writing this review since I got so caught up in the fast-paced story I forgot to take many notes.
With the Christmas season being celebrated in the village, Erin hosts a cookie exchange party. It was fun reading Erin's description of how she connects the cookie qualities with the personality of the baker who brought them to the exchange. The reader will be drooling over the myriad of recipes Ms. Budewitz includes at the back of the book, both for cookies and savory dishes alike! It was certainly difficult to choose just one recipe to share but in the end, Chocolate Ecstasies won out. I was smitten by the generous amounts of chocolate these cookies hold and the fact that it mixes up in one pan. No lugging the heavy-duty mixer out, no rolling out dough, no worrying about getting the butter softened enough. This ultimate chocolatey, easy-peasy cookie recipe is still super yummy and will have your friends and family begging for it year-round!
Amazon Synopsis
Erin is one smart cookie, but can she keep the holiday spirit―and herself―alive till Christmas?
In Jewel Bay, all is merry and bright. At Murphy's Mercantile, AKA the Merc, manager Erin Murphy is ringing in the holiday season with food, drink, and a new friend: Merrily Thornton. A local girl gone wrong, Merrily has turned her life around. But her parents have publicly shunned her, and they nurse a bitterness that chills Erin.
When Merrily goes missing and her boss discovers he's been robbed, fingers point to Merrily―until she's found dead, a string of lights around her neck. The clues and danger snowball from there. Can Erin nab the killer―and keep herself in one piece―in time for a special Christmas Eve?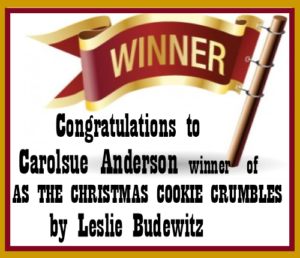 A special thanks to Midnight Ink and Leslie Budewitz for providing a winner with a print copy of AS THE CHRISTMAS COOKIE CRUMBLES! Contest is limited to U.S. residents only and ends Wednesday, June 13, 2018 at 11:59 pm PST. Please use the Rafflecopter box located below to enter. The winner will be announced on this page and on Cinnamon & Sugar's Facebook page, as well as notified by email (so check your spam folder!)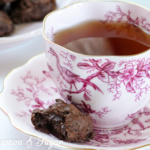 Fudge Ecstasies
Adding half the chocolate chips just before baking gives these crackletopped cookies a soft, fudgy interior. And mixing the batter in the saucepan makes clean up easy!
Ingredients
1

12-ounce

package (2 cups) semi-sweet chocolate chips (divided)

2

ounces

unsweetened chocolate

2

tablespoons

butter

1/4

cup

all-purpose flour, heaping

1/4

teaspoon

baking powder

Dash of salt

2

eggs

2/3

cup

sugar

1

teaspoon

vanilla

1

cup

chopped walnuts or pecans
Instructions
Heat oven to 350 degrees (F).

In a heavy medium sauce pan, melt one cup of the chocolate chips, the unsweetened chocolate, and the butter, stirring constantly until melted. Remove from heat and allow to cool slightly.

In a small bowl, stir together the flour, baking powder, and a dash of salt.

Add the eggs, sugar, and vanilla to the chocolate mixture, in the saucepan but off the heat; mix well.

Add the flour mixture and mix well.

Stir in the remaining one cup of chocolate chips and the nuts.

Drop by teaspoons onto a baking sheet. Bake 8 to 10 minutes, or until the edges are firm and the surface dull and cracked.

Allow to cool on the baking sheet for a minute or two, then transfer to a rack to cool completely.
Notes
Makes about 3 dozen.
Pin to Pinterest: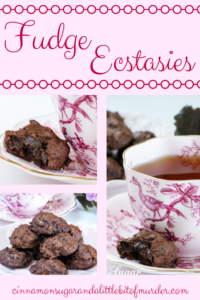 If you receive my blog post via email you will need to visit my website to view the video.
I was provided an advance copy with the hopes I would review. All thoughts and opinions are my own.