Ever since I read the teaser chapter for MUFFIN TO FEAR by Victoria Hamilton a couple of months ago, I've been waiting on pins and needles for this fifth book in the Merry Muffin Mystery series to release. The author starts the book with a sweet interlude, drawing the reader in, establishing a connection to the protagonist, newlywed Mrs. Merry Grace Wynter. Merry's happiness over being married to Virgil epitomizes what honeymooners should be like. Too frequently drama and discord is so often displayed in both books and film. Instead, the author saves the mayhem for Merry's return home where she finds a reality television show setting up to film an episode for Haunt Hunt.
While there have been a few murders around Merry's home, Wynter Castle, she never thought her castle was haunted. Pish, one of her dearest friends, isn't so sure and somehow ends up with the cast and crew of Haunt Hunt on her property. From there the fireworks start. The author provides fun insight into filming the reality show: from setting up equipment to the interaction between cast and crew, to the fake scenes that goes along with putting a show together. She provides great, snarky descriptions of some of the cast members, which lends itself readily to what you would expect of a reality tv show. I loved the quirkiness of the characters, both from the show and townspeople. I especially enjoyed seeing Merry's caring and mentoring relationship with Lizzie, the teenager from town. It adds another sweet dimension to the story aside from the murder. There were so many viable suspects who would have wanted to see the arrogant, fake tv actor/psychic dead. Just when I thought I was sure I had figured it out the author would dole out a new clue and I would change my mind all over again. There was a satisfying conclusion and the various threads of the story were pulled together for an enjoyable read!
The author provides a couple delectable muffin recipes with her book including one gluten-free one, that I'm anxious to try! Victoria asked that I create an additional muffin recipe for my blog post so after brainstorming with my granddaughter (who adores muffins for both breakfast and quick after-school snacks) came up with Raspberry Lemon Muffins. With summer in full swing, raspberries are ripe and plentiful while providing fun color. Lemon juice and zest adds a sunny burst of flavor and a tart tang to the batter that mixes up quickly. Enjoy!
Amazon Synopsis
Newlywed baker Merry Wynter has some unwanted guests looking for ghosts at Wynter Castle…
While Merry is distracted by her quickly planned marriage to Virgil Grace and a blissful honeymoon in New York, her friend Pish invites the ghost-hunting crew from the TV show Haunt Hunt to investigate Merry's home, Wynter Castle. Merry soon discovers that not only is the crew out of sync, there are so many feuds and squabbles, it's a miracle they get a show produced at all.
It all goes from bad to worse when the show's psychics claim to have contact with people murdered on Merry's property. When two cast members are found dead, Merry and Virgil must figure out who's picking off the Haunt Hunt team before their hard-earned happily ever after is cut short.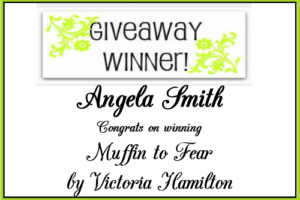 A special thank you to Victoria Hamilton for providing a print copy of MUFFIN TO FEAR for one lucky winner! Contest ends Monday, July 31, 2017 at 11:59 pm PST and is limited to Canadian and U.S. residents only. Please use the Rafflecopter box located below the recipe to enter. The winner will be announced on this page and on Cinnamon & Sugar's Facebook page, as well as notified by email (so check your spam folder!)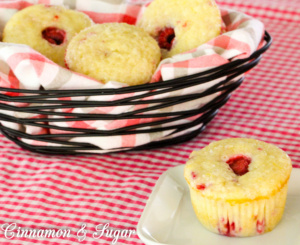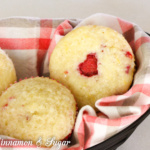 Raspberry Lemon Muffins
Ingredients
2

cup

all-purpose flour

1-1/2

teaspoons

baking powder

1/4

teaspoons

baking soda

1

teaspoons

salt

1

cup

granulated sugar

Lemon zest from 1 lemon

3/4

cup

milk (2% or whole)

1/4

cup

fresh lemon juice

2

teaspoons

vanilla extract

1/4

cup

vegetable oil

1

large egg

4 - 5

ounces

fresh raspberries, washed and patted dry. Reserve 12.

Coarse sparkling sugar, optional
Instructions
Preheat oven to 375 degrees (F).

Line muffin tin with paper liners, spritz with non-stick cooking spray and set aside.

In a medium-size bowl, mix the milk and lemon juice together and set aside. The mixture will curdle but that is normal.

In a large-sized bowl, whisk together the flour, baking powder, baking soda, sugar, salt, and lemon zest. Set aside.

Add the vanilla, egg, and vegetable oil to the lemon and milk mixture, whisking to fully incorporate.

Add the wet ingredients to the flour ingredients, stirring until incorporated. Batter may be a little lumpy, but do not overmix.

Fold the fresh raspberries (except for the 12 raspberries) into the batter and stir just until incorporated.

Fill the muffin cups 3/4 full, place a reserved raspberry on top of each one, and if desired, sprinkle liberally with coarse sparkling sugar.

Bake for 15 - 18 minutes. Muffin tops should spring back when gently touched.

Remove from oven and allow to cool in muffin tin for 3 minutes, then remove to a wire rack to cool 10 minutes before serving.
Tips
Muffins are best eaten shortly after baking. If you do have leftovers, refrigerate in an airtight container for up to 3 days. Gently toast to reheat before serving.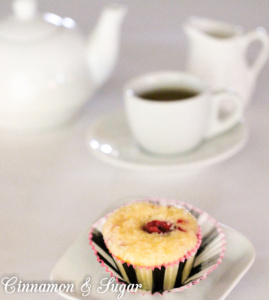 Pin to Pinterest: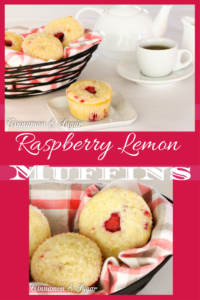 If you receive my blog post via email you will need to visit my website to view the video.
I was provided a copy of this book with the hopes I would review. All thoughts and opinions are my own.