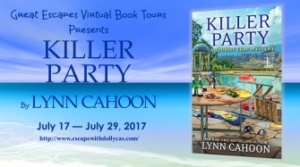 I'm happy to be participating in the Great Escapes Virtual Book tour today. KILLER PARTY, the ninth book in the Tourist Trap Mystery series by Lynn Cahoon, is a delightful summer read! It starts by inviting you in with its colorful poolside party cover… you can almost smell the Coppertone and feel the warm California sun on your skin. From there the story unfolds for an entertaining read as the protagonist, Jill Gardner, attends a weekend-long bachelor/bachelorette party with her boyfriend and the Chief Detective of South Cove, Greg. It's the first chance she's had to meet his old school friends and it gives readers the opportunity to get to know Greg better as we glimpse moments of his younger years. Jill is the outsider of the group and at times feels awkward around the other women. She would rather be back home tending to her shop, Coffee, Books and More. The author captures that feeling and makes me believe I'm not the only one to have that reaction to potentially uncomfortable social situations. When the groom-to-be is found murdered at "The Castle" where the group is staying, Jill finds that Greg and his friends seem to have a secret from their youth that they try to keep hidden.
Since the victim was one of Greg's friends, he's not allowed to investigate so he conspires to have Jill do some digging around… something she would do anyway. But he still refuses to share the secret that haunts the friends. The twists and turns that form the plot kept me turning pages as Jill uncovers several suspects from the wedding party who might have wanted the groom-to-be dead. I was totally unprepared for the exciting reveal and conclusion! Lynn introduces some charming new characters that I hope will have a continued presence in future books. She has also developed several relationships that are growing and changing as any real relationship would and left me anxious to read the next book just as soon as possible!
While KILLER PARTY does not have recipes, the caterer that creates amazing desserts for Jill's shop also provides desserts for "The Castle". She makes an amazing Strawberry Shortcake for the group's dessert one night and Jill is tempted to eat a second helping. Not that I blame her… there's something so delectable about summery strawberries with clouds of billowy whipped cream piled onto a flaky cake-like biscuit. I was happy to develop a recipe for this post and wanted to create something that was just as easy as picking up one of those store-bought sponge cake packages. My shortcake uses only three ingredients and it takes about 20 minutes to mix and bake up. It is so simple my granddaughter made these with virtually no input for me, except to show her how to knead the dough a few times. When the shortcakes are combined with the strawberries enhanced with some sugar and a dash of balsamic vinegar (it may sound "weird" but it adds a depth of flavor to the strawberries) then topped with a generous dollop of whipped cream, you'll know this is summer's best dessert!
Amazon Synopsis
For a gang of old college buddies, the quaint resort town of South Cove, California, is the perfect spot for a no-holds-barred bachelor party. But for Jill Gardner-owner of Coffee, Books and More-this stag party is going to be murder . . .
After a few months of living with her boyfriend Greg, Jill is still getting used to sharing such close quarters, but she's got no hesitation about joining him for a weekend at South Cove's most luxurious resort. While Greg and his college pals celebrate their buddy's upcoming wedding, Jill intends to pamper herself in style. But when the groom is found floating facedown in the pool, Jill must find the killer fast, or she might not have a boyfriend to come home to any more . . .

A very special thank you to Lynn Cahoon for providing 2 e-book copies of KILLER PARTY! This giveaway is administered by Great Escapes Virtual Book Tours and you can use the Rafflecopter box located below the recipe to enter. Contest ends July 29, 2017. Winners will be announced on this page and on Great Escapes Virtual Book Tours site, as well as notified by email (so check your spam folder!)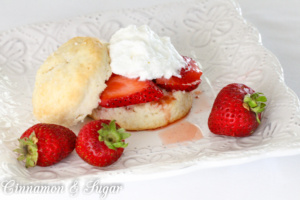 Easy Strawberry Shortcake
Ingredients
Strawberries
16

ounces

strawberries, hulled and sliced

1/4

cup

granulated sugar

1/2

teaspoon

good quality balsamic vinegar

(optional, but adds a depth of flavor!)
Shortcakes
2

cups (240g)

self-rising flour

3

tablespoons

granulated sugar

1

cup

heavy cream + extra

Coarse sparkling sugar, optional
Whipped Cream
1

cup

heavy cream

1/4

cup

granulated sugar

1/4

cup

confectioners' sugar

1

teaspoon

vanilla extract
Instructions
Strawberries
In a large bowl gently stir to combine the strawberries, sugar, and balsamic vinegar. Cover and refrigerate at least 1 hour before serving.
Shortcakes
Preheat oven to 425 degrees (F).

In a medium-sized bowl whisk the flour and sugar together.

Stir the cream into the flour mixture until dough forms. If the dough seems too dry, add additional cream 1 teaspoon at a time until the dough can be formed into a ball. You don't want it too sticky but there shouldn't be extra flour on the bottom of the bowl.

Place the dough on a floured surface and sprinkle the dough ball with additional flour.

Gently knead 5 times then pat into a 1/2" thick circle.


Cut the dough with a round biscuit cutter and place on a parchment-lined baking sheet.

Lightly brush the tops of the biscuits with heavy cream and sprinkle with coarse sparkling sugar, if desired.

Bake for 13 to 16 minutes until tops are golden brown.
Whipped Cream
Whip heavy cream until soft peaks form. Slowly add the granulated sugar, powdered sugar, and vanilla extract and whip until firm peaks form.
Putting it together
Split the biscuits in half. Spoon strawberries with juice onto the bottom half, add a dollop of whipped cream, then cover with top biscuit half. Add additional strawberries to the top along with an extra dollop of whipped cream.
Tips
To make quick work of slicing the strawberries, use an egg slicer.

If you don't have self-rising flour, substitute all-purpose flour and add 3 teaspoons baking powder and 1 teaspoon salt.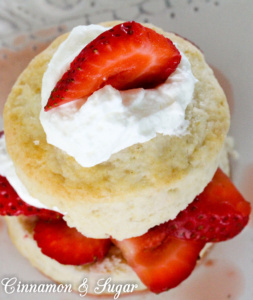 Pin to Pinterest: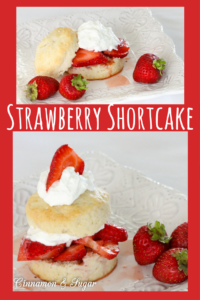 If you receive my blog post via email you will need to visit my website to view the video.
TOUR PARTICIPANTS
July 17 – Cinnamon, Sugar, and a Little Bit of Murder – REVIEW
July 17 – Books,Dreams,Life – SPOTLIGHT
July 18 – Laura's Interests – REVIEW
July 18 – View from the Birdhouse – SPOTLIGHT
July 19 – Lisa Ks Book Reviews – REVIEW
July 19 – 3 Partners in Shopping, Nana, Mommy, &, Sissy, Too! – SPOTLIGHT
July 20 – Celticlady's Reviews – SPOTLIGHT
July 20 – Cozy Up With Kathy – SPOTLIGHT
July 21 – StoreyBook Reviews – REVIEW
July 22 – The Bookwyrm's Hoard – REVIEW
July 22 – Brooke Blogs SPOTLIGHT
July 23 – deal sharing aunt – SPOTLIGHT
July 24 – Varietats – REVIEW
July 24 – Mystery Thrillers and Romantic Suspense Reviews – SPOTLIGHT
July 25 – Valerie's Musings – REVIEW
July 25 – A Holland Reads – SPOTLIGHT
July 26 – Island Confidential – SPOTLIGHT
July 27 – Community Bookstop – REVIEW
July 27 – My Reading Journeys – REVIEW
July 28 – Teresa Trent Author Blog – SPOTLIGHT
July 29 – Reading Is My SuperPower – REVIEW
I was provided a copy of this book with the hopes I would review. All thoughts and opinions are my own.