There are only 1-1/2 weeks until the launch of my debut suspense novel, A GAME OF DECEIT! In amongst all the things required to publish a book, I've been on the run with my normal chores, blogging, and staying with my granddaughter and grandpuppy for 10 days. While I love every minute of it, I am at times, exhausted. And when I get to that point, I crave chocolate! Now sitting around on the computer for hours each day and making all the delectable goodies for my blog makes me worry about my health just a bit, so I try to eat as healthy as possible. So when I started developing recipes for my new book, I knew I wanted to put a nutritional twist on at least a couple of them.
I've been making No-Cook Dark Chocolate Mousse for at least 20 years after adapting it from a Cooking Light recipe I came across. It fits the bill for providing super chocolaty flavor with a nice richness that doesn't rely on heavy cream. Instead (and no one ever suspects this secret ingredient until I tell them) silken tofu is the base for the creamy substance! Even though my husband cannot consume dairy, he does not care for the taste and especially the texture of soy products at all. I gave him a bowl of this No-Cook Dark Chocolate Mousse and he ate the entire dish after making sure there wasn't any dairy in it. And ate more even after finding out that there was tofu involved! Aside from satiating my chocolate craving, I love that this mousse is a breeze to whip up in a high powered blender or food processor, making it the perfect, healthier treat to indulge in when I have a chocolate craving!
Amazon Synopsis
A father's disappearance never solved, a mother's secret taken to the grave, a daughter deceived…
Kathryn Landry thinks her life is just about perfect. She is the owner of a successful interior designer business in Newport Beach, California, and she has an attentive, supportive husband. But her world comes crashing down when her husband, Neil Landry, vanishes without a trace… in a situation almost identical to the disappearance of her father twenty years before.
With her father's disappearance still a mystery, Kathryn is skeptical that the detective assigned to her case will be able to find her husband. Determined to uncover the truth, Kathryn is plunged into a world of politics, high-priced call girls and wealth. As she begins to search for her husband, a decades-old secret her mother took to the grave threatens to destroy all she holds dear. Caught up in a web of betrayals and deceit, and not knowing who to trust, Kathryn must find a way to survive as she discovers the past has a way of repeating itself.
Through August 15, 2017 100% of my net sales will be donated to rettsyndrome.org
and the e-book price will be discounted to $0.99!
Print copies will be available soon for pre-order.
Don't miss out on this low price that will benefit a good cause!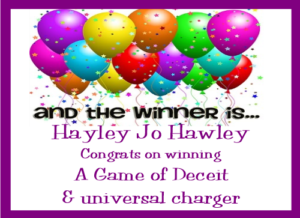 I am happy to be able to provide winner's choice of a print or an e-book copy of A GAME OF DECEIT for one lucky winner plus a universal power bank charger. Print copy and charger limited to U.S. residents only. International winner will be awarded an e-book copy and a $5 Amazon gift card. Contest ends Tuesday, July 25, 2017 at 11:59 pm PST. Please use the Rafflecopter box located below the recipe to enter. The winner will be announced on this page and on Cinnamon & Sugar's Facebook page, as well as notified by email (so check your spam folder!)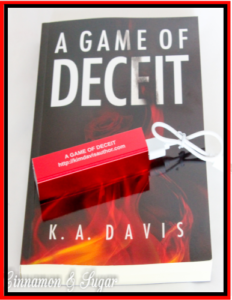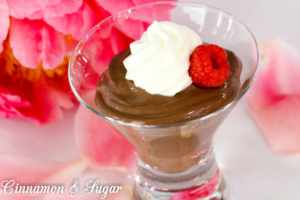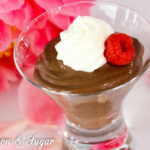 No-Cook Dark Chocolate Mousse
Ingredients
Pudding
1/2

cup

granulated sugar

7

tablespoons

unsweetened cocoa powder

2

tablespoons

Grand Marnier or Chambord

1/4

teaspoon

orange extract or raspberry flavoring

1/2

teaspoon

vanilla extract

1/8

teaspoon

salt

1

12.3 ounce package silken tofu, drained

1

12.3 ounce package reduced-fat silken tofu drained

3

ounces

dark chocolate

chopped
Garnish
Whipped cream

1

small can mandarin oranges or fresh raspberries

rinsed and patted dry

Chocolate curls
Instructions
Place the chopped dark chocolate in a small microwave-safe heatproof bowl. Heat for 30 seconds at 80% power. Remove and stir. Repeat for another 30 seconds, remove and stir. If chocolate isn't melted, heat in 10 second intervals, stirring until melted. Set aside.

Place sugar, cocoa powder, Grand Marnier or Chambord, extract, vanilla extract, salt, and tofu in the bowl of a food processor or blender. Process or blend until completely smooth.

Add the melted chocolate to the pudding mixture and process until completely incorporated.

Divide the pudding between 6 serving dishes and refrigerate for at least 1 hour.

Just before serving garnish with whipped cream, orange wedges or fresh raspberries, and chocolate curls.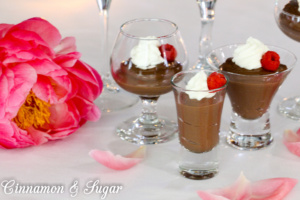 Pin to Pinterest: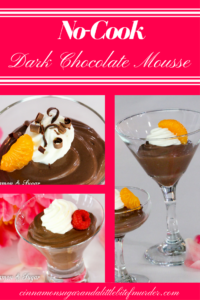 If you're wondering about my choice of the universal charger giveaway, my protagonist, Kathryn Landry, always seems to have issues with her cell phone. Often she forgets to charge it, or in this case just doesn't answer… I always like having a reserve power source on hand for my electronic devices so wanted to share one with you!
Excerpt
The deep, gravelly voice of Detective Williams bellowed out, "Good evening, Mrs. Landry! I've had a heck of a time tracking you down. Don't you believe in answering your cell phone?"
The detective strode to Kathryn's car. John held his ground.
"What can we help you with Detective?" John asked, placing his hand protectively on Kathryn's arm.
"My business is with Mrs. Landry so if you'll excuse us, I'd like to have a chat with her."
Kathryn looked up at John. "It's okay, I can handle this. I'll call you tomorrow afternoon with the estimates."
"Are you sure? I'll stay if you want me to."
"The lady said she was okay. You can leave now," Detective Williams snapped.
John gave Kathryn's hand a squeeze, then slowly made his way back to his house. The detective waited until John was inside the house with the door closed before turning to Kathryn.
"Do you always ignore your phone calls?"
Kathryn felt her face heat up. "No, but I've been having problems with my cell battery holding charges. That must be why I didn't get your call."
Kathryn's face turned a deeper red when her cell phone rang. She fumbled through her handbag, retrieved the phone, glanced at the caller ID and answered it.
If you receive my blog post via email you will need to visit my website to view the video.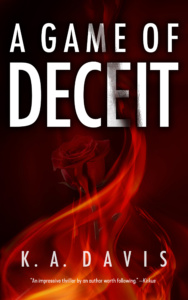 Purchase links:
Amazon: https://goo.gl/8muPuf
Nook: https://goo.gl/Q6uVZP
Kobo: https://goo.gl/28Nsdo
Apple: https://goo.gl/sVzo6B