From the moment I heard that Jenn McKinlay was writing a romantic comedy, in addition to her cozy mysteries, I knew I just had to read it. ABOUT A DOG, the first in the Bluff Point Romance series, did not disappoint! I found it to be the ultimate beach read: entertaining, humorous dialog; an easy read; characters you can love and characters you can hate; an adorable puppy; and romance with just the right amount of zing. The protagonist, MacKenzie "Mac" Harris, wants the world to see her as self-confident and someone who has figured out her life, but inside she's still trying to get over being left at the alter in her small hometown, Bluff Point. After fleeing to Chicago to pick up the pieces, she's done nothing but insulate herself from love and instead, has immersed herself in her career. Returning home, after being gone seven years, for her best friend's wedding Mac's plan is to get in and out of the town just as quickly as she can. The scenario sets the stage for the lively banter between the best friends along with humorous scenes that keeps the reader entertained and turning pages. Jenn McKinlay is wickedly witty and it translates to a fun book! I read with a grin on my face just about the entire book… except when it was appropriate to hate a character or worry about the lovable puppy.
I enjoyed the development of the characters and the close friendship Mac has with her two best friends. But it's Mac's two elderly aunts along with the rescue puppy, Tulip, the who steal each scene that they're in! They each provide a nice subplot to go along with the main romantic theme between Mac and Gavin, without detracting from the story. The small town setting is quaint where everyone knows everyone's business and as Mac finds out, no one forgets anything that happened in the past. Jenn creates great chemistry between Mac and Gavin, carefully building the tension until the conclusion. There is also a teaser chapter for the next book, BARKING UP THE WRONG TREE, which made me sorry it wasn't available right then and there!
While the book doesn't contain recipes, one of Mac's best friends owns a Whoopie Pie shop. Honestly, I've never tried whoopie pies so when I read through Jenn's recipe I realized they're like mini cakes with the frosting sandwiched between two halves. It's hard to classify them: are they cookie, cake, or cupcakes? It doesn't really matter… they're just yummy! Jenn shared her recipe at Mystery Lovers' Kitchen (click on link to see her recipe) a while ago and she filled her chocolate whoopie pies with a more traditional marshmallow buttercream filling. I deviated and went with more chocolate and mixed up a Nutella buttercream filling, flavoring it with Frangelico for the adults. Either way, I'm happy to have discovered this East Coast treat!
Amazon Synopsis
Mackenzie "Mac" Harris fled her hometown of Bluff Point, Maine, after being left at the altar—and seeking solace in the arms of her best friend's off-limits brother. Now, seven years later, she's back to attend her best friend's wedding—safe, or so she thinks, from the mistakes of her youth.
But Gavin Tolliver has never forgotten the woman who has always held his heart. And when Mac rescues a stray puppy named Tulip, only Gavin, the town's veterinarian, can help. With a little assistance from Tulip, Gavin vows to make Mac realize that their feelings are more than just puppy love…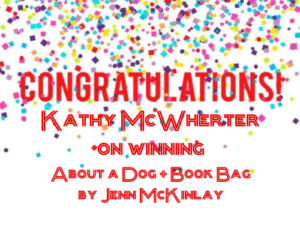 A huge thank you to Jenn McKinlay for providing a print copy of ABOUT A DOG plus a bag tote for one lucky winner! Contest ends Thursday, July 27, 2017 at 11:59 pm PST and is limited to U.S. residents only. Please use the Rafflecopter box located below the recipe to enter. The winner will be announced on this page and on Cinnamon & Sugar's Facebook page, as well as notified by email (so check your spam folder!)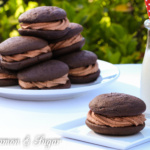 Chocolate Whoopie Pies with Nutella Buttercream Filling
Ingredients
The Cookies:
2

cups

flour

1/2

cup

cocoa

1-1/4

teaspoons

baking soda

1

teaspoon

salt

1/2

cup

unsalted butter, softened

1

cup

brown sugar

1

egg

1

teaspoon

vanilla

1

cup

buttermilk, well shaken
The Filling:
1/2

cup

unsalted butter, softened

3

cups

confectioners' sugar

1

teaspoon

vanilla extract

3/4

cup

Nutella

3-4

tablespoons

Frangelico liqueur (or sub milk)
Instructions
Preheat oven to 350 degrees (F).
The Cookies:
Mix together dry ingredients – flour, cocoa, baking soda, and salt in a medium bowl and set aside.


Beat together butter and brown sugar in a large bowl at medium speed until fluffy.


Alternately mix in dry ingredients and buttermilk until smooth.


Spoon ¼ cup mounds of batter about two inches apart on a parchment lined baking sheet.


Bake 11 to 13 minutes until top is puffed and springs back when touched.


Cook completely on a wire rack before filling.
The Filling:
Beat together the butter, confectioners' sugar, vanilla and nutella until smooth.

Add in 3 tablespoons of Frangelico liqueur (or milk) and beat filling until smooth and creamy, about 5 minutes on medium speed. If filling appears too stiff, add additional liquid, 1 teaspoon at a time, until desired consistency is reached.
Putting it together:
Spread a heaping tablespoon of the filling onto the flat side of one cookie and top with another. Easy Peasy!

Tip
If you cook 2 baking sheets at a time, be sure to rotate them front to back and swap the sheets from top to bottom half way through baking time. This will help them bake more evenly.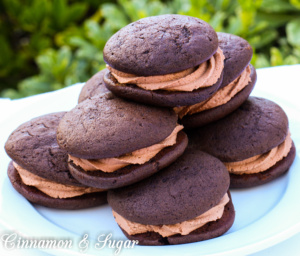 Pin to Pinterest: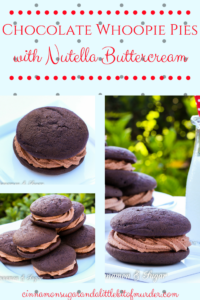 If you receive my blog post via email you will need to visit my website to view the video.
I was provided a copy of this book with the hopes I would review. All thoughts and opinions are my own.