I love when I come across a book that fits the seasonal theme of when I'm reading it. Such is the case of DEATH OF A LOBSTER LOVER, the ninth book in the Hayley Powell Mystery series by Lee Hollis. Set against the theme of a summer vacation, we find the protagonist, Hayley, heading on summer vacation to Salmon Cove, Maine with her two best friends, Mona and Liddy. The author provides a generous amount of description to help the reader experience this vacation as if you are really there… and had me chuckling from the get-go! First off, Mona and Libby are exact polar opposites, which gives plenty of opportunities for some very humorous situations. Especially when the three women pull up in front of Mona's family cabin for their stay… no spoilers, but I think my mouth was left hanging open!
It doesn't take long for Libby to be smitten by a man, but then things take a turn for the worse when he's found murdered on the beach during the lobster festival. The strength of their friendship is shown as they put their differences aside and work together to clear Libby's name. Most cozies have murders that take place in a town where everyone knows everyone else. With this murder happening in a vacation setting among strangers, Hayley has to work harder to find suspects and dig below the surface to discover their secrets. The author provides enough clues with a few twists and turns to keep the reader turning pages. I found that there was never a dull moment in the book and enjoyed the constant action and humorous dialog. While I'm embarrassed to say that this is the first book I've read in this series (trust me, I'll be trying to catch up and my only excuse is too many books, not enough time!) it was easily read as a standalone. I enjoyed reading Hayley's food and cocktails column that she writes for the Bar Harbor newspaper. Not only does she share wonderful recipes via her column, she doles out bits and pieces of her childhood and backstory in a creative way.
Now a book with lobster lover in the title is bound to have lobster recipes… and Lee Hollis does not disappoint! So many delicious dishes are provided and I wanted to try them all! In the end I chose to make the recipe for Luscious Lobster Mac & Cheese… oh my! I found it easy to make and even though I didn't put a ton of lobster in the dish, the flavor came through to provide a rich and satisfying meal. It's a less pricey way to enjoy lobster without breaking the bank. I'm not sure if it's a regional thing, but the majority of mac & cheese recipes I make don't call for a crumb topping (even when ordering out in restaurants in California, you typically don't see a topping). But I tried the Ritz Crackers topping Lee includes with her recipe and I'll have to admit, the buttery crunch added another delectable layer to this already delicious dish! Luscious Lobster Mac & Cheese is definitely a company-worthy dish! Please note that I made only half of a recipe for the photos since I didn't have enough people available at the time to share the dish with. I've included half measurements in the video.
Amazon Synopsis
Food and cocktails columnist Hayley Powell is off on a girls' getaway with her two best friends. But soon they'll have to get away from a killer…
The quaint fishing village of Salmon Cove, Maine, seems like the ideal location for a girls' weekend with Hayley's gal pals, Liddy and Mona. Liddy's on the rebound from a breakup, but when she meets a handsome tourist, it looks like a little romance might liven things up.
Unfortunately, Liddy's new sweetheart is found dead on the beach the next morning at the town's Lobster Bake, next to an overturned cooking pot. The liberated lobsters may be scrambling back to the sea, but Hayley's not about to let a murderer escape so easily. To crack the case, she'll need to blow the lid off some serious undercover activity—or risk becoming ensnared in a killer's trap…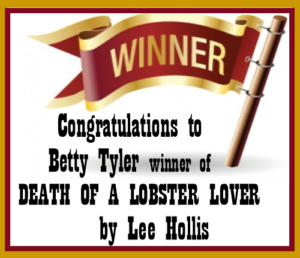 A huge thank you to Lee Hollis for providing a print copy of DEATH OF A LOBSTER LOVER for one lucky winner! Contest ends Monday, July 17 29, 2017 at 11:59 pm PST and is limited to U.S. residents only. Please use the Rafflecopter box located below the recipe to enter. The winner will be announced on this page and on Cinnamon & Sugar's Facebook page, as well as notified by email (so check your spam folder!)
'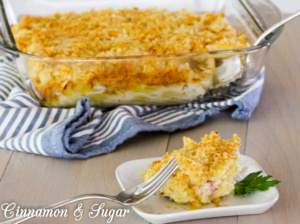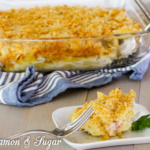 Luscious Lobster Mac & Cheese
Ingredients
1

16-ounce

box pasta shells (or your favorite pasta)

6

tablespoons

butter, divided

1/4

cup

flour

3

cups

milk (2% or whole)

1

cup

sharp white cheddar cheese, shredded

1

cup

gruyere cheese, shredded

1

cup

fontina cheese, shredded

1

teaspoon

each: salt, ground black pepper, garlic powder

4 - 5

small

lobster tails, cooked and chopped into chunks

2

cups

Ritz Crackers, crushed
Instructions
Preheat oven to 375 degrees (F).

Cook your pasta to almost al dente according to the directions on the box.

While the pasta is cooking, melt 3 tablespoons of the butter of the butter in a saucepan over medium heat.

Whisk in the flour, then slowly add your milk.

Whisk until it begins to thicken a bit, add your cheeses, and keep stirring until they are melted.

Remove from heat and add your salt, pepper, and garlic.

In a large bowl, add your pasta, chopped lobster, and cheese sauce. Stir to combine, making sure all the pasta is evenly coated in the cheese sauce.

Pour into a greased 13" x 9" baking dish.

In a small saucepan melt the remaining 3 tablespoons butter and mix with the cracker crumbs. Sprinkle evenly over the top of the lobster and pasta.

Bake in a preheated 375 degree (F) oven for 25 to 30 minutes until hot and bubbly and cracker crumbs are golden brown.

Remove from the oven and let the dish sit for at least 10 minutes before digging in! Bon appetit!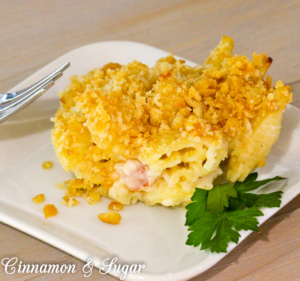 Pin to Pinterest: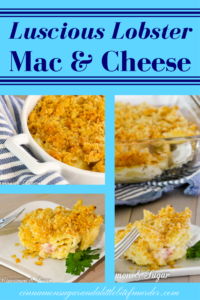 If you receive my blog post via email you will need to visit my website to view the video.
I was provided a copy of this book with the hopes I would review. All thoughts and opinions are my own.