Author Laura Bradford writes a variety of series but I was completely smitten with her Tobi Tobias Mystery series and was thrilled when 30 SECOND DEATH, the second book in the series, became available! From the opening page to the very end I was struck again and again at how creatively funny this author is! Writing humor is a gift and Laura is gifted in spades. The protagonist, Tobi Tobias, is a proud chocoholic, addicted to Cocoa Puffs, and owns a fledgling advertising agency. The agency allows the author another avenue for developing punny sayings and slogans along with creating interesting companies for Tobi to work on… I'd actually like to frequent some of the companies she mentions 🙂
The characters surrounding Tobi are varied and just as developed and entertaining on their own as the main protagonist. Tobi's upstairs neighbor and friend, Carter McDade, is the focal point of 30 SECOND DEATH. He tends to be a drama queen but still has a smile and kind word for everyone. That is until he is a murder suspect in the death of his nemesis and the theater manager's niece, Fiona. As Carter's world comes crashing down, Tobi steps in and starts trying to figure out who the real killer is, despite her problems going on with her sweetheart, Andy. Laura Bradford expertly juggles a variety of story-lines and plots between Tobi and the characters and weaves them together in one entertaining story that will keep you guessing "whodunit"!
While there aren't any recipes in 30 SECOND DEATH, Tobi Tobias is a dedicated chocoholic. She frequents a bakery every day after work and some of the treats that she purchases and shares with one of her suspects are White Chocolate Brownies. Quick to mix up, these bake up into a truffle-like consistency. Rich, soft and chewy with a delicate white chocolate flavor, these bars make a nice after-dinner dessert or a mid-afternoon treat or even sharing with a suspect you need to interrogate.
Amazon Synopsis
To help an old friend, Tobi Tobias gets a third-rate thespian a part in a commercial, and learns that in the advertising business, bad acting can lead to murder . . .
When Tobi Tobias opened her own advertising agency, Carter McDade was there for her every step of the way. A brilliant hairdresser, Carter has just landed his dream project: doing hair and makeup for a theatrical production of Rapunzel. But the dream turns into a nightmare when he runs into Fiona Renoir, a cruel, talentless starlet who won't let Carter touch a hair on her head.
To get Fiona out of Carter's hair, Tobi hires the difficult actress for a bit part in her latest commercial. But true to character, Fiona is a terror on set, and Tobi is starting to think she's made the biggest mistake of her life. But things get even worse when Fiona drops dead in the hairdresser's chair, and the only suspect is the man left holding the tainted hair dye, Carter McDade. And unless Tobi can prove his innocence, he'll never do hair in this town again.

Thank you to Lisa Kelley of Lisa K's Book Reviews for organizing a mini blog tour for 30 SECOND DEATH and a huge thank you to Laura Bradford for providing 3 e-book copies of her new release for 3 lucky winners! Contest ends Sunday, July 16, 2017 at 11:59 pm PST. Please use the Rafflecopter box located below the recipe to enter. The winner will be announced on this page and on Cinnamon & Sugar's Facebook page, as well as notified by email (so check your spam folder!)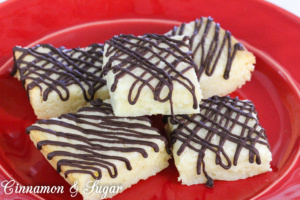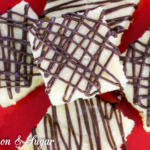 White Chocolate Brownies
Ingredients
1/2

cup

unsalted butter, cut into small cubes

1

cup

white chocolate chips (use premium like Ghiradelli)

3/4

cup

granulated sugar

2

eggs

1/2

teaspoon

salt

1-1/2

teaspoons

vanilla

1-1/4

cups

all-purpose flour
Topping - Optional
1/3

cup

semi-sweet or white chocolate chips

1/4

teaspoon

vegetable oil
Instructions
Preheat oven to 350 degrees (F).

In a microwave-safe bowl, melt the butter with the white chocolate on 70% power for 30 seconds. Stir the mixture and repeat as necessary until mixture is melted. Use caution and avoid overheating. Set aside to cool while you collect the remaining ingredients.

Line an 8" x 8"x baking dish with foil and spritz with non-stick cooking spray. Leave an overhang on the sides so you can easily remove the cooled brownies to cut into squares.

Once the chocolate mixture is lukewarm, stir in the sugar and mix until smooth.

Add the eggs, one at a time, and stir until fully incorporated. Be sure the chocolate mixture isn't hot otherwise the eggs could start to cook.

Mix in the flour and salt, stirring until the batter is smooth, then spread into the prepared pan. Batter will be thick.

Bake for 23 - 26 minutes. The top should look set and the sides should be starting to pull away from the sides. A wooden skewer inserted into the center should come out mostly clean. (A few moist crumbs are okay.)

Allow the brownies to cool completely in the pan, then lift them out using the foil and place on a cutting board.

Cut into desired-sized squares.
Topping
Place the semi-sweet (or white) chocolate chips and the vegetable oil into a small microwave-safe bowl. Heat on 70% power for 30 seconds then stir. Heat in 10 - 15 second increments until fully melted, but don't overheat.

Drizzle the melted chocolate over the tops of the cut brownies.

Place the brownies in the refrigerator for at least 15 minutes to allow chocolate topping to set before serving.

Store leftover brownies in the refrigerator for up to 4 days.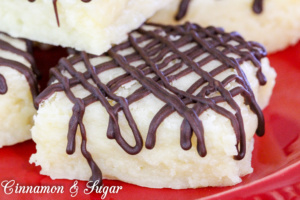 Pin to Pinterest: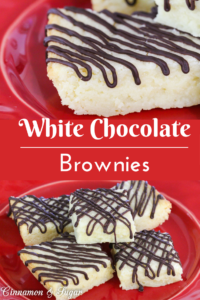 If you receive my blog post via email you will need to visit my website to view the video.
Visit these pages for more fun information about 30 SECOND DEATH!
July 6 – Sheryl Hagan-Booth – Booth Talks Books – Interview
boothtalksbooks.wordpress.com
July 7 – Karen M. Owen – A Cup Of Tea And A Cozy Mystery – Interview
acupofteaandacozymystery.blogspot.com
July 8 & 9 – Lisa Ks Book Reviews – series spotlight
lisaksbookthoughts.blogspot.com
July 10 – Linda Langford – Chatting About Cozies –Spotlight
www.facebook.com/chatcozy
July 11 – Mary Brown – MJBReviewers – Interview
mjbreviewers.wordpress.com
July 12 – Kim Davis – Cinnamon Sugar and a Little Bit of Murder – Review and recipecinnamonsugarandalittlebitofmurder.com
July 13 – Lisa Ks Book Reviews – Interview
lisaksbookthoughts.blogspot.com
July 14 – Mary Brown – MJBReviewers – Review
mjbreviewers.wordpress.com
July 15 – Lisa Ks Book Reviews – Review
lisaksbookthoughts.blogspot.com
I was provided a copy of this book with the hopes I would review. All thoughts and opinions are my own.