I'm very happy to be a part of the Great Escapes Virtual Book Tour for the brand new release, THE GOOD, THE BAD, AND THE GUACAMOLE by Rebecca Adler! From the moment I read the title and saw the cover I knew I wanted to dip into this book.
Synopsis
Josie Callahan has moved back to Broken Boots after being abandoned at the alter by her fiancé. Trying to forget her humiliation she takes a job as a journalist for the Broken Boot Bugle and to help make ends meet, works at her family's restaurant, Milagro. When country western performer, Jeff Clark, comes to town for the Homestead Days Musical Festival, Josie has her hopes up for a killer interview. After all her best friend, Patti, used to date Jeff and it appears they might be rekindling the romance. When Jeff Clark blows off their interview, Josie tracks him down and finds him dead, face down in a bowl of guacamole in Patti's house.
The police arrest Patti after her fingerprints were found all over the murder weapon and a witness claims they heard Patti and Jeff violently arguing late the night before. Despite what the police say, Josie is positive her friend is innocent. Using her journalistic skills, she starts asking questions hoping to track down the real killer and free her friend. Plus it wouldn't hurt her career to scoop the story for her newspaper. But the more questions she asks the more people she finds wanted Jeff out of the way. Can Josie sift through the clues and suspects or will the real killer salsa away while her friend takes the fall?
My Review
THE GOOD, THE BAD, AND THE GUACAMOLE did not disappoint! I loved Josie's relationship with her aunt, uncle, and grandmother, Señora Mari. She's been raised by her relatives after her parents died in an accident when she was twelve and it's obvious that Josie has a very close bond with them. They also provide a bit of comedic relief with their meddlesome antics, especially Señora Mari, who while appearing gruff on the outside, has a heart of gold. Josie's Chihuahua, Lenny, is a nice sidekick for her and I would dearly love to read Lenny's blog! And then there is her best friend, Goth princess Patti Perez. While some folks might look at the exterior of Patti and only see a hardened gal, the author helps us see below the surface and get to know the real person. A good lesson in real life not to judge people based on their appearance alone!
Rebecca provides a satisfying mystery to whet your appetite for more, with plenty of suspects drawn from both the townspeople and the band's roadies. The dialog is snappy and the down-home sayings are cute and add to the feel of the western Texan town of Broken Boots. And then there's the food…oh my, so many mentions of tamales made me want to run to Costco and pick up a dozen (although I know they would not be as yummy as Señora Mari's, but at least they'd satisfy my craving) along with lots of other delectable Tex-Mex food served at Milagro. Although I'll admit I will be pausing for a moment whenever I eat guacamole after reading this book 🙂 Rebecca has also graciously allowed me to share her recipe for The Cogburn Hotel's Chocolate Chip Pecan Cookies. These delightful treats have just the right amount of soft chewiness with melt in your mouth creamy chocolate chips and buttery, crunchy pecans. The perfect combination! Be sure to check out the back of her book for other mouth-watering recipes, all which sound delicious.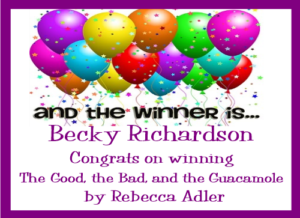 Thanks to the publisher, I have a print copy of THE GOOD, THE BAD, AND THE GUACAMOLE to give to one winner. Limited to U.S. residents only. Contest ends Sunday, November 6, 2016 at 11:59 pm PST. Please use the Rafflecopter box located below the recipe to enter. The winner will be announced on this page and on Cinnamon & Sugar's Facebook page, as well as notified by email (so check your spam folder!)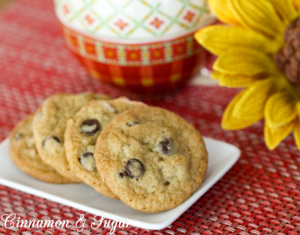 The Cogburn Hotel's Chocolate Chip Pecan Cookies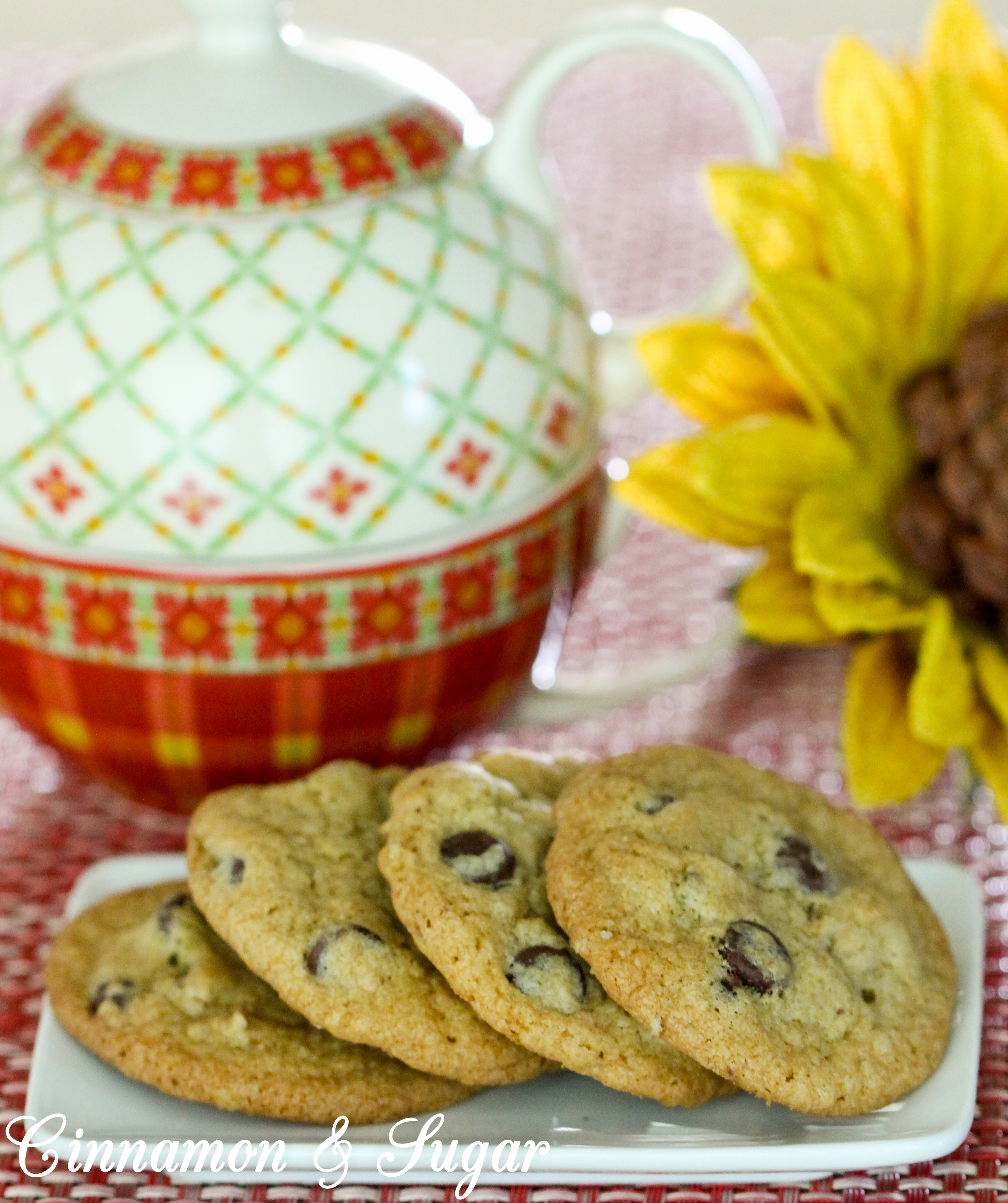 Ingredients
2-1/2 cups all-purpose flour
1 teaspoon salt
1 teaspoon baking soda
1 cup butter (2 sticks), room temperature
3/4 cup sugar
3/4 cup brown sugar, packed
1 teaspoon vanilla
2 eggs
2 cups chocolate chips
1 cup coarsely chopped pecans
Instructions
Preheat the oven to 375 degrees (F).
In a bowl, combine the flour, salt, and baking soda. Set aside.
In a large mixing bowl, cream together the butter and sugars until combined.
Add the eggs and vanilla and mix well.
Gradually stir the flour mixture into the butter and sugar mixture.
Stir in the chocolate chips and pecans.
Spoon the dough onto an ungreased cookie sheet by tablespoons.
Bake for 10 to 12 minutes, or until the edges are golden brown.

Tip

According to King Arthur Flour, refrigerating your dough for at least 30 minutes prior to baking results in a tastier cookie that browns more evenly. I tried it and it really does work!
https://cinnamonsugarandalittlebitofmurder.com/chocolate-chip-pecan-cookies/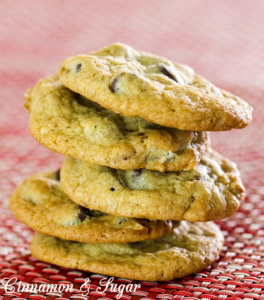 Pin to Pinterest: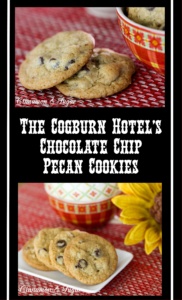 If you receive my blog post via email you will need to visit my website to view the video.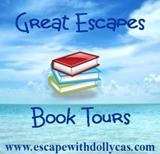 Tour Participants
October 24 – Sleuth Cafe
October 24 – Books,Dreams,Life
October 25 – View from the Birdhouse
October 25 – Bibliophile Reviews
October 26 – StoreyBook Reviews
October 26 – Grace. Gratitude. Life. by Marie McNary
October 27 – Sapphyria's Book Reviews
October 28 – Shelley's Book Case
October 28 – A Blue Million Books
October 29 – Paranormal and Romantic Suspense Reviews
October 30 – Cozy Up With Kathy
October 31 – Back Porchervations
October 31 – Readeropolis
November 1 – LibriAmoriMiei
November 1 – A Holland Reads
November 2 – Brooke Blogs
November 2 – 3 Partners in Shopping, Nana, Mommy, &, Sissy, Too!
November 3 – Texas Book-aholic
November 4 – Cinnamon, Sugar, and a Little Bit of Murder
November 4 – Varietats
November 5 – Community Bookstop
November 6 – MysteriesEtc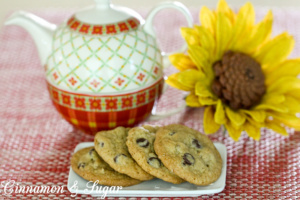 I received a copy in exchange for my honest review. All thoughts and opinions are my own.