As I've mentioned before (and will probably say it a few more times) I just love the Christmas season! When I found out that Vicki Delany was releasing her new holiday-themed book, WE WISH YOU A MURDEROUS CHRISTMAS, I was elated… Besides, don't you just love the clever play on Christmas carol titles?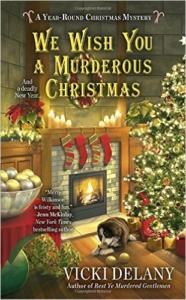 Synopsis
Merry Wilkinson owns Mrs. Claus's Treasures in Rudolph, New York. Rudolf is America's Christmas Town and the place for year-round Christmas celebrations. The town is preparing for Christmas day with lots of festivities and holiday cheer. One of the elegant places to celebrate is at the Yuletide Inn and as Merry and best friend leave the Inn after dinner, they witness the owner, Jack Olsen, suffer a massive heart attack. Merry's father, Noel, is Jack's best friend and does everything he can to help his friend. Jack survives but has a long recovery so asks his son, Gordon Olsen, to help out at the Inn. But once Gordon arrives from California he does everything he can to take control of the restaurant and Inn away from his father and step-mother.
When Gordon cuts corners and fires local vendors who supplied the restaurant and Inn with local fares, many of the townspeople are appalled. But when he brings in a budget hotel chain to discuss selling Yuletide Inn, someone is so angry they stab him to death and leave him out in the snowy garden late one night. The police set their sights on Noel, who was overheard threatening Gordon over ruining Christmas and their town. Merry likes the new detective but worries that since she is an outsider, Noel will take the blame for the killing. Merry starts asking questions trying to decipher long buried secrets that could destroy their town. Will she be able to find the grinch who stole Gordon's life and save Christmas?
My Review
The town of Rudolph will definitely get you into the Christmas spirit! I loved the sights, the sounds, the smells of holiday cheer that Vicki Delany weaves into WE WISH YOU A MURDEROUS CHRISTMAS, along with a murderous plot that kept me turning pages and guessing until the reveal. There were plenty of suspects with believable reasons why they would have wanted Gordon Olsen dead, while the subplots added dimension to a terrific story without detracting from it. The author has also created memorable characters, especially with Merry's father, Noel, who epitomizes Christmas and was born on Christmas day. By the end of this book, you'll be left with a magical feeling that just maybe Santa does exist!
While there aren't any recipes included in the book, Vicki has shared her own recipe for Molasses Spice Cookies. These delightful treats bring an incredibly delicious smell to your kitchen which will instantly put you into the holiday mood. And once you take a bite of these spiced chewy cookies, you're bound to find you have a new favorite Christmas goodie! Vicki tells me that these cookies are sturdy enough to package and ship which makes them perfect for gift-giving this holiday season. Thank you, Vicki, for sharing your recipe for Molasses Spice Cookies!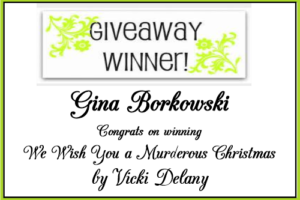 A huge thank you to Vicki Delany for providing an autographed copy of WE WISH YOU A MURDEROUS CHRISTMAS to one winner. Limited to U.S. residents only. Contest ends Thursday, November 3, 2016 at 11:59 pm PST. Please use the Rafflecopter box located below the recipe to enter. The winner will be announced on this page and on Cinnamon & Sugar's Facebook page, as well as notified by email (so check your spam folder!)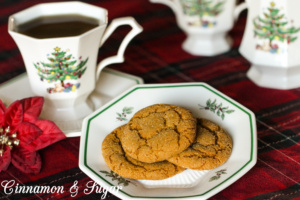 Vicki's Molasses Spice Cookies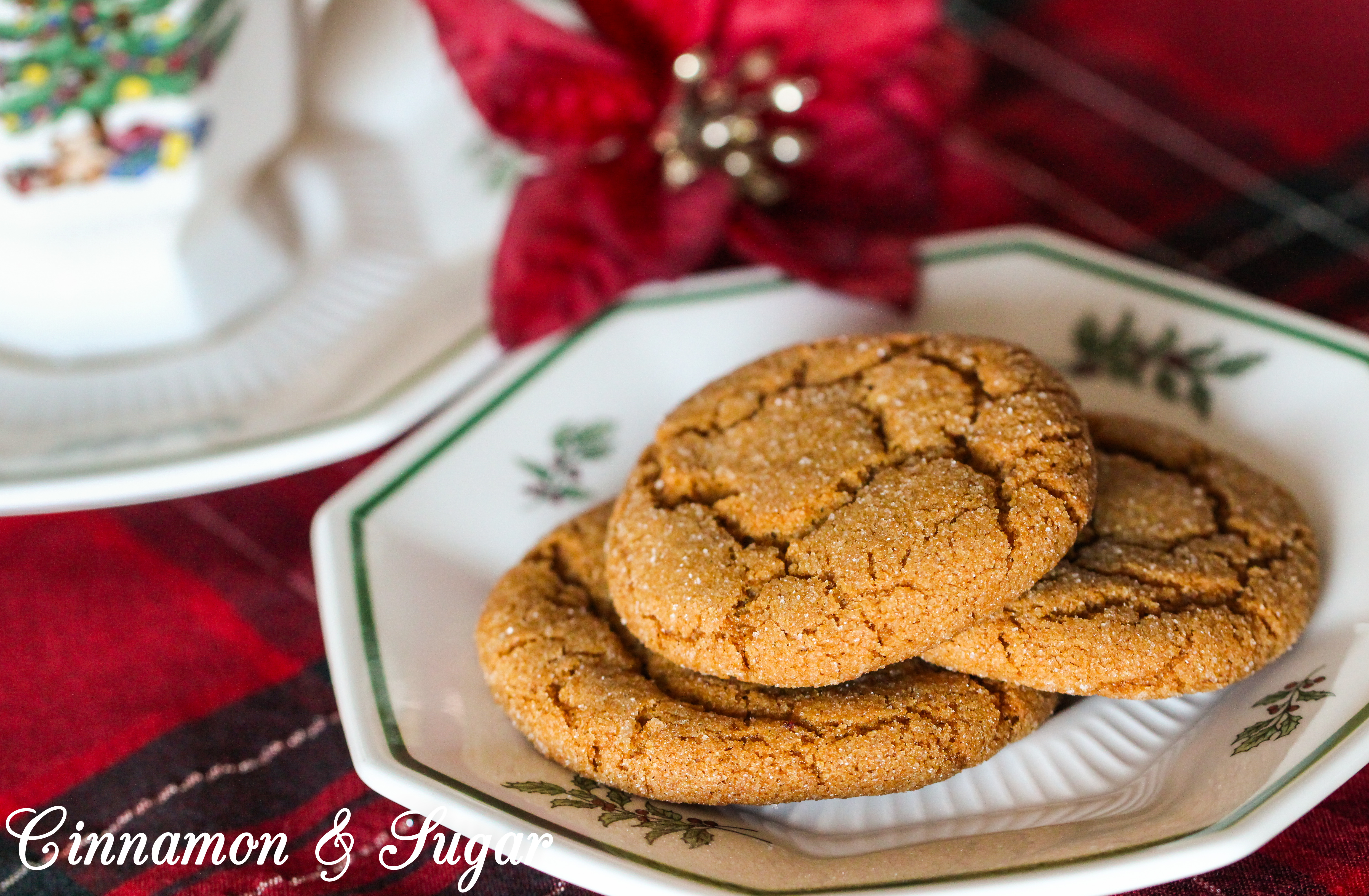 Ingredients
2 cups all-purpose flour
1-1/2 teaspoons baking soda
1 teaspoon ground cinnamon
1/2 teaspoon ground nutmeg
1/2 teaspoon salt
1-1/2 cups sugar, divided
3/4 cup (6 ounces) unsalted butter, room temperature
1 large egg
1/4 cup molasses
Instructions
Preheat oven to 350 degrees (F).
In a medium bowl, whisk together the flour, baking soda, cinnamon, nutmeg, and salt.
In a shallow bowl, place 1/2 cup sugar; set aside.
With an electric mixer, beat butter and remaining cup of sugar until combined.
Beat in egg and then molasses, until combined.
Reduce speed to low and gradually mix in dry ingredients, just until dough forms.
Pinch off and roll dough into balls, each equal to 1 tablespoon.
Roll balls in reserved sugar to coat.
Arrange cookie balls on a baking sheet, 3 inches apart.
Bake, one sheet at a time, until edges of cookies are just firm, 10 to 15 minutes.
Cool 1 minute on baking sheet then transfer to racks to cool completely.

Vicki's Tips

If you bake 2 cookie sheets at a time the cookies will not crackle uniformly.
These cookies are sturdy enough to hold up for shipping to family and friends!

Kim's Tip

I like to add 1/4 cup of finely chopped candied ginger to these cookies.
If dough seems too sticky for rolling, refrigerate for 30 minutes.
I made a gluten-free / dairy-free batch of these by substituting with King Arthur's new gluten-free flour, Measure For Measure, along with Earth Balance Vegan Buttery Sticks. They turned out amazing!
https://cinnamonsugarandalittlebitofmurder.com/molasses-spice-cookies/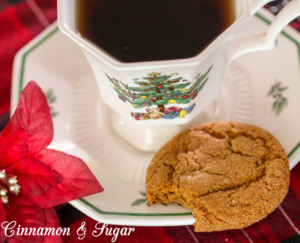 Pin to Pinterest: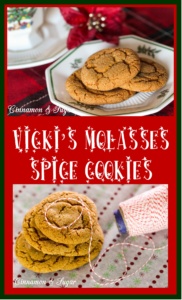 If you receive my blog post via email you will need to visit my website to view the video.
I received a copy in exchange for my honest review. All thoughts and opinions are my own.