I have been following the Oxford Tearoom Mystery series by H.Y. Hanna for some time and am impressed with her entertaining stories and classic English desserts! I was delighted that I didn't have too long of a wait in between her last book and eagerly pick up the newest release in her series, MUFFINS AND MOURNING TEA.
Synopsis
Gemma Rose, owner of Little Stables Tearoom near Oxford, has finally moved into her own tiny cottage with her darling tabby, Meuseli. Gemma is happy to be on her own except for worrying a bit that her boyfriend, CID Detective Devlin O'Connor, might be a tad upset that she chose not to live with him. But between working at her busy tearoom and preparing for May Day festivities, she doesn't have much time to worry too much. Her best friend, Cassie, talks Gemma into attending Oxford's early morning May Day celebration, like they did as students. With the crush of people on the bridge listening to the university's choir usher in the day, Gemma is horrified when the man next to her topples off the bridge and instead of swimming out of the water, floats face down.
It is soon discovered that the student was stabbed to death. Gemma is sorry for the young man and his distraught Russian girlfriend, but is glad she's not connected to this death…until her chef begs her to solve the case because her best friend, middle-aged Miriam, is the chief suspect. Miriam worked as the Scout (housekeeper) for the dead man's university room and the weapon turns out to belong to her. The four "Old Biddies" are soon dragging Gemma into the investigation even though Devlin repeatedly warns her to stay away from his case. Can Gemma survive the Krav Maga training the Old Biddies drag her to? Can she figure out why Devlin is so withdrawn or will she cave in to his wishes to not investigate? Will she be able to clear Miriam's name or will the killer walk away from the crime? And just what is Gemma going to do with all the hysterically hideous housewarming "gifts" and plants being given to her by the Old Biddies and her mother?
My Review
MUFFINS AND MOURNING TEA is even better than the last book in the series, which is saying a lot since I've loved each and everyone of H.Y. Hanna's books. She makes you feel like you're actually visiting Oxford and participating in the May Day celebrations and sipping tea at her Little Stables Tearoom. I loved the bits and pieces of history that she provides about the area and the traditions. It adds to the book without detracting from the story. Be sure to read through to the back of the book for the Glossary of British Terms, which is entertaining reading on its own.
The plot has a good flow to it with lots of interesting suspects that kept me guessing until the very end. But once again, it's the characters that have me coming back and eagerly waiting for the next installment! Without a doubt, the Old Biddies steal the scenes they are in and they create many laugh out loud moments. Adorable Meuseli is a cheeky little tabby that will win your heart. Gemma's relationship with Devlin seems to be at a turning point while her friendship with Cassie provides a sounding board. They all combine to create a story where I wish I could hang out at Little Stables Tearoom and take in the gossip and atmosphere while Gemma solves her cases!
H.Y. Hanna also provides a recipe for Classic Banoffee Pie at the back of the book. When she asked me to test the recipe I'll have to admit that while I had heard of this dessert I had never tried it or even seen a recipe. Thank goodness for Wikipedia and Pinterest 🙂 According to Wikipedia, "credit for the pie's invention is claimed by Nigel Mackenzie and Ian Dowding, the owner and chef respectively of The Hungry Monk Restaurant in Jevington, East Sussex in 1971." They combined the the words banana and toffee to create Banoffee which is amazingly rich and decadent! The pie isn't difficult to make but the results are quite elegant and I think I just about licked the plate clean! In fact, the toffee sauce is so easy I'll be making it for ice cream sundaes instead of purchasing the jarred caramel sauce. Thank you, H.Y., for allowing me to share your delicious recipe!
A huge thank you to H.Y. Hanna for providing winner's choice of print or an e-book copy of MUFFINS AND MOURNING TEA to one winner. Since the author is traveling internationally, I've extended the contest for a few extra days and it will end Friday, November 4, 2016 at 11:59 pm PST. Please use the Rafflecopter box located below the recipe to enter. The winner will be announced on this page and on Cinnamon & Sugar's Facebook page, as well as notified by email (so check your spam folder!)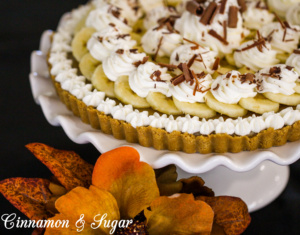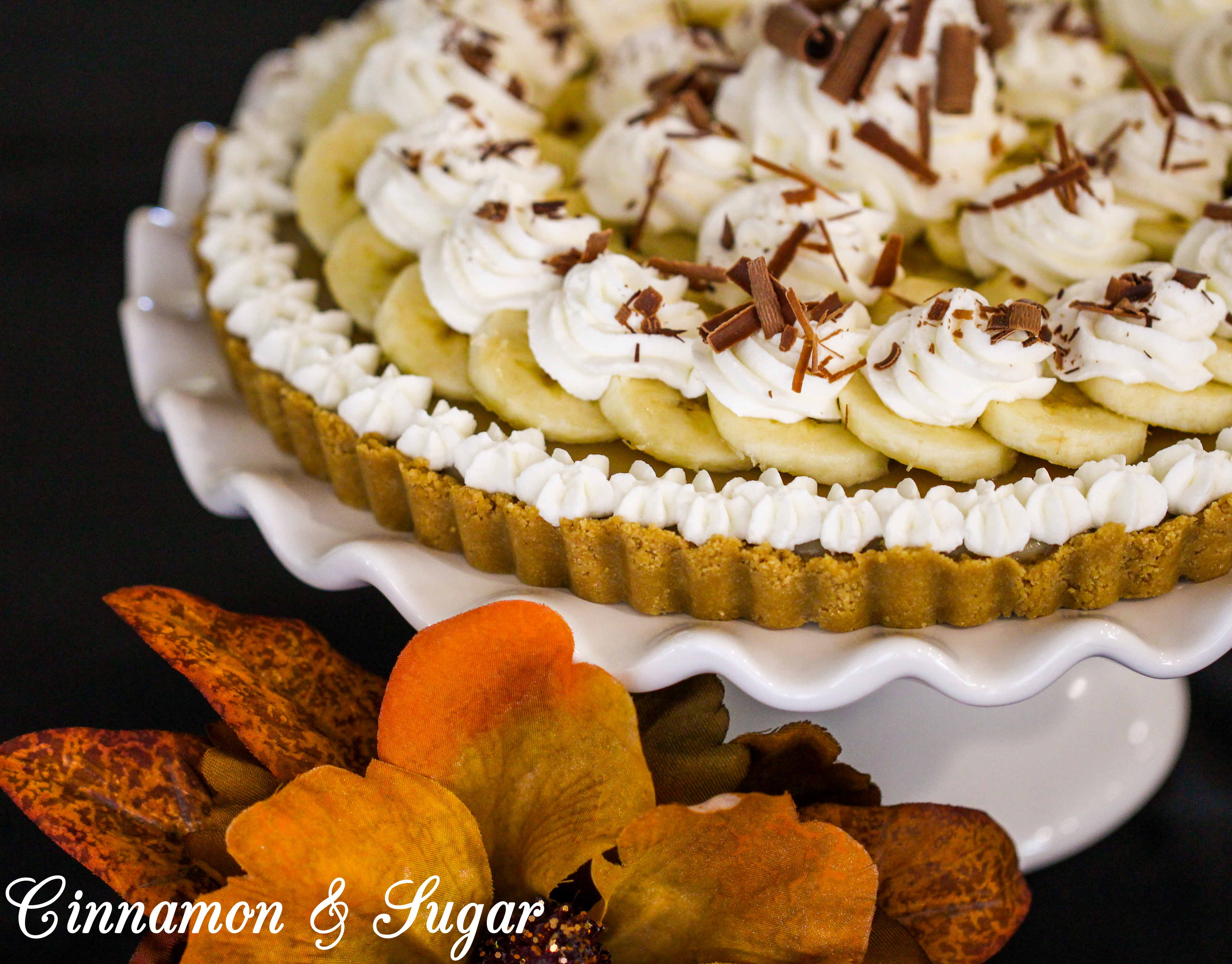 Ingredients
Crust

100g butter, melted (7 tablespoons)
250g digestive biscuits (2-1/4 cups graham cracker crumbs in the U.S. can be substituted. Gluten-free graham crackers can also be used.)

Filling

1 tin of sweetened condensed milk (14 ounces) eg. Nestlé Carnation or Eagle Brand
100g butter, melted (7 tablespoons)
100g dark brown soft sugar (1/3 cup plus 2 tablespoons)
3 tablespoons water

Topping

300ml whipping cream (1-1/4 cups)
4 small bananas (this can be increased or decreased according to taste)
Grated chocolate
Approximately 9 or 10 inch loose-bottomed cake or tart tin, greased
Instructions
Crumble the digestive biscuits (or graham crackers) in a food processor until they become fine crumbs.
Pour in the melted butter and combine well, until the crumbs stick together when pressed.
Press the crumbs into the bottom and sides of your cake tin. This is the base of the pie.
Chill in the refrigerator for at least 10 minutes.
Melt the dark brown sugar and 3 tablespoons of water in a non-stick pan, over a low heat, stirring continuously until the sugar has completely dissolved.
Add the remaining butter and condensed milk and bring to rapid boil, for at least 1 minute. Stir continuously until the mixture forms a thick, golden toffee sauce. (This step is important for creating a delicious, thick caramel / toffee)
Remove the toffee sauce from the heat and spread most of it over the pie base (reserve a small amount to keep at room temperature for drizzling over the pie at the end).
Refrigerate for at least an hour – until the toffee is semi-firm. (It can be kept in the fridge until ready to serve)
Beat the whipping cream using an electric mixer, until it is very thick and forms soft peaks.
Carefully remove the pie base from the cake tin and place it on a serving plate.
Slice the bananas thinly. Arrange them on top of the toffee sauce in the pie, followed by a layer of the whipped cream (alternatively, you can fold them gently into the soft whipped cream, then spoon the mixture over the toffee sauce). Keep a few slices back for decoration on top.
Decorate the top of the pie with the last few slices of banana and sprinkle with grated chocolate. You can also drizzle some more toffee sauce on top (you may need to rewarm it slightly if it has thickened too much to drizzle)
Serve immediately and refrigerate any leftovers.

Tips

Thoroughly chill the mixing bowl and beaters before whipping the cream.
Use a vegetable peeler to make chocolate curls. Drag the peeler across the edge of a chocolate bar.
If you are going to serve this several hours after making, be aware that the whipped cream may deflate. To prolong the life of the whipped cream, add 1/4 cup granulated sugar and 1/4 cup confectioners' sugar after soft peaks form when whipping the cream. Continue to whip the cream until stiff peaks form. Add the whipped cream to the pie as desired, either spooned or piped on using a decorative tip. Be sure to refrigerate Banoffee Pie until serving time.
https://cinnamonsugarandalittlebitofmurder.com/banoffee-pie/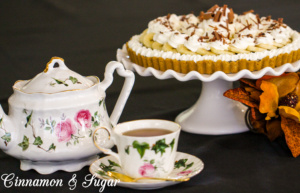 Pin to Pinterest: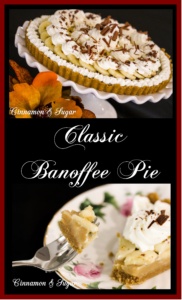 If you receive my blog post via email you will need to visit my website to view the video.