One of the nice things about finding a series I really enjoy is when a new book is released it's like receiving a platter of cookies…I can't wait to try them and then I want to savor the enjoyment. Such is the case with the Cookies and Chance Mystery series by Catherine Bruns. Her newest release, BURNED TO A CRISP, had me ready to pour a glass of milk and sample Sally's baked goods while turning pages!
Synopsis
Sally Muccio owns Sally's Samples, a cookie bakery. Business is good even if she's sorry she started the tradition of giving away a free fortune cookie with each order. Somehow the fortunes come eerily close to becoming reality and Sal would rather not have them around, especially with her wedding to Mike Donovan right around the corner. However, her grandmother's best friend demands Sally keep serving them so she gives in and almost immediately regrets it.
Her mother throws the bridal couple a party and one of her sister's clients shows up. Gianna is a public defender so the client, mobster Bernardo Napoli, isn't someone Sally is happy to see her sister leave with. Later that evening Sally's bakeshop goes up in flames and Bernardo is found inside, murdered…with Gianna no where to be found. The police treat Gianna as the prime murder suspect and with her disappearance things don't look good. On top of that, Bernardo's unsavory family think Gianna stole from them and want to find her too. Can Sally find her missing sister and clear her name or will the mob find her first? Will Sally be able to reopen her bakery or will this be the end of Sally's Samples? And will Sally's mom be able to pull off a win in a bikini contest?
My Review
Oh my goodness…what a fun read! The mystery is everything you could want in a good book with twists and turns, and plenty of red herrings to keep you guessing. But it's the characters that keep me coming back for more! Sally seems like an average gal who is finally over her cheating ex-husband and is ready to move on with fiancé Mike Donovan. She still has the scars from her miserable first marriage that make her feel insecure but she's willing to give love a chance. However, it's Sally's family and friends surrounding her that push and pull Sally out of the "average" zone which makes the Cookies and Chance Mystery series such a fun read.
Her parents are perpetually embarrassing Sally and her sister. Her father wants to open a mortuary in his home while her mother (who acts and looks like a teen) prances around in bikinis while preparing for a beauty contest. Neither of her parents are good for her cookie business, but what's a girl to do? Her best friend and baker, Josie, is sassy with a sarcastic edge and challenges Sally to step out of her comfort zone. Her Grandma Rosa is the stability to the family and has the very cute idiosyncrasy of mixing up words for everyday cliché sayings. Even with the quirkiness of the characters, there is still a fundamental close and caring bond between them which has helped create Sally's compassionate personality. I think that's what strikes me with this series, no matter what shenanigans are going on Sally is very tenderhearted person which adds depth to the story.
Of course a book about a cookie bakery must have cookie recipes. Catherine has graciously allowed me to share her recipe for her very delicious Oatmeal Crème Pie Cookies. Creamy marshmallow filling is sandwiched between two soft and chewy oatmeal cookies that are lightly scented with cinnamon. These cookies are reminiscent of Little Debbie's (remember those?) but Catherine's cookies are so much yummier!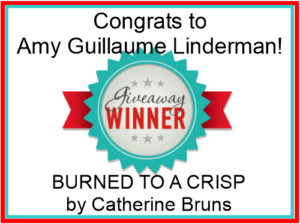 A huge thank you to Catherine Bruns for providing winner's choice of print or an e-book copy of BURNED TO A CRISP to one winner. Print limited to U.S. residents only. Contest ends Thursday, October 27, 2016 at 11:59 pm PST. Please use the Rafflecopter box located below the recipe to enter. The winner will be announced on this page and on Cinnamon & Sugar's Facebook page, as well as notified by email (so check your spam folder!)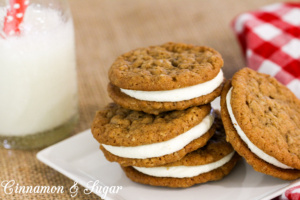 Oatmeal Crème Pie Cookies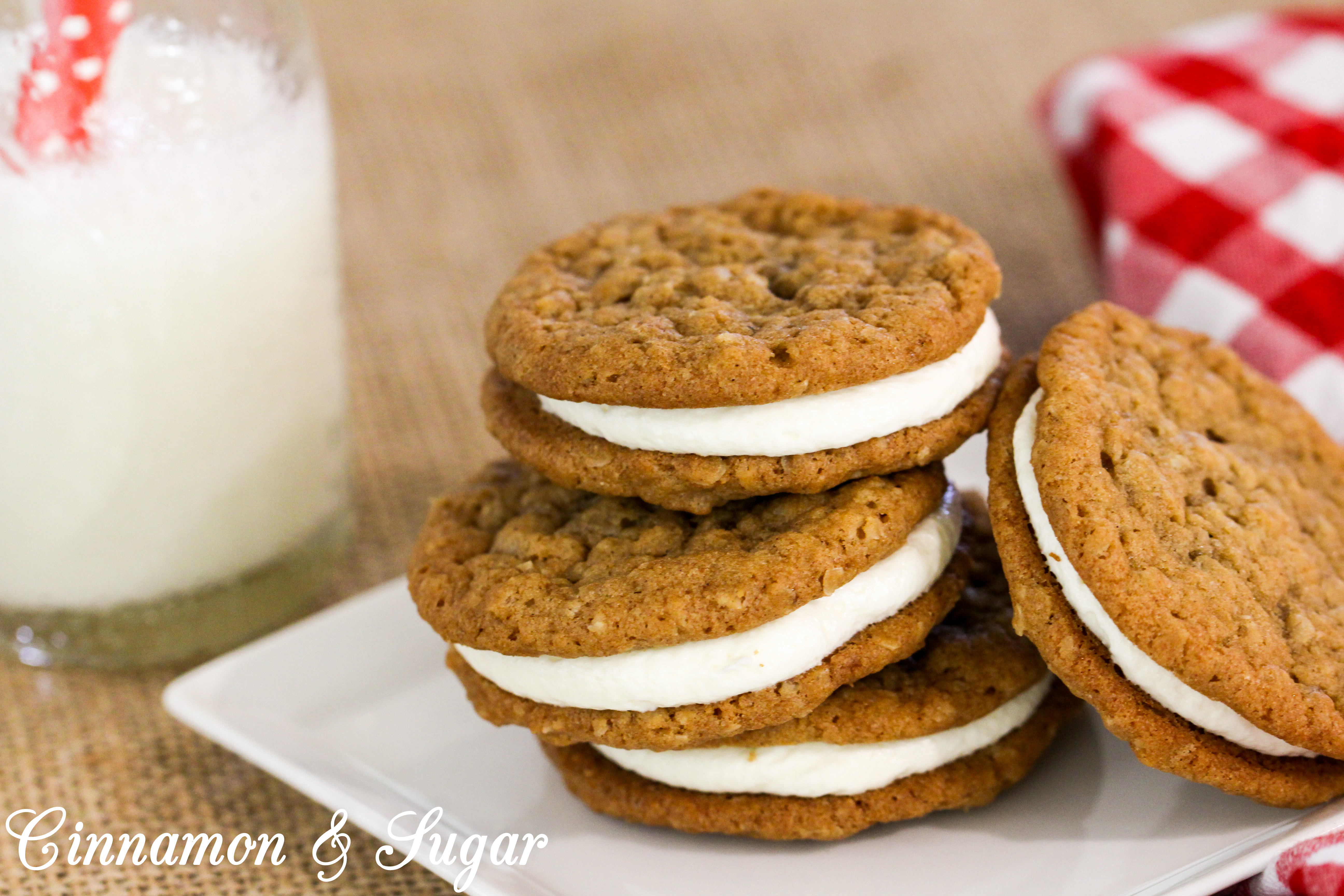 Ingredients
Cookies

1 cup butter-flavored Crisco or margarine
3/4 cup brown sugar
1/2 cup granulated sugar
1 tablespoon molasses
1-1/2 teaspoons vanilla extract
2 eggs
1-1/2 cups flour
1/2 teaspoon salt
1 teaspoon baking soda
1/2 teaspoon cinnamon
1-1/2 cups quick oats

Filling

2 teaspoons very hot water
1/4 teaspoon salt
7-ounce jar marshmallow fluff
3/4 cup butter-flavored Crisco
2/3 cup powdered sugar
1-1/2 teaspoons vanilla
Instructions
Cookies

Preheat oven to 350 degrees (F).
In a large bowl, beat margarine or Crisco, brown sugar, granulated sugar, molasses, and vanilla.
Mix well and then add eggs, one at a time, beating until light and fluffy.
In a separate bowl, mix together flour, salt, baking soda, and cinnamon.
Add the flour mixture to the sugar mixture.
Add in the oats and mix until blended.
Drop by tablespoonful onto parchment-lined baking sheet or non-greased stoneware.
Bake sure the cookies are at least 2 inches apart for them to spread out. Cookies will flatten.
Bake 8 - 10 minutes or just until starting to brown around the edges. Do not overcook.
Cool on baking sheet for 5 minutes then transfer to a cooling rack to cool completely before filling.

Filling

Combine hot water with salt and mix until the salt is dissolved.
In a large bowl, beat the marshmallow fluff with Crisco, powdered sugar, and vanilla.
Beat on high until fluffy.
Add the salt water and mix until well combined.
Spread filling onto one cookie and press second cookie on top....ready to eat immediately!
Makes 3 dozen oatmeal cookies or 18 cream pies.
Store leftovers in an airtight container.

Tips

If filling seems too soft add additional powdered sugar, 1 tablespoon at a time, until desired consistency is reached.
These are the perfect soft oatmeal cookies to use for ice cream sandwiches too!
https://cinnamonsugarandalittlebitofmurder.com/oatmeal-creme-pie-cookies/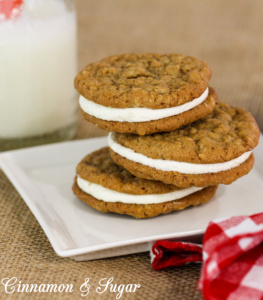 Pin to Pinterest: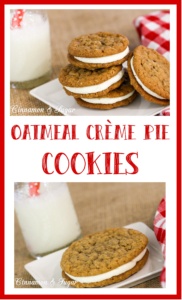 If you receive my blog post via email you will need to visit my website to view the video.
I received a copy in exchange for my honest review. All thoughts and opinions are my own.