One of the many things I enjoy about Kathi Daley's Zoe Donovan Mystery series is her use of holidays to center the story around. I was happy to catch back up with Zak and Zoe in COSTUME CATASTROPHE, just in time for Halloween!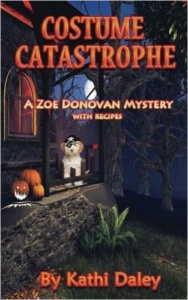 Synopsis
Ashton Falls is preparing for their annual Haunted Hamlet festival and Zoe is in the middle of it, determined to create an amazing haunted house this year. The past couple of years, tragedy had struck and the haunted house could never open. Zoe is also trying to help her best friend, Ellie, shop for a costume but that isn't going well either. Emotions are high and Ellie is hiding a huge secret that is burdening her down.
The night before Zoe is supposed to start decorating the haunted house, she receives an anonymous message predicting a death. Shaken, she tries to convince herself it's a prank and moves forward with the haunted house plans. But when Zoe and Zach show up at the creepy house in the woods to meet some of their friends, they find one of them dead, shot to death. After a second cryptic message is received, Zoe feels pressure to find the killer before they strike again. Zoe must figure out who is leaving her the messages and why her friends are being targeted. Can she untangle the sticky web of clues before it's too late?
My Review
COSTUME CATASTROPHE is a fun story with good Halloween ambiance, great characters, and some unexpected twists in the plot! If you haven't read any of this series you're in for a treat as this book is easily read as a standalone. The author provides just enough information so you can understand their background but not so much that it confuses the story. If you have followed Zoe and Zak through the series then you will appreciate what wonderful characters they are! One of the things that stands out to me is that Zoe and Zak are simply very nice people. They're the kind of people you'd want to have as your friends…other than a murder always taking place around them 🙂 Their kindness to each other and to others who need rescuing, be they human or animal, is inspiring.
The story has a nice flow with plenty of suspects that kept me guessing until the reveal. The subplots added to the pace of the book and kept me turning pages. I love the small town setting of Ashton Falls, which is based on Lake Tahoe. Kathi's descriptions have me wanting to plan a trip for a long overdue visit! And then there are the recipes…Kathi provides some of her own and offers her readers a chance to contribute recipes. She has included numerous autumn inspired dishes in this book and I'm pleased to share the recipe for Pumpkin Rolls submitted by Nancy Farris. Using refrigerated crescent rolls as the crust, no-fuss pumpkin cheesecake style batter is poured on top, then sandwiched with another layer of crescent rolls before being topped with butter, cinnamon, and sugar. Baking creates a crunchy, flaky topping which is the perfect accompaniment to the luscious creamy filling. Yum!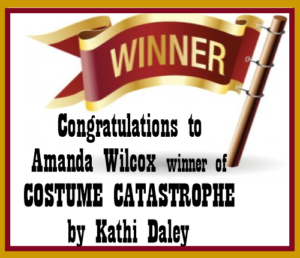 A huge thank you to Kathi Daley for providing winner's choice of print or an e-book copy of COSTUME CATASTROPHE to one winner. Print limited to U.S. residents only. Contest ends Monday, October 24, 2016 at 11:59 pm PST. Please use the Rafflecopter box located below the recipe to enter. Winner will be announced on this page and on Cinnamon & Sugar's Facebook page, as well as notified by email (so check your spam folder!)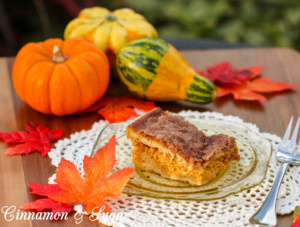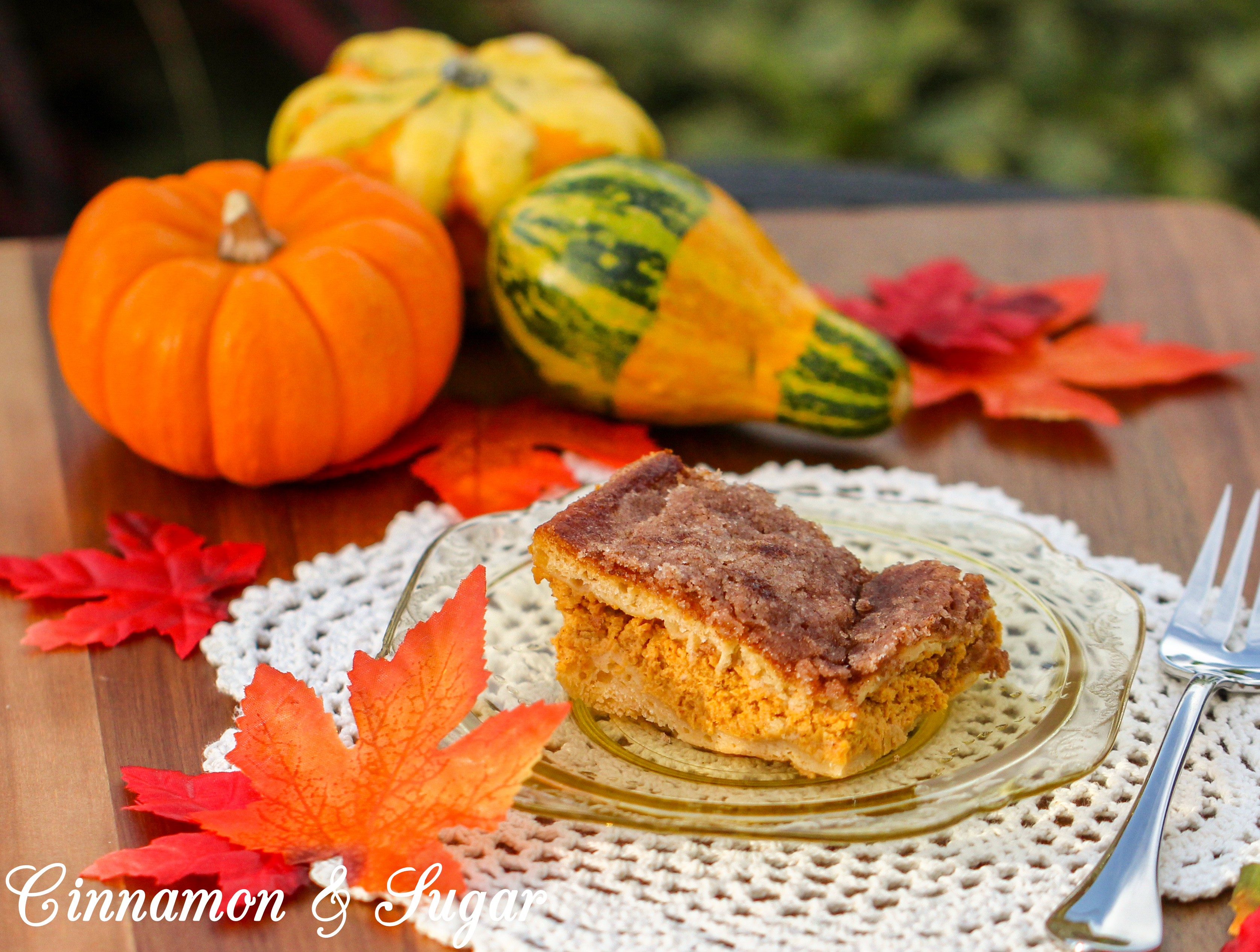 Ingredients
1 8-ounce package refrigerated crescent rolls
1 8-ounce package cream cheese, softened
1 cup pumpkin puree (not pumpkin pie filling)
1/2 cup sugar
1 teaspoon vanilla
1 teaspoon pumpkin pie spice

Topping

1/4 cup butter
1/4 cup cinnamon sugar (1/4 cup sugar mixed with 1 teaspoon cinnamon)
Instructions
Preheat oven to 350 degrees (F).
Unroll crescent rolls and put half in the bottom of an 8x8-inch pan. Flatten and press any seams together.
Mix together the cream cheese, pumpkin, 1/2 cup sugar, vanilla, and pumpkin pie spice either by hand or with a hand-held mixer.
Spread over the crescent rolls.
Place the remaining half of the crescent rolls on top of the cream cheese mixture.
Melt the butter and pour over the top of the crescent rolls.
Sprinkle with the cinnamon sugar mixture.
Bake at 350 degrees for 30 minutes.
Allow to cool before slicing and serving.
Refrigerate leftovers.
https://cinnamonsugarandalittlebitofmurder.com/pumpkin-rolls/
Pin to Pinterest: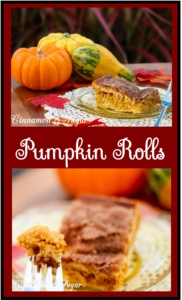 If you receive my blog post via email you will need to visit my website to view the video.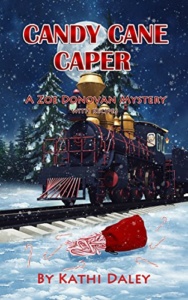 Be sure to check out Kathi Daley's brand new Zoe Donovan Cozy Mystery, CANDY CANE CAPER!
In Candy Cane Caper things go from crazy to insane in the Zimmerman household when Scooter's dad comes to town, Zoe tries to find the perfect gift for Zak while helping out with Hometown Christmas, and Levi finds the body of bakeshop owner Candy Kane dead in the pantry.
It's funny, it's family, it's a Zak and Zoe Christmas mystery.
The twenty-second installment in the Zoe Donovan Story is broken into two parts. Part one is a full length cozy mystery titled Candy Cane Caper. Part two is a free reprint of the novella Zimmerman Academy New Beginnings which is no longer in print.