Even though I over-schedule and drive myself crazy the last month of the year (much to my husband's distress), Christmas is by far my favorite holiday! Sharing food, decorations, desserts, and especially cookies, with friends and family are what makes the season so memorable. I was beyond delighted to have the chance to read EGGNOG MURDER, three short Christmas cozy mysteries written by authors Barbara Ross, Lee Hollis, and Leslie Meier, and get into the holiday spirit early!
Synopsis
(From Amazon)
With the fireplace crackling, the tree twinkling, and the carols humming, few things in life are as picture perfect as Christmas in Maine—until murder dampens the holiday spirit. It must be something in the eggnog . . .

EGGNOG MURDER by LESLIE MEIER
When a gift-wrapped bottle of eggnog—allegedly from the Real Beard Santa Club—proves to be a killer concoction for a Tinker's Cove local, all Lucy Stone wants for Christmas is to find the murdering mixologist who's stirring up trouble.

DEATH BY EGGNOG by LEE HOLLIS
Food and cocktails columnist Hayley Powell has never cared much for Bar Harbor's grouchy town librarian, Agatha Farnsworth. But after the Scroogy senior has a fatal—and suspicious—allergic reaction to supposedly non-dairy eggnog, it's up to Hayley to ladle out some justice.
NOGGED OFF by BARBARA ROSS
Julia Snowden's tenant Imogen Geinkes seems to be jinxed. First, her poorly named "Killer Eggnog" gives all her co-workers food poisoning at the holiday party, then her boyfriend's body shows up in Julia's moving truck as she's headed back to Busman's Harbor. Now Julia has to get moving to catch the cold-hearted culprit.
My Review
I am most familiar with the Maine Clambake Mystery series written by Barbara Ross but have read a book or two, long ago, by both Lee Hollis and Leslie Meier. (I'll admit I have several more of their books in my very large to read pile…one of these days soon…) All three authors have used their long-running series as the setting for each of the Christmas short mysteries. Even if you haven't read any of their series before, the authors have expertly written their story to make you feel comfortable with the characters and you'll want to know more about each of them after you've finished the last page!
One of the many things I enjoyed in this book was that the protagonists, Lucy Stone in EGGNOG MURDER by Leslie Meier and Hayley Powell in DEATH BY EGGNOG by Lee Hollis, are more "mature" women. Lucy is a grandmother already and Hayley is the single mom of grown children. Maybe because I'm at that, ahem, age, it's refreshing to see such vibrant women portrayed who are willing to seek justice for others. Don't get me wrong, Julia Snowden from NOGGED OFF by Barbara Ross, is a wonderful protagonist too! I've enjoyed following her story over Barbara's four books (and soon to be five!) since the author has created a young woman who grows and develops with each book. It's been exciting to see each new adventure Julia finds herself in 🙂
I also loved how each of the authors incorporated the theme of eggnog as the part of the murder, but in unique and creative ways. Who would have thought an iconic holiday drink could create such mayhem! Each of the well developed mystery plots, while short, still held my interest since none of them felt rushed and have plenty of suspects to keep you guessing. EGGNOG MURDER is the perfect book for pouring a cup of cheer, snuggling up in front of a roaring fire, and celebrating the spirit of Christmas!
Of course with both Christmas and eggnog as the theme of the 3 stories, numerous delightful holiday recipes are included such as drinks, appetizer and desserts! Thank you to the authors for allowing me to share the recipe for Missy's Eggnog Cookies from DEATH BY EGGNOG by Lee Hollis. With the Christmas season often frantic at times, this recipe is the perfect choice since it is not time consuming and is so easy that a beginning cook will be able to make them! Even though this is an almost effortless recipe, the cookies are still a yummy treat and perfect for sharing with family and friends. My 11-year-old granddaughter, Emory, made them for me with minimal input on my part. I have a feeling Missy's Eggnog Cookies will be what Santa finds under the tree for him this year at her house!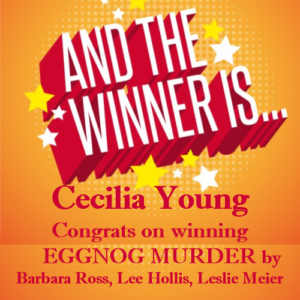 A huge thank you to Barbara Ross for providing a hardcover copy of EGGNOG MURDER to one winner. Limited to U.S. residents only. Contest ends Sunday, October 23, 2016 at 11:59 pm PST. Please use the Rafflecopter box located below the recipe to enter. Winner will be announced on this page and on Cinnamon & Sugar's Facebook page, as well as notified by email (so check your spam folder!)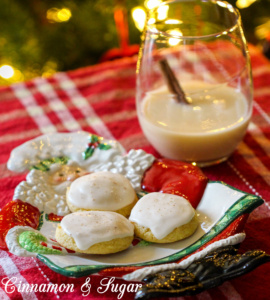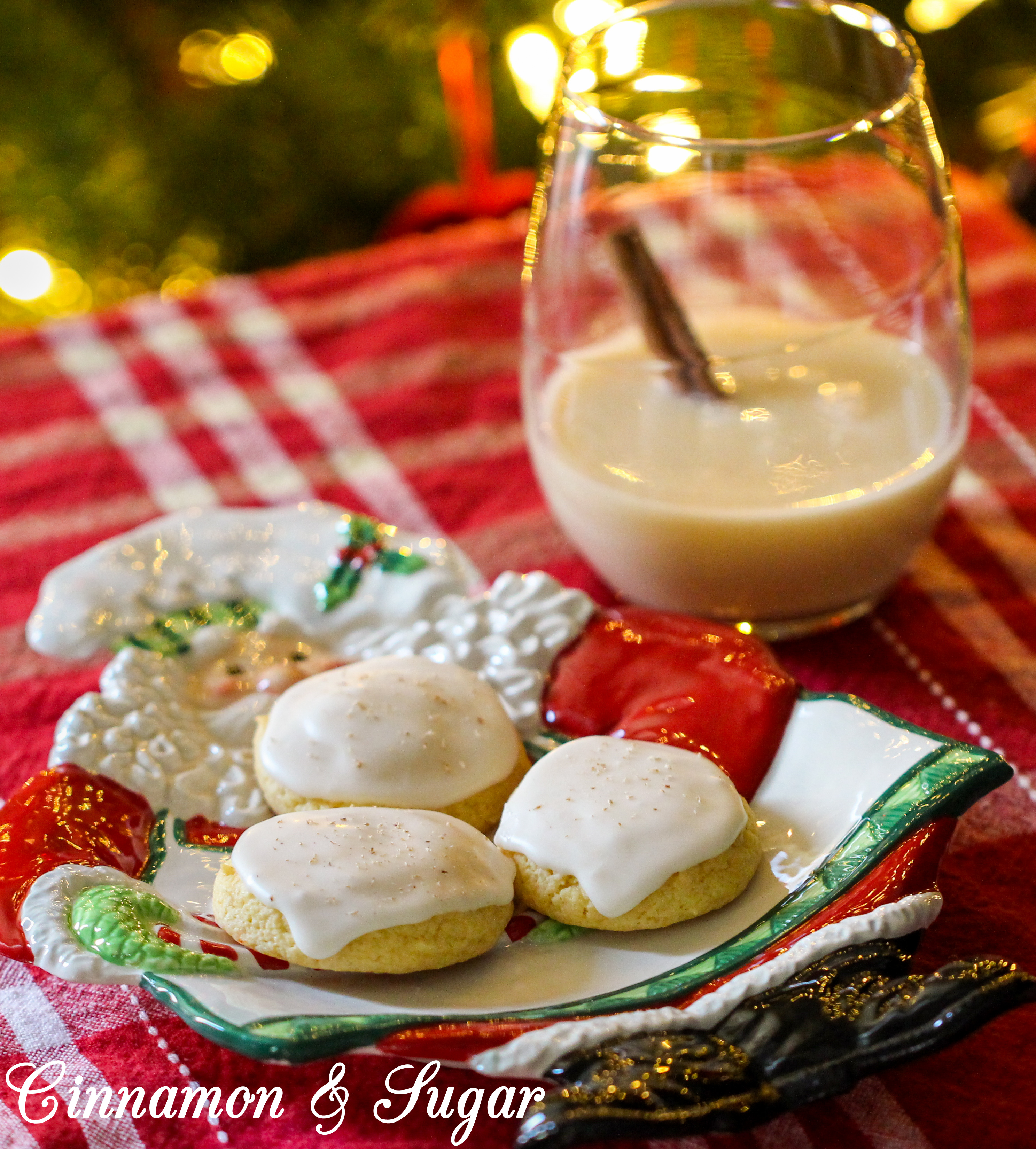 Ingredients
Cookies

2 cups yellow cake mix
6 tablespoons melted unsalted butter
2 large egg yolks
2 tablespoons eggnog
1/2 teaspoon ground nutmeg (fresh is best!)

Frosting

2/3 cup powdered sugar
2 to 3 tablespoons eggnog
Ground nutmeg for sprinkling
Instructions
Cookies

Preheat oven to 350 degrees (F).
In a bowl, mix all of your ingredients together until blended. Do not overmix.
Divide your dough into six balls and place on a baking sheet lined with parchment paper.**
Bake in a preheated oven at 350 degrees for 9 - 10 minutes.
Remove from oven and cool for 2 minutes then place on a wire cooling rack and cool completely.
When cooled you can frost them.

Frosting

In a bowl, whisk powdered sugar and eggnog together until you have a frosting consistency. You can use more powdered sugar and eggnog to achieve this.
Frost your cooled cookies and sprinkle with a bit of nutmeg.
Serve and enjoy!

Tip

If the dough is too sticky to form into balls, stir in additional cake mix 1 tablespoon at a time until dough can be handled.
**You can also form into smaller cookies but decrease the baking time by a minute or two.
https://cinnamonsugarandalittlebitofmurder.com/eggnog-cookies/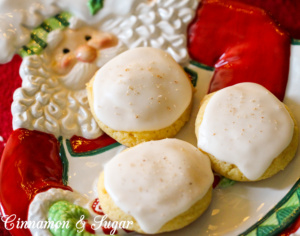 EGGNOG MURDER contains a recipe for eggnog but in the meantime, if you want to make these cookies and need only a small amount, here is my own recipe. I've made eggnog for numerous years when eggnog is out of season at the grocery stores. I've scaled the recipe down so there won't be a huge amount left over after making this recipe.
Homemade Eggnog
Ingredients
1 egg
Pinch of salt
2-1/2 tablespoons sugar
1/3 cup whole milk
1/3 cup heavy cream
1/4 teaspoon vanilla
Dash of fresh grated nutmeg
Instructions
In a heavy pot, whisk together sugar, salt, egg, vanilla and nutmeg.
In a microwave safe container, heat the whole milk in the microwave until very warm (I use the beverage button on my microwave.)
Once heated, whisk the milk very slowly into egg mixture.
Place over low heat and stir constantly until mixture reaches 160 degrees. (If you don't have a thermometer, mixture will be thick enough to coat the back of a metal spoon with a thin film. However, for safety, a thermometer is a must.)
Remove mixture from heat upon reaching 160 degrees and add heavy cream and the grated nutmeg. Stir to combine.
Use a fine mesh strainer and strain eggnog before chilling.
Eggnog should be consumed within 3 days.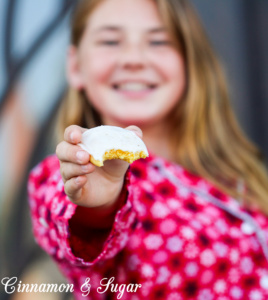 Pin to Pinterest: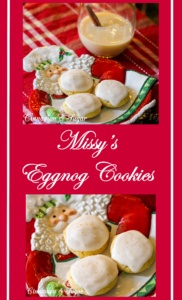 If you receive my blog post via email you will need to visit my website to view the video.
I received a copy in exchange for my honest review. All thoughts and opinions are my own.