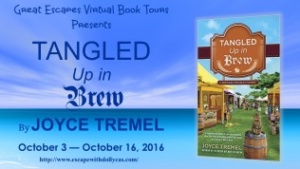 I am very happy to be a part of the Great Escapes Virtual Book Tour for Joyce Tremel's new release, TANGLED UP IN BREW! This second book in her Brewing Trouble Mystery series is the first one I've read, although I have had the first book on my Kindle for many months now…waiting for a spare moment to read it. After devouring TANGLED UP IN BREW for the blog tour I will certainly be moving TO BREW OR NOT TO BREW to the front of my reading list!
Synopsis
Maxine "Max" O'Hara owns Allegheny Brew House in the Lawrenceville neighborhood of Pittsburgh. Her boyfriend, Jake, is also her chef and together they are competing at the Three Rivers Brews and Burgers Festival. They have high hopes for winning the competitions until food critic, Reginald Mobley, is asked to fill in as a judge at the last moment. Reginald is notorious for dishing out devastating restaurant reviews which has ruined the reputation of several establishments. True to form, Reginald hates the beers Max has offered up for the competition, spits them out, and then makes an inappropriate sexist remark towards Max. Jake comes to Max's defense and gets into a nasty altercation with Reginald, witnessed by many people.
When it comes time for the judges to taste the burgers offered at the competition, Max and Jake expect the worst from Reginald. But instead of nasty comments coming from the critic after taking a bite of Jake's burger, Reginald drops dead. The police quickly rule he was poisoned and the new detective on the case is certain Jake is the murderer with help from Max. Determined to not take the blame for the crime, Max starts asking questions and digging around Reginald's past. She learns that numerous other brewers, restaurateurs, and an ex-wife had good reasons for wanting the man dead. Can she sift through the clues to save her reputation and clear Jake's name? Or will a cowardly killer get away murder?
My Review
There are so many facets to love about TANGLED UP IN BREW! First off is the murder mystery itself: the story has a well developed plot with subplots that twists and turns but ultimately ties back up together at the end. The murdered man had made a lot of enemies which provides plenty of suspects that kept me guessing and turning pages, while the reveal came as a surprise. Max and Jake are great partners, complimenting each other, and it is refreshing to see their positive relationship. The characters surrounding Max are personable and I especially like Candy, the sports-loving senior who seems to know everyone and everything. Candy adds a bit of humor to the pages.
I adored the setting of Max's brewpub and the festival. Not only did the descriptions of all the craft beers and food served have me salivating, but the author also provided plenty of information about what goes in to brewing beer. I was completely fascinated by the process and while I realize she couldn't go into great detail without detracting from the story, she provided the right balance to whet my curiosity and make me want to visit a brewery for a tour…and tastings, of course. Joyce adds several recipes at the back of the book and has graciously allowed me to share her recipe for Caramel Pecan Brownies! Rich, moist, and oh so decadent, I loved how she bakes them in a mini muffin tin for easy portion control and for serving, which is great for any gathering. After baking these delightful brownies, an easy caramel sauce is spooned on top and sprinkled with crunchy, buttery pecans. Heavenly!
And the winner of a print copy of TANGLED UP IN BREW chosen from the comments left is: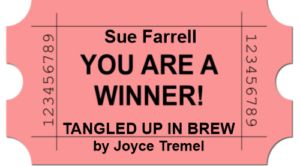 Please view the Rafflecopter below to see the winners chosen through the Great Escapes Virtual Book Tours.
A very special thank you to Joyce Tremel for providing 3 print copies of TANGLED UP IN BREW! This giveaway is facilitated by Great Escapes Virtual Book Tours and you can use the Rafflecopter box located below the recipe to enter. Contest ends October 17, 2016 and is limited to U.S. residents only. Winners will be announced on this page and on Great Escapes Virtual Book Tours site, as well as notified by email (so check your spam folder).
Thanks to the publisher, I am also happy to provide 1 print copy to a random winner chosen from comments left on this blog post. I will announce a winner via email, my Cinnamon & Sugar Facebook page, and on this page on Monday, October 17, 2016. Limited to U.S. residents only.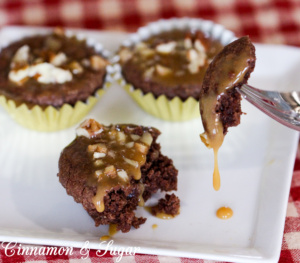 Ingredients
Brownies

1 cup butter
1 12-ounce package semisweet chocolate chips
1-1/3 cups sugar
2 teaspoons vanilla
4 large eggs
1 cup flour

Caramel Topping

25 pieces chewy soft caramel candies, unwrapped
1 tablespoon water
1 teaspoon vanilla
Chopped pecans (enough to sprinkle over tops of brownies)
Instructions
Brownies

Preheat oven to 350 degrees.
Line a cookie sheet or mini-muffin pan with approximately 48 foil cups (2-inch size).
Melt butter in large saucepan.
Add chocolate chips and stir until melted.
Remove from heat and add sugar and vanilla and mix thoroughly.
Add eggs, one at a time, stirring thoroughly after each one. Stir very quickly after adding each egg so the residual heat from the batter doesn't have a chance to start cooking the eggs.
Stir in flour gradually until mixed well.
Fill cups to approximately 3/4 full.
Bake for 25 minutes. Do not overbake.

Caramel Topping

Melt caramels and water in saucepan over low heat, stirring occasionally.
Remove from heat and stir in vanilla.
Drizzle caramel over cooled brownies and sprinkle with chopped pecans.

Tips

When the caramel gets too stiff to drizzle or spread, return to low heat and add 1/4 to 1/2 teaspoon water. Stir to incorporate while gently heating. Repeat as necessary.
Don't be tempted to melt the caramels in the microwave. The microwave creates hotspots resulting in a sauce that will burn very easily.
Next time I make these I will replace the water in the caramel sauce with bourbon for a grownup treat! Bourbon and pecans have a natural affinity for each other.
Add a sprinkle of sea salt after drizzling the caramel for added flavor and texture! (Thanks Celia Fowler for the suggestion!)
https://cinnamonsugarandalittlebitofmurder.com/caramel-pecan-brownies/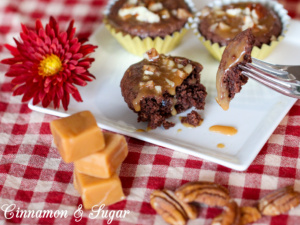 Pin to Pinterest: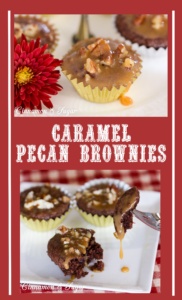 If you receive my blog post via email you will need to visit my website to view the video.
Tour Participants
October 3 – A Date with a Book
October 3 – The Girl with Book Lungs
October 4 – Shelley's Book Case
October 4 – Island Confidential
October 5 – Grace. Gratitude. Life. by Marie McNary
October 6 – Melina's Book Blog
October 7 – fuonlyknew
October 7 – Queen of All She Reads
October 8 – A Holland Reads
October 8 – LibriAmoriMiei
October 9 – Mystery Playground
October 10 – 3 Partners in Shopping, Nana, &, Sissy, Too!
October 11 – Texas Book-aholic
October 12 – Cassidy Salem Reads & Writes
October 13 – Bibliophile Reviews
October 13 – Author Annette Drake's blog
October 14 – Cinnamon, Sugar, and a Little Bit of Murder
October 14 – Cozy Up With Kathy
October 15 – MysteriesEtc
October 16 – Brooke Blogs
October 16 – StoreyBook Reviews
I received a copy in exchange for my honest review. All thoughts and opinions are my own.