With Halloween right around the corner I was excited to find out that BEHIND CHOCOLATE BARS, the brand new release by Kathy Aarons, is a Halloween themed book! The story holds just the right amount of thrills and chills to get you in a festive spirit and I found it extremely difficult to put down until I read the very last page!
Synopsis
Michelle Serrano and her best friend and business partner, Erica Russell, own Chocolate and Chapters. Their chocolate boutique and book store is helping sponsor West Riverdale's Halloween Festival and in addition to running their business, they have their hands full setting up the annual haunted house. They've hired an intern, high-schooler Dylan Fenton, to help out both in the shop and with the festival. Dylan's mother had been involved in a scandal earlier that year and moved out-of-town, deserting her son. Michelle has a soft spot for Dylan and takes him under her wing.
When the battered body of a young woman is found in the abandoned and creepy development that half the town's people call Cuesta Verde after the Poltergeist movie (that movie gave me some serious nightmares!!!) Dylan is taken to the police station for questioning. Michelle and Erica are positive Dylan is innocent but as Michelle starts digging into the dead woman's past, she finds Dylan is hiding something. She also discovers that the woman had numerous people who wanted her out of the way, going all the way back to her high school days. As Michelle tries to clear Dylan's name, she also has to come to terms with Leo's (her brother) PTSD, which seems to be spiraling out of control. He doesn't want Michelle involved in the investigation and when she won't back down, he falls into a deep depression. Can Michelle balance helping a vulnerable young teen while keeping her brother from falling over the edge? Or will the murderer destroy all that she holds dear?
My Review
First off I really, really, really want to visit Chocolate and Chapters! I can't think of a better place to spend an afternoon! Kathy paints the settings of BEHIND CHOCOLATE BARS vividly, be it Michelle and Erica's shop or the haunted house or Cuesta Verde. I felt like I was there. The characters who surround Michelle and Erica are well developed and I especially enjoyed getting to know Michelle's boyfriend, Bean…who just so happens to be Erica's brother. Michelle comes across as a very sympathetic, caring person who takes in strays, be they human or animal. She shows maternal caring towards Dylan but is also not beyond using "Mom guilt" to get her way, resulting in a bit of humor.
What sets this book apart and makes it thought provoking is the author's willingness to tackle a sensitive and often swept under the rug issue: wounded vets and their place in society. She uses Leo to highlight some of the plights they face when returning to civilian life. They must deal with both physical and psychological injuries, often without any support system in place. Leo has Michelle but she feels helpless in the face of his PTSD. Kathy has expertly woven this into the story without detracting from the plot. I hope that with awareness there will be more discussions on this issue which will lead to positive action and change for the men and women who serve our country!
Of course a chocolate shop must have chocolates and let me tell you, the descriptions of all the yummy goodies in this book had me craving sweets. Fortunately, Kathy has included some recipes with her book and I made her Irish Cream Ganache Chocolates. Super easy to make, these delightfully decadent treats are sure to make your Halloween a spirited occasion! Thank you, Kathy, for letting me share your delicious recipe!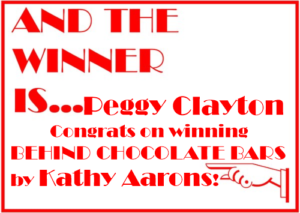 I am pleased to offer one winner a choice of either print or an e-book copy of BEHIND CHOCOLATE BARS. Print limited to U.S. residents only. Contest ends Thursday, October 13, 2016 at 11:59 pm PST. Please use the Rafflecopter box located below the recipe to enter. Winner will be announced on this page and on Cinnamon & Sugar's Facebook page, as well as notified by email (so check your spam folder!)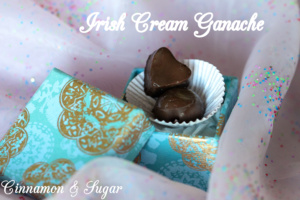 Irish Cream Ganache Chocolates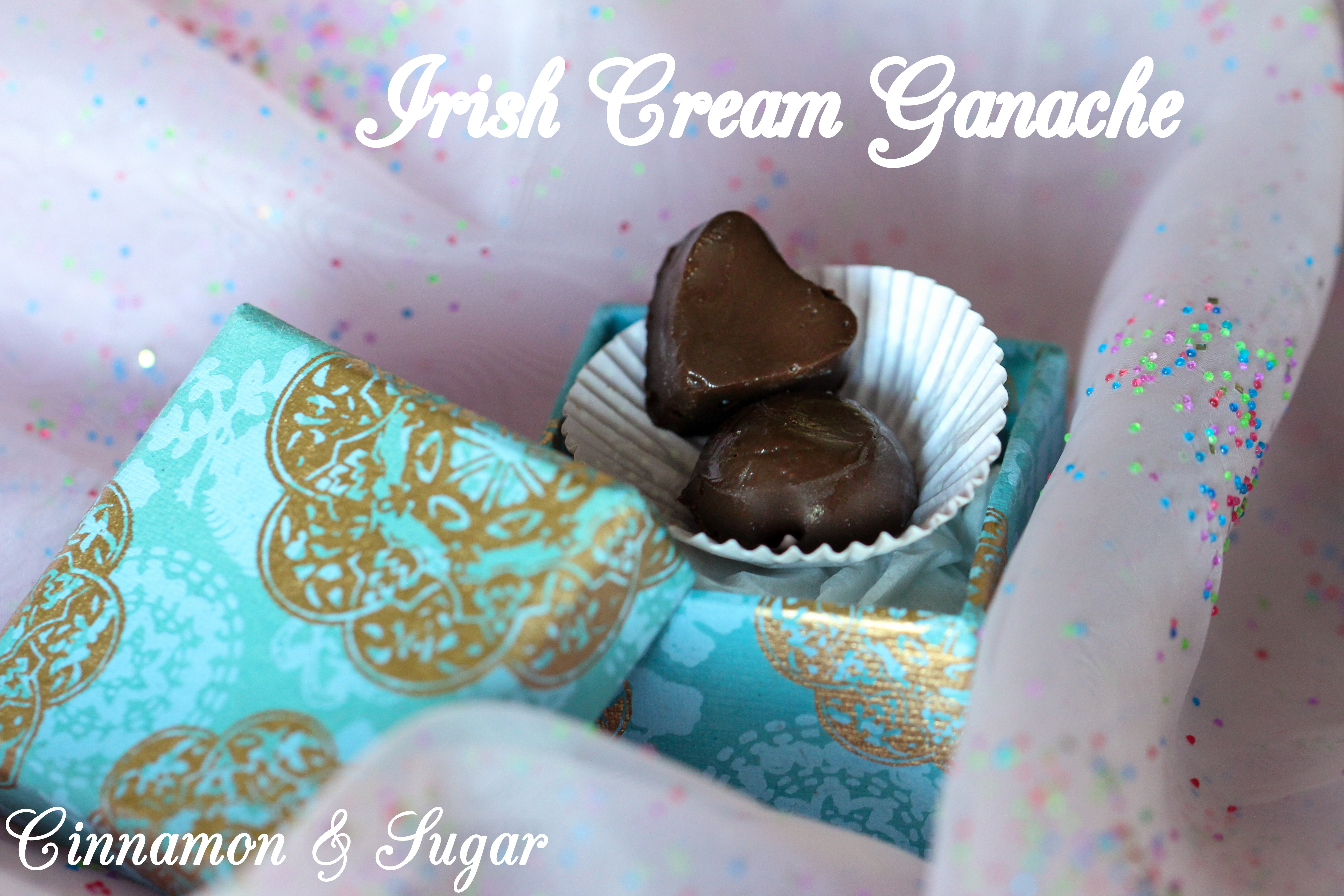 Ingredients
3/4 cup heavy cream
1/4 cup glucose syrup (corn syrup can be used, but see my note in the tips below)
1-3/4 cups dark chocolate, chopped
4 teaspoons softened butter
2 tablespoons Irish Cream Liqueur
Premade chocolate molds (available at candy/baking shops or online)
Instructions
Combine the heavy cream and glucose (or corn) syrup in a saucepan and bring to a boil.
Pour the hot cream mixture on the chopped dark chocolate and let sit for 2 minutes in a bowl.
Using a spatula, stir the mixture in small circles until it emulsifies.
Stir the softened butter into the ganache until it's incorporated.
Add the Irish Cream liqueur, stirring until the mixture is homogeneous.
Pipe into premade chocolate molds.
Chill for two hours.

Tips

If you can't locate glucose, you can substitute corn syrup. However, corn syrup has a higher water content so reduce the heavy cream to 2/3 cup. Be aware the candy may not set up as firm as the original recipe but if that happens, just keep the pieces refrigerated until ready to serve.
Yields 60 - 100 pieces depending on size of candy molds.
https://cinnamonsugarandalittlebitofmurder.com/irish-cream-ganache/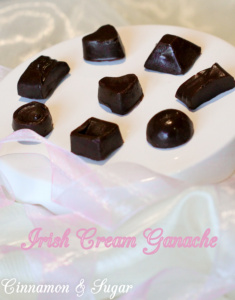 Pin to Pinterest: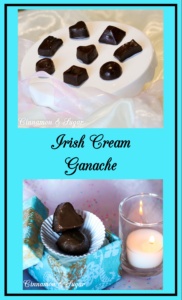 If you receive my blog post via email you will need to visit my website to view the video.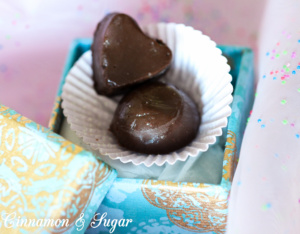 I voluntarily reviewed an Advance Reader Copy of this book. All thoughts and opinions are my own.