A library, a murder, good food, and a little romance… BETTER LATE THAN NEVER, the new release by Jenn McKinlay in the Library Lover's Mystery series, has all the ingredients for a highly entertaining read!
Synopsis
Briar Creek's library director, Lindsey Norris, has instituted the first ever amnesty for returning overdue books and forgiving fines. Lindsey and her staff are totally unprepared for the amount of books that are returned and as they sift through the piles they find a book that had been checked out twenty years ago. Ms. Cole, who has been working at the library for decades, searches her old records and finds that Candice Whitley, a local high school teacher, had checked the book out…on the day that she was murdered!
Since the case was never solved, Lindsey takes the book to Police Chief Emma Plewicki, thinking the murderer might have been the one to turn it in. The police are interested in looking into it but have their hands full with a rash of burglaries that have been going on. Lindsey feels a deep seated need to find the answers to who killed Candice and find justice for the well liked teacher. She uses her library research skills to ask questions and dig deeper into the twenty-year-old mystery. Will she be able to peel the layers of the past away and find the killer or will their identity remain buried in the lies and secrets that have protected them all those years?
My Review
There are so many things to enjoy about BETTER LATE THAN NEVER! Jenn McKinlay weaves a tight tale of murder that happened twenty years before while Lindsey tries to solve it in the current day. The time span poses challenges but Jenn handles it effortlessly creating a plot that flows. The protagonist is surrounded by memorable characters, from her best friend, Beth, to elderly Ms. Cole who doesn't like how Lindsey runs the library and is quick to let her know. And then there's her love interest, Captain Mike Sullivan, aka Sully. Lindsey isn't sure where she stands in their relationship and wants to take it slow and Sully is not one to talk about feelings. Can they move beyond their first botched attempt at romance or will misunderstandings keep them apart? Their relationship, while a subplot of the book, adds a certain sweetness to the story. Besides an entertaining read, Jenn writes with a laugh out loud flair. I loved her description of OMC Syndrome (One More Chapter)…and if you read this author's books you're bound to suffer from it too!
One of the programs that Lindsey has instituted at the Briar Creek Public Library is the Crafternooners, which is a group of people who meet to eat, discuss books, and do a craft. The author includes recipes, a craft, and a book discussion guide at the back of the book just like the Crafternooners use. I enjoyed the inclusion of these extras and especially like the recipes. One of the new members of the Crafternooners, Matthew, brings a dish of meatballs to one of the meetings. Jenn has graciously allowed me to share the recipe for Matthew's Crock-Pot Marinara Meatballs. I'm always on the lookout for new slow cooker recipes and this one will definitely go into my rotation — it's that good and it's that easy! Starting with a marinara sauce that uses pantry staples and whirls up quickly in a blender to throwing a few delicious ingredients into a bowl, mixing and forming meatballs, and then combining them in a Crock-Pot. No messy frying or pre-baking and no extra pots and pans to clean up… just lots of flavorful, homemade taste without the hassle!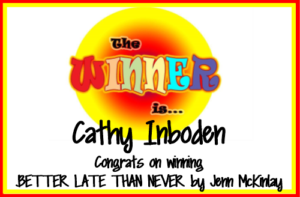 A huge thank you to Jenn McKinlay for providing an autographed hardcover copy of BETTER LATE THAN NEVER for one lucky winner! Limited to U.S. residents only. Contest ends Friday, November 11, 2016 at 11:59 pm PST. Please use the Rafflecopter box located below the recipe to enter. The winner will be announced on this page and on Cinnamon & Sugar's Facebook page, as well as notified by email (so check your spam folder!)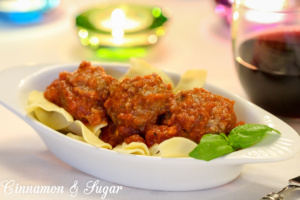 Matthew's Crock-Pot Marinara Meatballs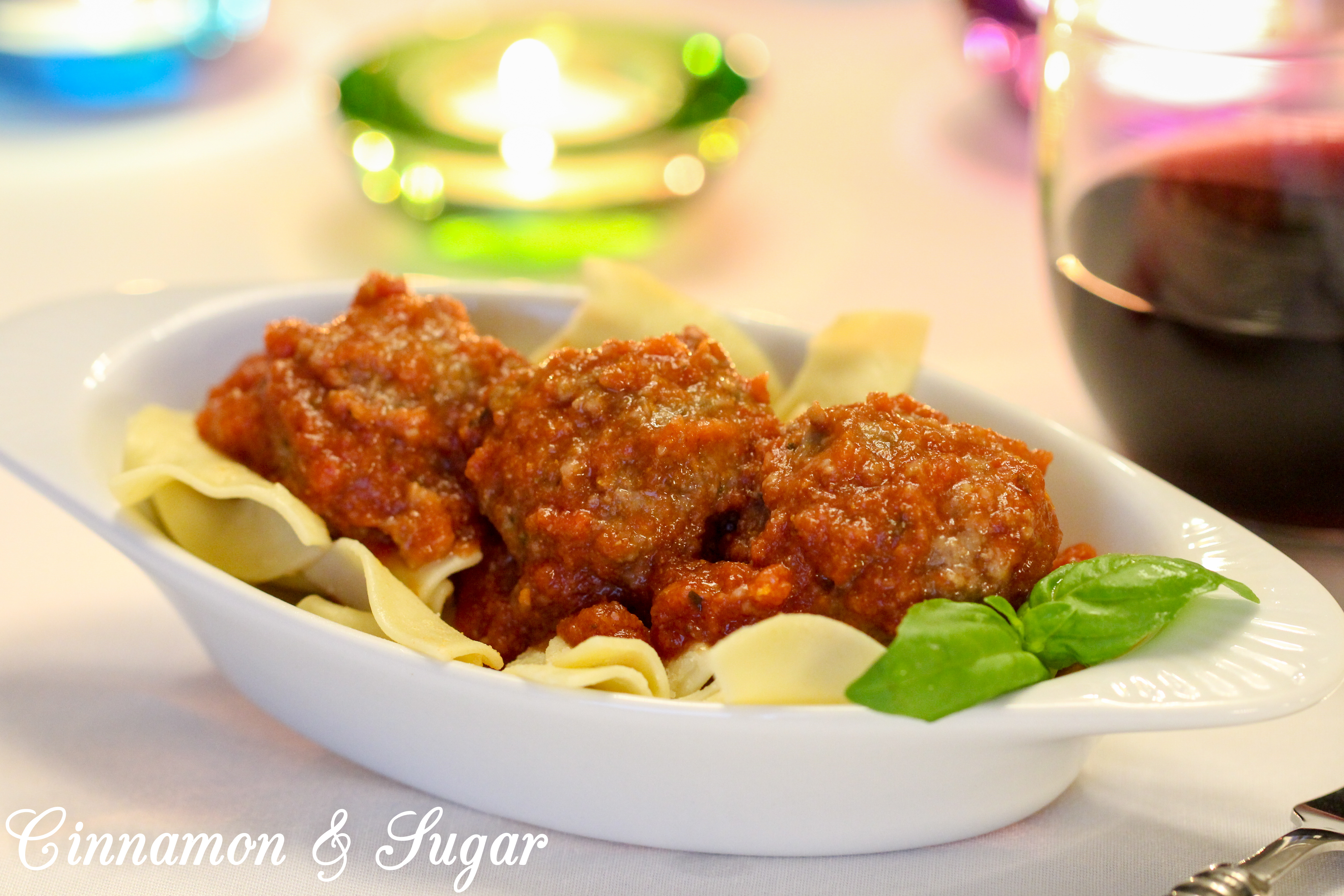 Ingredients
Marinara Sauce

2 (14.5 ounce) cans diced tomatoes with basil, garlic, and oregano
1 (14.5 ounce) can tomato sauce
2 tablespoons tomato paste
1 tablespoon sugar
1 teaspoon garlic powder
1 teaspoon onion powder
1 teaspoon kosher salt
2 bay leaves
36 meatballs, uncooked (recipe below)

Meatballs

1 pound ground beef
1/2 cup Italian breadcrumbs
1/2 cup red wine, such as Chianti
1/4 cup fresh-grated Parmesan cheese
1 teaspoon garlic powder
1 teaspoon onion powder
1 tablespoon dried Italian seasoning
1/2 teaspoon salt
1/2 teaspoon black pepper
1 large egg, lightly beaten
Instructions
Marinara Sauce

In a large blender, combine all the ingredients except the bay leaves and the meatballs.
Blend until your sauce is the consistency you prefer, chunky or smooth.
Pour half of the sauce on the bottom of the Crock-Pot. Put aside remaining sauce to pour on top of the meatballs.
Place uncooked meatballs in Crock-Pot.
Pour sauce on top, until covered.
Add bay leaves.
Cover and cook on high for 3 - 4 hours, or low for 6 - 8 hours.
Remove bay leaves before serving.

Meatballs

In a large mixing bowl, combine all the ingredients until well blended.
Roll the mixture evenly into 36 meatballs.

Tip

Serve meatballs and sauce over your favorite pasta or on hearty hoagie rolls. These also make amazing appetizers and the Crock-pot keeps them warm as people help themselves.
https://cinnamonsugarandalittlebitofmurder.com/crock-pot-marinara-meatballs/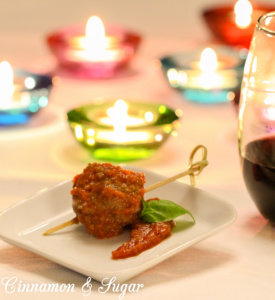 Pin to Pinterest: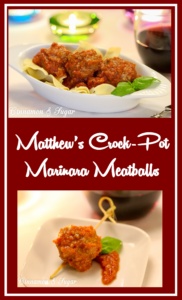 If you receive my blog post via email you will need to visit my website to view the video.
I received a copy in exchange for my honest review. All thoughts and opinions are my own.