I always love finding new books to read and I was happy when I picked up the newest release in Betty Hechtman's Crochet Mystery series, HOOKING FOR TROUBLE. Even though I have not read any in this series and this is the eleventh book (boy do I have a lot of catching up to do!) it was an enjoyable, fun read!
Synopsis
Molly Pink is an event coordinator and assistant manager at Shedd & Royal Books and More in San Fernando Valley, Southern California. She has organized the Tarzana Hookers, a group of crocheters who meet at the shop and work on projects for charities. Celebrity Cheyenne Chambers has just moved in next door to her house and Molly thinks she witnesses domestic abuse occurring so calls her ex-boyfriend, Detective Barry Greenberg. When Barry investigates he finds no evidence of wrong doing and tells Molly to mind her own business. But she can't and late at night she's certain she sees a dead body lying in the yard below the celebrity's balcony. When Barry shows up again to investigate, the nanny shows him that the "body" is nothing more than a chaise lounge cushion.
Barry warns Molly to leave things alone but she's certain she knows what she saw. When Cheyenne and her sister join the shop's crochet group, Molly determines to ask questions and get to the bottom of things. She finds out that the Chambers' nanny took a leave of absence with no notice, right after the detective showed up. No one seems concerned but Molly is still certain there was foul play. However, as her best friend says, "How can you find a body when you don't even know who you're looking for?" Undeterred, Molly continues her search for answers while helping organize a musical event at the shop featuring Cheyenne Chambers and Molly's own mother. She's also in the middle of helping two friends plan their weddings. Can she stay focused and solve the mystery proving Barry wrong, or will she get tangled up in the activities and follow the detective's advice to leave well enough alone?
My Review
I grew up watching my grandmother crochet all evening long whether she was watching tv or chatting with family. There is a certain mesmerizing rhythm to crocheting (and knitting) that can be soothing and Betty Hechtman manages to convey that feeling throughout the book, even with a murder mystery taking place. The plot surprised me and stepped outside the usual format which kept me guessing, erroneously, which way the twists and turns where heading. It's the kind of story that kept me turning pages late into the night to find out what happens next. While the characters were new to me, it was easy to jump in and figure out who was who without being distracted. The bits of backstory and the writing is concise without being distracting. I enjoyed Molly's entertaining mother, who adds lots of fun to the subplots, along with her friends who both inspire and challenge.
While the crocheting bug never grabbed me (I tried but didn't have the patience to stick with it) Betty has included a scarf pattern at the back of the book that sounds delightful. She also has a couple of recipes included and has graciously allowed me to share the recipe for Molly's Double Chocolate Cookie Bars. Oh my, a chocolate lover's dream cookie! Rich cocoa powder flavors the dough while dark chocolate chunks provide creamy melt-in-your mouth yumminess and walnuts add a nice crunchy contrast. I liked that the dough bakes in a jelly roll pan, creating lots of small bars for a group, while not taking as long to bake as baking sheets of cookies. This recipe is perfect for upcoming holiday parties or for sharing with family and friends to celebrate the season!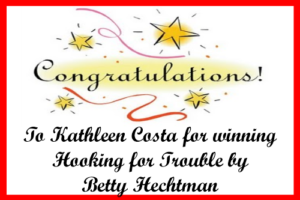 A huge thank you to Betty Hechtman for providing an autographed copy of HOOKING FOR TROUBLE for one lucky winner! Limited to U.S. residents only. Contest ends Thursday, November 17, 2016 at 11:59 pm PST. Please use the Rafflecopter box located below the recipe to enter. The winner will be announced on this page and on Cinnamon & Sugar's Facebook page, as well as notified by email (so check your spam folder!)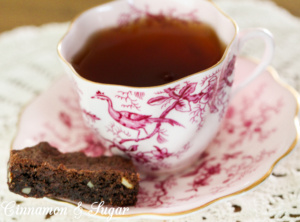 Molly's Double Chocolate Cookie Bars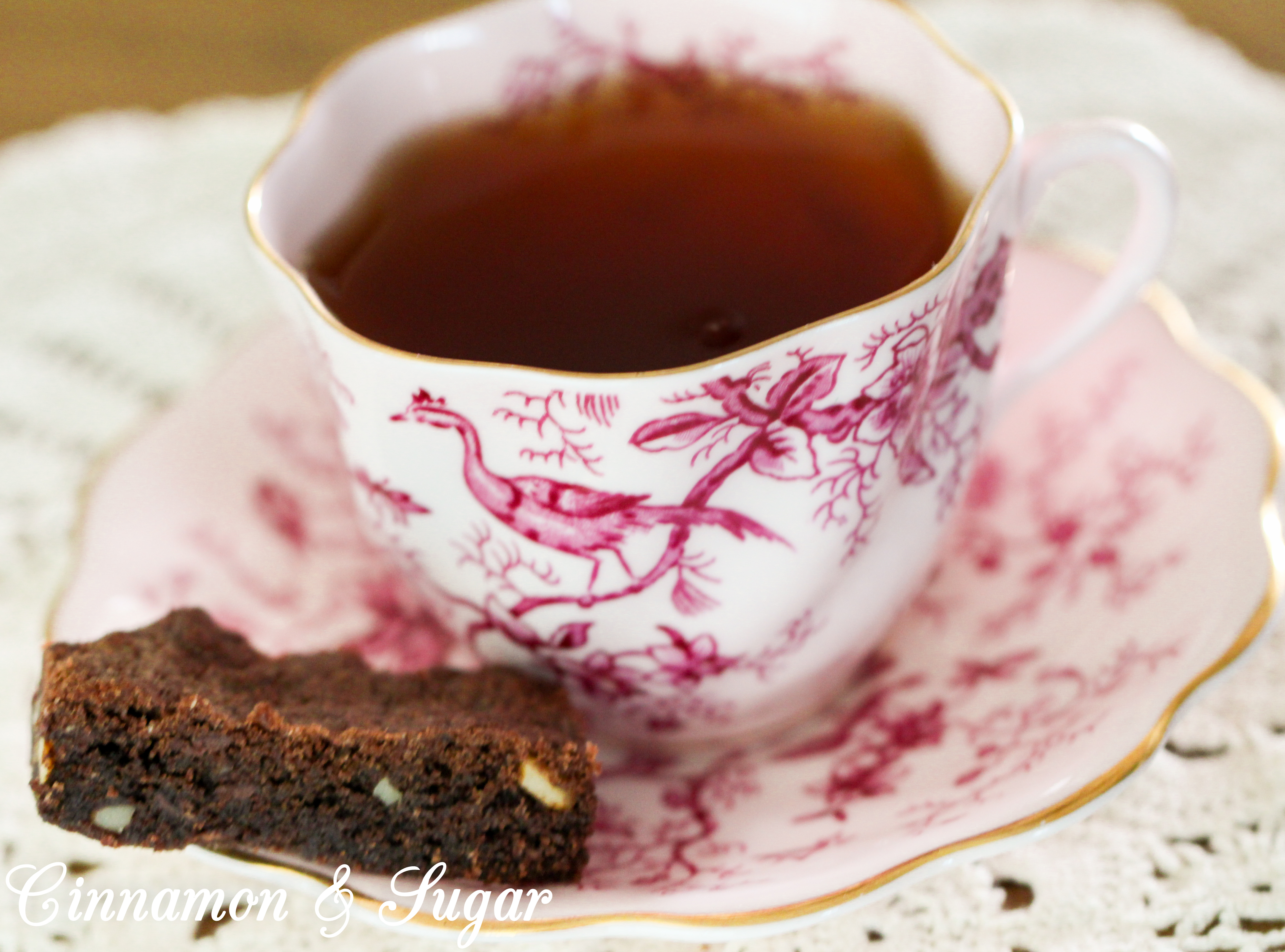 Ingredients
2-1/4 cups all-purpose unbleached flour
1 teaspoon baking soda
1 teaspoon salt
1 cup butter, softened
1/2 cup unsweetened cocoa powder
3/4 cup granulated sugar
3/4 cup dark-brown sugar, packed
2 teaspoons vanilla extract
2 large eggs
4.5-ounce dark chocolate bar broken into small pieces
1 cup coarsely chopped walnuts
Instructions
Preheat oven to 375 degrees (F).
Combine flour, baking soda, and salt in a small bowl.
Combine sugars and cocoa powder in a small bowl.
Using an electric mixer, cream butter and then gradually add the sugar and cocoa mixture.
Add vanilla extract. Beat until blended.
Add eggs one at a time, beating well after each addition.
Gradually beat in flour mixture.
Stir in chocolate pieces and nuts.
Line a 15 x 10-inch jelly roll pan with parchment paper.
Spread batter in pan and bake for approximately 20 to 25 minutes.
Cool in pan on a wire rack.
Cut into bars. Makes 48 cookie bars.
https://cinnamonsugarandalittlebitofmurder.com/double-chocolate-cookie-bars/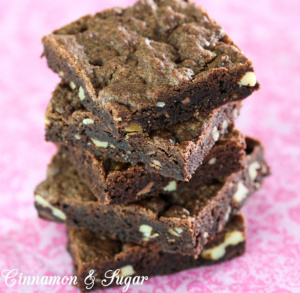 Pin to Pinterest:
If you receive my blog post via email you will need to visit my website to view the video.
I received a copy in exchange for my honest review. All thoughts and opinions are my own.